Abstract
An aerobic denitrifying bacterium, stain LK-618, was isolated from lake sediment surface and the efficacy of inorganic nitrogen removal was tested. Stain LK-618 identified as Pseudomonas sihuiensis by 16S rRNA sequencing analysis. Trisodium citrate was found to be the ideal carbon source for this strain. When an initial nitrogen sources of approximately 50 mg/L nitrate, ammonium, or nitrite was solely selected as the nitrogen source, the nitrogen removal efficiencies were 91.4% (3.86 mg/L/h), 95.07% (2.47 mg/L/h) and 97.7% (2.41 mg/L/h), respectively. Nitrogen balance analysis revealed that 55.12% NO3−-N was removed as N2. Response surface methodology (RSM) analysis demonstrated that the optimal Total Nitrogen (TN) removal ratio for strain LK-618 was under C/N ratio of 12.63, shaking speed of 52.06 rpm, temperature of 28.5 °C and pH of 6.86. In addition, strain LK-618 could tolerate NaCl concentrations up to 20 g/L, and its most efficient denitrification capacity was presented at NaCl concentrations of 0–10 g/L. Therefore, strain LK-618 has potential application on the removal of inorganic nitrogen from saline wastewater under aerobic conditions.
Access options
Buy single article
Instant access to the full article PDF.
US$ 39.95
Tax calculation will be finalised during checkout.
Subscribe to journal
Immediate online access to all issues from 2019. Subscription will auto renew annually.
US$ 119
Tax calculation will be finalised during checkout.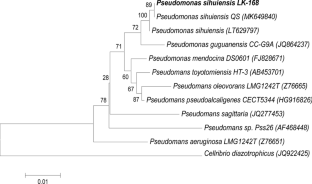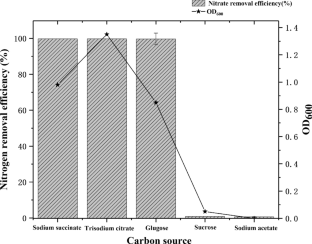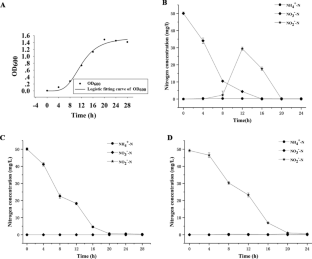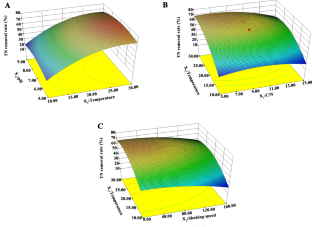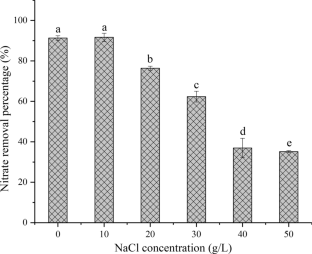 References
1.

Yang M, Lu D, Qin B, Liu Q, Zhao Y, Liu H, Ma J (2018) Highly efficient nitrogen removal of a coldness-resistant and low nutrient needed bacterium, Janthinobacterium sp. M-11. Bioresour Technol 256:366–373

2.

Bai H, Liao S, Wang A, Huang J, Shu W, Ye J (2019) High-efficiency inorganic nitrogen removal by newly isolated Pannonibacter phragmitetus B1. Bioresour Technol 271:91–99

3.

Robertson LA, Niel EWJ, Torremans RAM, Kuenen JG (1988) Simultaneous nitrification and denitrification in aerobic chemostat culture of Thiosphaera pantropha. Appl Environ Microbiol 54:2812–2818

4.

Patureau D, Davison J, Bernet N, Moletta R (1994) Denitrification under various aeration conditions in Comamonas sp., strain SGLY2. FEMS Microbiol Ecol 14:71–78

5.

Rout PR, Bhunia P, Dash RR (2017) Simultaneous removal of nitrogen and phosphorous from domestic wastewater using Bacillus cereus GS-5 strain exhibiting heterotrophic nitrification, aerobic denitrification and denitrifying phosphorous removal. Bioresour Technol 244:484–495

6.

Zhang N, Chen H, Lyu YK, Wang Y (2019) Nitrogen removal by a metal-resistant bacterium, Pseudomonas putida ZN1, capable of heterotrophic nitrification-aerobic denitrification. J Chem Technol Biotechnol 94(4):1165–1175

7.

Lei Y, Wang Y, Liu H, Xi C, Song L (2016) A novel heterotrophic nitrifying and aerobic denitrifying bacterium, Zobellella taiwanensis DN-7, can remove high-strength ammonium. Appl Microbiol Biotechnol 100:4219–4229

8.

Sun Y, Feng L, Li A, Zhang X, Yang J, Ma F (2017) Ammonium assimilation: an important accessory during aerobic denitrification of Pseudomonas stutzeri T13. Bioresour Technol 23:4264–4272

9.

Zhao B, He YL, Huang J, Taylor S, Hughes J (2010) Heterotrophic nitrogen removal by Providencia rettgeristrain YL. J Ind Microbiol Biot 37(6):609–616

10.

Nakano M, Inagaki T, Okunishi S, Tanaka R, Maeda H (2010) Effect of salinity on denitrification under limited single carbon source by Marinobacter sp. Isolated from marine sediment. J Basic Microbiol 50:285–289

11.

Li Y, Wang Y, Fu L, Gao Y, Zhao H, Zhou W (2017) Aerobic-heterotrophic nitrogen removal through nitrate reduction and ammonium assimilation by marine bacterium Vibrio sp. Y1–5. Bioresour Technol 230:103–111

12.

Xi D, Li C, Tang R, Lv Z, Ren Y, Wei C, Feng C (2014) Ion-exchange membrane bioelectrochemical reactor for removal of nitrate in the biological effluent from a coking wastewater treatment plant. Electrochem Commun 46:99–102

13.

Yu H, Li J, Dong HY, Qiang ZM (2019) Nitrogen removal performance of marine anammox bacteria treating nitrogen-rich saline wastewater under different inorganic carbon doses: high inorganic carbon tolerance and carbonate crystal formation. Bioresour Technol 288:8

14.

Cheng X, Liang Y, Banuelos G, Yan B, Yu X, Zhu H, Zhou Q (2016) Constructed wetlands for saline wastewater treatment: a review. Ecol Eng 98:275–285

15.

Zhao C, Zhang H, Song C, Zhu JK, Shabala S (2020) Mechanisms of plant responses and adaptation to soil salinity. Innovation. https://doi.org/10.1016/j.xinn.2020.100017

16.

Zhang QL, Liu Y, Ai GM, Miao LL, Zheng HY, Liu ZP (2012) The characteristics of a novel heterotrophic nitrification-aerobic denitrification bacterium. Bacillus methylotrophicus strain L7. Bioresour Technol 108:35–44

17.

Wu ZD, Huang SB, Yang YL, Xu FQ, Zhang YQ, Jiang R (2013) Isolation of an aerobic denitrifying bacterial strain from a biofilter for removal of nitrogen oxide. Aerosol Air Qual Res 13:1126–1132

18.

Qing H, Oscar OD, Tian C, Wang C, Wu X, Feng S, Liu Y, Xiao B (2018) Novel heterotrophic nitrogen removal and assimilation characteristic of the newly isolated bacterium Pseudomonas stutzeri AD-1. J Biosci Bioeng 126:339–345

19.

Hong P, Wu X, Shu Y, Wang C, Tian C, Wu H, Xiao B (2020) Bioaugmentation treatment of nitrogen-rich wastewater with a denitrifier with biofilm-formation and nitrogen-removal capacities in a sequencing batch biofilm reactor. Bioresour Technol 303:122905

20.

Zhao B, Cheng DY, Tan P, An Q, Guo JS (2018) Characterization of an aerobic denitrifier Pseudomonas stutzeri strain XL-2 to achieve efficient nitrate removal. Bioresour Technol 250:564–573

21.

Huang T, Guo L, Zhang H, Su J, Wen G, Zhang K (2015) Nitrogen-removal efficiency of a novel aerobic denitrifying bacterium, Pseudomonas stutzeri strain ZF31, isolated from a drinking-water reservoir. Bioresour Technol 196:209–216

22.

Guo Y, Zhou X, Li Y, Li K, Wang C, Liu J, Yan D, Liu Y, Yang D, Xing J (2013) Heterotrophic nitrification and aerobic denitrification by a novel Halomonas campisalis. Biotechnol Lett 35:2045–2049

23.

Duan J, Fang H, Su B, Chen J, Lin J (2015) Characterization of a halophilic heterotrophic nitrification-aerobic denitrification bacterium and its application on treatment of saline wastewater. Bioresour Technol 179:421–428

24.

Zhao B, Tian M, An Q, Ye J, Guo JS (2017) Characteristics of a heterotrophic nitrogen removal bacterium and its potential application on treatment of ammonium-rich wastewater. Bioresour Technol 226:46–54

25.

Liu Y, Ai GM, Miao LL, Liu ZP (2016) Marinobacter strain NNA5, a newly isolated and highly efficient aerobic denitrifier with zero N2O emission. Bioresour Technol 206:9–15

26.

Joo HS, Hirai M, Shoda M (2005) Characteristics of ammonium removal by heterotrophic nitrification-aerobic denitrification by Alcaligenes faecalis no. 4. J Biosci Bioeng 100:184–191

27.

Takaya N, Catalan-Sakairi MAB, Sakaguchi Y, Kato I, Zhou Z, Shoun H (2003) Aerobic denitrifying bacteria that produce low levels of nitrous oxide. Appl Environ Microbiol 69:3152–3157

28.

Shi Z, Zhang Y, Zhou J, Chen M, Wang X (2013) Biological removal of nitrate and ammonium under aerobic atmosphere by Paracoccus versutus LYM. Bioresour Technol 148:144–148

29.

Rajakumar S, Ayyasamy PM, Shanthi K, Thavamani P, Velmurugan P, SongLakshmanaperumalsamy YCP (2008) Nitrate removal efficiency of bacterial consortium (Pseudomonas sp. KW1 and Bacillus sp. YW4) in synthetic nitrate-rich water. J Hazard Mater 157:553–563

30.

Su JJ, Yeh KS, Tseng PW (2006) A Strain of Pseudomonas sp. isolated from piggery wastewater treatment systems with heterotrophic nitrification capability in Taiwan. Curr Microbiol 53:77–81

31.

Jin R, Liu T, Liu G, Zhou J, Huang J, Wang A (2015) Simultaneous heterotrophic nitrification and aerobic denitrification by the marine origin bacterium Pseudomonas sp. ADN-42. Appl Biochem Biotechnol 175(4):2000–2011

32.

Wang T, Dang Q, Liu C, Yan J, Fan B, Cha D, Yin Y, Zhang Y (2016) Heterotrophic nitrogen removal by a newly-isolated alkalitolerant microorganism, Serratia marcescens W5. Bioresour Technol 211:618–627

33.

Chen J, Xu J, Zhang S, Liu F, Peng J, Peng Y, Wu J (2021) Nitrogen removal characteristics of a novel heterotrophic nitrification and aerobic denitrification bacteria, Alcaligenes faecalis strain WT14. J Environ Manage 282:111961

34.

Zhao B, An Q, He YL, Guo JS (2012) N2O and N2 production during heterotrophic nitrification by Alcaligenes faecalis strain NR. Bioresour Technol 116:379–385

35.

Wan C, Yang X, Lee DJ, Du M, Wan F, Chen C (2011) Aerobic denitrification by novel isolated strain using NO2–N as nitrogen source. Bioresour Technol 102:7244–7248

36.

Sun Z, Lv Y, Liu Y, Ren R (2016) Removal of nitrogen by heterotrophic nitrification-aerobic denitrification of a novel metal resistant bacterium Cupriavidus sp. S1. Bioresour Technol 220:142–150

37.

Ji B, Yang K, Zhu L, Jiang Y, Wang HY, Zhou J, Zhang HN (2015) Aerobic denitrification: a review of important advances of the last 30 years. Biotechnol Bioprocess Eng 20:643–665

38.

Huang HK, Tseng SK (2001) Nitrate reduction by Citrobacter diversus under aerobic environment. Appl Microbiol Biotechnol 55:90–94

39.

Guo LJ, Zhao B, An Q, Tian M (2016) Characteristics of a novel aerobic denitrifying bacterium, Enterobacter cloacae Strain HNR. Appl Biochem Biotechnol 78:947–959

40.

Uygur A, Kargi F (2004) Salt inhibition on biological nutrient removal from saline wastewater in a sequencing batch reactor. Enzyme Microb Technol 34(3–4):313–318

41.

Vyrides I, Stuckey DC (2009) Adaptation of anaerobic biomass to saline conditions: role of compatible solutes and extracellular polysaccharides. Enzyme Microb Technol 44(1):46–51

42.

Ji B, Yang K, Wang H, Zhou J, Zhang H (2015) Aerobic denitrification by Pseudomonas stutzeri C3 incapable of heterotrophic nitrification. Bioprocess Biosyst Eng 38:407–409
Acknowledgements
This work was supported by the National Natural Science Foundation of China (grant number 31670465, 31800112, 31800390 and 31870450), Advanced Talent Cultivation Project in Colleges and Universities in Anhui province (grant number gxbjZD46), Natural Science Research Project of Anhui University (grant number KJ2020A0063 and KJ2020A0076).
Ethics declarations
Conflict of interest
The authors declare no conflicts of interest.
Additional information
Publisher's Note
Springer Nature remains neutral with regard to jurisdictional claims in published maps and institutional affiliations.
About this article
Cite this article
Hong, P., Huang, Y., Chen, M. et al. Efficacy of inorganic nitrogen removal by a salt-tolerant aerobic denitrifying bacterium, Pseudomonas sihuiensis LK-618. Bioprocess Biosyst Eng (2021). https://doi.org/10.1007/s00449-021-02525-7
Received:

Accepted:

Published:
Keywords
Aerobic denitrification

Nitrogen removal

Nitrogen balance

Salt tolerance