Abstract
A 30-year-old manufacturing process for the biologic product l-asparaginase from the plant pathogen Erwinia chrysanthemi was rigorously qualified and validated, with a high level of agreement between validation data and the 6-year process database. l-Asparaginase exists in its native state as a tetrameric protein and is used as a chemotherapeutic agent in the treatment regimen for Acute Lymphoblastic Leukaemia (ALL). The manufacturing process involves fermentation of the production organism, extraction and purification of the l-asparaginase to make drug substance (DS), and finally formulation and lyophilisation to generate drug product (DP). The extensive manufacturing experience with the product was used to establish ranges for all process parameters and product quality attributes. The product and in-process intermediates were rigorously characterised, and new assays, such as size-exclusion and reversed-phase UPLC, were developed, validated, and used to analyse several pre-validation batches. Finally, three prospective process validation batches were manufactured and product quality data generated using both the existing and the new analytical methods. These data demonstrated the process to be robust, highly reproducible and consistent, and the validation was successful, contributing to the granting of an FDA product license in November, 2011.
Access options
Buy single article
Instant access to the full article PDF.
US$ 39.95
Tax calculation will be finalised during checkout.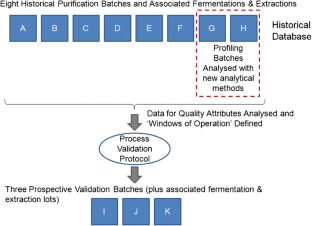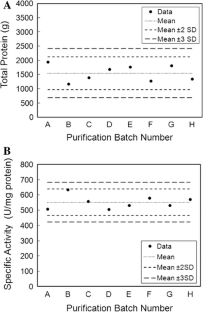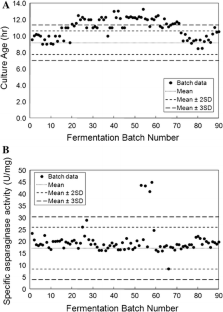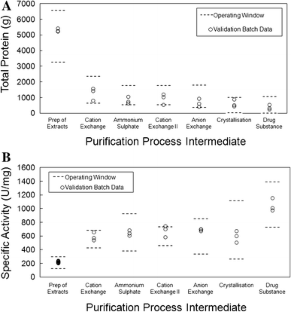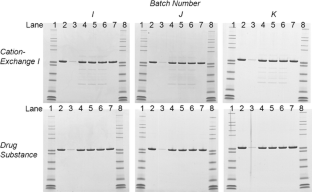 References
1.

Beard MEJ, Crowther D, Galton DAG, Guyer RJ, Fairley GH, Kay HEM, Knapton PJ, Malpas JS, Scott RB (1970) l-Asparaginase in treatment of acute leukaemia and lymphosarcoma. Br Med J 1:191–195

2.

Broome JD (1968) Factors which may influence the effectiveness of l-asparaginases as tumor inhibitors. Br J Cancer 22(3):595–602

3.

Pieters R, Hunger SP, Boos J, Rizzari C, Silverman L, Baruchel A, Goekbuget N, Schrappe M, Pui CH (2011) l-Asparaginase treatment in acute lymphoblastic leukemia: a focus on Erwinia asparaginase. Cancer 117(2):238–249

4.

Vrooman LM, Supko JG, Neuberg DS, Asselin BL, Athale UH, Clavell L, Kelly KM, Laverdière C, Michon B, Schorin M, Cohen HJ, Sallan SE, Silverman LB (2010) Erwinia asparaginase after allergy to E. coli asparaginase in children with acute lymphoblastic leukemia. Pediatr Blood Cancer 54(2):199–205

5.

Wriston JC (1985) Asparaginase. Methods Enzymol 113:608–618

6.

Buck PW, Elsworth R, Miller GA, Sargeant K, Stanley JL, Wade HE (1971) The batch production of l-asparaginase from Erwinia carotovora. J Gen Microbiol 65:i

7.

Cammack KA, Marlborough DI, Miller DS (1972) Physical properties and subunit structure of l-asparaginase isolated from Erwinia carotovora. Biochem J 126:361–379

8.

US FDA (1987) Guideline on general principles of process validation

9.

US FDA (2011) Guidance for industry: process validation general principles and practices

10.

Lowry OH, Rosbrough NJ, Farr AL, Randall RJ (1951) Protein measurement with the folin phenol reagent. J Biol Chem 193:265–275

11.

Wade HE, Robinson HK, Phillips BW (1971) Asparaginase and glutaminase activities of bacteria. J Gen Microbiol 69:299–312

12.

Moola ZB, Scawen MD, Atkinson T, Nicholls DJ (1994) Erwinia chrysanthemi l-asparaginase: epitope mapping and production of antigenically modified enzymes. Biochem J 302:921–927

13.

Deokar VD, Vetal MD, Rodrigues L (2010) Production of intracellular l-asparaginase from Erwinia carotovora and its statistical optimisation using response surface methodology (RSM). Int J Chem Sci Appl 1(1):25–36
Acknowledgments
Our thanks go to Dr Roger Hinton and the entire Development and Production team at HPA Porton, and the team at EUSA Pharma, without all of whom this work would not have been possible.
About this article
Cite this article
Gervais, D., Allison, N., Jennings, A. et al. Validation of a 30-year-old process for the manufacture of l-asparaginase from Erwinia chrysanthemi . Bioprocess Biosyst Eng 36, 453–460 (2013). https://doi.org/10.1007/s00449-012-0802-5
Received:

Accepted:

Published:

Issue Date:
Keywords
l

-Asparaginase
Erwinia

Process validation