Abstract
Late Cenozoic basaltic lavas in eastern and southeastern China commonly display spectacular columnar joints. In four volcanic fields in this region, we have observed and classified five types of colonnade (vertical, inclined, horizontal, fanning upwards, and fanning downwards) that provide information on the cooling regime and emplacement mechanism of the lava flows. In total, we analyzed the geometry and morphology of joints across ten different lava flow areas in the Changle volcanic field (CVF), Luhe volcanic field (LVF), eastern Zhejiang volcanic field (EZVF), and Niutoushan-Linjin Island-Nanding Island volcanic field (NLNVF). Field observations show that columnar-jointed alkaline basalts commonly exhibit narrow and irregular shapes indicating fast cooling. Tholeiites with columnar joints, in contrast, show wide and regular polygons, indicating slower cooling. Vertical columnar joints and other types (horizontal and fanning shaped) have different mature patterns, with the implication that lavas flowed on relatively flat land and in paleo-valleys, respectively. This study suggests a simple qualitative description of different types of colonnade can be made based on their alignment patterns, which represents a direct and easy way to derive solidification processes after lava eruption from colonnaded lavas in outcrop.
This is a preview of subscription content, log in to check access.
Access options
Buy single article
Instant access to the full article PDF.
US$ 39.95
Price includes VAT for USA
Subscribe to journal
Immediate online access to all issues from 2019. Subscription will auto renew annually.
US$ 199
This is the net price. Taxes to be calculated in checkout.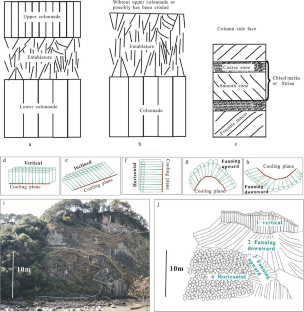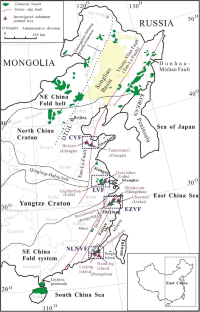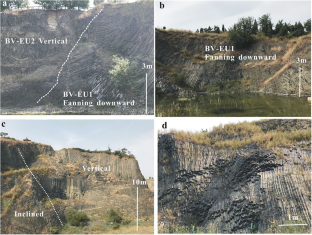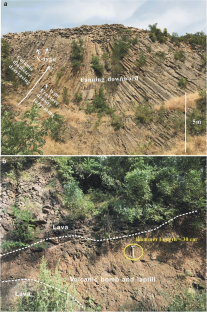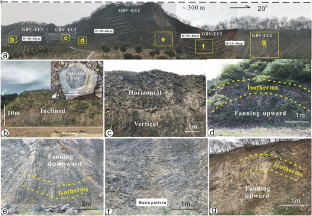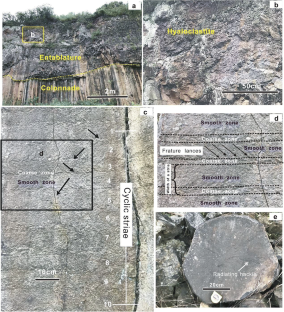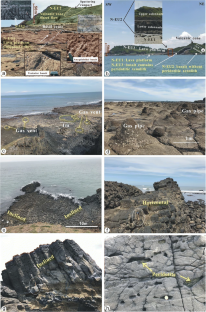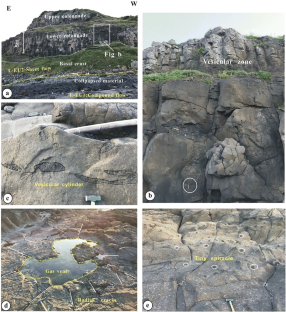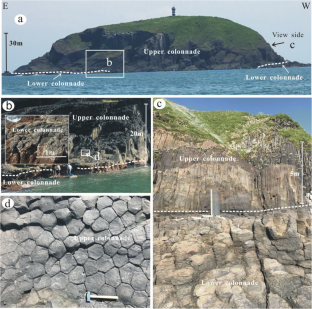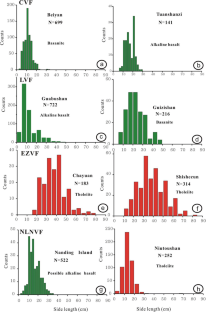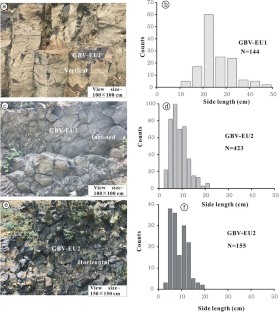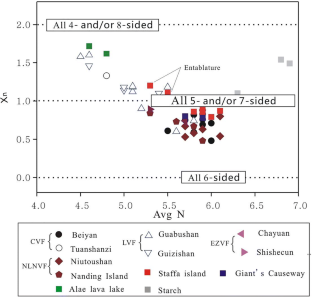 References
Beard CN (1959) Quantitative study of columnar jointing. Geol Surv Am Bull 70:379–382

Bosshard SA, Mattsson HB, Hetényi G (2012) Origin of internal flow structures in columnar-jointed basalt from Hrepphólar, Iceland: I. Textural and geochemical characterization. Bull Volcanol 74:1645–1666

Budkewitsch P, Robin PY (1994) Modelling the evolution of columnar joints. J Volcanol Geotherm Res 59:219–239

Bulkeley R (1693) Part of a letter from Sir R.B.S.R.S. to Dr. Lister, concerning the Giants Causway in the county of Atrim in Ireland. Philos Trans R Soc London 17:708–710

Cas RAF, Wright JV (1987) Volcanic successions: modern and ancient. A geological approach to processes, products and successions. Allen and Unwin, London pp. 1–518.

Chen DG, Peng ZC (1985) K-Ar ages and Pb, Sr isotope characteristics of Cenozoic volcanic rocks in Shangdong, China. Geochemica 4:293–303 (in Chinese with English abstract)

Chen DG, Peng ZC (1988) K-Ar ages and Pb, Sr isotope characteristics of some Cenozoic volcanic rocks from Anhui and Jiangsu provinces, China. Acta Petro Sinica 2:3–12 (in Chinese with English abstract)

Chen XY, Chen LH, Chen Y, Zeng G, Liu JQ (2014) Distribution summary of Cenozoic basalts in Central and Eastern China. Geol Journal of China Universities 20:507–519 (in Chinese with English abstract)

Chen S, Li XP, Kong F, Zhao LQ, Chen HK (2016) Mineral characteristics and origin discussion of corundum/sapphire in Cenozoic alkali basalts of the Changle, western Shandong, China. Advances in Geosciences 6:115–128 (in Chinese with English abstract)

Chen H, Xia QK, Ingrin J, Deloule E, Bi Y (2017) Heterogeneous source components of intraplate basalts from NE China induced by the ongoing Pacific slab subduction. Earth Planet Sci Lett 459:208–220

Chung SL, Yang TF, Chen SJ, Chen CH, Lee T, Chen CH (1995) Sr–Nd isotope compositions of high-pressure megacrysts and a lherzite inclusion in alkali basalts from western Taiwan. J. Geol. Soc. China 38(1):15–24

Chung SL, Cheng H, Jahn BM, O'Reilly SY, Zhu B (1997) Major and trace element, and Sr-Nd isotope constraints on the origin of Paleogene volcanism in South China prior to the South China Sea opening. Lithos 40:203–220

DeGraff JM, Aydin A (1987) Surface morphology of columnar joints and its significance to mechanics and direction of joint growth. Geological Society of American 99:605–617

Du SJ, Xu XW, Yang LK, Fu C, Su J, Cui ML (2009) Determining the ending time of basaltic volcanic activity by 40Ar/39Ar age of phlogopites from mantle-derived xenolith. Acta Petro Sinica 25:3251–3258 (in Chinese with English abstract)

Fitton G (1997) X-Ray fluorescence spectrometry. In Gill R (ed.), Modern analytical geochemistry: an introduction to quantitative chemical analysis for Earth, environmental and material scientists. Addison Wesley Longman, UK.

Forbes AES, Blake S, McGarvie DW, Tuffen H (2012) Pseudopillow fracture systems in lavas: insights into cooling mechanisms and environments from lava flow fractures. J Volcanol Geotherm Res 245–246:68–80

Forbes AES, Blake S, Tuffen H (2014) Entablature: fracture type and mechanisms. Bull Volcanol 76:820

Fowler AC, Rust AC, Vynnycky M (2014) The formation of vesicular cylinders in pāhoehoe lava flows. Geophys Astrophys Fluid Dyn 109:1–23

Goehring L, Morris SW (2008) Scaling of columnar joints in basalt. J Geophy Res 113:B10203. https://doi.org/10.1029/2007JB005018

Goehring L, Lin Z, Morris SW (2006) An experimental investigation of the scaling of columnar joints. Phys Rev E 74:036115

Goehring L, Mahadevan L, Morris SW (2009) Nonequilibrium scale selection mechanism for columnar jointing. Proc Nat Acad Sci 106(2):387–392

Goff F (1996) Vesicle cylinders in vapor-differentiated basalt flows. J Volcanol Geotherm Res 71:167–185

Grossbacher K, McDuffie SM (1995) Conductive cooling of lava: columnar joint diameter and stria width as function of cooling rate and thermal gradient. J Volcanol Geotherm Res 69:95–103

Guy B (2010) Comments on "Basalt columns: large scale constitutional supercooling?" by John Gilman (JVGR, 2009) and presentation of some new data. J Volcanol Geotherm Res 194:69–73

Harris AJL, Rowland SK (2009) Effusion rate controls on lava flow length and the role of heat loss: a review. In: Hoskuldsson A, Thordarson T, Larsen G, Self S, Rowland S (eds) The legacy of George P.L Walker, Special Publications of IAVCEI 2. Geological Society of London, London, pp 33–51

Hetényi G, Taisne B, Garel F, Médard É, Bosshard S, Mattsson HB (2012) Scales of columnar jointing in igneous rocks: field measurements and controlling factors. Bull Volcanol 74:457–482

Ho KS, Chen JC, Lo CH, Zhao HL (2003) 40Ar-39Ar dating and geochemical characteristics of Late Cenozoic basaltic rocks from the Zhejiang-Fujian region, SE China: eruption ages, magma evolution and petrogenesis. Chem Geol 197:287–318

Hulme G (1974) The interpretation of lava flow morphology. Geophys J R Astron Soc 39:361–383

James AVG (1920) Factors producing columnar structures in lavas and its occurrence near Melbourne, Australia. Journal of Geology 28:458–469

Lamur A, Lavallée Y, Iddon FE, Hornby AJ, Kendrick JE, von Aulock FW, Wadsworth FB (2018) Disclosing the temperature of columnar jointing in lavas. Nat Commun 9(1):1432

Li YQ, Ma CQ, Robinson PT, Zhou Q, Liu ML (2015) Recycling of oceanic crust from a stagnant slab in the mantle transition zone: evidence from Cenozoic continental basalts in Zhejiang Province, SE China. Lithos 230:146–165

Li YQ, Ma CQ, Robinson PT (2016) Petrology and geochemistry of Cenozoic intra-plate basalts in east-central China: constraints on recycling of an oceanic slab in the source region. Lithos 262:27–43

Long PE (1978) Characterization and recognition of intraflow structures. RHO-BWI-LD-IO. Rockwell Hanford Operations, Richland, Grande Ronde Basalt, p 74

Long PE, Wood BJ (1986) Structures, textures, and cooling histories of Columbia River basalt flows. Geol Soc Am Bull 97:1144–1155

Lyle P (2000) The eruption environment of multi-tiered columnar basalt lava flows. J Geol Soc Lond 157:715–722

Mallett R (1875) On the origin and mechanism of production of the prismatic (or columnar) structure of basalt. Proc Roy Soc London 23:180–184

Milazzo MP, Keszthelyi LP, Jaeger WL, Rosiek M, Mattson S, Verba C, Beyer RA, Geissler PE, McEwen AS, HiRISE Team (2009) Discovery of columnar jointing on Mars. Geology 37:171–174

Moore JG (2019) Mini-columns and ghost columns in Columbia River lava. J Volcanol Geotherm Res 374:242–251

Müller G (1998a) Experimental simulation of basalt columns. J Volcanol Geotherm Res 86:93–96

Müller G (1998b) Starch columns: analog model for basalt columns. J Geophys Res 103:15239–15253

Müller G (2001) Experimental simulation of joint joint morphology. J Struct Geol 23:45–49

Nichols RL (1936) Flow-units in basalt. J Geol 44:617–630

Niu ML, Zhu G, Song CZ, Wang DX, Liu GS (2000) Volcanic activities and deep geological processes in the Tan-Lu fault zone. Geol Sci & Tech Info 19:21–26 (in Chinese with English abstract)

O'Reilly JP (1879) Explanatory notes and discussion on the nature of the prismatic forms of a group of columnar basalts, Giant's Causeway. Trans Roy Ir Acad 26:641–728

Peck DL, Minakami T (1968) The formation of columnar joints in the upper part of Kilauean lava lakes. Hawaii Geol Soc Am Bull 79:1151–1166

Peck DL, Wright TL, Moore JG (1966) Crystallization of tholeiitic basalt in Alae lava lake, Hawaii. Bull Volcanol 29:487–498

Phillips JC, Humphreys MCS, Daniels KA, Brown RJ, Witham F (2013) The formation of columnar joints produced by cooling in basalt at Staffa, Scotland. Bull Volcanol 75:715

Philpotts AR, Lewis CL (1987) Pipe vesicles—an alternative model for their origin. Geology 15:971–974

Piombo A, Dragoni M (2018) A model for crack initiation in solidifying lava. J Geophys Res: Solid Earth 123:8445–8458

Reidel SP, Camp VE, Tolan TL, Martin BS (2013) The Columbia River flood basalt province: stratigraphy, areal extent, volume, and physical volcanology. In: Reidel SP, Camp VE, Ross ME, Wolff JA, Martin BS, Tolan TL, Wells RE (eds) The Columbia River Flood Basalt Province, Geol Soc Am Spec Pap, vol 497, pp 1–43

Ryan MP, Sammis CG (1978) Cyclic fracture mechanisms in cooling basalt. Geol Soc Am Bull 89:1295–1308

Sakuyama T, Tian W, Kimura JI, Fukao Y, Hirahara Y, Takahashi T, Senda R, Chang Q, Miyazaki T, Obayashi M, Kawabata H, Tatsumi Y (2013) Melting of dehydrated oceanic crust from the stagnant slab and of the hydrated mantle transition zone: constraints from Cenozoic alkaline basalts in eastern China. Chem Geol 359:32–48

Self S, Keszthelyi L, Thordarson T (1998) The importance of Pahoehoe. Annu Rev Earth Planet Sci 26:81–110

Sheth HC (2018) A photographic atlas of flood basalt volcanism. Springer, New York, 363 + xvi p.

Sheth HC, Ray JS, Senthil KP, Duraiswami RA, Chatterjee RN, Gurav T (2011) Recycling of flow-top breccia crusts into molten interiors of flood basalt lava flows: field and geochemical evidence from the Deccan Traps. In: Ray J, Sen G, Ghosh B (eds) . Springer, Topics in igneous petrology, pp 161–180

Sheth H, Meliksetian K, Gevorgyan H, Israyelyan A, Navasardyan G (2015) Intracanyon basalt lavas of the Debed River (northern Armenia), part of a Pliocene-Pleistocene continental flood basalt province in the south Caucasus. J Volcanol Geotherm Res 295:1–15

Sheth H, Pal I, Patel V, Samant H, D'Souza J (2017a) Breccia-cored columnar rosettes in a rubbly pāhoehoe lava flow, Elephanta Island, Deccan Traps, and a model for their origin. Geosci Front 8:1299–1309

Sheth H, Patel V, Samant H (2017b) Control of early-formed vesicle cylinders on upper crustal prismatic jointing in compound pāhoehoe lavas of Elephanta Island, western Deccan Traps, India. Bull Volcanol 79:63. https://doi.org/10.1007/s00445-017-1147-3

Smith AD (1998) The geodynamic significance of the DUPAL anomaly in Asia. In: Flower MFJ, Chung SL, Lo CH, Lee TY (eds) Mantle dynamics and plate interactions in East Asia, Geodynamics Series, vol 27. American Geophysical Union Press, Washington, D.C., pp 89–105

Sommer E (1969) Formation of fracture 'lances' in glass. Engineering Fracture Mechanics 1:539–546

Spry AH (1962) The origin of columnar jointing, particularly in basalt flows. J Geol Soc Aust 8:191–216

Tanner LH (2013) Surface morphology of basalt columns at Svartifoss, VatnajökulsÞjóðgarður. Southern Iceland. J Geological Res:1–8

Tomkeieff SI (1940) The basalt lavas of the Giant's Causeway district of Northern Ireland. Bull Volcanol 6:89–146

Walker GPL (1972) Compound and simple lava flows and flood basalts. Bull Volcanol 35:590

Waters AC (1960) Determining direction of flow in basalts. Am J Sci 258-A:350–366

Weinberger R, Burg A (2019) Reappraising columnar joints in different rock types and settings. J Struct Geol 125:185–194

Wilmoth RA, Walker GPL (1993) P-type and S-type pahoehoe: a study of vesicle distribution patterns in Hawaiian lava flows. J Volcanol Geotherm Res 55:129–142

Woodell DR (2009) Constraints on formation of columnar joints in basaltic lava. B.A. Thesis. Colonado College 1–18

Wright TL, Okamura RT (1977) Cooling and crystallization of tholeiitic basalt, 1965 Makaopuhi lava lake, Hawaii, U.S. Geol. Surv. Prof. Pap 1004:1–78

Xu SN (1982) Discussion on the morphological and genetical classification of columnar joints in basalt. Journal of Hangzhou University 9:447–498 (in Chinese with English abstract)

Xu SN (1984) Discovery of cyclic stria on the surface of columnar joints in Cenozoic basalts in eastern Zhejiang and its significance. Geol Rev 30:586–595 (in Chinese with English abstract)

Xu Z, Zhao ZF, Zheng YF (2012) Slab-mantle interaction for thinning of cratonic lithospheric mantle in North China: geochemical evidence from Cenozoic continental basalts in central Shandong. Lithos 145–147:202–217

Zeng G, Chen LH, Xu XS, Jiang SY, Hofmann AW (2010) Carbonated mantle sources for Cenozoic intra-plate alkaline basalts in Shandong, North China. Chem Geol 273:35–45

Zeng G, Chen LH, Yu X, Liu JQ, Erdmann S (2017) Magma-magma interaction in the mantle beneath eastern China. J Geophys Res (Solid Earth). 122:2763–2779. https://doi.org/10.1002/2017JB014023

Zhang JC, Lu QD (1997) On the characteristics and origin of the Cenozoic basalts in Fujian Province. Geology of Fujiang 1:1–9 (in Chinese with English abstract)

Zhao HL, Di YJ, Liu ZW, Li J, Deng JF, He GS, Liu QH (2004) Cenozoic volcanism and mantle plume along southeast coast of China. Acta Geol Sinica 78:781–788 (in Chinese with English abstract)

Zhi XC (1990) Trace element geochemistry of Tertiary continental alkalic basalt from Liuhe-Yizheng, Jiangsu Province, China. Acta Petro Sinica 6(2):30–42 (in Chinese with English abstract)

Zhou XM, Chen TH (1981) Composition and evolution of Cenozoic basaltic rocks in southeastern coastal provinces of China. Acta Geol Sinica 1:29–40 (in Chinese with English abstract)

Zou HB, Zindler A, Xu X, Qi Q (2000) Major, trace element, and Nd, Sr and Pb isotope studies of Cenozoic basalts in SE China: mantle sources, regional variations, and tectonic significance. Chem Geol 171:33–47
Acknowledgments
We are grateful to Associate Editor Dr. Dietterich and Executive Editor Dr. Harris for making very insightful comments and suggestions for revising the manuscript. Our thanks also go to Dr. Sheth and an anonymous reviewer, for the excellent detailed comments and suggestions which were very helpful in improving this manuscript.
Funding
This work was supported by the Chinese Academy of Sciences (Project number: XDB01800000).
Additional information
Editorial responsibility: H. Dietterich
Electronic supplementary material
About this article
Cite this article
Li, Y., Liu, J. Late Cenozoic columnar-jointed basaltic lavas in eastern and southeastern China: morphologies, structures, and formation mechanisms. Bull Volcanol 82, 58 (2020). https://doi.org/10.1007/s00445-020-01397-1
Received:

Accepted:

Published:
Keywords
Columnar jointing

Lava flow unit

Lava cooling

Entablature

Colonnade