Abstract
Botanical gardens represent artificial, but stable environments. With this premise, we analyzed the Munich Botanical Garden's bee fauna in 1997/1999 and again in 2015/2017. The garden covers 20 ha, uses no bee-relevant insecticides, has a protected layout, and on three sides abuts protected areas. Outdoors, it cultivates some 10,871 species/subspecies, many suitable as pollen and nectar sources for bees. The first survey found 79 species, the second 106, or 55% of the 192 species recorded for Munich since 1990. A Jackknife estimate for the second survey suggests 115 expected species. Classifying bees according to their thermal preferences (warm habitats, cool habitats, broad preferences, or unknown) revealed that 15 warm-loving species were gained (newly found), two lost (no longer found), and 12 retained, but only one cool-loving species was gained, three lost, and none retained, which multinomial models show to be significant differences. Of the 62 retained species, 27 changed in abundance, with 18 less frequent and nine more frequent by 2017 than they had been in 1997/1999. Retention, gain, or loss were unconnected to pollen specialization and Red List status of bee species. Between 1997 and 2017, average temperatures in Munich have increased by 0.5 °C, and climate warming over the past century is the most plausible explanation for the directional increase in warm-loving and the decrease in cool-adapted species. These results highlight the potential of botanic gardens with their artificially diverse and near-pesticide-free floras as systems in which to investigate climate change per se as a possible factor in shifting insect diversity.
Access options
Buy single article
Instant access to the full article PDF.
USD 39.95
Price includes VAT (USA)
Tax calculation will be finalised during checkout.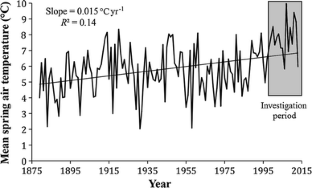 References
Amiet F, Krebs A (eds) (2014) Bienen Mitteleuropas: Gattungen, Lebensweise, Beobachtung. 2., korrigierte Auflage. Haupt Verlag, Bern

Amiet F, Müller A, Neumeyer R (1999) Fauna Helvetica 9. Apidae 2: Colletes, Dufourea, Hylaeus, Nomia, Nomioides, Rhophitoides, Rophites, Sphecodes, Systropha. Centre Suisse de Cartographie de la Faune, Neuchatel

Amiet F, Herrmann M, Müller A, Neumeyer R (2001) Fauna Helvetica 9. Apidae 3: Lasioglossum, Halictus. Centre Suisse de Cartographie de la Faune, Neuchatel, Switzerland

Amiet F, Herrmann M, Müller A, Neumeyer R (2004) Fauna Helvetica 9. Apidae 4: Anthidium, Chelostoma, Coelioxys, Dioxys, Heriades, Lithurgus, Megachile, Osmia, Stelis. Centre Suisse de Cartographie de la Faune, Neuchatel, Switzerland

Amiet F, Herrmann M, Müller A, Neumeyer R (2007) Fauna Helvetica 9. Apidae 5: Ammobates, Ammobatoides, Anthophora, Biastes, Ceratina, Dasypoda, Epeoloides, Epeolus, Eucera, Macropis, Melecta, Melitta, Nomada, Pasites, Tetralonia, Thyreus, Xylocopa. Centre Suisse de Cartographie de la Faune, Neuchatel, Switzerland

Baal T, Denker B, Mühlen W, Surholt B (1994) Die Ursachen des Massensterbens von Hummeln unter spätblühenden Linden. Nat Landsch 69:412–418

Bembé B, Gerlach G, Schuberth J, Schönitzer K (2001) Die Wildbienen im Botanischen Garten München. Nachrichtenblatt der bayererischen Entomologen 50:30–41

Bräu M, Nützel R (2010) Bienen und Wespen in München. Bund Naturschutz in Bayern e.V, Munich

Bußler H (2007) Mediterrane Holzbienen entdecken Bayern. LWF Aktuell 58:50–51

Dathe HH (1980) Die Arten der Gattung Hylaeus F. in Europa (Hymenoptera: Apoidea, Colletidae). Mitteilungen aus dem Zoologischen Museum in Berlin 56:207–294

Dorn M, Weber D (1988) Die Luzerne-Blattschneiderbiene und ihre Verwandten in Mitteleuropa. A. Ziemsen Verlag, Wittenberg

Falk SJ, Lewington R (2015) Field guide to the bees of Great Britain and Ireland. Bloomsbury, London

Frommer U, Flügel H-J (2005) Zur ausbreitung der furchenbiene Halictus scabiosae (Rossi, 1790) in mitteleuropa unter besonderer berücksichtigung der situation in hessen (Hymenoptera: Apidae). Mitteilungen des Internationalen Entomologischen Vereins 30:51–79

Goulson D, Lye GC, Darvill B (2008) Decline and conservation of bumble bees. Annu Rev Entomol 53:191–208

Goulson D, Nicholls E, Botías C, Rotheray EL (2015) Bee declines driven by combined stress from parasites, pesticides, and lack of flowers. Science 347:1255957

Haeseler V, Ritzau C (1998) Zur Aussagekraft wirbelloser Tiere in Umwelt-und Naturschutzgutachten. Zeitschrift für Ökologie und Naturschutz 7:45–66

Hage HJ (2005) Die Holzbiene Xylocopa violacea (LlNNAEUS 1758) in Bayern (Hymenoptera, Apidae). Nachrichtenblatt der Bayerischen Entomologen 54:39–46

Hall DM, Camilo GR, Tonietto RK, Ollerton J, Ahrné K, Arduser M, Ascher JS, Baldock KCR, Fowler R, Frankie G, Goulson D, Gunnarsson B, Hanley ME, Jackson JI, Langellotto G, Lowenstein D, Minor ES, Philpott SM, Potts SG, Sirohi MH, Spevak EM, Stone GN, Threlfall CG (2016) The city as a refuge for insect pollinators. Conserv Biol 31:24–29

Hallmann CA, Sorg M, Jongejans E, Siepel H, Hofland N, Schwan H, Goulson D (2017) More than 75 percent decline over 27 years in total flying insect biomass in protected areas. PLoS One 12(10):e0185809

Hernandez JL, Frankie GW, Thorp RW (2009) Ecology of urban bees: a review of current knowledge and directions for future study. Cities Environ 2:1–15

Hopfenmüller S (2014) Folgt die Efeu-Seidenbiene Colletes hederae Schmidt & Westrich, 1993 dem Ausbreitungsweg der Furchenbiene Halictus scabiosae (Rossi, 1790) in Bayern? (Hymenoptera: Apoidea). Nachrichtenblatt der Bayerischen Entomologen 63:2–7

Knoerzer A (1941) Bemerkenswerte Hymenopterenfunde in Südbayern. Mitteilungen der Münchner Entomologischen Gesellschaft 31:934–937

Potts SG, Biesmeijer JC, Kremen C, Neumann P, Schweiger O, Kunin WE (2010) Global pollinator declines: trends, impacts and drivers. Trends Ecol Evol 25:345–353

Primack RB, Miller-Rushing AJ (2009) The role of botanical gardens in climate change research. New Phytol 182:303–313

Renner SS (2014) 100 Jahre Botanischer Garten München-Nymphenburg. Berichte der Bayerischen Botanischen Gesellschaft 84:35–38

Scheuchl E, Schwenninger HR (2015) Kritisches Verzeichnis und aktuelle Checkliste der Wildbienen Deutschlands (Hymenoptera Anthophila) sowie Anmerkungen zur Gefährdung. Mitteilungen des Entomologischen Vereins Stuttgart 50:3–225

Scheuchl E, Willner W (2016) Taschenlexikon der Wildbienen Mitteleuropas: alle Arten im Porträt. Quelle & Meyer, Wiebelsheim

Schmalz K-H (2005) Erste Sichtnachweise der blauschwarzen Holzbiene Xylocopa violacea (Hymenoptera Apidae) in Osthessen. Beiträge zur Naturkunde in Osthessen 41:45–46

Schmidt S, Schmid-Egger C, Morinière J, Haszprunar G, Hebert PDN (2015) DNA barcoding largely supports 250 years of classical taxonomy: identifications for Central European bees (Hymenoptera, Apoidea partim). Mol Ecol Resour 15:985–1000

von Hagen E, Aichhorn A (2014) Hummeln: Bestimmen, Ansiedeln, Vermehren, Schützen, 6th edn. Fauna Verlag, Germany

Westrich P (1989) Die Wildbienen Baden-Württembergs. E. Ulmer, Stuttgart

Westrich P, Frommer U, Mandery K, Riemann H, Ruhnke H, Saure C, Voith J (2011) Rote Liste und Gesamtartenliste der Bienen (Hymenoptera, Apidae) Deutschlands. Naturschutz und Biologische Vielfalt 70:373–416

Williams PH, Araújo MB, Rasmont P (2007) Can vulnerability among British bumblebee (Bombus) species be explained by niche position and breadth? Biol Cons 138:493–505

Yee TW (2010) The VGAM package for categorical data analysis. J Stat Softw 32:1–34

Zohner CM, Renner SS (2014) Common garden comparison of the leaf-out phenology of woody species from different native climates, combined with herbarium records, forecasts long-term change. Ecol Lett 17:1016–1025

Zurbuchen A, Müller A (2012) Wildbienenschutz: von der Wissenschaft zur Praxis. Haupt Verlag, Bern
Acknowledgements
We thank B. Bembé, Munich, for information on his monitoring in the 1990s; J. Schuberth, S. Schmidt, and C. Zohner, Munich, and P. Westrich, Kusterdingen, for advice; H. Schäfer, Technical University of Munich, for unpublished primer sequences and advice; M. Silber and J. Babczinsky for help in the lab and with bee preparation; L. Alzinger, R. Thiessen-Bock, and C. Glassl for help with monitoring in 2016; M. Bräu and K. Mandery for information on bee ranges; H. Küchenhoff, and M. Bort from the LMU StaBLab for statistical advice; and the Editor-in-Chief, R. Brandl, and an anonymous reviewer for suggestions that helped improve the manuscript.
Ethics declarations
Conflict of interest
The authors declare that there is no conflict of interest.
Additional information
Communicated by Roland A. Brandl.
Electronic supplementary material
Below is the link to the electronic supplementary material.
About this article
Cite this article
Hofmann, M.M., Fleischmann, A. & Renner, S.S. Changes in the bee fauna of a German botanical garden between 1997 and 2017, attributable to climate warming, not other parameters. Oecologia 187, 701–706 (2018). https://doi.org/10.1007/s00442-018-4110-x
Received:

Accepted:

Published:

Issue Date:
Keywords
Botanic gardens

Bee fauna

Climate warming

Repeated monitoring

Stable habitat

Insect faunal change