Abstract
Alpine snowbed communities are among the habitats most threatened by climate change. The warmer temperature predicted, coupled with advanced snowmelt time, will influence flowering phenology, which is a key process in species adaptation to changing environmental conditions and plant population dynamics. However, we know little about the effects of changing micro-climate on flowering time in snowbeds and the mechanisms underlying such phenological responses. The flowering phenology of species inhabiting alpine snowbeds was assessed with weekly observations over five growing seasons. We analysed flowering time in relation to micro-climatic variation in snowmelt date, soil and air temperature, and experimental warming during the snow-free period. This approach allowed us to test hypotheses concerning the processes driving flowering phenology. The plants were finely tuned with inter-annual and intra-seasonal variations of their micro-climate, but species did not track the same micro-climatic feature to flower. At the growing-season time-scale, the air surrounding the plants was the most common trigger of the blooming period. However, at the annual time-scale, the snowmelt date was the main controlling factor for flowering time, even in warmer climate. Moreover, spatial patterns of the snowmelt influenced the developmental rate of the species because in later snowmelt sites the plants needed a lower level of heat accumulation to enter anthesis. Phenological responses to experimental warming differed among species, were proportional to the pre-flowering time-span of plants, and did not show consistent trends of change over time. Finally, warmer temperature produced an overall increase of flowering synchrony both within and among plant species.
Access options
Buy single article
Instant access to the full article PDF.
US$ 39.95
Tax calculation will be finalised during checkout.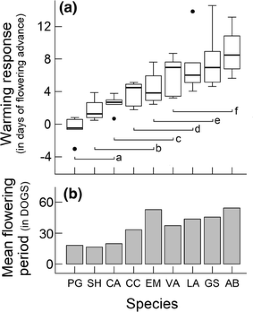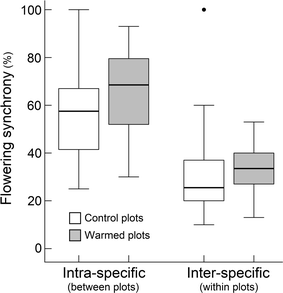 References
Aeschimann D, Lauber K, Moser DM, Theurillat GP (2004) Flora alpina. Zanichelli, Bologna

Atkin OK, Tjoelker MG (2003) Thermal acclimation and the dynamic response of plant respiration to temperature. Trend Plant Sci 8:343–351. doi:10.1016/S1360-1385(03)00136-5

Beniston M, Keller F, Koffi B, Goyette S (2003) Estimates of snow accumulation and volume in the Swiss Alps under changing climatic conditions. Theor Appl Climatol 76:125–140. doi:10.1007/s00704-003-0016-5

Bliss LC (1971) Arctic and alpine plant life cycles. Annu Rev Ecol Syst 2:405–438. doi:10.1146/annurev.es.02.110171.002201

Callaway RM, Brooker RW, Choler P, Kikvidze Z, Lortie CJ, Michalet R, Paolini L, Pugnaire FI, Newingham B, Aschehoug ET, Armas C, Kikodze D, Cook BJ (2002) Positive interactions among alpine plants increase with stress. Nature 417:844–848. doi:10.1038/nature00812

Carbognani M, Petraglia A, Tomaselli M (2012) Influence of snowmelt time on species richness, density and production in a late snowbed community. Acta Oecol 43:113–120. doi:10.1016/j.actao.2012.06.003

Carbognani M, Petraglia A, Tomaselli M (2014a) Warming effects and plant trait control on the early-decomposition in alpine snowbeds. Plant Soil 376:277–290. doi:10.1007/s11104-013-1982-8

Carbognani M, Tomaselli M, Petraglia A (2014b) Current vegetation changes in an alpine late snowbed community in the south-eastern Alps (N-Italy). Alp Bot 124:105–113. doi:10.1007/s00035-014-0135-x

Clarke HL (1893) The philosophy of flower season. Am Nat 27:769–781. doi:10.1086/275791

Cleland EE, Allen JM, Crimmins TM, Dunne JA, Pau S, Travers SE, Zavaleta ES, Wolkovich EM (2012) Phenological tracking enables positive species responses to climate change. Ecology 93:1765–1771. doi:10.1890/11-1912.1

Crawley MJ (2013) The R book. Wiley, Chichester

Dietrich L, Körner C (2014) Thermal imaging reveals massive heat accumulation in flowers across a broad spectrum of alpine taxa. Alp Bot 124:27–35. doi:10.1007/s00035-014-0123-1

Domènech M, Komac B, Peñuelas J, Conesa JA (2014) Site-specific factors influence the richness and phenology of snowbed plants in the Pyrenees. Plant Biosyst. doi:10.1080/11263504.2014.990941 (online)

Fægri K, van der Pijl L (1979) Pollination in angiosperms. In: Fægri K, van der Pijl L (eds) The principles of pollination ecology. Pergamon Press, Oxford, pp 13–33

Forrest J, Inouye DW, Thomson JD (2010) Flowering phenology in subalpine meadows: does climate variation influence community co-flowering patterns? Ecology 41:431–440. doi:10.1890/09-0099.1

García-Camacho R, Totland Ø (2009) Pollen limitation in the alpine: a meta-analysis. Arct Antarct Alp Res 41:103–111. doi:10.1657/1523-0430-41.1.103

Hedhly A, Hormaza JI, Herrero M (2008) Global warming and sexual plant reproduction. Trend Plant Sci 14:30–36. doi:10.1016/j.tplants.2008.11.001

Hiller B, Nuebel A, Broll G, Holtmeier F-K (2005) Snowbeds on silicate rocks in the Upper Engadine (Central Alps, Switzerland)—pedogenesis and interactions among soil, vegetation, and snow cover. Arct Antarct Alp Res 37:465–476. doi:10.1657/1523-0430(2005)037%5B0465:SOSRIT%5D2.0.CO;2

Holway JG, Ward RT (1965) Phenology of alpine plants in Northern Colorado. Ecology 46:73–83. doi:10.2307/1935259

Høye TT, Post E, Schmidt NM, Trøjelsgaard K, Forchhammer MC (2013) Shorter flowering seasons and declining abundance of flower visitors in a warmer Arctic. Nat Clim Change 3:759–763. doi:10.1038/nclimate1909

Hülber K, Winkler M, Grabherr G (2010) Intraseasonal climate and habitat-specific variability controls the flowering phenology of high alpine plant species. Funct Ecol 24:245–252. doi:10.1111/j.1365-2435.2009.01645.x

Inouye DW (2008) Effects of climate change on phenology, frost damage, and floral abundance of montane wildflowers. Ecology 89:353–362. doi:10.1890/06-2128.1

Inouye DW, Wielgolaski FE (2013) Phenology at high altitudes. In: Schwartz MD (ed) Phenology: an integrative environmental science. Springer, Dordrecht, pp 249–272

Keller F, Körner C (2003) The role of photoperiodism in alpine plant development. Arct Antarct Alp Res 35:361–368. doi:10.1657/1523-0430(2003)035%5B0361:TROPIA%5D2.0.CO;2

King AW, Gunderson CA, Post WM, Weston DJ, Wullschleger SD (2006) Plant respiration in a warmer world. Science 312:536–537. doi:10.1126/science.1114166

Körner C (2003) Alpine plant life: functional plant ecology of high mountain ecosystems. Springer, Berlin

Kotlarski S, Bosshard T, Lüthi D, Pall P, Schär C (2012) Elevation gradients of European climate change in the regional climate model COSMO-CLM. Clim Change 112:189–215. doi:10.1007/s10584-011-0195-5

Lambers H, Chapin FS III, Pons TL (2008) Plant physiological ecology. Springer, New York

Larcher W (2003) Physiological plant ecology. Springer, Berlin

Lluent A, Anadon-Rosell A, Ninot JM, Grau O, Carillo E (2013) Phenology and seed setting success of snowbed plant species in contrasting snowmelt regimes in the Central Pyrenees. Flora 208:220–231. doi:10.1016/j.flora.2013.03.004

Marion GM, Henry GHR, Freckman DW, Johnstone J, Jones G, Jones MH, Lévesque E, Molau U, Mølgaard P, Parson AN, Svoboda J, Virginia RA (1997) Open-top design for manipulating field temperature in high-latitude ecosystems. Glob Change Biol 3:20–32. doi:10.1111/j.1365-2486.1997.gcb136.x

Marsham R (1789) Indications of spring, observed by Robert Marsham, Esduire, F. R. S. of Stratton in Norfolk. Latitude 52°45′. Philos Trans R Soc Lond 79:154–156

Miller-Rushing AJ, Inouye DW, Primack RB (2008) How well do first flowering dates measure plant responses to climate change? The effects of population size and sampling frequency. J Ecol 96:1289–1296. doi:10.1111/j.1365-2745.2008.01436.x

Moeller DA, Geber MA (2005) Ecological context of the evolution of self-pollination in Clarkia xantiana: population size, plant communities, and reproductive assurance. Evolution 59:786–799. doi:10.1554/04-656

Molau U, Nordenhäll U, Eriksen B (2005) Onset of flowering and climate variability in an alpine landscape: a 10-year study from Swedish Lapland. Am J Bot 92:422–431. doi:10.3732/ajb.92.3.422

Mountain Research Initiative EDW Working Group (2015) Elevation-dependent warming in mountain regions of the world. Nat Clim Change 5:424–430. doi:10.1038/nclimate2563

Penfield S (2008) Temperature perception and signal transduction in plants. New Phytol 179:615–628. doi:10.1111/j.1469-8137.2008.02478.x

Petraglia A, Tomaselli M, Carbognani M (2013) Effects of nutrient amendments on modular growth, flowering effort and reproduction of snowbed plants. Plant Ecol Divers 6:475–486. doi:10.1080/17550874.2013.795628

Petraglia A, Tomaselli M, Mondoni A, Brancaleoni L, Carbognani M (2014a) Effects of nitrogen and phosphorus on growth and flowering phenology of the snowbed forb Gnaphalium supinum L. Flora 209:271–278. doi:10.1016/j.flora.2014.03.005

Petraglia A, Tomaselli M, Petit Bon M, Delnevo N, Chiari G, Carbognani M (2014b) Responses of flowering phenology of snowbed plants to an experimentally imposed extreme advanced snowmelt. Plant Ecol 215:759–768. doi:10.1007/s11258-014-0368-1

Primack RB (1980) Variation in the phenology of natural populations of montane shrubs in New Zealand. J Ecol 68:849–862. doi:10.2307/2259460

Pyke GH, Thomson JD, Inouye DW, Miller TJ (2016) Effects of climate change on phenologies and distributions of bumble bees and the plants they visit. Ecosphere 7:e01267. doi:10.1002/ecs2.1267

R Core Team (2015) R: a language and environment for statistical computing. R Foundation for Statistical Computing, Vienna

Sandvik SM, Odland A (2014) Changes in alpine snowbed-wetland vegetation over three decades in northern Norway. Nord J Bot 32:377–384. doi:10.1111/j.1756-1051.2013.00249.x

Sandvik SM, Totland Ø (2000) Short-term effects of simulated environmental changes on phenology, reproduction, and growth in the late-flowering snowbed herb Saxifraga stellaris L. Ecoscience 7:201–213

Scherrer D, Körner C (2011) Topographically controlled thermal-habitat differentiation buffers alpine plant diversity against climate warming. J Biogeogr 38:406–416. doi:10.1111/j.1365-2699.2010.02407.x

Schwartz MD (2013) Introduction. In: Schwartz MD (ed) Phenology: an integrative environmental science. Springer, Dordrecht, pp 1–5

Sokal RR, Rohlf FJ (1995) Biometry. Freeman, New York

Tomaselli M (1991) The snow-bed vegetation in the Northern Apennines. Vegetatio 94:177–189. doi:10.1007/BF00032630

Totland Ø, Alatalo JM (2002) Effects of temperature and date of snowmelt on growth, reproduction, and flowering phenology in the arctic/alpine herb, Ranunculus glacialis. Oecologia 133:168–175. doi:10.1007/s00442-002-1028-z

Zuur AF, Ieno EN, Walker NJ, Saveliev AA, Smith GM (2009) Mixed effects models and extensions in ecology with R. Springer, New York
Acknowledgments
We would like to thank the Stelvio National Park for research authorization and facilities. Sincere thanks are due to Alice, Dimitri, Giorgio, Marta, Matteo, Nicola, Tommaso and Veronica for their help and company during the long fieldwork days (sometimes exceeding 24 h), often spent under harsh weather conditions (at least for human beings). We also thank Anila Ruth Scott-Monkhouse for proof reading, and the Handling Editor A. Worley and two anonymous reviewers for their comments on the manuscript.
Author contribution statement
MC and AP conceived and designed the study. All the authors performed the field and laboratory activity. MC analysed the data and wrote the manuscript; other authors provided editorial advice.
Additional information
Communicated by Anne Worley.
Electronic supplementary material
Below is the link to the electronic supplementary material.
About this article
Cite this article
Carbognani, M., Bernareggi, G., Perucco, F. et al. Micro-climatic controls and warming effects on flowering time in alpine snowbeds. Oecologia 182, 573–585 (2016). https://doi.org/10.1007/s00442-016-3669-3
Received:

Accepted:

Published:

Issue Date:
Keywords
Environmental cues

Phenology

Snowmelt

Synchronization

Temperature perception