Abstract
The study of phylogenetic conservatism in alpine plant phenology is critical for predicting climate change impacts; currently we have a poor understanding of how phylogeny and climate factors interactively influence plant phenology. Therefore, we explored the influence of phylogeny and climate factors on flowering phenology in alpine meadows. For two different types of alpine plant communities, we recorded phenological data, including flowering peak, first flower budding, first flowering, first fruiting and the flowering end for 62 species over the course of 5 years (2008–2012). From sequences in two plastid regions, we constructed phylogenetic trees. We used Blomberg's K and Pagel's lambda to assess the phylogenetic signal in phenological traits and species' phenological responses to climate factors. We found a significant phylogenetic signal in the date of all reproductive phenological events and in species' phenological responses to weekly day length and temperature. The number of species in flower was strongly associated with the weekly day lengths and followed by the weekly temperature prior to phenological activity. Based on phylogenetic eigenvector regression (PVR) analysis, we found a highly shared influence of phylogeny and climate factors on alpine species flowering phenology. Our results suggest the phylogenetic conservatism in both flowering and fruiting phenology may depend on the similarity of responses to external environmental cues among close relatives.
Access options
Buy single article
Instant access to the full article PDF.
US$ 39.95
Tax calculation will be finalised during checkout.
Subscribe to journal
Immediate online access to all issues from 2019. Subscription will auto renew annually.
US$ 119
Tax calculation will be finalised during checkout.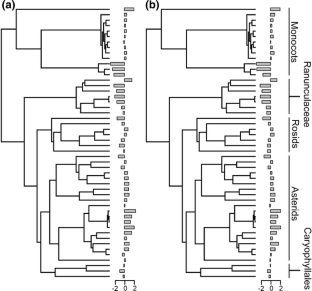 References
Bendix J, Homeier J, Ortiz EC et al (2006) Seasonality of weather and tree phenology in a tropical evergreen mountain rain forest. Int J Biometeorol 50:370–384. doi:10.1007/s00484-006-0029-8

Blanchet FG, Legendre P, Borcard D (2008) Forward selection of explanatory variables. Ecology 89:2623–2632. doi:10.1890/07-0986.1

Blomberg SP, Garland T (2002) Tempo and mode in evolution: phylogenetic inertia, adaptation and comparative methods. J Evol Biol 15:899–910. doi:10.1046/j.1420-9101.2002.00472.x

Blomberg SP, Garland T, Ives AR (2003) Testing for phylogenetic signal in comparative data: Behavioral traits are more labile. Evolution 57:717–745. doi:10.1111/j.0014-3820.2003.tb00285.x

Bolmgren K, Cowan PD (2008) Time—size tradeoffs: a phylogenetic comparative study of flowering time, plant height and seed mass in a north-temperate flora. Oikos 117:424–429. doi:10.1111/j.2007.0030-1299.16142.x

Callaway RM, Brooker RW, Choler P et al (2002) Positive interactions among alpine plants increase with stress. Nature 417:844–848. doi:10.1038/nature00812

Davies TJ, Wolkovich EM, Kraft NJB et al (2013) Phylogenetic conservatism in plant phenology. J Ecol 101:1520–1530. doi:10.1111/1365-2745.12154

Desdevises Y, Legendre P, Azouzi L et al (2003) Quantifying phylogenetically structured environmental variation. Evolution 57:2647–2652. doi:10.1554/02-695

Diniz-Filho JAF, Sant'Ana de CER, Bini LM (1998) An Eigenvector method for estimating phylogenetic inertia. Evolution 52:1247–1262. doi:10.2307/2411294

Doyle J, Doyle J (1987) A rapid DNA isolation procedure for small quantities of fresh leaf tissue. Phytochemical Bulletin 19:11–15

Drummond AJ, Rambaut A (2007) BEAST: Bayesian evolutionary analysis by sampling trees. BMC Evol Biol 7:214. doi:10.1186/1471-2148-7-214

Du Y, Mao L, Queenborough SA et al (2015) Phylogenetic constraints and trait correlates of flowering phenology in the angiosperm flora of China. Glob Ecol Biogeogr 24:928–938. doi:10.1111/geb.12303

Edgar RC (2004) MUSCLE: multiple sequence alignment with high accuracy and high throughput. Nucleic Acids Res 32:1792–1797. doi:10.1093/nar/gkh340

Elzinga JA, Atlan A, Biere A et al (2007) Time after time: flowering phenology and biotic interactions. Trends Ecol Evol 22:432–439. doi:10.1016/j.tree.2007.05.006

Fenner M (1998) The phenology of growth and reproduction in plants. Persp Plant Ecol Evol System 1:78–91. doi:10.1078/1433-8319-00053

Futuyma DJ (2010) Evolutionary constraint and ecological consequences. Evolution 64:1865–1884. doi:10.1111/j.1558-5646.2010.00960.x

Gross RS, Werner PA (1983) Relationships among flowering phenology, insect visitors, and seed-set of individuals: experimental studies on four co-occurring species of goldenrod (Solidago: Compositae). Ecol Monogr 53:95–117. doi:10.2307/1942589

Guindon S, Dufayard J-F, Lefort V et al (2010) New algorithms and methods to estimate maximum-likelihood phylogenies: assessing the performance of PhyML 3.0. Syst Biol 59:307–321. doi:10.1093/sysbio/syq010

Hegland SJ, Nielsen A, Lázaro A et al (2009) How does climate warming affect plant-pollinator interactions? Ecol Lett 12:184–195. doi:10.1111/j.1461-0248.2008.01269.x

Heide OM (1992) Flowering strategies of the high-arctic and high-alpine snow bed grass species Phippsia algida. Physiol Plant 85:606–610. doi:10.1111/j.1399-3054.1992.tb04761.x

Hijmans RJ (2015) Introduction to the "geosphere" package (Version 1.3-13)

Jia P, Bayaerta T, Li X, Du G (2011) Relationships between flowering phenology and functional traits in Eastern Tibet alpine meadow. Arct Antarct Alp Res 43:585–592. doi:10.1657/1938-4246-43.4.585

Johnson SD (1993) Climatic and phylogenetic determinants of flowering seasonality in the Cape Flora. J Ecol 81:567–572. doi:10.2307/2261535

Keller F, Körner C (2003) The role of photoperiodism in alpine plant development. Arct Antarct Alp Res 35:361–368

Kochmer JP, Handel SN (1986) Constraints and competition in the evolution of flowering phenology. Ecol Monogr 56:303. doi:10.2307/1942549

Körner C (2003) Alpine Plant Life. Springer, Berlin Heidelberg

Lessard-Therrien M, Davies TJ, Bolmgren K (2014) A phylogenetic comparative study of flowering phenology along an elevational gradient in the Canadian subarctic. Int J Biometeorol 58:455–462. doi:10.1007/s00484-013-0672-9

Pagel M (1999) Inferring the historical patterns of biological evolution. Nature 401:877–884. doi:10.1038/44766

Paradis E, Claude J, Strimmer K (2004) APE: Analyses of phylogenetics and evolution in R language. Bioinformatics 20:289–290. doi:10.1093/bioinformatics/btg412

Parmesan C (2006) Ecological and evolutionary responses to recent climate change. Annu Rev Ecol Evol Syst 37:637–669. doi:10.1146/annurev.ecolsys.37.091305.110100

Pau S, Wolkovich EM, Cook BI et al (2011) Predicting phenology by integrating ecology, evolution and climate science. Glob Change Biol 17:3633–3643. doi:10.1111/j.1365-2486.2011.02515.x

Pei N, Lian J-Y, Erickson DL et al (2011) Exploring tree-habitat associations in a Chinese subtropical forest plot using a molecular phylogeny generated from DNA barcode loci. PLoS One 6:e21273. doi:10.1371/journal.pone.0021273

Polgar CA, Primack RB (2011) Leaf-out phenology of temperate woody plants: from trees to ecosystems. New Phytol 191:926–941. doi:10.1111/j.1469-8137.2011.03803.x

Posada D (2008) jModel test: phylogenetic model averaging. Mol Biol Evol 25:1253–1256. doi:10.1093/molbev/msn083

Qian H, Zhang Y, Zhang J, Wang X (2013) Latitudinal gradients in phylogenetic relatedness of angiosperm trees in North America. Glob Ecol Biogeogr 22:1183–1191. doi:10.1111/geb.12069

Rathcke B, Lacey EP (1985) Phenological patterns of terrestrial plants. Annu Rev Ecol Syst 16:179–214

Revell LJ (2012) phytools: an R package for phylogenetic comparative biology (and other things). Methods Ecol Evol 3:217–223. doi:10.1111/j.2041-210X.2011.00169.x

Sanderson MJ (2002) Estimating absolute rates of molecular evolution and divergence times: a penalized likelihood approach. Mol Biol Evol 19:101–109

Sherry RA, Zhou X, Gu S et al (2007) Divergence of reproductive phenology under climate warming. Procee Nat Acad Sci USA 104:198–202. doi:10.1073/pnas.0605642104

Silva IA, da Silva DM, de Carvalho GH, Batalha MA (2011) Reproductive phenology of Brazilian savannas and riparian forests: environmental and phylogenetic issues. Ann Forest Sci 68:1207–1215. doi:10.1007/s13595-011-0071-5

Staggemeier VG, Diniz-Filho JAF, Morellato LPC (2010) The shared influence of phylogeny and ecology on the reproductive patterns of Myrteae (Myrtaceae). J Ecol 98:1409–1421. doi:10.1111/j.1365-2745.2010.01717.x

ter Braak CJF (1986) Canonical correspondence analysis: a new eigenvector technique for multivariate direct gradient analysis. Ecology 67:1167–1179. doi:10.2307/1938672

Waser NM (1979) Pollinator availability as a determinant of flowering time in ocotillo (Fouquieria splendens). Oecologia 39:107–121. doi:10.1007/BF00346001

Wiens JJ, Ackerly DD, Allen AP et al (2010) Niche conservatism as an emerging principle in ecology and conservation biology. Ecol Lett 13:1310–1324. doi:10.1111/j.1461-0248.2010.01515.x

Wikström N, Savolainen V, Chase MW (2001) Evolution of the angiosperms: calibrating the family tree. Procee Royal Soc London B Biol Sci 268:2211–2220. doi:10.1098/rspb.2001.1782

Wright SJ, Calderon O (1995) Phylogenetic patterns among tropical flowering phenologies. J Ecol 83:937–948. doi:10.2307/2261176

Wright SJ, Cornejo FH (1990) Seasonal drought and leaf fall in a tropical forest. Ecology 71:1165–1175. doi:10.2307/1937384
Acknowledgments
This research is supported by the Key Project of the National Natural Science Foundation of China granted to GD (41430749). MWC wishes to acknowledge support from the endowed TD Chair of Urban Forest Conservation and Biology and from the Natural Sciences and Engineering Research Council of Canada (#386151). We thank Xianhui Zhou for providing climate data; Kun Liu and Wei Qi for their species identification; Jingyao Sun, Qin Yu and Jie Wu for helping us with phenological data collection. We also thank Editor Hermann Heilmeier and two anonymous reviewers for their valuable comments on the manuscript. This experiment complies with the current laws of People's Republic of China, where it was performed.
Author contribution statement
LL, ZL, PJ and GC conducted fieldwork. LL generated sequencing data, performed phylogenetic analyses and statistical analyses. LL, MWC and LSJ wrote the manuscript. MWC provided analytical advice. GD conceived and designed the experiments.
Additional information
Communicated by Hermann Heilmeier.
Electronic supplementary material
Below is the link to the electronic supplementary material.
About this article
Cite this article
Li, L., Li, Z., Cadotte, M.W. et al. Phylogenetic conservatism and climate factors shape flowering phenology in alpine meadows. Oecologia 182, 419–428 (2016). https://doi.org/10.1007/s00442-016-3666-6
Received:

Accepted:

Published:

Issue Date:
Keywords
Phylogenetic signal

Phylogenetic eigenvector regression

Alpine plant phenology

Phenological traits

Day length

Flowering peak date