Abstract
Many animals build extravagant nests that exceed the size required for successful reproduction. Large nests may signal the parenting ability of nest builders suggesting that nests may have a signaling function. In particular, many raptors build very large nests for their body size. We studied nest size in the goshawk Accipiter gentilis, which is a top predator throughout most of the Nearctic. Both males and females build nests, and males provision their females and offspring with food. Nest volume in the goshawk is almost three-fold larger than predicted from their body size. Nest size in the goshawk is highly variable and may reach more than 600 kg for a bird that weighs ca. 1 kg. While 8.5 % of nests fell down, smaller nests fell down more often than large nests. There was a hump-shaped relationship between nest volume and female age, with a decline in nest volume late in life, as expected for senescence. Clutch size increased with nest volume. Nest volume increased during 1977–2014 in an accelerating fashion, linked to increasing spring temperature during April, when goshawks build and start reproduction. These findings are consistent with nest size being a reliable signal of parental ability, with large nest size signaling superior parenting ability and senescence, and also indicating climate warming.
Access options
Buy single article
Instant access to the full article PDF.
USD 39.95
Price includes VAT (USA)
Tax calculation will be finalised during checkout.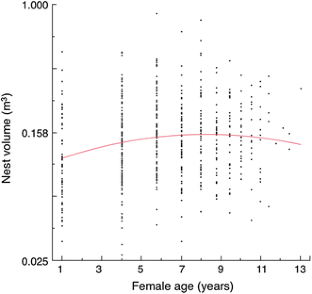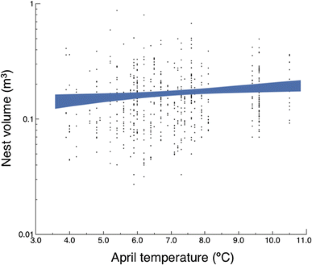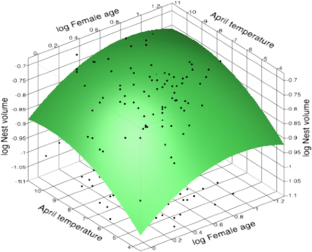 References
Alabrudzinska J, Kalinski A, Slomczynski R, Wawrzyniak J, Zielinski P, Banbura J (2003) Effects of nest characteristics on breeding success of great tits Parus major. Acta Ornithol 38:151–154

Álvarez E, Barba E (2008) Nest quality in relation to adult bird condition and its impact on reproduction in great tits Parus major. Acta Ornithol 43:3–9

Becker WA (1984) Manual of quantitative genetics. Academic Enterprises, Pullman

Broggi J, Senar JC (2009) Brighter great tit parents build bigger nests. Ibis 155:588–591

Cohen J (1988) Statistical power analysis for the behavioral sciences, 2nd edn. Lawrence Erlbaum, Hillsdale

Collias NE, Collias EC (1984) Nest building and bird behavior. Princeton University Press, Princeton

Cramp S, Perrins CM (1977) The birds of the Western Palearctic. Oxford University Press, Oxford

Cramp S, Simmons KEL (eds) (1980) The birds of the Western Palearctic, vol 2. Oxford University Press, Oxford

Crossman CA, Rohwer VG, Martin PR (2011) Variation in the structure of bird nests between northern Manitoba and southeastern Ontario. PLoS ONE 6:19086

de Neve L, Soler JJ, Soler M, Perez-Contreras T (2004) Nest size predicts the effect of food supplementation to magpie nestlings on their immunocompetence: an experimental test of nest size indicating parental ability. Behav Ecol 15:1031–1036

Erbeling-Denk C, Trillmich F (1990) Das Mikroklima im Nistkasten und seine Auswirkungen auf die Nestlinge beim Star. J Ornithol 131:73–84

Falconer DS, Mackay TFC (1996) Introduction to quantitative genetics, 4th edn. Longman, New York

Hall ZI, Street SE, Healy SD (2013) The evolution of cerebellum structure correlates with nest complexity. Biol Lett 9:20130687

Hansell MH (2000) Bird nests and construction behaviour. Cambridge University Press, Cambridge

Hansell MH (2007) Built by animals. Oxford University Press, Oxford

Heenan CB, Seymour RS (2011) Structural support, not insulation, is the primary driver for avian cup-shaped nest design. Proc R Soc Lond B 278:2924–2929

Herfindal I, van de Pol M, Nielsen JT, Sæther B-E, Møller AP (2015) Climatic conditions cause complex patterns of covariation between demographic traits in a long-lived raptor. J Anim Ecol 84:702–711

Holstein V (1942) Duehøgen. Hirschsprung, Copenhagen

Kenward R (2006) The goshawk. Poyser, London

Kern MD, Van Riper CIII (1984) Altitudinal variations in nests of the Hawaiian honeycreeper Hemignathus virens virens. Condor 86:443–454

Kühlapfel O, Brune J (1995) Die Mauserfeder als Hilfsmittel zur Altersbestimmung und Individualerkennung von Habichten (Accipiter gentilis). Charadrius 31:120–125

Mainwaring MC, Hartley IR (2008) Seasonal adjustments in nest cup lining in blue tits Cyanistes caeruleus. Ardea 96:278–282

Mainwaring MC, Hartley IR, Bearhop S, Brulez K, du Feu CR, Murphy G, Plummer KE, Webber SL, Reynolds SJ, Deeming DC (2012) Latitudinal variation in blue tit and great tit nest characteristics indicates environmental adjustment. J Biogeogr 39:1669–1677

Mennerat A, Mirleau P, Blondel J, Perret P, Lambrecht M, Heeb P (2009) Aromatic plants in nests of the blue tit Cyanistes caeruleus protect chicks from bacteria. Oecologia 161:849–855

Møller AP (1984) On the use of feathers in birds' nests: predictions and tests. Ornis Scand 15:38–42

Møller AP (1990) Nest predation selects for small nest size in the blackbird. Oikos 57:237–240

Møller AP (2006) Rapid change in nest size of a bird related to change in a secondary sexual character. Behav Ecol 17:108–116

Møller AP, Nielsen JT (2014) Parental defense of offspring and life history of a long-lived raptor. Behav Ecol 25:1505–1512

Møller AP, Flensted-Jensen E, Klarborg K, Mardal W, Nielsen JT (2010) Climate change affects the duration of the reproductive season in birds. J Anim Ecol 79:777–784

Møller AP, Adriaensen F, Artemyev A, Bańbura J et al (2014a) Clutch size in European secondary hole-nesting passerines in relation to nest-box floor area, habitat, geographic location and study year. Methods Ecol Evol 5:353–362

Møller AP, Adriaensen F, Artemyev A, Bańbura J et al (2014b) Variation in clutch size in relation to nest size in birds. Ecol Evol 4:3583–3595

Newton I (2010) Population ecology of raptors. Black, London

Nielsen JT, Drachmann J (2003) Age-dependent reproductive performance in Northern Goshawks Accipiter gentilis. Ibis 145:1–8

Nielsen JT, Møller AP (2006) Effects of food abundance, density and climate change on reproduction in the sparrowhawk Accipiter nisus. Oecologia 149:505–518

Nord A, Sandell MI, Nilsson J-Å (2010) Female zebra finches compromise clutch temperature in energetically demanding incubation conditions. Funct Ecol 24:1031–1036

Nussey DH, Froy H, Lemaitre JF, Gaillard JM, Austad SN (2013) Senescence in natural populations of animals: widespread evidence and its implications for biogerontology. Ageing Res Rev 12:214–225

Opdam P, Müskens G (1976) Use of shed feathers in population studies of Accipiter hawks (Aves, Accipitriformes, Accipitridae). Beaufortia 24:55–62

Peralta-Sánchez JM, Møller AP, Martín-Platero AM, Soler JJ (2010) Number and colour composition of nest lining feathers predict eggshell bacterial community in barn swallow nests: an experimental study. Funct Ecol 24:426–433

Sanz JJ, García-Navas V (2011) Nest ornamentation in blue tits: is feather carrying ability a male status signal? Behav Ecol 22:240–247

SAS (2012) JMP version 10.0. SAS Institute Inc, Cary

Schaefer VH (1980) Geographic variation in the insulative qualities of nests of the northern oriole. Wilson Bull 92:466–474

Slagsvold T (1982) Clutch size, nest size, and hatching asynchrony in birds: experiments with the fieldfare (Turdus pilaris). Ecology 63:1389–1399

Slagsvold T (1989) Experiments on clutch size and nest size in passerine birds. Oecologia 80:297–302

Soler JJ, Cuervo JJ, Møller AP, de Lope F (1998a) Nest building is a sexually selected behaviour in the barn swallow. Anim Behav 56:1435–1442

Soler JJ, Møller AP, Soler M (1998b) Nest building, sexual selection and parental investment. Evol Ecol 12:427–441

Soler JJ, Martínez JG, Soler M, Møller AP (1999) Host sexual selection and cuckoo parasitism: an analysis of nest size in sympatric and allopatric magpie Pica pica populations parasitised by the great spotted cuckoo Clamator glandarius. Proc R Soc Lond B 266:1765–1771

Soler JJ, de Neve L, Martinez JG, Soler M (2001) Nest size affects clutch size and the start of incubation in magpies: an experimental study. Behav Ecol 12:301–307

Tomás G, Merino S, Martínez-de la Puente J, Moreno J, Morales J, Rivero-de-Aguilar J (2013) Nest size and aromatic plants in the nest as sexually selected female traits in blue tits. Behav Ecol 24:926–934

Tortosa FS, Redondo T (1992) Frequent copulations despite low sperm competition in white storks (Ciconia ciconia). Behaviour 121:288–315

Wimberger PH (1984) The use of green plant material in bird nests to avoid ectoparasites. Auk 101:615–618
Acknowledgments
We thank the landowners for access.
Additional information
Communicated by Indrikis Krams.
Electronic supplementary material
Below is the link to the electronic supplementary material.
About this article
Cite this article
Møller, A.P., Nielsen, J.T. Large increase in nest size linked to climate change: an indicator of life history, senescence and condition. Oecologia 179, 913–921 (2015). https://doi.org/10.1007/s00442-015-3385-4
Received:

Accepted:

Published:

Issue Date:
Keywords
Accipiter gentilis

Climate change

Extended phenotype

Goshawk

Senescence

Signal