Abstract
Global climate change is rapidly altering disturbance regimes in many ecosystems including coral reefs, yet the long-term impacts of these changes on ecosystem structure and function are difficult to predict. A major ecosystem service provided by coral reefs is the provisioning of physical habitat for other organisms, and consequently, many of the effects of climate change on coral reefs will be mediated by their impacts on habitat structure. Therefore, there is an urgent need to understand the independent and combined effects of coral mortality and loss of physical habitat on reef-associated biota. Here, we use a unique series of events affecting the coral reefs around the Pacific island of Moorea, French Polynesia to differentiate between the impacts of coral mortality and the degradation of physical habitat on the structure of reef fish communities. We found that, by removing large amounts of physical habitat, a tropical cyclone had larger impacts on reef fish communities than an outbreak of coral-eating sea stars that caused widespread coral mortality but left the physical structure intact. In addition, the impacts of declining structural complexity on reef fish assemblages accelerated as structure became increasingly rare. Structure provided by dead coral colonies can take up to decades to erode following coral mortality, and, consequently, our results suggest that predictions based on short-term studies are likely to grossly underestimate the long-term impacts of coral decline on reef fish communities.
Access options
Buy single article
Instant access to the full article PDF.
US$ 39.95
Tax calculation will be finalised during checkout.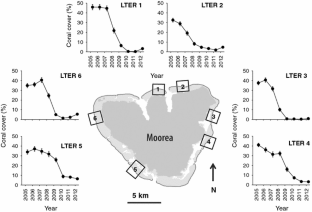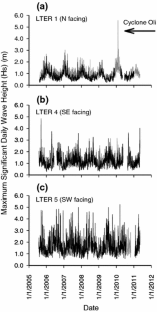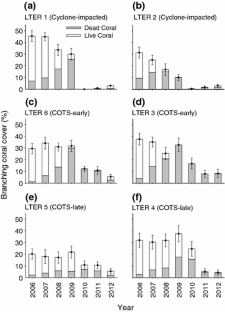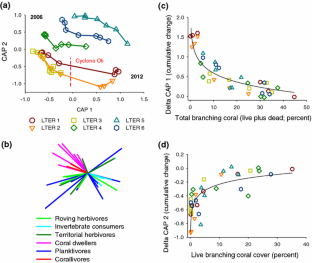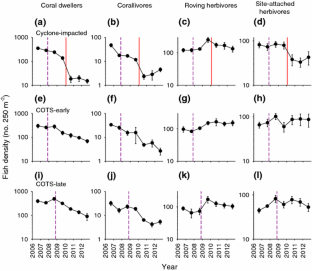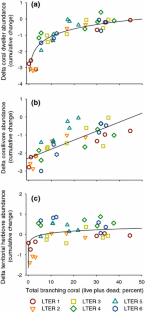 References
Adam TC, Schmitt RJ, Holbrook SJ, Brooks AJ, Edmunds PJ, Carpenter RC, Bernardi G (2011) Herbivory, connectivity, and ecosystem resilience: response of a coral reef to a large-scale perturbation. PLoS ONE 6:e2317. doi:10.1371/journal.pone.0023717

Alvarez-Filip L, Côte IM, Gill JA, Watkinson AR, Dulvy NK (2011) Region-wide temporal and spatial variation in Caribbean reef architecture: is coral cover the whole story? Glob Change Biol 17:2470–2477. doi:10.1111/j.1365-2486.2010.02385.x

Anderson MJ (2001) A new method for non-parametric multivariate analysis of variance. Austral Ecol 26:32–46. doi:10.1111/j.1442-9993.2001.01070.pp.x

Anderson MJ, Willis TJ (2003) Canonical analysis of principal coordinates: a useful method of constrained ordination for ecology. Ecology 84:511–525. doi:10.1890/0012-9658(2003)084[0511:CAOPCA]2.0.CO;2

Anthony KRN, Maynard JA, Diaz-Pulido G, Mumby PJ, Marshall PA, Cao L, Hoegh-Guldberg O (2011) Ocean acidification and warming will lower coral reef resilience. Glob Change Biol 17:1798–1808. doi:10.1111/j.1365-2486.2010.02364.x

Aronson RB, Precht WF (2001) White-band disease and the changing face of Caribbean coral reefs. Hydrobiologia 460:25–38. doi:10.1023/A:1013103928980

Baker AC, Glynn PW, Riegl B (2008) Climate change and coral reef bleaching: An ecological assessment of long-term impacts, recovery trends and future outlook. Estuar Coast Shelf S 80:435–471. doi:10.1016/j.ecss.2008.09.003

Bellwood DR, Hughes TP, Folke C, Nyström M (2004) Confronting the coral reef crisis. Nature 429:827–833. doi:10.1038/nature02691

Bellwood DR, Baird AH, Depczynski M, González-Cabello A, Hoey AS, Lefèvre CD, Tanner JK (2012) Coral recovery may not herald the return of fishes on damaged coral reefs. Oecologia 170:567–573. doi:10.1007/s00442-012-2306-z

Berumen ML, Pratchett MS (2006) Recovery without resilience: persistent disturbance and long-term shifts in the structure of fish and coral communities at Tiahura Reef, Moorea. Coral Reefs 25:647–653. doi:10.1007/s00338-006-0145-2

Bestelmeyer BT, Ellison AM, Fraser WR, Gorman KB, Holbrook SJ, Laney CM, Ohman MD, Peters DPC, Pillsbury FC, Rassweiler A, Schmitt RJ, Sharma S (2011) Analysis of abrupt transitions in ecological systems. Ecosphere 2. doi:10.1890/ES11-00216.1 Aricle 129

Blackwood JC, Hastings A, Mumby PJ (2011) A model-based approach to determine the long-term effects of multiple interacting stressors on coral reefs. Ecol Appl 21:2722–2733. doi:10.1890/10-2195.1

Bouchon-Navaro Y, Bouchon C, Harmelin-Vivien ML (1985) Impact of coral degradation on a Chaetodontid fish assemblage (Moorea Island, French Polynesia): Proceedings of the 5th international coral reef symposium, vol 5, pp 427–432

Bozec YM, Yakob L, Mumby PJ (2013) Reciprocal facilitation and non-linearity maintain habitat engineering on coral reefs. Oikos 122:428–440. doi:10.1111/j.1600-0706.2012.20576.x

Brooks AJ (2013): MCR LTER: coral reef: long-term population and community dynamics: fishes. Moorea Coral Reef LTER; Long Term Ecological Research Network. http://dx.doi.org/10.6073/pasta/85e08a1ea6548ac2eaf808a70ce3eeb2

Brooks AJ, Holbrook SJ, Schmitt RJ (2007) Patterns of microhabitat use by fishes in the patch-forming coral Porites rus. Raffles B Zool Supplement, No. 14:227–236

Bruno JF, Selig ER (2007) Regional decline of coral cover in the Indo-Pacific: timing, extent, and subregional comparisons. PLoS ONE 2:e711. doi:10.1371/journal.pone.0000711

Bruno JF, Stachowicz JJ, Bertness MD (2003) Inclusion of facilitation into ecological theory. Trends Ecol Evol 18:119–125. doi:10.1016/S0169-5347(02)00045-9

Burkepile DE, Hay ME (2008) Herbivore species richness and feeding complementarity affect community structure and function of a coral reef. Proc Natl Acad Sci USA 105:16201–16206. doi:10.1073/pnas.0801946105

Burkepile DE, Allgeier JE, Shantz AA, Pritchard CE, Lemoine NP, Bhatti LH, Layman CA (2013) Nutrient supply from fishes facilitates macroalgae and suppresses corals in a Caribbean coral reef ecosystem. Sci Rep 3:1493. doi:10.1038/srep01493

Burnham KP, Anderson DR (2002) Model selection and multimodel inference: a practical information-theoretic approach, 2nd edn. Springer, New York

Byrnes JE, Reed DC, Cardinale BJ, Cavanaugh KC, Holbrook SJ, Schmitt RJ (2011) Climate-driven increases in storm frequency simplify kelp forest food webs. Glob Change Biol 17:2513–2524. doi:10.1111/j.1365-2486.2011.02409.x

Cheal AJ, MacNeil A, Cripps E, Emslie MJ, Jonker M, Schaffelke B, Sweatman H (2010) Coral-macroalgal phase shifts or reef resilience: links with diversity and functional roles of herbivorous fishes on the Great Barrier Reef. Coral Reefs 29:1005–1015. doi:10.1007/s00338-010-0661-y

Chong-Seng KM, Mannering TD, Pratchett MS, Bellwood DR, Graham NAJ (2012) The influence of coral reef benthic condition on associated fish assemblages. PLoS ONE 7:e42167. doi:10.1371/journal.pone.0042167

Dixson DL, Hay ME (2012) Corals chemically cue mutualistic fishes to remove competing seaweeds. Science 338:804–807. doi:10.1126/science.1225748

Doney SC, Ruckelshaus M, Duffy JE, Barry JP, Chan F, English CA, Galindo HM, Grebmeier JM, Hollowed AB, Knowlton N, Polovina J, Rabalais NN, Sydeman WJ, Talley LD (2012) Climate change impacts on marine ecosystems. Ann Rev Mar Sci 4:11–37. doi:10.1146/annurev-marine-041911-111611

Dulvy NK, Freckleton RP, Polunin VC (2004) Coral reef cascades and the indirect effects of predator removal by exploitation. Ecol Lett 7:410–416. doi:10.1111/j.1461-0248.2004.00593.x

Edmunds, PJ (2013): MCR LTER: coral reef: long-term population and community dynamics: corals. Moorea Coral Reef LTER; Long Term Ecological Research Network. http://dx.doi.org/10.6073/pasta/2df438b42301eb8af759378d68d3a798

Emslie MJ, Cheal AJ, Sweatman H, Delean S (2008) Recovery from disturbance of coral and reef fish communities on the Great Barrier Reef, Australia. Mar Ecol Prog Ser 371:177–190. doi:10.3354/meps07657

Emslie MJ, Pratchett MS, Cheal AJ (2011) Effects of different disturbance types on butterflyfish communities of Australia's Great Barrier Reef. Coral Reefs 30:461–471. doi:10.1007/s00338-011-0730-x

Fabricius KE, Okaji K, De'ath G (2010) Three lines of evidence to link outbreaks of the crown-of-thorns seastar Acanthaster planci to the release of larval food limitation. Coral Reefs 29:593–605. doi:10.1007/s00338-010-0628-z

Froese R, Pauly D (2012) FishBase. World Wide Web electronic publication. www.fishbase.org

Gardner TA, Cote IM, Gill JA, Grant A, Watkinson AR (2003) Long-term region wide declines in Caribbean corals. Science 301:958–960

Gilmour JP, Smith LD, Heyward AJ, Baird AH, Pratchett MS (2013) Recovery of an isolated coral reef system following severe disturbance. Science 340:69–71. doi:10.1126/science.1086050

Graham NAJ, Nash KL (2013) The importance of structural complexity in coral reef ecosystems. Coral Reefs 32:315–326. doi:10.1007/s00338-012-0984-y

Graham NAJ, Wilson SK, Jennings S, Polunin NVC, Bijoux JP, Robinson J (2006) Dynamic fragility of oceanic coral reef ecosystems. Proc Natl Acad Sci USA 103:8425–8429. doi:10.1073/pnas.0600693103

Halford AR, Caley MJ (2009) Towards an understanding of resilience in isolated coral reefs. Glob Change Biol 15:3031–3045. doi:10.1111/j.1365-2486.2009.01972.x

Hoegh-Guldberg O, Bruno JF (2010) The impact of climate change on the world's marine ecosystems. Science 328:1523–1528. doi:10.1126/science.1189930

Hofmann GE, Barry JP, Edmunds PJ, Gates RD, Hutchins DA, Klinger T, Sewell MA (2010) The effect of ocean acidification on calcifying organisms in marine ecosystems: an organism to ecosystem perspective. Annu Rev Ecol Evol Syst 41:127–147. doi:10.1146/annurev.ecolsys.110308.120227

Holbrook SJ, Brooks AJ, Schmitt RJ (2002a) Predictability of fish assemblages on coral patch reefs. Mar Freshw Res 53:181–188

Holbrook SJ, Brooks AJ, Schmitt RJ (2002b) Variation in structural attributes of patch-forming corals and patterns of abundance of associated fishes. Mar Freshw Res 53:1045–1053

Holbrook SJ, Schmitt RJ, Brooks AJ (2008a) Resistance and resilience of a coral reef fish community to changes in coral cover. Mar Ecol Prog Ser 371:263–271. doi:10.3354/meps07690

Holbrook SJ, Brooks AJ, Schmitt RJ, Stewart HL (2008b) Effects of sheltering fish on growth of their host corals. Mar Biol 155:521–530

Holbrook SJ, Schmitt RJ, Brooks AJ (2011) Indirect effects of species interactions on habitat provisioning. Oecologia 166:739–749. doi:10.1007/s00442-011-1912-5

Hothorn T, Bretz F, Westfall P (2008) Simultaneous inference in general parametric models. Biom J 50:346–363. doi:10.1002/bimj.200810425

Hughes TP, Baird AH, Bellwood DR, Card M, Connolly SR, Folke C, Grosberg R, Hoegh-Guldberg O, Jackson JBC, Kleypas J, Lough JM, Marshall P, Nyström M, Palumbi SR, Pandolfi JM, Rosen B, Roughgarden J (2003) Climate change, human impacts, and the resilience of coral reefs. Science 301:929–933. doi:10.1126/science.1085046

Hughes TP, Rodrigues MJ, Bellwood DR, Ceccarelli D, Hoegh-Guldberg O, McCook L, Moltschaniwskyj N, Pratchett MS, Steneck RS, Willis B (2007) Phase shifts, herbivory, and the resilience of coral reefs to climate change. Curr Biol 17:360–365. doi:10.1016/j.cub.2006.12.049

Idjadi JA, Edmunds PJ (2006) Scleractinian corals as facilitators for other invertebrates on a Caribbean reef. Mar Ecol Prog Ser 319:117–127

Johnson MK, Holbrook SJ, Schmitt RJ, Brooks AJ (2011) Fish communities on staghorn coral: effects of habitat characteristics and resident Farmerfishes. Envir Biol Fish 21:429–448

Jones CG, Lawton JH, Shachak M (1997) Positive and negative effects of organisms as physical ecosystem engineers. Ecology 78:1946–1947. doi:10.1890/0012-9658(1997)078[1946:PANEOO]2.0.CO;2

Jones GP, McCormick MI, Srinivasan M, Eagle JV (2004) Coral decline threatens fish biodiversity in marine reserves. Proc Natl Acad Sci USA 101:8251–8253. doi:10.1073/pnas.0401277101

Kayal M, Vercelloni J, Lison de Loma T, Bosserelle P, Chancerelle Y, Geoffroy S, Steivenart C, Michonneau F, Penin L, Planes S, Adjeroud M (2012) Predator crown-of-thorns starfish (Acanthaster planci) outbreak, mass mortality of corals, and cascading effects on reef fish and benthic communities. PLoS ONE 7:e47363. doi:10.1371/journal.pone.0047363

Knutson TR, McBride JL, Chan J, Emanuel K, Holland G, Landsea C, Held I, Kossin JP, Srivastava AK, Sugi M (2010) Tropical cyclones and climate change. Nat Geosci 3:157–163. doi:10.1038/ngeo779

Kohler KE, Gill SM (2006) Coral Point Count with Excel extensions (CPCe): A Visual Basic program for the determination of coral and substrate coverage using random point count methodology. Comput Geosci 32:1259–1269. doi:10.1016/j.cageo.2005.11.009

Messmer V, Jones GP, Munday PL, Holbrook SJ, Schmitt RJ, Brooks AJ (2011) Habitat biodiversity as a determinant of fish community structure on coral reefs. Ecology 92:2285–2298. doi:10.1890/11-0037.1

Moberg F, Folke C (1999) Ecological goods and services of coral reef ecosystems. Ecol Econ 29:215–233

Munday PL (2004) Habitat loss, resource specialization, and extinction on coral reefs. Glob Change Biol 10:1642–1647. doi:10.1111/j.1365-2486.2004.00839.x

Nicholls RJ, Cazenave A (2011) Sea-level rise and its impact on coastal zones. Science 328:1517–1520. doi:10.1126/science.1185782

Oksanen J, Blanchet FG, Kindt R, Legendre P, Minchin PR, O'Hara RB, Simpson GL, Solymos P, Stevens MHH, Wagner H (2011) vegan: Community Ecology Package. R package version 2.0-2. http://CRAN.R-project.org/package=vegan

Paddack MJ, Reynolds JD, Aguilar C, Appeldoorn RS, Beets J, Burkett EW, Chittaro PM, Clarke K, Esteves R, Fonseca AC, Forrester GE, Friedlander AM, Garcia-Sais J, González-Sansón G, Jordan LKB, McClellan DB, Miller MW, Molloy PP, Mumby PJ, Nagelkerken I, Nemeth M, Navas-Camacho R, Pitt J, Polunin NVC, Reyes-Nivia MC, Robertson DR, Rogriguez-Ramirez A, Salas E, Smith SR, Spieler RE, Steele MA, Williams ID, Wormald CL, Watkinson AR, Côté IM (2009) Recent region-wide declines in Caribbean reef fish abundance. Curr Biol 19:590–595. doi:10.1016/j.cub.2009.02.041

Pinheiro J, Bates D, DebRoy S, Sarkar D, and the R Development Core Team (2013) nlme: linear and nonlinear mixed effects models. R package version 3.1-113

Pratchett MS, Munday PL, Wilson SK, Graham NAJ, Cinner JE, Bellwood DR, Jones GP, Polunin NVC, McClanahan TR (2008) Effects of climate induced coral bleaching on coral-reef fishes—ecological and economic consequences. Oceanogr Mar Biol Annu Rev 46:251–296

Pratchett MS, Hoey AS, Wilson SK, Messmer V, Graham NAJ (2011) Changes in biodiversity and functioning of reef fish assemblages following coral bleaching and coral loss. Diversity 3:424–452. doi:10.3390/d3030424

R Core Team (2013) R: A language and environment for statistical computing. R Foundation for Statistical Computing, Vienna, Austria. http://www.R-project.org/

Randall JE (2005) Reef and Shore Fishes of the South Pacific: New Caledonia to Tahiti and the Pitcairn Islands. University of Hawaii Press, Honolulu

Sadovy Y (2005) Trouble on the reef: the imperative for managing vulnerable and valuable fisheries. Fish Fish 6:167–185. doi:10.1111/j.1467-2979.2005.00186.x

Sano M (2000) Stability of reef fish assemblages: responses to coral recovery after catastrophic predation by Acanthaster planci. Mar Ecol Prog Ser 198:121–130

Sano M, Shimizu M, Nose Y (1987) Long-term effects of destruction of hermatypic corals by Acanthaster planci infestation on reef fish communities at Iriomote Island, Japan. Mar Ecol Prog Ser 37:191–199

Scheffer M, Carpenter SR (2003) Catastrophic regime shifts in ecosystems: linking theory to observation. Trends Ecol Evol 18:648–656. doi:10.1016/j.tree.2003.09.002

Schmitt RJ, Holbrook SJ (2000) Habitat-limited recruitment of coral reef damselfish. Ecology 81:3479–3494. doi:10.1890/0012-9658(2000)081[3479:HLROCR]2.0.CO;2

Spalding MD, Ravilious C, Green EP (2001) World atlas of coral reefs. University of California Press, Berkeley

Stella JS, Pratchett MS, Hutchings PA, Jones GP (2011) Coral-associated invertebrates: diversity, ecological importance and vulnerability to disturbance. Oceanogr Mar Biol Annu Rev 49:43–104

Sweatman H (2008) No-take reserves protect coral reefs from predatory starfish. Curr Biol 18:R598–R599. doi:10.1016/j.cub.2008.05.033

Syms C, Jones GP (2000) Disturbance, habitat structure, and the dynamics of a coral-reef fish community. Ecology 81:2714–2729. doi:10.1890/0012-9658(2000)081[2714:DHSATD]2.0.CO;2

Walther GR (2010) Community and ecosystem response to recent climate change. Philos T Roy Soc B 365:2019–2024. doi:10.1098/rstb.2010.0021

Warner RR, Chesson PL (1985) Coexistence mediated by recruitment fluctuations: a field guide to the storage effect. Am Nat 125:769–787

Washburn L (2013): MCR LTER: coral reef: ocean currents and biogeochemistry: salinity, temperature and current at CTD and ADCP mooring FOR01, FOR04, FOR05 from 2004 ongoing. Moorea Coral Reef LTER; Long Term Ecological Research Network. http://dx.doi.org/10.6073/pasta/87444d68bab83d508f0e951d9ec9fa30 http://dx.doi.org/10.6073/pasta/609d69b203326b846ae46b57af14e59c http://dx.doi.org/10.6073/pasta/540c9f5b9e0f8610bbd0f5ac999279bc

White JS, O'Donnell JL (2010) Indirect effects of a key ecosystem engineer alter survival and growth of foundation coral species. Ecology 91:3538–3548. doi:10.1890/09-2322.1

Wilkinson C (2004) Status of coral reefs of the world. Australian Institute of Marine Science (AIMS), Townsville

Wilson SK, Graham NAJ, Pratchett MS, Jones GP, Polunin NVC (2006) Multiple disturbances and the global degradation of coral reefs: are reef fishes at risk or resilient? Glob Change Biol 12:2220–2234. doi:10.1111/j.1365-2486.2006.01252.x

Wilson SK, Adjeroud M, Bellwood DR, Berumen ML, Booth D, Bozec YM, Chabanet P, Cheal A, Cinner J, Depczynski M, Feary DA, Gagliano M, Graham NAJ, Halford AR, Halpern BS, Harborne AR, Hoey AS, Holbrook SJ, Jones GP, Kulbicki M, Letourneur Y, Lison de Loma T, McClanahan T, McCormick MI, Meekan MG, Mumby PJ, Munday PL, Öhman MC, Pratchett MS, Riegl B, Sano M, Schmitt RJ, Syms C (2010) Crucial knowledge gaps in current understanding of climate change impacts on coral reef fishes. Exp Biol 213:894–900. doi:10.1242/jeb.037895
Acknowledgments
We thank K. Seydel, V. Moriarty, J. Nielsen and C. Gotschalk for outstanding technical assistance. We thank Pete Edmunds for providing the coral cover data and for useful comments. We also thank four anonymous reviewers and the handling editor whose constructive comments greatly improved the manuscript. We gratefully acknowledge the support of the National Science Foundation (OCE 12-36905 and earlier awards) and the Gordon and Betty Moore Foundation. This is a contribution of the NSF Moorea Coral Reef Long Term Ecological Research Site and Contribution No. 202 of the UC Berkeley Gump Research Station.
Additional information
Communicated by Jonathan Shurin.
Electronic supplementary material
Below is the link to the electronic supplementary material.
Supplementary material 1 Supporting Information legends Table S1. Fish functional groups Table S2. Competing models describing the relationships between live coral and structure and attributes of the reef fish assemblage Fig. S1. Community structure of fishes on the undisturbed back reefs and fringing reefs of Moorea Fig. S2. Changes in the total abundance of fishes Fig. S3. Changes in the species richness of fishes Fig. S4. Dynamics of invertebrate consumers, planktivores and piscivores(PDF 491 kb)
About this article
Cite this article
Adam, T.C., Brooks, A.J., Holbrook, S.J. et al. How will coral reef fish communities respond to climate-driven disturbances? Insight from landscape-scale perturbations. Oecologia 176, 285–296 (2014). https://doi.org/10.1007/s00442-014-3011-x
Received:

Accepted:

Published:

Issue Date:
Keywords
Habitat loss

Resilience

Storms

Acanthaster planci

Coral bleaching

Climate change