Abstract
In theory, habitat preferences should be adaptive. Accordingly, fitness is often assumed to be greater in preferred habitats; however, this assumption is rarely tested and, when it is, the results are often equivocal. Habitat preferences may not directly convey fitness advantages if animals are constrained by tradeoffs with other selective pressures like predation or food availability. We address unresolved questions about the survival consequences of habitat choices made during brood-rearing in a precocial species with exclusive maternal care (mallard Anas platyrhynchos, n = 582 radio-marked females on 27 sites over 8 years). We directly linked duckling survival with habitat selection patterns at two spatial scales using logistic regression and model selection techniques. At the landscape scale (55–80 km2), females that demonstrated stronger selection of areas with more cover type 4 wetlands and greater total cover type 3 wetland area (wetlands with large expanses of open water surrounded by either a narrow or wide peripheral band of vegetation, respectively) had lower duckling survival rates than did females that demonstrated weaker selection of these habitats. At finer scales (0.32–7.16 km2), females selected brood-rearing areas with a greater proportion of wetland habitat with no consequences for duckling survival. However, females that avoided woody perennial habitats composed of trees and shrubs fledged more ducklings. The relationship between habitat selection and survival depended on both spatial scale and habitats considered. Females did not consistently select brood-rearing habitats that conferred the greatest benefits, an unexpected finding, although one that has also been reported in other recent studies of breeding birds.
Access options
Buy single article
Instant access to the full article PDF.
USD 39.95
Price excludes VAT (USA)
Tax calculation will be finalised during checkout.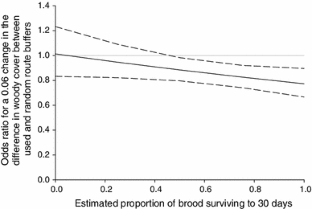 References
Aldridge CL, Boyce MS (2007) Linking occurrence and fitness to persistence: habitat-based approach for endangered greater sage-grouse. Ecol Appl 17:389–419. doi:10.1890/05-1871

Aldridge CL, Boyce MS (2008) Accounting for fitness: combining survival and selection when assessing wildlife-habitat relationships. Israel J Ecol Evol 54:389–419. doi:10.1560/IJEE.54.3-4.389

Amundson CL, Arnold TW (2011) The role of predator removal, density-dependence, and environmental factors on mallard duckling survival in North Dakota. J Wildl Manag 75:1330–1339. doi:10.1002/jwmg.166

Anderson DR, Burnham KP (2002) Avoiding pitfalls when using information-theoretic methods. J Wildl Manag 66:912–918. doi:10.2307/3803155

Anderson DR, Link WA, Johnson DH, Burnham KP (2001) Suggestions for presenting the results of data analyses. J Wildl Manag 65:373–378. doi:10.2307/3803088

Anteau MJ, Sherfy MH, Wiltermuth MT (2012) Selection indicates preference in diverse habitats: a ground-nesting bird (Charadrius melodus) using reservoir shoreline. PLoS ONE 7:e30347. doi:10.1371/journal.pone.0030347

Arnold TW (2010) Uninformative parameters and model selection using Akaike's information criterion. J Wildl Manag 74:1175–1178. doi:10.2193/2009-367

Arnold TW, Sorenson MD, Rotella JJ (1993) Relative success of overwater and upland mallard nests in southwestern Manitoba. J Wildl Manag 57:578–581. doi:10.2307/3809285

Battin J (2004) When good animals love bad habitats: ecological traps and the conservation of animal populations. Conserv Biol 18:1482–1491. doi:10.1111/j.1523-1739.2004.00417.x

Beyer HL (2004) Hawth's analysis tools for ArcGIS, available at http://www.spatialecology.com/htools

Bloom PM, Clark RG, Howerter DW, Armstrong LM (2012) Landscape-level correlates of mallard duckling survival: implications for conservation programs. J Wildl Manag 76:813–823. doi:10.1002/jwmg.297

Bock CE, Jones ZF (2004) Avian habitat evaluation: should counting birds count? Front Ecol Environ 2:403–410. http://dx.doi.org/10.1890/1540-9295(2004)002[0403:AHESCB]2.0.CO;2

Burnham KP, Anderson DR (2002) Model selection and multimodel inference: a practical information-theoretic approach, 2nd edn. Springer, New York

Chalfoun AD, Martin TE (2007) Assessments of habitat preferences and quality depend on spatial scale and metrics of fitness. J Appl Ecol 44:983–992. doi:10.1111/j.1365-2664.2007.01352.x

Chouinard MP, Arnold TW (2007) Survival and habitat use of mallard (Anas platyrhynchos) broods in the San Joaquin Valley, California. Auk 124:1305–1316. doi:10.1642/0004-8038(2007)124[1305:SAHUOM]2.0.CO;2

Clark RG, Shutler D (1999) Avian habitat selection: pattern from process in nest-site use by ducks? Ecology 80:272–287. doi:10.2307/176996

Clark RG, Leach SW, Dufour KW, Gendron M (2005) Wetland fidelity of female mallard Anas platyrhynchos and gadwall Anas strepera during brood rearing. Wildfowl 55:17–30

Compton BW, Rhymer JM, McCollough M (2002) Habitat selection by wood turtles (Clemmys insculpta): an application of paired logistic regression. Ecology 83:833–843. doi:000173967500022

Cowardin LM, Carter V, Golet FC, LaRoe ET (1979) Classification of wetlands and deepwater habitats of the United States. US Fish and Wildlife Service, Washington, DC

Davis SK (2003) Nesting ecology of mixed-grass prairie songbirds in southern Saskatchewan. Wilson Bull 115:119–130. doi:10.1676/02-138

Davis SK (2005) Nest-site selection patterns and the influence of vegetation on nest survival of mixed-grass prairie passerines. Condor 107:605–616. doi:10.1650/0010-5422(2005)107[0605:NSPATI]2.0.CO;2

Davis JB, Cox RR Jr, Kaminski RM, Leopold BD (2007) Survival of wood duck ducklings and broods in Mississippi and Alabama. J Wildl Manag 71:507–517. doi:10.2193/2005-720

Drever MC, Wins-Purdy A, Nudds TD, Clark RG (2004) Decline of duck nest success revisited: relationships with predators and wetlands in dynamic prairie environments. Auk 121:497–508. doi:10.1642/0004-8038(2004)121[0497:DODNSR]2.0.CO;2

Emery RB, Howerter DW, Armstrong LM, Anderson MG, Devries JH, Joynt BL (2005) Seasonal variation in waterfowl nesting success and its relation to cover management in the Canadian prairies. J Wildl Manag 69:1181–1193. doi:10.2193/0022-541X(2005)069[1181:SVIWNS]2.0.CO;2

Fontaine JJ, Martin TE (2006) Habitat selection responses of parents to offspring predation risk: an experimental test. Am Nat 168:811–818. doi:10.1086/508297

Fryxell JM (1997) Evolutionary dynamics of habitat use. Evol Ecol 11:687–701. doi:10.1023/A:1018434302138

Evans CD, Hawkins AS, Marshall WH (1952) Movements of waterfowl broods in Manitoba. In: Interior USDot (ed), vol. U.S. Fish and Wildlife Service, Washington, D.C, USA, US. Fish and Wildlife Service, Special Scientific Report: Wildlife 16

Gaillard J-M et al (2010) Habitat–performance relationships: finding the right metric at a given spatial scale. Philos Trans R Soc Lond B 365:2255–2265. doi:10.1098/rstb.2010.0085

Greenwood RJ, Sargeant AB, Johnson DH, Cowardin LM, Shaffer TL (1995) Factors associated with duck nest success in the prairie pothole region of Canada. Wildl Monogr 128:3–57. http://www.jstor.org/stable/3830839

Hosmer DW, Lemeshow S (2000) Applied Logistic Regression, 2nd edn. Wiley, New York

Howerter DW, Rotella JJ, Anderson MG, Armstrong LM, Devries JH (2008) Mallard nest-site selection in an altered environment: predictions and patterns. Isr J Ecol Evol 54:435–457. doi:10.1560/IJEE.54.3-4.435

Jenness J (2005) Alternate animal movement routes (altroutes.avx) extension for ArcView 3.2, v. 2.1. Jenness EnterprisesAvailable at: http://www.jennessent.com/arcview/alternate_routes.htm

Johnson DH (1980) The comparison of usage and availablity measurements for evaluating resource preference. Ecology 61:65–71. doi:10.2307/1937156

Jones J (2001) Habitat selection studies in avian ecology: a critical review. Auk 118:557–562. doi:10.1642/0004-8038(2001)118[0557:HSSIAE]2.0.CO;2

King DI, Degraaf RM, Smith ML, Buonaccorsi JP (2006) Habitat selection and habitat-specific survival of fledgling ovenbirds (Seiurus aurocapilla). J Zool 269:414–421. doi:10.1111/j.1469-7998.2006.00158.x

Kirby RE, Cowardin LM (1986) Spring and summer survival of female mallards from northcentral Minnesota. J Wildl Manag 50:38–43. doi:10.2307/3801485

Krapu GL, Pietz PJ, Brandt DA, Cox RR Jr (2000) Factors limiting mallard brood survival in prairie pothole landscapes. J Wildl Manag 64:553–561. doi:10.2307/3803253

Lack D (1933) Habitat selection in birds. With special reference to the effects of afforestation on the Breckland avifauna. J Anim Ecol 2:239–262. doi:10.2307/961

Larivière S, Messier F (2000) Habitat selection and use of edges by striped skunks in the Canadian prairies. Can J Zool 78:366–372. doi:10.1139/z99-230

Mack GG, Clark RG (2006) Home-range characteristics, age, body size, and breeding performance of female mallards (Anas platyrhynchos). Auk 123:467–474. doi:10.1642/0004-8038(2006)123[467:HCABSA]2.0.CO;2

Martin TE (1998) Are microhabitat preferences of coexisting species under selection and adaptive? Ecology 79:656–670. doi:10.2307/176961

Mathews TW, Tyre AJ, Taylor JS, Lusk JJ, Powell LA (2011) Habitat selection and brood survival of greater prairie-chickens. In: Sandercock BK, Martin K, Segelbacher G (eds) Ecology, conservation, and management of grouse. Studies in avian biology (no. 39). University of California Press, Berkeley, pp 179–191

Mauser DM, Jarvis RL (1991) Attaching radio transmitters to 1-day-old mallard ducklings. J Wildl Manag 55:488–491. doi:10.2307/3808980

Misenhelter MD, Rotenberry JT (2000) Choices and consequences of habitat occupancy and nest site selection in sage sparrows. Ecology 81:2892–2901. doi:10.2307/177349

Morosinotto C, Thomson RL, Korpimäki E (2010) Habitat selection as an antipredator behaviour in a multi-predator landscape: all enemies are not equal. J Anim Ecol 79:327–333. doi:10.1111/j.1365-2656.2009.01638.x

Mulhern JH, Nudds T, Neal BR (1985) Wetland selection by mallards and blue-winged teal. Wilson Bull 97:473–485. http://www.jstor.org/stable/4162142

Murphy RK (1993) History, nesting biology, and predation ecology of raptors in the Missouri Coteau of northwestern North Dakota. PhD dissertation, Montana State University, Bozeman

Olsen GH, Dein FJ, Haramis GM, Jorde DG (1992) Implanting radio transmitters in wintering canvasbacks. J Wildl Manag 56:325–328. doi:10.2307/3808830

Paasivaara A, Pöysä H (2008) Habitat-patch occupancy in the common goldeneye (Bucephala clangula) at different stages of the breeding cycle: implications to ecological processes in patchy environments. Can J Zool 86:744–755. doi:10.1139/z08-051

Paquette GA, Devries JH, Emery RB, Howerter DW, Joynt BL, Sankowski TP (1997) Effects of transmitters on reproduction and survival of wild mallards. J Wildl Manag 61:953–961. doi:10.2307/3802205

Pearse AT, Ratti JT (2004) Effects of predator removal on mallard duckling survival. J Wildl Manag 68:342–350. doi:10.2193/0022-541X(2004)068[0342:EOPROM]2.0.CO;2

Phillips ML, Clark WR, Sovada MA, Horn DJ, Koford RR, Greenwood RJ (2003) Predator selection of prairie landscape features and its relation to duck nest success. J Wildl Manag 67:104–114. doi:10.2307/3803066

Pietz PJ, Krapu GL, Brandt DA, Cox RR Jr (2003) Factors affecting gadwall brood and duckling survival in Prairie Pothole landscapes. J Wildl Manag 67:564–575. doi:000184297500012

Powell LL, Hodgman TP, Glanz WE, Osenton JD, Fisher CM (2010) Nest-site selection and nest survival of the rusty blackbird:does timber management adjacent to wetlands create ecological traps? Condor 112:800–809. doi:10.1525/cond.2010.100152

Pöysä H (2001) Dynamics of habitat distribution in breeding mallards: assessing the applicability of current habitat selection models. Oikos 94:365–373. doi:10.1034/j.1600-0706.2001.940218.x

Pöysä H, Paasivaara A (2006) Movements and mortality of common goldeneye Bucephala clangula broods in a patchy environment. Oikos 115:33–42. doi:10.1111/j.2006.0030-1299.15036.x

Pöysä H, Elmberg J, Sjöberg K, Nummi P (2000) Nesting mallards (Anas platyrhynchos) forecast brood-stage food limitation when selecting habitat: experimental evidence. Oecologia 122:582–586. doi:10.1007/PL00008858

Pulliam HR (1988) Sources, sinks, and population regulation. Am Nat 132:652–661. doi:10.1086/284880

Raven GH (2004) Mallard brood movements and wetland selection in the Canadian prairie parklands. Master thesis, University of Manitoba, Winnipeg

Raven GH, Armstrong LM, Howerter DW, Arnold TW (2007) Wetland selection by mallard broods in Canada's prairie-parklands. J Wildl Manag 71:2527–2531. doi:10.2193/2004-022

Ringelman JK (1990) Decoy traps for ducks. Leaflet 13.2.10. In: Cross DH (compiler) Waterfowl management handbook. U.S. Fish and Wildlife Service Leaflet 13. US Fish and Wildlife Service. US Department of Interior, Fort Collins, Colorado, USA, pp 508–515

Rotella JJ, Howerter DW, Sankowski TP, Devries JH (1993) Nesting effort by wild mallards with 3 types of radio transmitters. J Wildl Manag 57:690–695. doi:10.2307/3809067

Sargeant AB, Greenwood RJ, Sovada MA, Shaffer TL (1993) Distribution and abundance of predators that affect duck production in theprairie pothole region—Prairie Pothole Region. In. U.S. Fish and Wildlife Service, Resource Publication 194, James Town, ND: Northern Prairie Wildlife Research Center Online. http://www.npwrc.usgs.gov/resource/birds/predator/index.htm

Sharp DE, Lokemoen JT (1987) A decoy trap for breeding-season mallards in North Dakota. J Wildl Manag 51:711–715. doi:10.2307/3801731

Stewart RE, Kantrud HA (1971) Classification of natural ponds and lakes in the glaciated prairie region. In: Resource Publication 92. U.S. Fish and Wildlife Service. US Department of Interior, Washington, DC

Talent LG, Krapu GL, Jarvis RL (1982) Habitat use by mallard broods in south central North Dakota. J Wildl Manag 46:629–635. doi:10.2307/3808553

Thomas DL, Taylor EJ (2006) Study designs and tests for comparing resource use and availability. J Wildl Manag 70:324–336. doi:10.2193/0022-541X(2006)70[324:SDATFC]2.0.CO;2

Van Horne B (1983) Density as a misleading indicator of habitat quality. J Wildl Manag 47:893–901. doi:10.2307/3808148

Walker J et al (2013) Distribution of duck broods relative to habitat characteristics in the Prairie Pothole Region. J Wildl Manag 77:392–404. doi:10.1002/jwmg.466

Wilson S, Martin K (2008) Breeding habitat selection of sympatric white-tailed, rock and willow ptarmigan in the southern Yukon Territory, Canada. J Ornithol 149:629–637. doi:000259440000017
Acknowledgments
We thank Ducks Unlimited Inc., Ducks Unlimited Canada, and the US Fish and Wildlife Service through the North American Wetlands Conservation Act for major financial support. Additional financial and in-kind contributions were made by the Paterson Foundation, the National Fish and Wildlife Foundation, and the Canadian Wildlife Service. We thank site leaders L.M. Craig-Moore, J.H. Devries, F.E. DeZeeuw, R.B. Emery, J.H. Guidice, P.E. Gudehus, B.J. Joynt, G.G. Mack, G.H. Raven, D.W. Shaw, and J.M. Warren, the crew leaders and technicians involved in data collection, and the landowners who granted access to their lands. Funding for P.M. Bloom was provided by an Industrial Postgraduate Scholarship from the Natural Sciences and Engineering Research Council of Canada, the Spencer T. and Ann W. Olin Foundation Wetlands and Waterfowl Research Fellowship (Ducks Unlimited Inc.), Ducks Unlimited Canada through the Institute for Wetland and Waterfowl Research, and Environment Canada. We are grateful to Courtney Amundson, Hannu Pöysä, and an anonymous reviewer, whose comments considerably improved this manuscript.
Additional information
Communicated by Hannu Pöysä.
Electronic supplementary material
Below is the link to the electronic supplementary material.
About this article
Cite this article
Bloom, P.M., Clark, R.G., Howerter, D.W. et al. Multi-scale habitat selection affects offspring survival in a precocial species. Oecologia 173, 1249–1259 (2013). https://doi.org/10.1007/s00442-013-2698-4
Received:

Accepted:

Published:

Issue Date:

DOI: https://doi.org/10.1007/s00442-013-2698-4
Keywords
Conservation

Fitness

Landscape

Mallard

Reproductive success