Abstract
An uneven change in climate across the Northern Hemisphere might severely affect the phenology of migrating animals, and especially long-distance migrating birds relying on local climatic cues to regulate the timing of migration. We examine the forward displacement of spring in both staging areas and breeding grounds of one such population, the East Atlantic light-bellied brent goose Branta bernicla hrota, and evaluate to what extent their migration has made a proportional response. On the breeding grounds in Svalbard the onset of spring advanced 2 weeks during the 24-year period, whereas no significant trend was found in the temperate staging areas. The timing of migration was constant throughout the study period, mirroring the static climatic conditions in the spring staging areas. These findings indicate a global warming-induced phenological mismatch in light-bellied brent geese, as these might arrive on their breeding grounds well beyond optimal breeding conditions. Our data indicated that productivity was negatively influenced by phenological delay and positively influenced by prolonged snow cover. We argue that both these effects might be representative of a negative influence of the growing phenological mismatch, because years with later thaw might partly offset the effects of increasingly earlier Svalbard springs. During the study period reproduction fell below annual mortality, and the population declined in recent years. The wider implications of these findings may extend to many migrating species, and highlight the urgent need to clarify how global change may influence cues and the associated timing of important life history activities.
Access options
Buy single article
Instant access to the full article PDF.
US$ 39.95
Tax calculation will be finalised during checkout.
Subscribe to journal
Immediate online access to all issues from 2019. Subscription will auto renew annually.
US$ 119
Tax calculation will be finalised during checkout.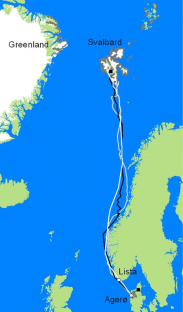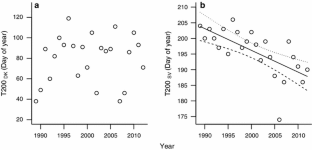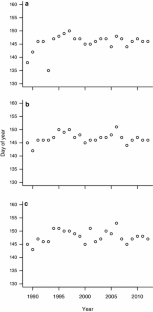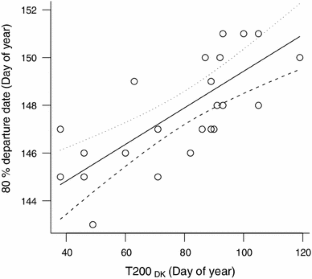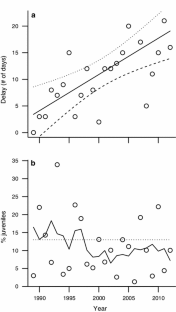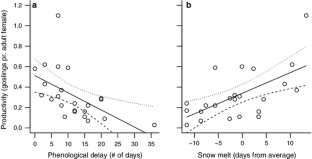 References
Ahola M, Laaksonen T, Sippola K, Eeva T, Rainio K, Lehikoinen E (2004) Variation in climate warming along the migration route uncouples arrival and breeding dates. Glob Change Biol 10:1610–1617. doi:10.1111/j.1365-2486.2004.00823.x

Bauer S, Gienapp P, Madsen J (2008) The relevance of environmental conditions for departure decision changes en route in migrating geese. Ecology 89:1953–1960. doi:10.1890/07-1101.1

Bêty J, Gauthier G, Giroux JF, Korpimaki E (2001) Are goose nesting success and lemming cycles linked? Interplay between nest density and predators. Oikos 93:388–400. doi:10.1034/j.1600-0706.2001.930304

Bêty J, Giroux JF, Gauthier G (2004) Individual variation in timing of migration: causes and reproductive consequences in greater snow geese (Anser caerulescens atlanticus). Behav Ecol Sociobiol 57:1–8. doi:10.1007/s00265-004-0840-3

Both C, Visser ME (2005) The effect of climate change on the correlation between avian life-history traits. Glob Change Biol 11:1606–1613. doi:10.1111/j.1365-2486.2005.01038.x

Box GEP, Jenkins GM, Reinsel GC (1994) Time series analysis: forecasting and control, 3rd edn. Prentice Hall, Englewood Cliffs

Boyd H, Bell MV, Watson D (2000) Spring weather and migration of geese from Scotland to Iceland. Ring Migr 20:153–165. doi:10.1080/03078698.2000.9674238

Brockwell PJ, Davis RA (2009) Time series: theory and methods, 2nd edn. Springer, New York

Burnham KP, Anderson DR (2002) Model selection and multimodel inference: a practical information-theoretic approach. Springer, New York

Callaghan TV, Björn LO, Chernov Y, et al. (2004) Biodiversity, distributions and adaptations of Arctic species in the context of environmental change. Ambio 33:404–417. doi:10.1639/0044-7447(2004)033[0404:BDAAOA]2.0.CO;2

Clausen P (2006) Summer 2006—worst ever breeding season for East Atlantic light-bellied brent geese. GooseNews 6:17–18

Clausen P, Bustnes JO (1998) Flyways of North Atlantic light-bellied brent geese Branta bernicla hrota reassessed by satellite telemetry. Nor Polarinst Skr 200:235–249

Clausen P, Percival SM (1998) Changes in distribution and habitat use of Svalbard light-bellied brent geese Branta bernicla hrota, 1980–1995: driven by Zostera availability? Nor Polarinst Skr 200:253–276

Clausen P, Madsen J, Percival SM, O'Connor D, Anderson GQA (1998) Population development and changes in winter site use by the Svalbard light-bellied brent goose, Branta bernicla hrota 1980–94. Biol Conserv 84:157–165. doi:10.1016/S0006-3207(97)00097-9

Clausen P, Madsen J, Percival SM, Anderson GQA, Koffijberg K, Mehlum F, Vangeluwe D (1999) Light-bellied brent goose Branta bernicla hrota: Svalbard. In: Madsen J, Cracknell G, Fox T (eds) Goose populations of the western Palearctic. A review of status and distribution. National Environmental Research Institute, Rønde and Wetlands International, Wageningen. Wetlands International Publication 48, pp 312–327

Clausen P, Frederiksen M, Percival SM, Anderson GQA, Denny MJH (2001) Seasonal and annual survival of east-Atlantic pale-bellied brent geese Branta hrota assessed by capture–recapture analysis. Ardea 89:101–112

Clausen P, Green M, Alerstam T (2003) Energy limitations for spring migration and breeding: the case of brent geese Branta bernicla tracked by satellite telemetry to Svalbard and Greenland. Oikos 103:426–445. doi:10.1034/j.1600-0706.2003.12340.x

Denny MJH, Clausen P, Percival S, Anderson GQA, Koffijberg K, Robinson JA (2004) Light-bellied brent goose Branta bernicla hrota [East Atlantic population] in Svalbard, Greenland, Franz Josef Land, Norway, Denmark, The Netherlands and Britain 1960/61–2000/01. The Wildfowl and Wetlands Trust/Joint Nature Conservation Committee, Slimbridge

Dickey MH, Gauthier G, Cadieux MC (2008) Climatic effects on the breeding phenology and reproductive success of an Arctic-nesting goose species. Glob Change Biol 14:1973–1985. doi:10.1111/j.1365-2486.2008.01622.x

Ebbinge BS, Spaans B (1995) The importance of body reserves accumulated in spring staging areas in the temperate zone for breeding in dark-bellied brent geese Branta-B-Bernicla in the High Arctic. J Avian Biol 26:105–113. doi:10.2307/3677058

Fox AD, Ebbinge BS, Mitchell C, Heinicke T, Aarvak T, Colhoun K, Clausen P, Dereliev S, Faragó S, Koffijberg K, Kruckenberg H, Loonen MJJE, Madsen J, Mooij J, Musil P, Nilsson L, Pihl S, Van der Jeugd H (2010) Current estimates of goose population sizes in western Europe, a gap analysis and an assessment of trends. Ornis Svec 20:115–127

Fuglei E, Oritsland NA, Prestrud P (2003) Local variation in Arctic fox abundance on Svalbard, Norway. Pol Biol 26:93–98. doi:10.1007/s00300-002-0458-8

Green M, Alerstam T (2000) Flight speeds and climb rates of Brent Geese: mass-dependent differences between spring and autumn migration. J Avian Biol 31:215–225. doi:10.1034/j.1600-048X.2000.310213.x

Høye TT, Post E, Meltofte H, Schmidt NM, Forchhammer MC (2007) Rapid advancement of spring in the High Arctic. Curr Biol 17:449–451. doi:10.1016/j.cub.2007.04.047

IPCC (2007) Climate Change 2007: the physical science basis. Contribution of Working Group I to the Fourth Assessment Report of the Intergovernmental Panel on Climate Change. Cambridge University press, Cambridge

Jensen RA, Madsen J, O'Connell M, Wisz MS, Tømmervik H, Mehlum F (2008) Prediction of the distribution of Arctic-nesting pink-footed geese under a warmer climate scenario. Glob Change Biol 14:1–10. doi:10.1111/j.1365-2486.2007.01461.x

Karlsen SR, Høgda KA, Solbø S, Storvold R (2010) Mapping of the growing season on Svalbard based on satellite data for the 1985 to 2009 period. Presentation at State of the Arctic Conference, Miami, FL. http://soa.arcus.org/sites/soa.arcus.org/files/sessions/2-1-observations-arctic-change/pdf/2-1-9-storvold-rune.pdf

Lambeck RHD (1990) The applicability of age ratio and brood size counts in population dynamic studies of the brent goose Branta b. bernicla. Ardea 78:414–425

Lehikoinen E, Sparks T, Zalakevicius M (2004) Arrival and departure dates. Adv Ecol Res 35:1–31. doi:10.1016/S0065-2504(04)35001-4

Lepage D, Gauthier G, Reed A (1998) Seasonal variation in growth of greater snow goose goslings: the role of food supply. Oecologia 114:226–235. doi:10.1007/s004420050440

Madsen J, Bregnballe T, Frikke J, Kristensen JB (1998) Correlates of predator abundance with snow and ice conditions and their role in determining timing of nesting and breeding success in Svalbard light-bellied brent geese Branta bernicla hrota. Nor Polarinst Skr 200:221–234

Madsen J, Cracknell G, Fox AD (eds) (1999) Goose populations of the western PaleArctic. A review of status and distribution. National Environmental Research Institute, Rønde and Wetlands International, Wageningen. Wetlands International Publication 48

Madsen J, Tamstorf M, Klaassen M, Eide N, Glahder C, Rigét F, Nyegaard H, Cottaar F (2007) Effects of snow cover on the timing and success of reproduction in high-Arctic pink-footed geese Anser brachyrhynchus. Polar Biol 30:1363–1372. doi:10.1007/s00300-007-0296-9

McNamara JM, Barta Z, Klaassen M, Bauer S (2011) Cues and the optimal timing of activities under environmental change. Ecol Lett 14:1183–1190. doi:10.1111/j.1461-0248.2011.01686.x

Mehlum F (1998) Areas in Svalbard important for geese during the pre-breeding, breeding and post-breeding periods. Nor Polarinst Skr 200:41–56

Miller-Rushing AJ, Høye TT, Inouye DW, Post E (2010) The effects of phenological mismatches on demography. Philos Trans R Soc (B) 365:3177–3186. doi:10.1098/rstb.2010.0148

Moe B, Stempniewicz L, Jakubas D, Angelier F, Chastel O, Dinesen F, Gabrielsen GW, Hanssen F, Karnovsky NJ, Rønning B, Welcker J, Wojczulanis-Jakubas K, Bech C (2009) Climate change and phenological responses of two seabird species breeding in the high-Arctic. Mar Ecol Prog Ser 393:235–246. doi:10.3354/meps08222

Morrissette M, Bêty J, Gauthier G, Reed A, Lefebvre J (2010) Climate, trophic interactions, density dependence and carry-over effects on the population productivity of a migratory Arctic herbivorous bird. Oikos 119:1181–1191. doi:10.1111/j.1600-0706.2009.18079.x

Nordli Ø (2005) Temperature variations at Svalbard during the last century. Nord Space Act 13:6–7

Parmesan C, Yohe G (2003) A globally coherent fingerprint of climate change impacts across natural systems. Nature 421:37–42. doi:10.1038/nature01286

Pearce-Higgins JW, Yalden DW, Whittingham MJ (2005) Warmer springs advance the breeding phenology of golden plovers Pluvialis apricaria and their prey (Tipulidae). Oecologia 143:470–476. doi:10.1007/s00442-004-1820-z

Post E, Forchhammer MC, Bret-Harte MS, Callaghan TV, Christensen TR, Elberling B, Fox AD, Gilg O, Hik DS, Høye TT, Ims RA, Jeppesen E, Klein DR, Madsen J, McGuire AD, Rysgaard S, Schindler DE, Stirling I, Tamstorf MP, Tyler NJC, van der Wal R, Welker J, Wookey PA, Schmidt NM, Aastrup P (2009) Ecological dynamics across the Arctic associated with recent climate change. Science 325:1355–1358. doi:10.1126/science.1173113

Saino N, Ambrosini R, Rubolini D, von Hardenberg J, Provenzale A, Huppop K, Huppop O, Lehikoinen A, Lehikoinen E, Rainio K, Romano M, Sokolov L (2011) Climate warming, ecological mismatch at arrival and population decline in migratory birds. Proc R Soc B 278:835–842

Scott DA, Rose PM (1996) Atlas of Anatidae populations in Africa and Western Eurasia. Wetlands International, Wageningen

Sedinger JS, Flint PL (1991) Growth rate is negatively correlated with hatch date in black brant. Ecology 72:496–502. doi:10.2307/2937190

Sedinger JS, Raveling DG (1986) Timing of nesting by Canada geese in relation to the phenology and availability of their food plants. J Anim Ecol 55:1083–1102

Smith BD, Hagmeier KR, Boyd WS, Dawe NK, Martin TD, Monty GL (2012) Trends in volume migration chronology in spring staging Pacific black brant. J Wildl Manage 76:593–599. doi:10.1002/jwmg.307

Sparks TH, Aasa A, Huber K, Wadsworth R (2009) Changes and patterns in biologically relevant temperatures in Europe 1941–2000. Clim Res 39:191–207. doi:10.3354/cr00814

Stone RS, Dutton EG, Harris JM, Longenecker D (2002) Earlier spring snowmelt in northern Alaska as an indicator of climate change. J Geophys Res (D) 107(D10):4089. doi:10.1029/2000JD000286

Tombre IM, Høgda KA, Madsen J, Griffin LR, Kuijken E, Shimmings P, Rees E, Verscheure C (2008) The onset of spring and timing of migration in two Arctic nesting goose populations: the pink-footed goose Anser brachyrhynchus and the barnacle goose Branta leucopsis. J Avian Biol 39:691–703. doi:10.1111/j.1600-048X.2008.04440.x

Tottrup AP, Rainio K, Coppack T, Lehikoinen E, Rahbek C, Thorup K (2010) Local Temperature fine-tunes the timing of spring migration in birds. Integr Comp Biol 50:293–304. doi:10.1093/Icb/Icq028

van der Jeugd HP, Eichhorn G, Litvin KE, Stahl J, Larsson K, van der Graaf AJ, Drent RH (2009) Keeping up with early springs: rapid range expansion in an avian herbivore incurs a mismatch between reproductive timing and food supply. Glob Change Biol 15:1057–1071. doi:10.1111/j.1365-2486.2008.01804.x

Visser ME (2008) Keeping up with a warming world; assessing the rate of adaptation to climate change. Proc R Soc (B) 275:649–659. doi:10.1098/rspb.2007.0997

Ward DH, Dau CP, Tibbitts TL, Sedinger JS, Anderson BA, Hines JE (2009) Change in abundance of Pacific brant wintering in Alaska: evidence of a climate warming effect? Arctic 62:301–311

Watkinson AR, Gill JA, Hulme M (2004) Flying in the face of climate change: a review of climate change, past, present and future. Ibis 146:4–10. doi:10.1111/j.1474-919X.2004.00321.x
Acknowledgments
Thanks are due to Jesper Madsen who initiated the long-term monitoring of the East Atlantic light-bellied brent geese. We are particularly indebted to all the committed observers that worked at Lista Bird Observatory during the study period and kindly provided the necessary data, to Guy Q. A. Anderson who contributed to the collection of data in the early 1990s, and to all professional and volunteer observers who help with age counts of brent goose flocks every year. Data from the two Norwegian citizen science portals http://www.fugler.net and http://www.artsobservasjoner.no/fugler/ were extracted and sent to us by Oskar Kenneth Bjørnstad and Tomas Aarvak, respectively, and Nick Hughes provided the data on sea ice coverage. Toke Høye, Jesper Madsen and Tony Fox are thanked for fruitful suggestions to outline the study, and Gilles Gauthier, Hannu Pöysä and two anonymous reviewers for their very constructive comments on an earlier draft.
Additional information
Communicated by Hannu Pöysä.
About this article
Cite this article
Clausen, K.K., Clausen, P. Earlier Arctic springs cause phenological mismatch in long-distance migrants. Oecologia 173, 1101–1112 (2013). https://doi.org/10.1007/s00442-013-2681-0
Received:

Accepted:

Published:

Issue Date:
Keywords
Climate change

Phenology

Advancing spring

Svalbard

Branta bernicla hrota