Abstract
Polycystic ovarian syndrome (PCOS) is considered to be one of the most prevalent endocrine disorders affecting women of reproductive age. CiRS-126, an innovative circular microRNA, has previously been proven to be a promising miR-21 sponge. However, a proper understanding of the impact of ciRS-126 on PCOS is needed. Circular RNA (CiRS) profiles were initially evaluated in ovarian cortex samples obtained from 18 women with PCOS as well from 9 women without PCOS. Insulin-induced ovarian granulosa cells isolated from mice were utilized for the functional study. CiRS microarray analysis and quantitative real-time PCR indicated that ciRs-126 expression was downregulated while miR-21 expression was upregulated in PCOS samples and insulin-induced granulosa cells as compared with non-PCOS samples and non-insulin-induced granulosa cells. Furthermore, ectopic overexpression of ciRS-126 was associated with a reduction in proliferation and increased apoptosis in insulin-treated granulosa cells. Meanwhile, bioinformatic prediction and the results of the dual-luciferase reporter assay indicated the presence of consecutive binding in the ciRS-126-miR-21-programmed cell death protein 4 (PDCD4) axis. Moreover, overexpression of miR-21 blocked ciRS-126 repression of proliferation and triggered the death of insulin-induced granulosa cells. Excessive PDCD4 expression counteracted the influence of miR-21 on cell death and proliferation. The data indicated that PDCD4 played a regulatory role in ROS generation, which is reportedly involved in apoptosis. Therefore, ciRS-126 reduction in PCOS granulosa cells targeted the miR-21-PDCD4 axis to reduce proliferation and promote apoptosis. CiRS-126 shows potential as a promising predictor of clinical outcome as well as a therapeutic target in PCOS.
This is a preview of subscription content, log in to check access.
Access options
Buy single article
Instant access to the full article PDF.
US$ 39.95
Price includes VAT for USA
Subscribe to journal
Immediate online access to all issues from 2019. Subscription will auto renew annually.
US$ 199
This is the net price. Taxes to be calculated in checkout.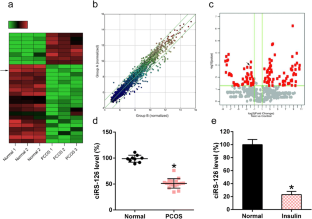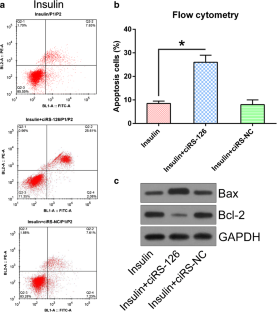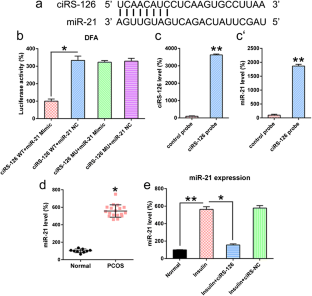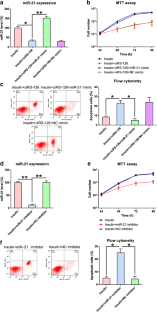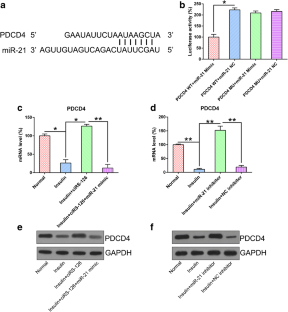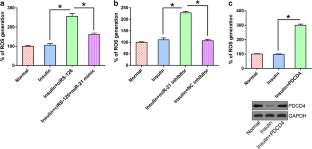 References
Asangani IA, Rasheed SA, Nikolova D, Leupold J, Colburn N, Post S, Allgayer H (2008) MicroRNA-21 (miR-21) post-transcriptionally downregulates tumor suppressor Pdcd4 and stimulates invasion, intravasation and metastasis in colorectal cancer. Oncogene 27:2128

Azziz R, Sanchez LA, Knochenhauer ES, Moran C, Lazenby J, Stephens KC, Taylor K, Boots LR (2004) Androgen excess in women: experience with over 1000 consecutive patients. J Clin Endocrinol Metab 89:453–462

Azziz R, Carmina E, Dewailly D, Diamanti-Kandarakis E, Escobar-Morreale HF, Futterweit W, Janssen OE, Legro RS, Norman RJ, Taylor AE, Witchel SF, Androgen Excess S (2006) Positions statement: criteria for defining polycystic ovary syndrome as a predominantly hyperandrogenic syndrome: an androgen excess society guideline. J Clin Endocrinol Metab 91:4237–4245

Benjamini Y, Hochberg Y (1995) Controlling the false discovery rate: a practical and powerful approach to multiple testing. J R Stat Soc Ser B Methodol 57:289–300

Chan JA, Krichevsky AM, Kosik KS (2005) MicroRNA-21 is an antiapoptotic factor in human glioblastoma cells. Cancer Res 65:6029–6033

Chen I, Chen CY, Chuang TJ (2015) Biogenesis, identification, and function of exonic circular RNAs. Wiley Interdiscip Rev RNA 6:563–579

Cheng Y, Liu X, Zhang S, Lin Y, Yang J, Zhang C (2009) MicroRNA-21 protects against the H2O2-induced injury on cardiac myocytes via its target gene PDCD4. J Mol Cell Cardiol 47:5–14

Childs G, Fazzari M, Kung G, Kawachi N, Brandwein-Gensler M, McLemore M, Chen Q, Burk RD, Smith RV, Prystowsky MB (2009) Low-level expression of microRNAs let-7d and miR-205 are prognostic markers of head and neck squamous cell carcinoma. Am J Pathol 174:736–745

Ebbesen KK, Kjems J, Hansen TB (2016) Circular RNAs: identification, biogenesis and function. Biochim Biophys Acta 1859:163–168

Frankel LB, Christoffersen NR, Jacobsen A, Lindow M, Krogh A, Lund AH (2008) Programmed cell death 4 (PDCD4) is an important functional target of the microRNA miR-21 in breast cancer cells. J Biol Chem 283:1026–1033

Franks S, McCarthy MI, Hardy K (2006) Development of polycystic ovary syndrome: involvement of genetic and environmental factors. Int J Androl 29:278–285 discussion 286-90

Fujii T, Shimada K, Nakai T, Ohbayashi C (2018) MicroRNAs in smoking-related carcinogenesis: biomarkers, functions, and therapy. J Clin Med 7

Han D, Li J, Wang H, Su X, Hou J, Gu Y, Qian C, Lin Y, Liu X, Huang M (2017) Circular RNA circMTO1 acts as the sponge of microRNA-9 to suppress hepatocellular carcinoma progression. Hepatology 66:1151–1164

Hansen TB, Jensen TI, Clausen BH, Bramsen JB, Finsen B, Damgaard CK, Kjems J (2013a) Natural RNA circles function as efficient microRNA sponges. Nature 495:384–388

Hansen TB, Kjems J, Damgaard CK (2013b) Circular RNA and miR-7 in cancer. Cancer Res 73:5609–5612

Hassan M, Watari H, AbuAlmaaty A, Ohba Y, Sakuragi N (2014) Apoptosis and molecular targeting therapy in cancer. Biomed Res Int 2014:150845

Hayes J, Peruzzi PP, Lawler S (2014) MicroRNAs in cancer: biomarkers, functions and therapy. Trends Mol Med 20:460–469

Hossain MM, Cao M, Wang Q, Kim JY, Schellander K, Tesfaye D, Tsang BK (2013) Altered expression of miRNAs in a dihydrotestosterone-induced rat PCOS model. J Ovarian Res 6:36

Hou L, Bowman L, Meighan TG, Pratheeshkumar P, Shi X, Ding M (2013a) Induction of miR-21-PDCD4 signaling by UVB in JB6 cells involves ROS-mediated MAPK pathways. Exp Toxicol Pathol 65:1145–1148

Hou L, Bowman L, Meighan TG, Shi X, Ding M (2013b) Induction of miR-21-PDCD4 signaling by tungsten carbide-cobalt nanoparticles in JB6 cells involves ROS-mediated MAPK pathways. J Environ Pathol Toxicol Oncol 32

Jeck WR, Sorrentino JA, Wang K, Slevin MK, Burd CE, Liu J, Marzluff WF, Sharpless NE (2013) Circular RNAs are abundant, conserved, and associated with ALU repeats. Rna 19:141–157

Li P, Chen S, Chen H, Mo X, Li T, Shao Y, Xiao B, Guo J (2015) Using circular RNA as a novel type of biomarker in the screening of gastric cancer. Clin Chim Acta 444:132–136

Mates JM, Sanchez-Jimenez FM (2000) Role of reactive oxygen species in apoptosis: implications for cancer therapy. Int J Biochem Cell Biol 32:157–170

Murri M, Insenser M, Fernández-Durán E, San-Millán JL, Escobar-Morreale HF (2013) Effects of polycystic ovary syndrome (PCOS), sex hormones, and obesity on circulating miRNA-21, miRNA-27b, miRNA-103, and miRNA-155 expression. J Clin Endocrinol Metab 98:E1835–E1844

Radogna F, Dicato M, Diederich M (2015) Cancer-type-specific crosstalk between autophagy, necroptosis and apoptosis as a pharmacological target. Biochem Pharmacol 94:1–11

Rybak-Wolf A, Stottmeister C, Glazar P, Jens M, Pino N, Giusti S, Hanan M, Behm M, Bartok O, Ashwal-Fluss R, Herzog M, Schreyer L, Papavasileiou P, Ivanov A, Ohman M, Refojo D, Kadener S, Rajewsky N (2015) Circular RNAs in the mammalian brain are highly abundant, conserved, and dynamically expressed. Mol Cell 58:870–885

Salimi-Asl M, Mozdarani H, Kadivar M (2016) Up-regulation of miR-21 and 146a expression and increased DNA damage frequency in a mouse model of polycystic ovary syndrome (PCOS). Bioimpacts 6:85

Sand M, Bechara FG, Gambichler T, Sand D, Bromba M, Hahn SA, Stockfleth E, Hessam S (2016) Circular RNA expression in cutaneous squamous cell carcinoma. J Dermatol Sci 83:210–218

Sang Q, Yao Z, Wang H, Feng R, Wang H, Zhao X, Xing Q, Jin L, He L, Wu L, Wang L (2013) Identification of microRNAs in human follicular fluid: characterization of microRNAs that govern steroidogenesis in vitro and are associated with polycystic ovary syndrome in vivo. J Clin Endocrinol Metab 98:3068–3079

Shi B, Deng W, Long X, Zhao R, Wang Y, Chen W, Xu G, Sheng J, Wang D, Cao S (2017) miR-21 increases c-kit+ cardiac stem cell proliferation in vitro through PTEN/PI3K/Akt signaling. Peer J 5:e2859

Simon H-U, Haj-Yehia A, Levi-Schaffer F (2000) Role of reactive oxygen species (ROS) in apoptosis induction. Apoptosis 5:415–418

Stepto NK, Cassar S, Joham AE, Hutchison SK, Harrison CL, Goldstein RF, Teede HJ (2013) Women with polycystic ovary syndrome have intrinsic insulin resistance on euglycaemic-hyperinsulaemic clamp. Hum Reprod 28:777–784

Su X, Wang H, Ge W, Yang M, Hou J, Chen T, Li N, Cao X (2015) An in vivo method to identify microRNA targets not predicted by computation algorithms: p21 targeting by miR-92a in cancer. Cancer Res 75:2875–2885

Xia W, Qiu M, Chen R, Wang S, Leng X, Wang J, Xu Y, Hu J, Dong G, Xu L (2016) Circular RNA has_circ_0067934 is upregulated in esophageal squamous cell carcinoma and promoted proliferation. Sci Rep 6:35576

Yanaihara N, Caplen N, Bowman E, Seike M, Kumamoto K, Yi M, Stephens RM, Okamoto A, Yokota J, Tanaka T, Calin GA, Liu CG, Croce CM, Harris CC (2006) Unique microRNA molecular profiles in lung cancer diagnosis and prognosis. Cancer Cell 9:189–198

Yuan H, Xin S, Huang Y, Bao Y, Jiang H, Zhou L, Ren X, Li L, Wang Q, Zhang J (2017) Downregulation of PDCD4 by miR-21 suppresses tumor transformation and proliferation in a nude mouse renal cancer model. Oncol Lett 14:3371–3378

Zhang J-G, Wang J-j, Zhao F, Liu Q, Jiang K, Yang G-h (2010) MicroRNA-21 (miR-21) represses tumor suppressor PTEN and promotes growth and invasion in non-small cell lung cancer (NSCLC). Clin Chim Acta 411:846–852
Funding
This study was funded by the National Science Foundation for Young Scientists of China (grant number 81801478; 61801108); the Suzhou Key Medical Center (grant number SZZX201505); the Jiangsu Maternal and Children Health Care Research Project (grant number F201603); the Jiangsu Provincial Medical Innovation Team (grant number CXTDB2017013); the Suzhou Clinical Medical Expert Team (grant number SZYJTD201708); the Jiangsu Maternal and Children Health Care Key Discipline (grant number FXK201748); the Suzhou Clinical Diagnosis and Treatment Technology (grant number LCZX201411); the Science and Technology Development Fund of Nanjing Medical University (grant number 2017NJMU158); and the Suzhou Science and Technology Support Program (grant number SYS201649).
Ethics declarations
Conflict of interest
The authors declare that they have no conflict of interest.
Informed consent
Fully informed consent was obtained from every participant prior to enrollment.
Ethical approval
All procedures performed in studies involving human participants were in accordance with the ethical standards of the institutional and/or national research committee and with the 1964 Helsinki declaration and its later amendments or comparable ethical standards.
Additional information
Publisher's note
Springer Nature remains neutral with regard to jurisdictional claims in published maps and institutional affiliations.
About this article
Cite this article
Lu, J., Xue, Y., Wang, Y. et al. CiRS-126 inhibits proliferation of ovarian granulosa cells through targeting the miR-21-PDCD4-ROS axis in a polycystic ovarian syndrome model. Cell Tissue Res 381, 189–201 (2020). https://doi.org/10.1007/s00441-020-03187-9
Received:

Accepted:

Published:

Issue Date:
Keywords
PCOS

ciRS-126

miR-21

PDCD4

Apoptosis

ROS