Abstract
Adipose stem cells (ASCs) are a great promise in wound healing due to their potential in differentiating into various cell lineages and secreting growth factors. The purpose of this study is to evaluate the in vivo effects of Aloe vera hydrogel loaded by allogeneic ASCs on a rat burn wound model. The ASCs were isolated, cultured and mixed with 50% Aloe vera hydrogel and injected intradermally around the wound. Demineralized bone matrix (DBM) was used as dressing in the experiment. The burn wound-healing properties of different experimental groups were investigated by histopathological, molecular, scanning electron microscopic and biochemical analysis at the 7th, 14th and 28th days post-wounding. The Aloe vera and DBM-Aloe vera groups showed almost similar healing properties, while treatment by DBM-Aloe vera/ASCs significantly enhanced wound healing. The levels of transforming growth factor-β1 (TGF-β1) and interleukin-1β markedly decreased at the 7th day post-injury, in the DBM-Aloe vera/ASC-treated group, suggesting that this treatment regime subsided the inflammatory responses. Angiogenesis, re-epithelialization and the level of TGF-β1 in the wounds treated with DBM-Aloe vera/ASCs were also remarkably higher than those of other groups, at the 14th day post-injury. Besides, scar formation significantly decreased in the DBM-Aloe vera/ASC-treated wounds when compared with other groups. Our biochemical results were in agreement with the molecular and histopathological findings and strongly demonstrated that a DBM-Aloe vera/ASC composite can stimulate burn wound healing. These results suggest that the DBM-Aloe vera/ASC composite can be considered as a promising therapeutic strategy in the treatment of burn wounds.
This is a preview of subscription content, log in to check access.
Access options
Buy single article
Instant access to the full article PDF.
US$ 39.95
Price includes VAT for USA
Subscribe to journal
Immediate online access to all issues from 2019. Subscription will auto renew annually.
US$ 199
This is the net price. Taxes to be calculated in checkout.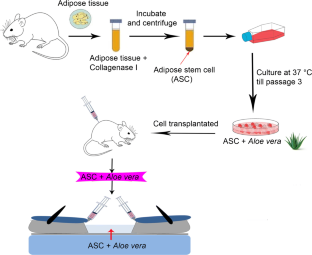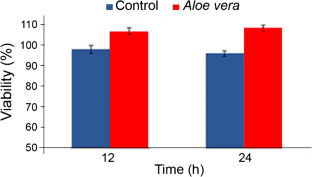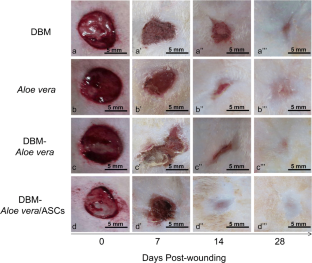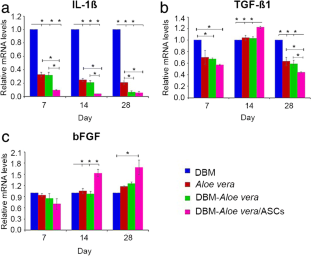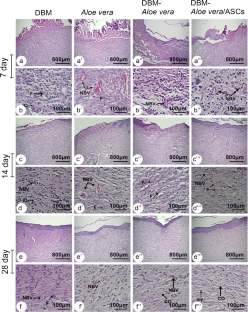 References
Aziz J, Kassim NLA, Kasim NHA, Haque N, Rahman MT (2015) Carica papaya induces in vitro thrombopoietic cytokines secretion by mesenchymal stem cells and haematopoietic cells. BMC Complement Altern Med 15:215

Basiouny HS, Salama NM, El Maadawi ZM, Farag EA (2013) Effect of bone marrow derived mesenchymal stem cells on healing of induced full-thickness skin wounds in albino rat. Int J Stem Cells 6:12

Bhatia A, O'brien K, Chen M, Wong A, Garner W, Woodley DT, Li W (2016) Dual therapeutic functions of F-5 fragment in burn wounds: preventing wound progression and promoting wound healing in pigs. Mol Ther Methods Clin Dev 3:16041

Bigham-Sadegh A, Oryan A (2015) Selection of animal models for pre-clinical strategies in evaluating the fracture healing, bone graft substitutes and bone tissue regeneration and engineering. Connect Tissue Res 56:175–194

Castiglione F, Hedlund P, Van der Aa F, Bivalacqua TJ, Rigatti P, Van Poppel H, Montorsi F, De Ridder D, Albersen M (2013) Intratunical injection of human adipose tissue-derived stem cells prevents fibrosis and is associated with improved erectile function in a rat model of Peyronie's disease. Eur Urol 63:551–560

Chen L, Tredget EE, Wu PY, Wu Y (2008) Paracrine factors of mesenchymal stem cells recruit macrophages and endothelial lineage cells and enhance wound healing. PLoS One 3:e1886

Cherubino M, Rubin JP, Miljkovic N, Kelmendi-Doko A, Marra KG (2011) Adipose-derived stem cells for wound healing applications. Ann Plast Surg 66:210–215

de Mayo T, Conget P, Becerra-Bayona S, Sossa CL, Galvis V, Arango-Rodríguez ML (2017) The role of bone marrow mesenchymal stromal cell derivatives in skin wound healing in diabetic mice. PLoS One 12:e0177533

Demidova-Rice TN, Hamblin MR, Herman IM (2012) Acute and impaired wound healing: pathophysiology and current methods for drug delivery, part 1:normal and chronic wounds: biology, causes, and approaches to care. Adv Skin Wound Care 25:304

Di G, Du X, Qi X, Zhao X, Duan H, Li S, Xie L, Zhou Q (2017) Mesenchymal stem cells promote diabetic corneal epithelial wound healing through TSG-6-dependent stem cell activation and macrophage switch. Invest Ophthalmol Vis Sci 58:4344–4354

Ebrahimian TG, Pouzoulet F, Squiban C, Buard V, André M, Cousin B, Gourmelon P, Benderitter M, Casteilla L, Tamarat R (2009) Cell therapy based on adipose tissue-derived stromal cells promotes physiological and pathological wound healing. Arterioscler Thromb Vasc Biol 29:503–510

Falanga V (2005) Wound healing and its impairment in the diabetic foot. Lancet 366:1736–1743

Ferrara N (2002) Role of vascular endothelial growth factor in physiologic and pathologic angiogenesis: therapeutic implications. Semin Oncol 29:10–14

Fu X, Fang L, Li X, Cheng B, Sheng Z (2006) Enhanced wound-healing quality with bone marrow mesenchymal stem cells autografting after skin injury. Wound Repair Regen 14:325–335

Gimble JM, Katz AJ, Bunnell BA (2007) Adipose-derived stem cells for regenerative medicine. Circ Res 100:1249–1260

Gomez JMQ, Mora RMS, Diaz AC, De Castro MDL (2012) Use of olive leaf extracts in a pharmaceutical composition for inducing angiogenesis and vasculogenesis: Google Patents US 20120141435 A1. In: Patents. Available from: https://www.google.com/patents/US20120141435. Accessed 18 Nov 2015

González MA, Gonzalez–Rey E, Rico L, Büscher D, Delgado M (2009) Adipose-derived mesenchymal stem cells alleviate experimental colitis by inhibiting inflammatory and autoimmune responses. Gastroenterology 136:978–989

Hsu S, Hsieh PS (2015) Self-assembled adult adipose-derived stem cell spheroids combined with biomaterials promote wound healing in a rat skin repair model. Wound Repair Regen 23:57–64

Jackson WM, Nesti LJ, Tuan RS (2012) Mesenchymal stem cell therapy for attenuation of scar formation during wound healing. Stem Cell Res Ther 3:20

Jittapiromsak N, Sahawat D, Banlunara W, Sangvanich P, Thunyakitpisal P (2010) Acemannan, an extracted product from Aloe vera, stimulates dental pulp cell proliferation, differentiation, mineralization, and dentin formation. Tissue Eng Part A 16:1997–2006

Joseph B, Raj SJ (2010) Pharmacognostic and phytochemical properties of Aloe vera Linn: an overview. Int J Pharm Sci Rev Res 4:106–110

Kato Y, Iwata T, Washio K, Yoshida T, Kuroda H, Morikawa S, Hamada M, Ikura K, Kaibuchi N, Yamato M (2017) Creation and transplantation of an adipose-derived stem cell (ASC) sheet in a diabetic wound-healing model. J Vis Exp. https://doi.org/10.3791/54539

Ko H, Milthorpe BK, McFarland CD (2007) Engineering thick tissues—the vascularisation problem. Eur Cell Mater 14:1–18 discussion 18–19

Lawall H, Bramlage P, Amann B (2010) Stem cell and progenitor cell therapy in peripheral artery disease. Thromb Haemost 103:696–709

Lin Y-C, Grahovac T, Oh SJ, Ieraci M, Rubin JP, Marra KG (2013) Evaluation of a multi-layer adipose-derived stem cell sheet in a full-thickness wound healing model. Acta Biomater 9:5243–5250

Manning CN, Martel C, Sakiyama-Elbert SE, Silva MJ, Shah S, Gelberman RH, Thomopoulos S (2015) Adipose-derived mesenchymal stromal cells modulate tendon fibroblast responses to macrophage-induced inflammation in vitro. Stem Cell Res Ther 6:74

Nie C, Yang D, Xu J, Si Z, Jin X, Zhang J (2011) Locally administered adipose-derived stem cells accelerate wound healing through differentiation and vasculogenesis. Cell Transplant 20:205–216

Oryan A, Zaker S (1998) Effects of topical application of honey on cutaneous wound healing in rabbits. Zentralbl Veterinarmed A 45:181–188

Oryan A, Khalafi-Nezhad A, Toloo N, Rad S (2007) Effects of 4-chloro-2, 6-bis-(2-hydroxyl-benzyl)-phenol on healing of skin wounds and growth of bacteria. J Vet Med A Physiol Pathol Clin Med 54:585–591

Oryan A, Goodship AE, Silver IA (2008) Response of a collagenase-induced tendon injury to treatment with a polysulphated glycosaminoglycan (Adequan). Connect Tissue Res 49:351–360

Oryan A, Silver IA, Goodship AE (2009) Effects of a serotonin S2-receptor blocker on healing of acute and chronic tendon injuries. J Investig Surg 22:246–255

Oryan A, Naeini AT, Nikahval B, Gorjian E (2010) Effect of aqueous extract of Aloe vera on experimental cutaneous wound healing in rat. Veterinarski Arhiv 80:509–522

Oryan A, Moshiri A, Meimandiparizi A-H (2011) Effects of sodium-hyaluronate and glucosamine-chondroitin sulfate on remodeling stage of tenotomized superficial digital flexor tendon in rabbits: a clinical, histopathological, ultrastructural, and biomechanical study. Connect Tissue Res 52:329–339

Oryan A, Tabatabaei Naeini A, Moshiri A, Mohammadalipour A, Tabandeh M (2012) Modulation of cutaneous wound healing by silymarin in rats. J Wound Care 21:457–464

Oryan A, Mohammadalipour A, Moshiri A, Tabandeh MR (2015) Avocado/soybean unsaponifiables: a novel regulator of cutaneous wound healing, modelling and remodelling. Int Wound J 12:674–685

Oryan A, Mohammadalipour A, Moshiri A, Tabandeh MR (2016) Topical application of Aloe vera accelerated wound healing, modeling, and remodeling: an experimental study. Ann Plast Surg 77:37–46

Oryan A, Alemzadeh E, Moshiri A (2017) Burn wound healing: present concepts, treatment strategies and future directions. J Wound Care 26:5–19

Pandya NM, Dhalla NS, Santani DD (2006) Angiogenesis—a new target for future therapy. Vasc Pharmacol 44:265–274

Postlethwaite A, Keski-Oja J, Moses H, Kang A (1987) Stimulation of the chemotactic migration of human fibroblasts by transforming growth factor beta. J Exp Med 165:251–256

Potu BK, Bhat KM, Rao MS, Nampurath GK, Chamallamudi MR, Nayak SR, Muttigi MS (2009) Petroleum ether extract of Cissus quadrangularis (Linn.) enhances bone marrow mesenchymal stem cell proliferation and facilitates osteoblastogenesis. Clinics 64:993–998

Rao MS, Mattson MP (2001) Stem cells and aging: expanding the possibilities. Mech Ageing Dev 122:713–734

Redd MJ, Cooper L, Wood W, Stramer B, Martin P (2004) Wound healing and inflammation: embryos reveal the way to perfect repair. Philos Trans R Soc Lond Ser B Biol Sci 359:777–784

Rosique RG, Rosique MJ, Junior F, Jayme A (2015) Curbing inflammation in skin wound healing: a review. Int J Inflam 2015:316235

Sholehvar F, Mehrabani D, Yaghmaei P, Vahdati A (2016) The effect of Aloe vera gel on viability of dental pulp stem cells. Dent Traumatol 32:390–396

Sun G, Zhang X, Shen Y-I, Sebastian R, Dickinson LE, Fox-Talbot K, Reinblatt M, Steenbergen C, Harmon JW, Gerecht S (2011) Dextran hydrogel scaffolds enhance angiogenic responses and promote complete skin regeneration during burn wound healing. Proc Natl Acad Sci U S A 108:20976–20981

Tabandeh MR, Oryan A, Mohammadalipour A (2014) Polysaccharides of Aloe vera induce MMP-3 and TIMP-2 gene expression during the skin wound repair of rat. Int J Biol Macromol 65:424–430

Udalamaththa VL, Jayasinghe CD, Udagama PV (2016) Potential role of herbal remedies in stem cell therapy: proliferation and differentiation of human mesenchymal stromal cells. Stem Cell Res Ther 7:110

Wang J, Hao H, Huang H, Chen D, Han Y, Han W (2016) The effect of adipose-derived stem cells on full-thickness skin grafts. Biomed Res Int 2016:146472

Warrier S, Haridas N, Balasubramanian S, Jalisatgi A, Bhonde R, Dharmarajan A (2013) A synthetic formulation, Dhanwantharam kashaya, delays senescence in stem cells. Cell Prolif 46:283–290

Zhang Q, Liu LN, Yong Q, Deng JC, Cao WG (2015) Intralesional injection of adipose-derived stem cells reduces hypertrophic scarring in a rabbit ear model. Stem Cell Res Ther 6:145
Acknowledgments
The authors would like to thank the authorities of the Veterinary School, Shiraz University, for their kind cooperation.
Funding
INSF provided financial support (grant number 96006039).
Ethics declarations
Conflict of interest
The authors declare that they have no conflict of interest.
Additional information
Publisher's note
Springer Nature remains neutral with regard to jurisdictional claims in published maps and institutional affiliations.
About this article
Cite this article
Oryan, A., Alemzadeh, E., Mohammadi, A.A. et al. Healing potential of injectable Aloe vera hydrogel loaded by adipose-derived stem cell in skin tissue-engineering in a rat burn wound model. Cell Tissue Res 377, 215–227 (2019). https://doi.org/10.1007/s00441-019-03015-9
Received:

Accepted:

Published:

Issue Date:
Keywords
Adipose stem cell

Aloe vera

Demineralized bone matrix

Burn wound model

Histopathology

Real-time PCR