Abstract
The carotid body is a peripheral chemoreceptor that detects decreases in arterial pO2 and subsequently activates the carotid sinus nerve. The hypoxia-evoked activity of the carotid sinus nerve has been suggested to be modulated by glutamate. In the present study, we investigate the immunohistochemical localization of vesicular glutamate transporters in the carotid body of the rat. Vesicular glutamate transporter 2 (VGLUT2) labeling was closely associated with glomus cells immunoreactive to tyrosine hydroxylase but was not in the cytoplasm of these cells. The VGLUT2 immunoreactivity was observed within nerve endings that were immunoreactive to P2X3 and densely localized inside P2X3-immunoreactive axon terminals. These results suggest that VGLUT2 is localized in the afferent nerve terminals of the carotid body. Glutamate may be released from afferent nerve terminals to modulate the chemosensory activity of the carotid body.
Access options
Buy single article
Instant access to the full article PDF.
US$ 39.95
Tax calculation will be finalised during checkout.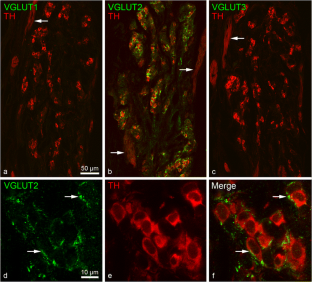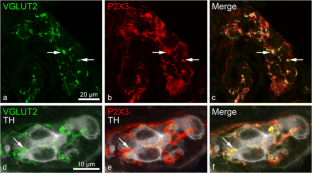 References
Bewick GS, Reid B, Richardson C, Banks RW (2005) Autogenic modulation of mechanoreceptor excitability by glutamate release from synaptic-like vesicles: evidence from the rat muscle spindle primary sensory ending. J Physiol 562:381–394

Brouns I, Pintelon I, De Proost I, Alewaters R, Timmermans J-P, Adriaensen D (2006) Neurochemical characterisation of sensory receptors in airway smooth muscle: comparison with pulmonary neuroepithelial bodies. Histochem Cell Biol 125:351–367

Buttigieg J, Nurse CA (2004) Detection of hypoxia-evoked ATP release from chemoreceptor cells of the rat carotid body. Biochem Biophys Res Commun 322:82–87

Cahusac PM, Senok SS, Hitchcock IS, Genever PG, Baumann KI (2005) Are unconventional NMDA receptors involved in slowly adapting type I mechanoreceptor responses? Neuroscience 133:763–773

Edmonds B, Gibb AJ, Colquhoun D (1995) Mechanisms of activation of glutamate receptors and the time course of excitatory synaptic currents. Annu Rev Physiol 57:495–519

Ewald P, Neuhuber WL, Raab M (2006) Vesicular glutamate transporter 1 immunoreactivity in extrinsic and intrinsic innervation of the rat esophagus. Histochem Cell Biol 125:377–395

Fattorini G, Verderio C, Melone M, Giovedì S, Benfenati F, Matteoli M, Conti F (2009) VGLUT1 and VGAT are sorted to the same population of synaptic vesicles in subsets of cortical axon terminals. J Neurochem 110:1538–1546

Fremeau RT Jr, Burman J, Qureshi T, Tran CH, Proctor J, Johnson J, Zhang H, Sulzer D, Copenhagen DR, Storm-Mathisen J, Reimer RJ, Chaudhry FA, Edwards RH (2002) The identification of vesicular glutamate transporter 3 suggests novel modes of signaling by glutamate. Proc Natl Acad Sci USA 99:14488–14493

Gabellec MM, Panzanelli P, Sassoè-Pognetto M, Lledo PM (2007) Synapse-specific localization of vesicular glutamate transporters in the rat olfactory bulb. Eur J Neurosci 25:1373–1383

Habeck JO, Kummer W (1993) Neuronal and neuroendocrine markers in the human carotid body in health and disease. Adv Exp Med Biol 337:31–35

Honma S, Kato A, Shi L, Yatani H, Wakisaka S (2012) Vesicular glutamate transporter immunoreactivity in the periodontal ligament of the rat incisor. Anat Rec 295:160–166

Kaneko T, Fujiyama F, Hioki H (2002) Immunohistochemical localization of candidates for vesicular glutamate transporters in the rat brain. J Comp Neurol 444:39–62

Kummer W (1996) Innervation of paraganglia. In: Unsicker K (ed) Autonomic-endocrine Interactions. Harwood, Amsterdam, pp 257–287

Lahiri S, Roy A, Baby SM, Hoshi T, Semenza GL, Prabhakar NR (2006) Oxygen sensing in the body. Prog Biophys Mol Biol 91:249–286

Liu Y, Ji ES, Xiang S, Tamisier R, Tong J, Huang J, Weiss JW (2009) Exposure to cyclic intermittent hypoxia increases expression of functional NMDA receptors in the rat carotid body. J Appl Physiol 106:259–267

Martin DL, Tobin AJ (2000) Mechanisms controlling GABA synthesis and degradation in the brain. In: Martin DL, Olsen RW (eds) GABA in the nervous system: the view at fifty years. Lippincott Williams & Wilkins, Philadelphia, pp 25–41

McDonald DM, Mitchell RA (1975) The innervation of glomus cells, ganglion cells and blood vessels in the rat carotid body: a quantitative ultrastructural analysis. J Neurocytol 4:177–230

Melone M, Burette A, Weinberg RJ (2005) Light microscopic identification and immunocytochemical characterization of glutamatergic synapses in brain sections. J Comp Neurol 492:495–509

Montana V, Ni Y, Sunjara V, Hua X, Parpura V (2004) Vesicular glutamate transporter-dependent glutamate release from astrocytes. J Neurosci 24:2633–2642

Ohtake PJ, Torres JE, Gozal YM, Graff GR, Gozal D (1998) NMDA receptors mediate peripheral chemoreceptor afferent input in the conscious rat. J Appl Physiol 84:853–861

Oomori Y, Nakaya K, Tanaka H, Iuchi H, Ishikawa K, Satoh Y, Ono K (1994) Immunohistochemical and histochemical evidence for the presence of noradrenaline, serotonin and gamma-aminobutyric acid in chief cells of the mouse carotid body. Cell Tissue Res 278:249–254

Özkan ED, Ueda T (1998) Glutamate transport and storage in synaptic vesicles. Jpn J Pharmacol 77:1–10

Prabhakar NR (2000) Oxygen sensing by the carotid body chemoreceptors. J Appl Physiol 88:2287–2295

Prasad M, Fearon IM, Zhang M, Laing M, Vollmer C, Nurse CA (2001) Expression of P2X2 and P2X3 receptor subunits in rat carotid body afferent neurones: role in chemosensory signalling. J Physiol (Lond) 537:667–677

Stornetta RL, Sevigny CP, Guyenet PG (2003) Inspiratory augmenting bulbospinal neurons express both glutamatergic and enkephalinergic phenotypes. J Comp Neurol 455:113–124

Takamori S, Rhee JS, Rosenmund C, Jahn R (2000) Identification of a vesicular glutamate transporter that defines a glutamatergic phenotype in neurons. Nature 407:189–194

Torrealba F, Bustos G, Montero VM (1996) Glutamate in the glomus cells of the cat carotid body: immunocytochemistry and in vitro release. Neurochem Int 28:625–631

Wu SX, Koshimizu Y, Feng YP, Okamoto K, Fujiyama F, Hioki H, Li YQ, Kaneko T, Mizuno N (2004) Vesicular glutamate transporter immunoreactivity in the central and peripheral endings of muscle-spindle afferents. Brain Res 1011:247–251
Acknowledgment
This study was partly supported by JSPS KAKENHI Grant Number 25350823.
About this article
Cite this article
Yokoyama, T., Nakamuta, N., Kusakabe, T. et al. Vesicular glutamate transporter 2-immunoreactive afferent nerve terminals in the carotid body of the rat. Cell Tissue Res 358, 271–275 (2014). https://doi.org/10.1007/s00441-014-1921-x
Received:

Accepted:

Published:

Issue Date:
Keywords
Carotid body

Afferent nerve

Glutamate

Vesicular glutamate transporter

Immunohistochemistry