Abstract
High-throughput sequencing has greatly contributed to precision medicine. However, challenges remain in reporting secondary findings (SFs) of germline pathogenic variants and managing the affected patients. The aim of this study was to examine the incidence of SFs in Japanese cancer patients using whole exome sequencing (WES) and to understand patient preferences regarding SF disclosure. WES was conducted for 2480 cancer patients. Genomic data were screened and classified for variants of 59 genes listed by the American College of Medical Genetics and Genomics SF v2.0 and for an additional 13 hereditary cancer-related genes. Majority of the participants (68.9%; 1709/2480) opted for disclosure of their SFs. Thirty-two pathogenic or likely pathogenic variants, including BRCA1 (7 patients), BRCA2 (4), CHEK2 (4), PTEN (3), MLH1 (3), SDHB (2), MSH6 (1), NF1 (1), EXT2 (1), NF1 (1), NTRK1 (1), MYH7 (3), MYL2 (1), TNNT2 (1), LDLR (2), FBN1 (1), and KCNH2 (1) were recognized in 36 patients (1.5%). Twenty-eight (77.8%) patients underwent genetic counseling and received their SF results. Eighteen (64.3%) patients underwent clinical management for SFs. Genetic validation tests were administered significantly more frequently to patients with than without a SF-related personal history (P = 0.025). This was a first attempt at a large-scale systematic exome analysis in Japan; nevertheless, many cancer patients opted for disclosure of SFs and accepted or considered clinical management.
Access options
Buy single article
Instant access to the full article PDF.
US$ 39.95
Tax calculation will be finalised during checkout.
Subscribe to journal
Immediate online access to all issues from 2019. Subscription will auto renew annually.
US$ 119
Tax calculation will be finalised during checkout.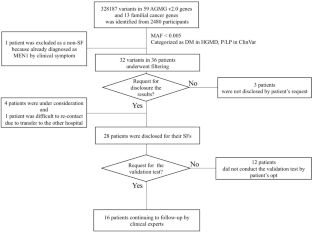 References
Aiba T (2019) Recent understanding of clinical sequencing and gene-based risk stratification in inherited primary arrhythmia syndrome. J Cardiol 73:335–342. https://doi.org/10.1016/j.jjcc.2019.01.009

Breitkopf CR, Petersen GM, Wolf SM, Chaffee KG, Robinson ME, Gordon DR, Lindor NM, Koenig BA (2015) Preferences Regarding Return of Genomic Results to Relatives of Research Participants, Including after Participant Death: Empirical Results from a Cancer Biobank. J Law Med Ethics 43:464–475. https://doi.org/10.1111/jlme.12289

Burke W, Antommaria AH, Bennett R, Botkin J, Clayton EW, Henderson GE, Holm IA, Jarvik GP, Khoury MJ, Knoppers BM, Press NA, Ross LF, Rothstein MA, Saal H, Uhlmann WR, Wilfond B, Wolf SM, Zimmern R (2013) Recommendations for returning genomic incidental findings? We need to talk! Genet Med 15:854–859. https://doi.org/10.1038/gim.2013.113

Cingolani P, Platts A, le Wang L, Coon M, Nguyen T, Wang L, Land SJ, Lu X, Ruden DM (2012) A program for annotating and predicting the effects of single nucleotide polymorphisms, SnpEff: SNPs in the genome of Drosophila melanogaster strain w1118; iso-2; iso-3. Fly (Austin) 6:80–92. https://doi.org/10.4161/fly.19695

Clift KE, Halverson CM, Fiksdal AS, Kumbamu A, Sharp RR, McCormick JB (2015) Patients' views on incidental findings from clinical exome sequencing. Appl Transl Genom 4:38–43. https://doi.org/10.1016/j.atg.2015.02.005

Dewey FE, Murray MF, Overton JD, Habegger L, Leader JB, Fetterolf SN, O'Dushlaine C, Van Hout CV, Staples J, Gonzaga-Jauregui C, Metpally R, Pendergrass SA, Giovanni MA, Kirchner HL, Balasubramanian S, Abul-Husn NS, Hartzel DN, Lavage DR, Kost KA, Packer JS, Lopez AE, Penn J, Mukherjee S, Gosalia N, Kanagaraj M, Li AH, Mitnaul LJ, Adams LJ, Person TN, Praveen K, Marcketta A, Lebo MS, Austin-Tse CA, Mason-Suares HM, Bruse S, Mellis S, Phillips R, Stahl N, Murphy A, Economides A, Skelding KA, Still CD, Elmore JR, Borecki IB, Yancopoulos GD, Davis FD, Faucett WA, Gottesman O, Ritchie MD, Shuldiner AR, Reid JG, Ledbetter DH, Baras A, Carey DJ (2016) Distribution and clinical impact of functional variants in 50,726 whole-exome sequences from the DiscovEHR study. Science. https://doi.org/10.1126/science.aaf6814

Green RC, Berg JS, Grody WW, Kalia SS, Korf BR, Martin CL, McGuire AL, Nussbaum RL, O'Daniel JM, Ormond KE, Rehm HL, Watson MS, Williams MS, Biesecker LG, American College of Medical G, Genomics (2013) ACMG recommendations for reporting of incidental findings in clinical exome and genome sequencing. Genet Med 15:565–574. https://doi.org/10.1038/gim.2013.73

Group JCSJW (2016) Guidelines for diagnosis and treatment of patients with hypertrophic cardiomyopathy (JCS 2012)-digest version. Circ J 80:753–774. https://doi.org/10.1253/circj.CJ-66-0122

Hamilton JG, Shuk E, Genoff MC, Rodriguez VM, Hay JL, Offit K, Robson ME (2017) Interest and attitudes of patients with advanced cancer with regard to secondary germline findings from tumor genomic profiling. J Oncol Pract 13:e590–e601. https://doi.org/10.1200/JOP.2016.020057

Hart MR, Biesecker BB, Blout CL, Christensen KD, Amendola LM, Bergstrom KL, Biswas S, Bowling KM, Brothers KB, Conlin LK, Cooper GM, Dulik MC, East KM, Everett JN, Finnila CR, Ghazani AA, Gilmore MJ, Goddard KAB, Jarvik GP, Johnston JJ, Kauffman TL, Kelley WV, Krier JB, Lewis KL, McGuire AL, McMullen C, Ou J, Plon SE, Rehm HL, Richards CS, Romasko EJ, Miren Sagardia A, Spinner NB, Thompson ML, Turbitt E, Vassy JL, Wilfond BS, Veenstra DL, Berg JS, Green RC, Biesecker LG, Hindorff LA (2018) Secondary findings from clinical genomic sequencing: prevalence, patient perspectives, family history assessment, and health-care costs from a multisite study. Genet Med. https://doi.org/10.1038/s41436-018-0308-x

Johnston JJ, Rubinstein WS, Facio FM, Ng D, Singh LN, Teer JK, Mullikin JC, Biesecker LG (2012) Secondary variants in individuals undergoing exome sequencing: screening of 572 individuals identifies high-penetrance mutations in cancer-susceptibility genes. Am J Hum Genet 91:97–108. https://doi.org/10.1016/j.ajhg.2012.05.021

Jurgens J, Ling H, Hetrick K, Pugh E, Schiettecatte F, Doheny K, Hamosh A, Avramopoulos D, Valle D, Sobreira N (2015) Assessment of incidental findings in 232 whole-exome sequences from the Baylor-Hopkins Center for Mendelian Genomics. Genet Med 17:782–788. https://doi.org/10.1038/gim.2014.196

Kalia SS, Adelman K, Bale SJ, Chung WK, Eng C, Evans JP, Herman GE, Hufnagel SB, Klein TE, Korf BR, McKelvey KD, Ormond KE, Richards CS, Vlangos CN, Watson M, Martin CL, Miller DT (2017) Recommendations for reporting of secondary findings in clinical exome and genome sequencing, 2016 update (ACMG SF v2.0): a policy statement of the American College of Medical Genetics and Genomics. Genet Med 19:249–255. https://doi.org/10.1038/gim.2016.190

Knoppers BM, Zawati MH, Senecal K (2015) Return of genetic testing results in the era of whole-genome sequencing. Nat Rev Genet 16:553–559. https://doi.org/10.1038/nrg3960

Kwak SH, Chae J, Choi S, Kim MJ, Choi M, Chae JH, Cho EH, Hwang TJ, Jang SS, Kim JI, Park KS, Bang YJ (2017) Findings of a 1303 Korean whole-exome sequencing study. Exp Mol Med 49:e356. https://doi.org/10.1038/emm.2017.142

Landrum MJ, Lee JM, Riley GR, Jang W, Rubinstein WS, Church DM, Maglott DR (2014) ClinVar: public archive of relationships among sequence variation and human phenotype. Nucleic Acids Res 42:D980–D985. https://doi.org/10.1093/nar/gkt1113

Minari J, Brothers KB, Morrison M (2018) Tensions in ethics and policy created by National Precision Medicine Programs. Hum Genom 12:22. https://doi.org/10.1186/s40246-018-0151-9

Momozawa Y, Iwasaki Y, Parsons MT, Kamatani Y, Takahashi A, Tamura C, Katagiri T, Yoshida T, Nakamura S, Sugano K, Miki Y, Hirata M, Matsuda K, Spurdle AB, Kubo M (2018) Germline pathogenic variants of 11 breast cancer genes in 7,051 Japanese patients and 11,241 controls. Nat Commun 9:4083. https://doi.org/10.1038/s41467-018-06581-8

Nagashima T, Shimoda Y, Tanabe T, Naruoka A, Saito J, Serizawa M, Ohshima K, Urakami K, Ohnami S, Ohnami S, Mochizuki T, Kusuhara M, Yamaguchi K (2016) Optimizing an ion semiconductor sequencing data analysis method to identify somatic mutations in the genomes of cancer cells in clinical tissue samples. Biomed Res 37:359–366. https://doi.org/10.2220/biomedres.37.359

Nagashima T, Yamaguchi K, Urakami K, Shimoda Y, Ohnami S, Ohshima K, Tanabe T, Naruoka A, Kamada F, Serizawa M, Hatakeyama K, Matsumura K, Ohnami S, Maruyama K, Mochizuki T, Kusuhara M, Shiomi A, Ohde Y, Terashima M, Uesaka K, Onitsuka T, Nishimura S, Hirashima Y, Hayashi N, Kiyohara Y, Tsubosa Y, Katagiri H, Niwakawa M, Takahashi K, Kashiwagi H, Nakagawa M, Ishida Y, Sugino T, Takahashi M, Akiyama Y (2020) Japanese version of The Cancer Genome Atlas, JCGA, established using fresh frozen tumors obtained from 5143 cancer patients. Cancer Sci 111:687–699. https://doi.org/10.1111/cas.14290

Nakamura S, Takahashi M, Tozaki M, Nakayama T, Nomizu T, Miki Y, Murakami Y, Aoki D, Iwase T, Nishimura S, Yamauchi H, Ohsumi S, Baba S, Shimizu T (2015) Prevalence and differentiation of hereditary breast and ovarian cancers in Japan. Breast Cancer 22:462–468. https://doi.org/10.1007/s12282-013-0503-1

O'Daniel JM, McLaughlin HM, Amendola LM, Bale SJ, Berg JS, Bick D, Bowling KM, Chao EC, Chung WK, Conlin LK, Cooper GM, Das S, Deignan JL, Dorschner MO, Evans JP, Ghazani AA, Goddard KA, Gornick M, Farwell Hagman KD, Hambuch T, Hegde M, Hindorff LA, Holm IA, Jarvik GP, Knight Johnson A, Mighion L, Morra M, Plon SE, Punj S, Richards CS, Santani A, Shirts BH, Spinner NB, Tang S, Weck KE, Wolf SM, Yang Y, Rehm HL (2017) A survey of current practices for genomic sequencing test interpretation and reporting processes in US laboratories. Genet Med 19:575–582. https://doi.org/10.1038/gim.2016.152

Olfson E, Cottrell CE, Davidson NO, Gurnett CA, Heusel JW, Stitziel NO, Chen LS, Hartz S, Nagarajan R, Saccone NL, Bierut LJ (2015) Identification of medically actionable secondary findings in the 1000 genomes. PLoS ONE 10:e0135193. https://doi.org/10.1371/journal.pone.0135193

Otsuka H, Arimura T, Abe T, Kawai H, Aizawa Y, Kubo T, Kitaoka H, Nakamura H, Nakamura K, Okamoto H, Ichida F, Ayusawa M, Nunoda S, Isobe M, Matsuzaki M, Doi YL, Fukuda K, Sasaoka T, Izumi T, Ashizawa N, Kimura A (2012) Prevalence and distribution of sarcomeric gene mutations in Japanese patients with familial hypertrophic cardiomyopathy. Circ J 76:453–461. https://doi.org/10.1253/circj.cj-11-0876

Pottinger TD, Puckelwartz MJ, Pesce LL, Robinson A, Kearns S, Pacheco JA, Rasmussen-Torvik LJ, Smith ME, Chisholm R, McNally EM (2020) Pathogenic and uncertain genetic variants have clinical cardiac correlates in diverse biobank participants. J Am Heart Assoc 9:e013808. https://doi.org/10.1161/JAHA.119.013808

Provenzale D, Gupta S, Ahnen DJ, Bray T, Cannon JA, Cooper G, David DS, Early DS, Erwin D, Ford JM, Giardiello FM, Grady W, Halverson AL, Hamilton SR, Hampel H, Ismail MK, Klapman JB, Larson DW, Lazenby AJ, Lynch PM, Mayer RJ, Ness RM, Regenbogen SE, Samadder NJ, Shike M, Steinbach G, Weinberg D, Dwyer M, Darlow S (2016) Genetic/familial high-risk assessment: colorectal version 1.2016, NCCN Clinical Practice Guidelines in Oncology. J Natl Compr Canc Netw 14:1010–1030. https://doi.org/10.6004/jnccn.2016.0108

Pujol P, Vande Perre P, Faivre L, Sanlaville D, Corsini C, Baertschi B, Anahory M, Vaur D, Olschwang S, Soufir N, Bastide N, Amar S, Vintraud M, Ingster O, Richard S, Le Coz P, Spano JP, Caron O, Hammel P, Luporsi E, Toledano A, Rebillard X, Cambon-Thomsen A, Putois O, Rey JM, Herve C, Zorn C, Baudry K, Galibert V, Gligorov J, Azria D, Bressac-de Paillerets B, Burnichon N, Spielmann M, Zarca D, Coupier I, Cussenot O, Gimenez-Roqueplo AP, Giraud S, Lapointe AS, Niccoli P, Raingeard I, Le Bidan M, Frebourg T, Rafii A, Genevieve D (2018) Guidelines for reporting secondary findings of genome sequencing in cancer genes: the SFMPP recommendations. Eur J Hum Genet 26:1732–1742. https://doi.org/10.1038/s41431-018-0224-1

Richards S, Aziz N, Bale S, Bick D, Das S, Gastier-Foster J, Grody WW, Hegde M, Lyon E, Spector E, Voelkerding K, Rehm HL, Committee ALQA (2015) Standards and guidelines for the interpretation of sequence variants: a joint consensus recommendation of the American College of Medical Genetics and Genomics and the Association for Molecular Pathology. Genet Med 17:405–424. https://doi.org/10.1038/gim.2015.30

Schwartz MLB, McCormick CZ, Lazzeri AL, Lindbuchler DM, Hallquist MLG, Manickam K, Buchanan AH, Rahm AK, Giovanni MA, Frisbie L, Flansburg CN, Davis FD, Sturm AC, Nicastro C, Lebo MS, Mason-Suares H, Mahanta LM, Carey DJ, Williams JL, Williams MS, Ledbetter DH, Faucett WA, Murray MF (2018) A model for genome-first care: returning secondary genomic findings to participants and their healthcare providers in a large research cohort. Am J Hum Genet 103:328–337. https://doi.org/10.1016/j.ajhg.2018.07.009

Shahmirzadi L, Chao EC, Palmaer E, Parra MC, Tang S, Gonzalez KD (2014) Patient decisions for disclosure of secondary findings among the first 200 individuals undergoing clinical diagnostic exome sequencing. Genet Med 16:395–399. https://doi.org/10.1038/gim.2013.153

Shimoda Y, Nagashima T, Urakami K, Tanabe T, Saito J, Naruoka A, Serizawa M, Mochizuki T, Ohshima K, Ohnami S, Ohnami S, Kusuhara M, Yamaguchi K (2016) Integrated next-generation sequencing analysis of whole exome and 409 cancer-related genes. Biomed Res 37:367–379. https://doi.org/10.2220/biomedres.37.367

Stenson PD, Ball EV, Howells K, Phillips AD, Mort M, Cooper DN (2009) The Human Gene Mutation Database: providing a comprehensive central mutation database for molecular diagnostics and personalized genomics. Hum Genomics 4:69–72

Tamura K, Utsunomiya J, Iwama T, Furuyama J, Takagawa T, Takeda N, Fukuda Y, Matsumoto T, Nishigami T, Kusuhara K, Sagayama K, Nakagawa K, Yamamura T (2004) Mechanism of carcinogenesis in familial tumors. Int J Clin Oncol 9:232–245. https://doi.org/10.1007/s10147-004-0430-4

Tang CS, Dattani S, So MT, Cherny SS, Tam PKH, Sham PC, Garcia-Barcelo MM (2018) Actionable secondary findings from whole-genome sequencing of 954 East Asians. Hum Genet 137:31–37. https://doi.org/10.1007/s00439-017-1852-1

Vasen HF, Gruis NA, Frants RR, van Der Velden PA, Hille ET, Bergman W (2000) Risk of developing pancreatic cancer in families with familial atypical multiple mole melanoma associated with a specific 19 deletion of p16 (p16-Leiden). Int J Cancer 87:809–811

Yamaguchi-Kabata Y, Yasuda J, Tanabe O, Suzuki Y, Kawame H, Fuse N, Nagasaki M, Kawai Y, Kojima K, Katsuoka F, Saito S, Danjoh I, Motoike IN, Yamashita R, Koshiba S, Saigusa D, Tamiya G, Kure S, Yaegashi N, Kawaguchi Y, Nagami F, Kuriyama S, Sugawara J, Minegishi N, Hozawa A, Ogishima S, Kiyomoto H, Takai-Igarashi T, To MSG, Kinoshita K, Yamamoto M (2018) Evaluation of reported pathogenic variants and their frequencies in a Japanese population based on a whole-genome reference panel of 2049 individuals. J Hum Genet 63:213–230. https://doi.org/10.1038/s10038-017-0347-1

Yamaguchi K, Urakami K, Ohshima K, Mochizuki T, Akiyama Y, Uesaka K, Nakajima T, Takahashi M, Tamai S, Kusuhara M (2014) Implementation of individualized medicine for cancer patients by multiomics-based analyses-the Project HOPE. Biomed Res 35:407–412. https://doi.org/10.2220/biomedres.35.407

Yamamoto K, Hachiya T, Fukushima A, Nakaya N, Okayama A, Tanno K, Aizawa F, Tokutomi T, Hozawa A, Shimizu A (2017) Population-based biobank participants' preferences for receiving genetic test results. J Hum Genet 62:1037–1048. https://doi.org/10.1038/jhg.2017.81

Young AL, Butow PN, Tucker KM, Wakefield CE, Healey E, Williams R (2019) Challenges and strategies proposed by genetic health professionals to assist with family communication. Eur J Hum Genet. https://doi.org/10.1038/s41431-019-0447-9
Acknowledgements
This study was supported by JSPS KAKENHI (grant number JP17K08942) and AMED (grant number 15kk0105001h0102). English Language editing services supplied by Eigo Eibun Tensaku Center.
Ethics declarations
Conflict of interest
The authors declare no conflict of interest relevant to this study.
Ethical approval
All procedures performed in this studies involving human participants were in accordance with the institutional review board of Shizuoka Cancer Center (No.27-J139-27–1-3) and Tokyo Metropolitan Institute of Medical Science (No.18–17), and with the 1964 Helsinki Declaration and its later amendments or comparable ethical standards.
Informed consent
Witten informed consent was obtained from all participants at their entry into this study.
Additional information
Publisher's Note
Springer Nature remains neutral with regard to jurisdictional claims in published maps and institutional affiliations.
About this article
Cite this article
Horiuchi, Y., Matsubayashi, H., Kiyozumi, Y. et al. Disclosure of secondary findings in exome sequencing of 2480 Japanese cancer patients. Hum Genet 140, 321–331 (2021). https://doi.org/10.1007/s00439-020-02207-6
Received:

Accepted:

Published:

Issue Date: