Abstract
The transcription factor IRF8 (ICSBP) is required for the development and maturation of myeloid cells (dendritic cells, monocytes, macrophages), and for expression of intrinsic anti-microbial function such as antigen capture, processing and presentation to lymphoid cells, and for activation of these cells in response to cytokines and pro-inflammatory stimuli (IFN-γ, IFN-β, LPS). IRF8 deficiency in humans causes a severe primary immunodeficiency presenting as susceptibility to infections, complete or severe depletion of blood dendritic cells (DC) subsets, depletion of CD14+ and CD16+ monocytes and reduced numbers and impaired activity of NK cells. In genome-wide association studies (GWAS), sequence variants near IRF8 are significant risk factors for multiple chronic inflammatory diseases in humans including inflammatory bowel disease, lupus, rheumatoid arthritis, multiple sclerosis, and several others. Recent studies have cataloged all the genes bound by and transcriptionally activated by IRF8 in myeloid cells, either alone or in combination with other transcription factors (PU.1, IRF1, STAT1) at steady state and in response to pro-inflammatory stimuli. This IRF1/IRF8 regulome comprises immune pathways such as antigen processing and presentation pathways, expression of costimulatory molecules, cytokines and chemokines, response to stimuli such as cytokine receptors, pathogen-associated molecular pattern receptors, TLRs and nucleotide-binding oligomerization domain-like receptor signaling pathways, and small antiviral GTPases. Members of the IRF8/IRF1 regulome are over-represented amongst genes in which mutations cause primary immunodeficiencies, and are specifically enriched at GWAS loci associated with chronic inflammatory diseases in humans. These recent studies highlight a critical role of IRF8 in the activity of several immune cell types for protection against infections, but also in pathological inflammation associated with common human inflammatory conditions.
This is a preview of subscription content, log in to check access.
Access options
Buy single article
Instant access to the full article PDF.
US$ 39.95
Price includes VAT for USA
Subscribe to journal
Immediate online access to all issues from 2019. Subscription will auto renew annually.
US$ 199
This is the net price. Taxes to be calculated in checkout.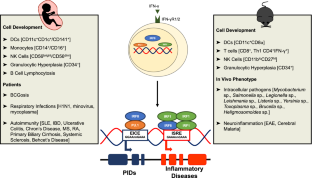 References
Alivernini S, Tolusso B, Ferraccioli G, Gremese E, Kurowska-Stolarska M, McInnes IB (2018) Driving chronicity in rheumatoid arthritis: perpetuating role of myeloid cells. Clin Exp Immunol 193:13–23. https://doi.org/10.1111/cei.13098

Anderson CA, Boucher G, Lees CW, Franke A, D'Amato M, Taylor KD, Lee JC, Goyette P, Imielinski M, Latiano A, Lagace C, Scott R, Amininejad L, Bumpstead S, Baidoo L, Baldassano RN, Barclay M, Bayless TM, Brand S, Buning C, Colombel JF, Denson LA, De Vos M, Dubinsky M, Edwards C, Ellinghaus D, Fehrmann RS, Floyd JA, Florin T, Franchimont D, Franke L, Georges M, Glas J, Glazer NL, Guthery SL, Haritunians T, Hayward NK, Hugot JP, Jobin G, Laukens D, Lawrance I, Lemann M, Levine A, Libioulle C, Louis E, McGovern DP, Milla M, Montgomery GW, Morley KI, Mowat C, Ng A, Newman W, Ophoff RA, Papi L, Palmieri O, Peyrin-Biroulet L, Panes J, Phillips A, Prescott NJ, Proctor DD, Roberts R, Russell R, Rutgeerts P, Sanderson J, Sans M, Schumm P, Seibold F, Sharma Y, Simms LA, Seielstad M, Steinhart AH, Targan SR, van den Berg LH, Vatn M, Verspaget H, Walters T, Wijmenga C, Wilson DC, Westra HJ, Xavier RJ, Zhao ZZ, Ponsioen CY, Andersen V, Torkvist L, Gazouli M, Anagnou NP, Karlsen TH, Kupcinskas L, Sventoraityte J, Mansfield JC, Kugathasan S, Silverberg MS, Halfvarson J, Rotter JI, Mathew CG, Griffiths AM, Gearry R, Ahmad T, Brant SR, Chamaillard M et al (2011) Meta-analysis identifies 29 additional ulcerative colitis risk loci, increasing the number of confirmed associations to 47. Nat Genet 43:246–252. https://doi.org/10.1038/ng.764

Arismendi M, Giraud M, Ruzehaji N, Dieude P, Koumakis E, Ruiz B, Airo P, Cusi D, Matucci-Cerinic M, Salvi E, Cuomo G, Hachulla E, Diot E, Caramaschi P, Riccieri V, Avouac J, Kayser C, Allanore Y (2015) Identification of NF-kappaB and PLCL2 as new susceptibility genes and highlights on a potential role of IRF8 through interferon signature modulation in systemic sclerosis. Arthritis Res Ther 17:71. https://doi.org/10.1186/s13075-015-0572-y

Astle WJ, Elding H, Jiang T, Allen D, Ruklisa D, Mann AL, Mead D, Bouman H, Riveros-Mckay F, Kostadima MA, Lambourne JJ, Sivapalaratnam S, Downes K, Kundu K, Bomba L, Berentsen K, Bradley JR, Daugherty LC, Delaneau O, Freson K, Garner SF, Grassi L, Guerrero J, Haimel M, Janssen-Megens EM, Kaan A, Kamat M, Kim B, Mandoli A, Marchini J, Martens JHA, Meacham S, Megy K, O'Connell J, Petersen R, Sharifi N, Sheard SM, Staley JR, Tuna S, van der Ent M, Walter K, Wang SY, Wheeler E, Wilder SP, Iotchkova V, Moore C, Sambrook J, Stunnenberg HG, Di Angelantonio E, Kaptoge S, Kuijpers TW, Carrillo-de-Santa-Pau E, Juan D, Rico D, Valencia A, Chen L, Ge B, Vasquez L, Kwan T, Garrido-Martin D, Watt S, Yang Y, Guigo R, Beck S, Paul DS, Pastinen T, Bujold D, Bourque G, Frontini M, Danesh J, Roberts DJ, Ouwehand WH, Butterworth AS, Soranzo N (2016) The allelic landscape of human blood cell trait variation and links to common complex disease. Cell 167(1415–1429):e19. https://doi.org/10.1016/j.cell.2016.10.042

Ayi K, Min-Oo G, Serghides L, Crockett M, Kirby-Allen M, Quirt I, Gros P, Kain KC (2008) Pyruvate kinase deficiency and malaria. N Engl J Med 358:1805–1810. https://doi.org/10.1056/NEJMoa072464

Barrett JC, Hansoul S, Nicolae DL, Cho JH, Duerr RH, Rioux JD, Brant SR, Silverberg MS, Taylor KD, Barmada MM, Bitton A, Dassopoulos T, Datta LW, Green T, Griffiths AM, Kistner EO, Murtha MT, Regueiro MD, Rotter JI, Schumm LP, Steinhart AH, Targan SR, Xavier RJ, Consortium NIG, Libioulle C, Sandor C, Lathrop M, Belaiche J, Dewit O, Gut I, Heath S, Laukens D, Mni M, Rutgeerts P, Van Gossum A, Zelenika D, Franchimont D, Hugot JP, de Vos M, Vermeire S, Louis E, Belgian-French IBDC, Wellcome Trust Case Control C, Cardon LR, Anderson CA, Drummond H, Nimmo E, Ahmad T, Prescott NJ, Onnie CM, Fisher SA, Marchini J, Ghori J, Bumpstead S, Gwilliam R, Tremelling M, Deloukas P, Mansfield J, Jewell D, Satsangi J, Mathew CG, Parkes M, Georges M, Daly MJ (2008) Genome-wide association defines more than 30 distinct susceptibility loci for Crohn's disease. Nat Genet 40:955–962. https://doi.org/10.1038/ng.175

Berghout J, Langlais D, Radovanovic I, Tam M, MacMicking JD, Stevenson MM, Gros P (2013) Irf8-regulated genomic responses drive pathological inflammation during cerebral malaria. PLoS Pathog 9:e1003491. https://doi.org/10.1371/journal.ppat.1003491

Bigley V, Maisuria S, Cytlak U, Jardine L, Care MA, Green K, Gunawan M, Milne P, Dickinson R, Wiscombe S, Parry D, Doffinger R, Laurence A, Fonseca C, Stoevesandt O, Gennery A, Cant A, Tooze R, Simpson AJ, Hambleton S, Savic S, Doody G, Collin M (2018) Biallelic interferon regulatory factor 8 mutation: a complex immunodeficiency syndrome with dendritic cell deficiency, monocytopenia, and immune dysregulation. J Allergy Clin Immunol 141:2234–2248. https://doi.org/10.1016/j.jaci.2017.08.044

Blais A, Dynlacht BD (2005) Constructing transcriptional regulatory networks. Genes Dev 19:1499–1511. https://doi.org/10.1101/gad.1325605

Bogunovic D, Byun M, Durfee LA, Abhyankar A, Sanal O, Mansouri D, Salem S, Radovanovic I, Grant AV, Adimi P, Mansouri N, Okada S, Bryant VL, Kong XF, Kreins A, Velez MM, Boisson B, Khalilzadeh S, Ozcelik U, Darazam IA, Schoggins JW, Rice CM, Al-Muhsen S, Behr M, Vogt G, Puel A, Bustamante J, Gros P, Huibregtse JM, Abel L, Boisson-Dupuis S, Casanova JL (2012) Mycobacterial disease and impaired IFN-gamma immunity in humans with inherited ISG15 deficiency. Science 337:1684–1688. https://doi.org/10.1126/science.1224026

Bongfen SE, Laroque A, Berghout J, Gros P (2009) Genetic and genomic analyses of host-pathogen interactions in malaria. Trends Parasitol 25:417–422. https://doi.org/10.1016/j.pt.2009.05.012

Bousfiha A, Jeddane L, Picard C, Al-Herz W, Ailal F, Chatila T, Cunningham-Rundles C, Etzioni A, Franco JL, Holland SM, Klein C, Morio T, Ochs HD, Oksenhendler E, Puck J, Torgerson TR, Casanova JL, Sullivan KE, Tangye SG (2020) Human inborn errors of immunity: 2019 update of the IUIS phenotypical classification. J Clin Immunol. https://doi.org/10.1007/s10875-020-00758-x

Bovolenta C, Driggers PH, Marks MS, Medin JA, Politis AD, Vogel SN, Levy DE, Sakaguchi K, Appella E, Coligan JE et al (1994) Molecular interactions between interferon consensus sequence binding protein and members of the interferon regulatory factor family. Proc Natl Acad Sci USA 91:5046–5050. https://doi.org/10.1073/pnas.91.11.5046

Byun M, Ma CS, Akcay A, Pedergnana V, Palendira U, Myoung J, Avery DT, Liu Y, Abhyankar A, Lorenzo L, Schmidt M, Lim HK, Cassar O, Migaud M, Rozenberg F, Canpolat N, Aydogan G, Fleckenstein B, Bustamante J, Picard C, Gessain A, Jouanguy E, Cesarman E, Olivier M, Gros P, Abel L, Croft M, Tangye SG, Casanova JL (2013) Inherited human OX40 deficiency underlying classic Kaposi sarcoma of childhood. J Exp Med 210:1743–1759. https://doi.org/10.1084/jem.20130592

Chu F, Shi M, Zheng C, Shen D, Zhu J, Zheng X, Cui L (2018) The roles of macrophages and microglia in multiple sclerosis and experimental autoimmune encephalomyelitis. J Neuroimmunol 318:1–7. https://doi.org/10.1016/j.jneuroim.2018.02.015

Cordell HJ, Han Y, Mells GF, Li Y, Hirschfield GM, Greene CS, Xie G, Juran BD, Zhu D, Qian DC, Floyd JA, Morley KI, Prati D, Lleo A, Cusi D, Canadian USPBCC, Italian PBCGSG, Consortium U-P, Gershwin ME, Anderson CA, Lazaridis KN, Invernizzi P, Seldin MF, Sandford RN, Amos CI, Siminovitch KA (2015) International genome-wide meta-analysis identifies new primary biliary cirrhosis risk loci and targetable pathogenic pathways. Nat Commun 6:8019. https://doi.org/10.1038/ncomms9019

Crosslin DR, McDavid A, Weston N, Zheng X, Hart E, de Andrade M, Kullo IJ, McCarty CA, Doheny KF, Pugh E, Kho A, Hayes MG, Ritchie MD, Saip A, Crawford DC, Crane PK, Newton K, Carrell DS, Gallego CJ, Nalls MA, Li R, Mirel DB, Crenshaw A, Couper DJ, Tanaka T, van Rooij FJ, Chen MH, Smith AV, Zakai NA, Yango Q, Garcia M, Liu Y, Lumley T, Folsom AR, Reiner AP, Felix JF, Dehghan A, Wilson JG, Bis JC, Fox CS, Glazer NL, Cupples LA, Coresh J, Eiriksdottir G, Gudnason V, Bandinelli S, Frayling TM, Chakravarti A, van Duijn CM, Melzer D, Levy D, Boerwinkle E, Singleton AB, Hernandez DG, Longo DL, Witteman JC, Psaty BM, Ferrucci L, Harris TB, O'Donnell CJ, Ganesh SK, Group CHW, Larson EB, Carlson CS, Jarvik GP, electronic Medical R, Genomics N (2013) Genetic variation associated with circulating monocyte count in the eMERGE Network. Hum Mol Genet 22:2119–2127. https://doi.org/10.1093/hmg/ddt010

Cunninghame Graham DS, Morris DL, Bhangale TR, Criswell LA, Syvanen AC, Ronnblom L, Behrens TW, Graham RR, Vyse TJ (2011) Association of NCF2, IKZF1, IRF8, IFIH1, and TYK2 with systemic lupus erythematosus. PLoS Genet 7:e1002341. https://doi.org/10.1371/journal.pgen.1002341

Dean M, Carrington M, Winkler C, Huttley GA, Smith MW, Allikmets R, Goedert JJ, Buchbinder SP, Vittinghoff E, Gomperts E, Donfield S, Vlahov D, Kaslow R, Saah A, Rinaldo C, Detels R, O'Brien SJ (1996) Genetic restriction of HIV-1 infection and progression to AIDS by a deletion allele of the CKR5 structural gene. Hemophilia Growth and Development Study, Multicenter AIDS Cohort Study, Multicenter Hemophilia Cohort Study, San Francisco City Cohort. ALIVE Study Sci 273:1856–1862. https://doi.org/10.1126/science.273.5283.1856

de Boer YS, van Gerven NM, Zwiers A, Verwer BJ, van Hoek B, van Erpecum KJ, Beuers U, van Buuren HR, Drenth JP, den Ouden JW, Verdonk RC, Koek GH, Brouwer JT, Guichelaar MM, Vrolijk JM, Kraal G, Mulder CJ, van Nieuwkerk CM, Fischer J, Berg T, Stickel F, Sarrazin C, Schramm C, Lohse AW, Weiler-Normann C, Lerch MM, Nauck M, Volzke H, Homuth G, Bloemena E, Verspaget HW, Kumar V, Zhernakova A, Wijmenga C, Franke L, Bouma G, Dutch Autoimmune Hepatitis Study G, LifeLines Cohort S, Study of Health in P (2014) Genome-wide association study identifies variants associated with autoimmune hepatitis type 1. Gastroenterology 147:443–452e5. https://doi.org/10.1053/j.gastro.2014.04.022

De Jager PL, Jia X, Wang J, de Bakker PI, Ottoboni L, Aggarwal NT, Piccio L, Raychaudhuri S, Tran D, Aubin C, Briskin R, Romano S, International MSGC, Baranzini SE, McCauley JL, Pericak-Vance MA, Haines JL, Gibson RA, Naeglin Y, Uitdehaag B, Matthews PM, Kappos L, Polman C, McArdle WL, Strachan DP, Evans D, Cross AH, Daly MJ, Compston A, Sawcer SJ, Weiner HL, Hauser SL, Hafler DA, Oksenberg JR (2009) Meta-analysis of genome scans and replication identify CD6, IRF8 and TNFRSF1A as new multiple sclerosis susceptibility loci. Nat Genet 41(776):782. https://doi.org/10.1038/ng.401

Diez E, Lee SH, Gauthier S, Yaraghi Z, Tremblay M, Vidal S, Gros P (2003) Birc1e is the gene within the Lgn1 locus associated with resistance to Legionella pneumophila. Nat Genet 33:55–60. https://doi.org/10.1038/ng1065

Driggers PH, Ennist DL, Gleason SL, Mak WH, Marks MS, Levi BZ, Flanagan JR, Appella E, Ozato K (1990) An interferon gamma-regulated protein that binds the interferon-inducible enhancer element of major histocompatibility complex class I genes. Proc Natl Acad Sci USA 87:3743–3747. https://doi.org/10.1073/pnas.87.10.3743

Dudding T, Haworth S, Lind PA, Sathirapongsasuti JF, andMe Research T, Tung JY, Mitchell R, Colodro-Conde L, Medland SE, Gordon S, Elsworth B, Paternoster L, Franks PW, Thomas SJ, Martin NG, Timpson NJ (2019) Genome wide analysis for mouth ulcers identifies associations at immune regulatory loci. Nat Commun 10:1052. https://doi.org/10.1038/s41467-019-08923-6

Elding H, Lau W, Swallow DM, Maniatis N (2011) Dissecting the genetics of complex inheritance: linkage disequilibrium mapping provides insight into Crohn disease. Am J Hum Genet 89:798–805. https://doi.org/10.1016/j.ajhg.2011.11.006

Escalante CR, Brass AL, Pongubala JM, Shatova E, Shen L, Singh H, Aggarwal AK (2002) Crystal structure of PU.1/IRF-4/DNA ternary complex. Mol Cell 10:1097–1105. https://doi.org/10.1016/s1097-2765(02)00703-7

Fairfax BP, Humburg P, Makino S, Naranbhai V, Wong D, Lau E, Jostins L, Plant K, Andrews R, McGee C, Knight JC (2014) Innate immune activity conditions the effect of regulatory variants upon monocyte gene expression. Science 343:1246949. https://doi.org/10.1126/science.1246949

Fehr T, Schoedon G, Odermatt B, Holtschke T, Schneemann M, Bachmann MF, Mak TW, Horak I, Zinkernagel RM (1997) Crucial role of interferon consensus sequence binding protein, but neither of interferon regulatory factor 1 nor of nitric oxide synthesis for protection against murine listeriosis. J Exp Med 185:921–931. https://doi.org/10.1084/jem.185.5.921

Fleisher G, Starr S, Koven N, Kamiya H, Douglas SD, Henle W (1982) A non-x-linked syndrome with susceptibility to severe Epstein-Barr virus infections. J Pediatr 100:727–730. https://doi.org/10.1016/s0022-3476(82)80572-6

Fodil N, Langlais D, Gros P (2016) Primary immunodeficiencies and inflammatory disease: a growing genetic intersection. Trends Immunol 37:126–140. https://doi.org/10.1016/j.it.2015.12.006

Fortier A, Doiron K, Saleh M, Grinstein S, Gros P (2009) Restriction of Legionella pneumophila replication in macrophages requires concerted action of the transcriptional regulators Irf1 and Irf8 and nod-like receptors Naip5 and Nlrc4. Infect Immun 77:4794–4805. https://doi.org/10.1128/IAI.01546-08

Gateva V, Sandling JK, Hom G, Taylor KE, Chung SA, Sun X, Ortmann W, Kosoy R, Ferreira RC, Nordmark G, Gunnarsson I, Svenungsson E, Padyukov L, Sturfelt G, Jonsen A, Bengtsson AA, Rantapaa-Dahlqvist S, Baechler EC, Brown EE, Alarcon GS, Edberg JC, Ramsey-Goldman R, McGwin G Jr, Reveille JD, Vila LM, Kimberly RP, Manzi S, Petri MA, Lee A, Gregersen PK, Seldin MF, Ronnblom L, Criswell LA, Syvanen AC, Behrens TW, Graham RR (2009) A large-scale replication study identifies TNIP1, PRDM1, JAZF1, UHRF1BP1 and IL10 as risk loci for systemic lupus erythematosus. Nat Genet 41:1228–1233. https://doi.org/10.1038/ng.468

Ghazanfari N, Mueller SN, Heath WR (2018) Cerebral malaria in mouse and man. Front Immunol 9:2016. https://doi.org/10.3389/fimmu.2018.02016

Giese NA, Gabriele L, Doherty TM, Klinman DM, Tadesse-Heath L, Contursi C, Epstein SL, Morse HC 3rd (1997) Interferon (IFN) consensus sequence-binding protein, a transcription factor of the IFN regulatory factor family, regulates immune responses in vivo through control of interleukin 12 expression. J Exp Med 186:1535–1546. https://doi.org/10.1084/jem.186.9.1535

Glasmacher E, Agrawal S, Chang AB, Murphy TL, Zeng W, Vander Lugt B, Khan AA, Ciofani M, Spooner CJ, Rutz S, Hackney J, Nurieva R, Escalante CR, Ouyang W, Littman DR, Murphy KM, Singh H (2012) A genomic regulatory element that directs assembly and function of immune-specific AP-1-IRF complexes. Science 338:975–980. https://doi.org/10.1126/science.1228309

Gorlova O, Martin JE, Rueda B, Koeleman BP, Ying J, Teruel M, Diaz-Gallo LM, Broen JC, Vonk MC, Simeon CP, Alizadeh BZ, Coenen MJ, Voskuyl AE, Schuerwegh AJ, van Riel PL, Vanthuyne M, van't Slot R, Italiaander A, Ophoff RA, Hunzelmann N, Fonollosa V, Ortego-Centeno N, Gonzalez-Gay MA, Garcia-Hernandez FJ, Gonzalez-Escribano MF, Airo P, van Laar J, Worthington J, Hesselstrand R, Smith V, de Keyser F, Houssiau F, Chee MM, Madhok R, Shiels PG, Westhovens R, Kreuter A, de Baere E, Witte T, Padyukov L, Nordin A, Scorza R, Lunardi C, Lie BA, Hoffmann-Vold AM, Palm O, Garcia de la Pena P, Carreira P, Spanish Scleroderma G, Varga J, Hinchcliff M, Lee AT, Gourh P, Amos CI, Wigley FM, Hummers LK, Nelson JL, Riemekasten G, Herrick A, Beretta L, Fonseca C, Denton CP, Gregersen PK, Agarwal S, Assassi S, Tan FK, Arnett FC, Radstake TR, Mayes MD, Martin J (2011) Identification of novel genetic markers associated with clinical phenotypes of systemic sclerosis through a genome-wide association strategy. PLoS Genet 7:e1002178. https://doi.org/10.1371/journal.pgen.1002178

Hambleton S, Salem S, Bustamante J, Bigley V, Boisson-Dupuis S, Azevedo J, Fortin A, Haniffa M, Ceron-Gutierrez L, Bacon CM, Menon G, Trouillet C, McDonald D, Carey P, Ginhoux F, Alsina L, Zumwalt TJ, Kong XF, Kumararatne D, Butler K, Hubeau M, Feinberg J, Al-Muhsen S, Cant A, Abel L, Chaussabel D, Doffinger R, Talesnik E, Grumach A, Duarte A, Abarca K, Moraes-Vasconcelos D, Burk D, Berghuis A, Geissmann F, Collin M, Casanova JL, Gros P (2011) IRF8 mutations and human dendritic-cell immunodeficiency. N Engl J Med 365:127–138. https://doi.org/10.1056/NEJMoa1100066

Heintzman ND, Stuart RK, Hon G, Fu Y, Ching CW, Hawkins RD, Barrera LO, Van Calcar S, Qu C, Ching KA, Wang W, Weng Z, Green RD, Crawford GE, Ren B (2007) Distinct and predictive chromatin signatures of transcriptional promoters and enhancers in the human genome. Nat Genet 39:311–318. https://doi.org/10.1038/ng1966

Hein J, Kempf VA, Diebold J, Bucheler N, Preger S, Horak I, Sing A, Kramer U, Autenrieth IB (2000) Interferon consensus sequence binding protein confers resistance against Yersinia enterocolitica. Infect Immun 68:1408–1417. https://doi.org/10.1128/iai.68.3.1408-1417.2000

Holtschke T, Lohler J, Kanno Y, Fehr T, Giese N, Rosenbauer F, Lou J, Knobeloch KP, Gabriele L, Waring JF, Bachmann MF, Zinkernagel RM, Morse HC 3rd, Ozato K, Horak I (1996) Immunodeficiency and chronic myelogenous leukemia-like syndrome in mice with a targeted mutation of the ICSBP gene. Cell 87:307–317. https://doi.org/10.1016/s0092-8674(00)81348-3

Howland SW, Claser C, Poh CM, Gun SY, Renia L (2015) Pathogenic CD8+ T cells in experimental cerebral malaria. Semin Immunopathol 37:221–231. https://doi.org/10.1007/s00281-015-0476-6

Huang W, Zhu C, Wang H, Horvath E, Eklund EA (2008) The interferon consensus sequence-binding protein (ICSBP/IRF8) represses PTPN13 gene transcription in differentiating myeloid cells. J Biol Chem 283:7921–7935. https://doi.org/10.1074/jbc.M706710200

Humblet-Baron S, Barber JS, Roca CP, Lenaerts A, Koni PA, Liston A (2019) Murine myeloproliferative disorder as a consequence of impaired collaboration between dendritic cells and CD4 T cells. Blood 133:319–330. https://doi.org/10.1182/blood-2018-05-850321

Hu X, Bardhan K, Paschall AV, Yang D, Waller JL, Park MA, Nayak-Kapoor A, Samuel TA, Abrams SI, Liu K (2013) Deregulation of apoptotic factors Bcl-xL and Bax confers apoptotic resistance to myeloid-derived suppressor cells and contributes to their persistence in cancer. J Biol Chem 288:19103–19115. https://doi.org/10.1074/jbc.M112.434530

International Multiple Sclerosis Genetics C (2011) The genetic association of variants in CD6, TNFRSF1A and IRF8 to multiple sclerosis: a multicenter case-control study. PLoS ONE 6:e18813. https://doi.org/10.1371/journal.pone.0018813

International Multiple Sclerosis Genetics C, Beecham AH, Patsopoulos NA, Xifara DK, Davis MF, Kemppinen A, Cotsapas C, Shah TS, Spencer C, Booth D, Goris A, Oturai A, Saarela J, Fontaine B, Hemmer B, Martin C, Zipp F, D'Alfonso S, Martinelli-Boneschi F, Taylor B, Harbo HF, Kockum I, Hillert J, Olsson T, Ban M, Oksenberg JR, Hintzen R, Barcellos LF, Wellcome Trust Case Control C, International IBDGC, Agliardi C, Alfredsson L, Alizadeh M, Anderson C, Andrews R, Sondergaard HB, Baker A, Band G, Baranzini SE, Barizzone N, Barrett J, Bellenguez C, Bergamaschi L, Bernardinelli L, Berthele A, Biberacher V, Binder TM, Blackburn H, Bomfim IL, Brambilla P, Broadley S, Brochet B, Brundin L, Buck D, Butzkueven H, Caillier SJ, Camu W, Carpentier W, Cavalla P, Celius EG, Coman I, Comi G, Corrado L, Cosemans L, Cournu-Rebeix I, Cree BA, Cusi D, Damotte V, Defer G, Delgado SR, Deloukas P, di Sapio A, Dilthey AT, Donnelly P, Dubois B, Duddy M, Edkins S, Elovaara I, Esposito F, Evangelou N, Fiddes B, Field J, Franke A, Freeman C, Frohlich IY, Galimberti D, Gieger C, Gourraud PA, Graetz C, Graham A, Grummel V, Guaschino C, Hadjixenofontos A, Hakonarson H, Halfpenny C, Hall G, Hall P, Hamsten A, Harley J, Harrower T et al (2013) Analysis of immune-related loci identifies 48 new susceptibility variants for multiple sclerosis. Nat Genet 45:1353–1360. https://doi.org/10.1038/ng.2770

Jostins L, Ripke S, Weersma RK, Duerr RH, McGovern DP, Hui KY, Lee JC, Schumm LP, Sharma Y, Anderson CA, Essers J, Mitrovic M, Ning K, Cleynen I, Theatre E, Spain SL, Raychaudhuri S, Goyette P, Wei Z, Abraham C, Achkar JP, Ahmad T, Amininejad L, Ananthakrishnan AN, Andersen V, Andrews JM, Baidoo L, Balschun T, Bampton PA, Bitton A, Boucher G, Brand S, Buning C, Cohain A, Cichon S, D'Amato M, De Jong D, Devaney KL, Dubinsky M, Edwards C, Ellinghaus D, Ferguson LR, Franchimont D, Fransen K, Gearry R, Georges M, Gieger C, Glas J, Haritunians T, Hart A, Hawkey C, Hedl M, Hu X, Karlsen TH, Kupcinskas L, Kugathasan S, Latiano A, Laukens D, Lawrance IC, Lees CW, Louis E, Mahy G, Mansfield J, Morgan AR, Mowat C, Newman W, Palmieri O, Ponsioen CY, Potocnik U, Prescott NJ, Regueiro M, Rotter JI, Russell RK, Sanderson JD, Sans M, Satsangi J, Schreiber S, Simms LA, Sventoraityte J, Targan SR, Taylor KD, Tremelling M, Verspaget HW, De Vos M, Wijmenga C, Wilson DC, Winkelmann J, Xavier RJ, Zeissig S, Zhang B, Zhang CK, Zhao H, International IBDGC, Silverberg MS, Annese V, Hakonarson H, Brant SR, Radford-Smith G, Mathew CG, Rioux JD et al (2012) Host-microbe interactions have shaped the genetic architecture of inflammatory bowel disease. Nature 491:119–124. https://doi.org/10.1038/nature11582

Kantakamalakul W, Politis AD, Marecki S, Sullivan T, Ozato K, Fenton MJ, Vogel SN (1999) Regulation of IFN consensus sequence binding protein expression in murine macrophages. J Immunol 162:7417–7425

Kawashima M, Hitomi Y, Aiba Y, Nishida N, Kojima K, Kawai Y, Nakamura H, Tanaka A, Zeniya M, Hashimoto E, Ohira H, Yamamoto K, Abe M, Nakao K, Yamagiwa S, Kaneko S, Honda M, Umemura T, Ichida T, Seike M, Sakisaka S, Harada M, Yokosuka O, Ueno Y, Senju M, Kanda T, Shibata H, Himoto T, Murata K, Miyake Y, Ebinuma H, Taniai M, Joshita S, Nikami T, Ota H, Kouno H, Kouno H, Nakamuta M, Fukushima N, Kohjima M, Komatsu T, Komeda T, Ohara Y, Muro T, Yamashita T, Yoshizawa K, Nakamura Y, Shimada M, Hirashima N, Sugi K, Ario K, Takesaki E, Naganuma A, Mano H, Yamashita H, Matsushita K, Yamauchi K, Makita F, Nishimura H, Furuta K, Takahashi N, Kikuchi M, Masaki N, Tanaka T, Tamura S, Mori A, Yagi S, Shirabe K, Komori A, Migita K, Ito M, Nagaoka S, Abiru S, Yatsuhashi H, Yasunami M, Shimoda S, Harada K, Egawa H, Maehara Y, Uemoto S, Kokudo N, Takikawa H, Ishibashi H, Chayama K, Mizokami M, Nagasaki M, Tokunaga K, Nakamura M (2017) Genome-wide association studies identify PRKCB as a novel genetic susceptibility locus for primary biliary cholangitis in the Japanese population. Hum Mol Genet 26:650–659. https://doi.org/10.1093/hmg/ddw406

Kennedy JM, Fodil N, Torre S, Bongfen SE, Olivier JF, Leung V, Langlais D, Meunier C, Berghout J, Langat P, Schwartzentruber J, Majewski J, Lathrop M, Vidal SM, Gros P (2014) CCDC88B is a novel regulator of maturation and effector functions of T cells during pathological inflammation. J Exp Med 211:2519–2535. https://doi.org/10.1084/jem.20140455

Kim YM, Kang HS, Paik SG, Pyun KH, Anderson KL, Torbett BE, Choi I (1999) Roles of IFN consensus sequence binding protein and PU.1 in regulating IL-18 gene expression. J Immunol 163:2000–2007

Kong XF, Martinez-Barricarte R, Kennedy J, Mele F, Lazarov T, Deenick EK, Ma CS, Breton G, Lucero KB, Langlais D, Bousfiha A, Aytekin C, Markle J, Trouillet C, Jabot-Hanin F, Arlehamn CSL, Rao G, Picard C, Lasseau T, Latorre D, Hambleton S, Deswarte C, Itan Y, Abarca K, Moraes-Vasconcelos D, Ailal F, Ikinciogullari A, Dogu F, Benhsaien I, Sette A, Abel L, Boisson-Dupuis S, Schroder B, Nussenzweig MC, Liu K, Geissmann F, Tangye SG, Gros P, Sallusto F, Bustamante J, Casanova JL (2018) Disruption of an antimycobacterial circuit between dendritic and helper T cells in human SPPL2a deficiency. Nat Immunol 19:973–985. https://doi.org/10.1038/s41590-018-0178-z

Ko J, Gendron-Fitzpatrick A, Splitter GA (2002) Susceptibility of IFN regulatory factor-1 and IFN consensus sequence binding protein-deficient mice to brucellosis. J Immunol 168:2433–2440. https://doi.org/10.4049/jimmunol.168.5.2433

Langlais D, Barreiro LB, Gros P (2016) The macrophage IRF8/IRF1 regulome is required for protection against infections and is associated with chronic inflammation. J Exp Med 213:585–603. https://doi.org/10.1084/jem.20151764

Langlais D, Fodil N, Gros P (2017) Genetics of infectious and inflammatory diseases: overlapping discoveries from association and exome-sequencing studies. Annu Rev Immunol 35:1–30. https://doi.org/10.1146/annurev-immunol-051116-052442

Lee SH, Girard S, Macina D, Busa M, Zafer A, Belouchi A, Gros P, Vidal SM (2001) Susceptibility to mouse cytomegalovirus is associated with deletion of an activating natural killer cell receptor of the C-type lectin superfamily. Nat Genet 28:42–45. https://doi.org/10.1038/ng0501-42

Leonard D, Svenungsson E, Sandling JK, Berggren O, Jonsen A, Bengtsson C, Wang C, Jensen-Urstad K, Granstam SO, Bengtsson AA, Gustafsson JT, Gunnarsson I, Rantapaa-Dahlqvist S, Nordmark G, Eloranta ML, Syvanen AC, Ronnblom L (2013) Coronary heart disease in systemic lupus erythematosus is associated with interferon regulatory factor-8 gene variants. Circ Cardiovasc Genet 6:255–263. https://doi.org/10.1161/CIRCGENETICS.113.000044

Leppa E, Linden AM, Vekovischeva OY, Swinny JD, Rantanen V, Toppila E, Hoger H, Sieghart W, Wulff P, Wisden W, Korpi ER (2011) Removal of GABA(A) receptor gamma2 subunits from parvalbumin neurons causes wide-ranging behavioral alterations. PLoS ONE 6:e24159. https://doi.org/10.1371/journal.pone.0024159

Liu J, Guan X, Tamura T, Ozato K, Ma X (2004) Synergistic activation of interleukin-12 p35 gene transcription by interferon regulatory factor-1 and interferon consensus sequence-binding protein. J Biol Chem 279:55609–55617. https://doi.org/10.1074/jbc.M406565200

Liu H, Irwanto A, Fu X, Yu G, Yu Y, Sun Y, Wang C, Wang Z, Okada Y, Low H, Li Y, Liany H, Chen M, Bao F, Li J, You J, Zhang Q, Liu J, Chu T, Andiappan AK, Wang N, Niu G, Liu D, Yu X, Zhang L, Tian H, Zhou G, Rotzschke O, Chen S, Zhang X, Liu J, Zhang F (2015) Discovery of six new susceptibility loci and analysis of pleiotropic effects in leprosy. Nat Genet 47:267–271. https://doi.org/10.1038/ng.3212

Li P, Spolski R, Liao W, Wang L, Murphy TL, Murphy KM, Leonard WJ (2012) BATF-JUN is critical for IRF4-mediated transcription in T cells. Nature 490:543–546. https://doi.org/10.1038/nature11530

Li SW, He Y, Zheng ZH, Liu DW, Liu ZS (2014) Single-nucleotide polymorphisms of IRF8 gene are associated with systemic lupus erythematosus in Chinese Han population. Int J Immunogenet 41:112–118. https://doi.org/10.1111/iji.12087

Mace EM, Bigley V, Gunesch JT, Chinn IK, Angelo LS, Care MA, Maisuria S, Keller MD, Togi S, Watkin LB, LaRosa DF, Jhangiani SN, Muzny DM, Stray-Pedersen A, Coban Akdemir Z, Smith JB, Hernandez-Sanabria M, Le DT, Hogg GD, Cao TN, Freud AG, Szymanski EP, Savic S, Collin M, Cant AJ, Gibbs RA, Holland SM, Caligiuri MA, Ozato K, Paust S, Doody GM, Lupski JR, Orange JS (2017) Biallelic mutations in IRF8 impair human NK cell maturation and function. J Clin Invest 127:306–320. https://doi.org/10.1172/JCI86276

Mancino A, Termanini A, Barozzi I, Ghisletti S, Ostuni R, Prosperini E, Ozato K, Natoli G (2015) A dual cis-regulatory code links IRF8 to constitutive and inducible gene expression in macrophages. Genes Dev 29:394–408. https://doi.org/10.1101/gad.257592.114

Marquis JF, LaCourse R, Ryan L, North RJ, Gros P (2009) Disseminated and rapidly fatal tuberculosis in mice bearing a defective allele at IFN regulatory factor 8. J Immunol 182:3008–3015. https://doi.org/10.4049/jimmunol.0800680

Marquis JF, Kapoustina O, Langlais D, Ruddy R, Dufour CR, Kim BH, MacMicking JD, Giguere V, Gros P (2011) Interferon regulatory factor 8 regulates pathways for antigen presentation in myeloid cells and during tuberculosis. PLoS Genet 7:e1002097. https://doi.org/10.1371/journal.pgen.1002097

Masumi A, Tamaoki S, Wang IM, Ozato K, Komuro K (2002) IRF-8/ICSBP and IRF-1 cooperatively stimulate mouse IL-12 promoter activity in macrophages. FEBS Lett 531:348–353. https://doi.org/10.1016/s0014-5793(02)03556-1

McKercher SR, Torbett BE, Anderson KL, Henkel GW, Vestal DJ, Baribault H, Klemsz M, Feeney AJ, Wu GE, Paige CJ, Maki RA (1996) Targeted disruption of the PU.1 gene results in multiple hematopoietic abnormalities. EMBO J 15:5647–5658

Min-Oo G, Fortin A, Tam MF, Nantel A, Stevenson MM, Gros P (2003) Pyruvate kinase deficiency in mice protects against malaria. Nat Genet 35:357–362. https://doi.org/10.1038/ng1260

Min-Oo G, Fortin A, Pitari G, Tam M, Stevenson MM, Gros P (2007) Complex genetic control of susceptibility to malaria: positional cloning of the Char9 locus. J Exp Med 204:511–524. https://doi.org/10.1084/jem.20061252

Na YR, Stakenborg M, Seok SH, Matteoli G (2019) Macrophages in intestinal inflammation and resolution: a potential therapeutic target in IBD. Nat Rev Gastroenterol Hepatol 16:531–543. https://doi.org/10.1038/s41575-019-0172-4

Nelson N, Kanno Y, Hong C, Contursi C, Fujita T, Fowlkes BJ, O'Connell E, Hu-Li J, Paul WE, Jankovic D, Sher AF, Coligan JE, Thornton A, Appella E, Yang Y, Ozato K (1996) Expression of IFN regulatory factor family proteins in lymphocytes. Induction of Stat-1 and IFN consensus sequence binding protein expression by T cell activation. J Immunol 156:3711–3720

Ngo CC, Man SM (2017) Mechanisms and functions of guanylate-binding proteins and related interferon-inducible GTPases: roles in intracellular lysis of pathogens. Cell Microbiol. https://doi.org/10.1111/cmi.12791

Okada Y, Wu D, Trynka G, Raj T, Terao C, Ikari K, Kochi Y, Ohmura K, Suzuki A, Yoshida S, Graham RR, Manoharan A, Ortmann W, Bhangale T, Denny JC, Carroll RJ, Eyler AE, Greenberg JD, Kremer JM, Pappas DA, Jiang L, Yin J, Ye L, Su DF, Yang J, Xie G, Keystone E, Westra HJ, Esko T, Metspalu A, Zhou X, Gupta N, Mirel D, Stahl EA, Diogo D, Cui J, Liao K, Guo MH, Myouzen K, Kawaguchi T, Coenen MJ, van Riel PL, van de Laar MA, Guchelaar HJ, Huizinga TW, Dieude P, Mariette X, Bridges SL Jr, Zhernakova A, Toes RE, Tak PP, Miceli-Richard C, Bang SY, Lee HS, Martin J, Gonzalez-Gay MA, Rodriguez-Rodriguez L, Rantapaa-Dahlqvist S, Arlestig L, Choi HK, Kamatani Y, Galan P, Lathrop M, consortium R, consortium G, Eyre S, Bowes J, Barton A, de Vries N, Moreland LW, Criswell LA, Karlson EW, Taniguchi A, Yamada R, Kubo M, Liu JS, Bae SC, Worthington J, Padyukov L, Klareskog L, Gregersen PK, Raychaudhuri S, Stranger BE, De Jager PL, Franke L, Visscher PM, Brown MA, Yamanaka H, Mimori T, Takahashi A, Xu H, Behrens TW, Siminovitch KA, Momohara S, Matsuda F, Yamamoto K, Plenge RM (2014) Genetics of rheumatoid arthritis contributes to biology and drug discovery. Nature 506:376–381. https://doi.org/10.1038/nature12873

Politis AD, Sivo J, Driggers PH, Ozato K, Vogel SN (1992) Modulation of interferon consensus sequence binding protein mRNA in murine peritoneal macrophages. Induction by IFN-gamma and down-regulation by IFN-alpha, dexamethasone, and protein kinase inhibitors. J Immunol 148:801–807

Salem S, Gros P (2013) Genetic determinants of susceptibility to mycobacterial infections: IRF8, a new kid on the block. Adv Exp Med Biol 783:45–80. https://doi.org/10.1007/978-1-4614-6111-1_3

Salem S, Langlais D, Lefebvre F, Bourque G, Bigley V, Haniffa M, Casanova JL, Burk D, Berghuis A, Butler KM, Leahy TR, Hambleton S, Gros P (2014) Functional characterization of the human dendritic cell immunodeficiency associated with the IRF8(K108E) mutation. Blood 124:1894–1904. https://doi.org/10.1182/blood-2014-04-570879

Samson M, Libert F, Doranz BJ, Rucker J, Liesnard C, Farber CM, Saragosti S, Lapoumeroulie C, Cognaux J, Forceille C, Muyldermans G, Verhofstede C, Burtonboy G, Georges M, Imai T, Rana S, Yi Y, Smyth RJ, Collman RG, Doms RW, Vassart G, Parmentier M (1996) Resistance to HIV-1 infection in Caucasian individuals bearing mutant alleles of the CCR-5 chemokine receptor gene. Nature 382:722–725. https://doi.org/10.1038/382722a0

Santos JC, Broz P (2018) Sensing of invading pathogens by GBPs: at the crossroads between cell-autonomous and innate immunity. J Leukoc Biol 104:729–735. https://doi.org/10.1002/JLB.4MR0118-038R

International Multiple Sclerosis Genetics C, Wellcome Trust Case Control C, Sawcer S, Hellenthal G, Pirinen M, Spencer CC, Patsopoulos NA, Moutsianas L, Dilthey A, Su Z, Freeman C, Hunt SE, Edkins S, Gray E, Booth DR, Potter SC, Goris A, Band G, Oturai AB, Strange A, Saarela J, Bellenguez C, Fontaine B, Gillman M, Hemmer B, Gwilliam R, Zipp F, Jayakumar A, Martin R, Leslie S, Hawkins S, Giannoulatou E, D'Alfonso S, Blackburn H, Martinelli Boneschi F, Liddle J, Harbo HF, Perez ML, Spurkland A, Waller MJ, Mycko MP, Ricketts M, Comabella M, Hammond N, Kockum I, McCann OT, Ban M, Whittaker P, Kemppinen A, Weston P, Hawkins C, Widaa S, Zajicek J, Dronov S, Robertson N, Bumpstead SJ, Barcellos LF, Ravindrarajah R, Abraham R, Alfredsson L, Ardlie K, Aubin C, Baker A, Baker K, Baranzini SE, Bergamaschi L, Bergamaschi R, Bernstein A, Berthele A, Boggild M, Bradfield JP, Brassat D, Broadley SA, Buck D, Butzkueven H, Capra R, Carroll WM, Cavalla P, Celius EG, Cepok S, Chiavacci R, Clerget-Darpoux F, Clysters K, Comi G, Cossburn M, Cournu-Rebeix I, Cox MB, Cozen W, Cree BA, Cross AH, Cusi D, Daly MJ, Davis E, de Bakker PI, Debouverie M, D'Hooghe MB, Dixon K, Dobosi R, Dubois B, Ellinghaus D et al (2011) Genetic risk and a primary role for cell-mediated immune mechanisms in multiple sclerosis. Nature 476:214–219. https://doi.org/10.1038/nature10251

Scharton-Kersten T, Contursi C, Masumi A, Sher A, Ozato K (1997) Interferon consensus sequence binding protein-deficient mice display impaired resistance to intracellular infection due to a primary defect in interleukin 12 p40 induction. J Exp Med 186:1523–1534. https://doi.org/10.1084/jem.186.9.1523

Scott EW, Simon MC, Anastasi J, Singh H (1994) Requirement of transcription factor PU.1 in the development of multiple hematopoietic lineages. Science 265:1573–1577. https://doi.org/10.1126/science.8079170

Takeuchi M, Mizuki N, Meguro A, Ombrello MJ, Kirino Y, Satorius C, Le J, Blake M, Erer B, Kawagoe T, Ustek D, Tugal-Tutkun I, Seyahi E, Ozyazgan Y, Sousa I, Davatchi F, Francisco V, Shahram F, Abdollahi BS, Nadji A, Shafiee NM, Ghaderibarmi F, Ohno S, Ueda A, Ishigatsubo Y, Gadina M, Oliveira SA, Gul A, Kastner DL, Remmers EF (2017) Dense genotyping of immune-related loci implicates host responses to microbial exposure in Behcet's disease susceptibility. Nat Genet 49:438–443. https://doi.org/10.1038/ng.3786

Tamura T, Ozato K (2002) ICSBP/IRF-8: its regulatory roles in the development of myeloid cells. J Interferon Cytokine Res 22:145–152. https://doi.org/10.1089/107999002753452755

Tamura T, Nagamura-Inoue T, Shmeltzer Z, Kuwata T, Ozato K (2000) ICSBP directs bipotential myeloid progenitor cells to differentiate into mature macrophages. Immunity 13:155–165. https://doi.org/10.1016/s1074-7613(00)00016-9

Tamura T, Thotakura P, Tanaka TS, Ko MS, Ozato K (2005) Identification of target genes and a unique cis element regulated by IRF-8 in developing macrophages. Blood 106:1938–1947. https://doi.org/10.1182/blood-2005-01-0080

Tamura T, Yanai H, Savitsky D, Taniguchi T (2008) The IRF family transcription factors in immunity and oncogenesis. Annu Rev Immunol 26:535–584. https://doi.org/10.1146/annurev.immunol.26.021607.090400

Tamura T, Kurotaki D, Koizumi S (2015) Regulation of myelopoiesis by the transcription factor IRF8. Int J Hematol 101:342–351. https://doi.org/10.1007/s12185-015-1761-9

Torre S, Polyak MJ, Langlais D, Fodil N, Kennedy JM, Radovanovic I, Berghout J, Leiva-Torres GA, Krawczyk CM, Ilangumaran S, Mossman K, Liang C, Knobeloch KP, Healy LM, Antel J, Arbour N, Prat A, Majewski J, Lathrop M, Vidal SM, Gros P (2017) USP15 regulates type I interferon response and is required for pathogenesis of neuroinflammation. Nat Immunol 18:54–63. https://doi.org/10.1038/ni.3581

Turcotte K, Gauthier S, Mitsos LM, Shustik C, Copeland NG, Jenkins NA, Fournet JC, Jolicoeur P, Gros P (2004) Genetic control of myeloproliferation in BXH-2 mice. Blood 103:2343–2350. https://doi.org/10.1182/blood-2003-06-1852

Turcotte K, Gauthier S, Tuite A, Mullick A, Malo D, Gros P (2005) A mutation in the Icsbp1 gene causes susceptibility to infection and a chronic myeloid leukemia-like syndrome in BXH-2 mice. J Exp Med 201:881–890. https://doi.org/10.1084/jem.20042170

Valanparambil RM, Tam M, Gros PP, Auger JP, Segura M, Gros P, Jardim A, Geary TG, Ozato K, Stevenson MM (2017) IRF-8 regulates expansion of myeloid-derived suppressor cells and Foxp3+ regulatory T cells and modulates Th2 immune responses to gastrointestinal nematode infection. PLoS Pathog 13:e1006647. https://doi.org/10.1371/journal.ppat.1006647

Veiga N, Goldsmith M, Diesendruck Y, Ramishetti S, Rosenblum D, Elinav E, Behlke MA, Benhar I, Peer D (2019) Leukocyte-specific siRNA delivery revealing IRF8 as a potential anti-inflammatory target. J Control Release 313:33–41. https://doi.org/10.1016/j.jconrel.2019.10.001

Vidal SM, Malo D, Vogan K, Skamene E, Gros P (1993) Natural resistance to infection with intracellular parasites: isolation of a candidate for Bcg. Cell 73:469–485. https://doi.org/10.1016/0092-8674(93)90135-d

Wang IM, Contursi C, Masumi A, Ma X, Trinchieri G, Ozato K (2000) An IFN-gamma-inducible transcription factor, IFN consensus sequence binding protein (ICSBP), stimulates IL-12 p40 expression in macrophages. J Immunol 165:271–279. https://doi.org/10.4049/jimmunol.165.1.271

Yanez A, Goodridge HS (2016) Interferon regulatory factor 8 and the regulation of neutrophil, monocyte, and dendritic cell production. Curr Opin Hematol 23:11–17. https://doi.org/10.1097/MOH.0000000000000196

Yoshida Y, Yoshimi R, Yoshii H, Kim D, Dey A, Xiong H, Munasinghe J, Yazawa I, O'Donovan MJ, Maximova OA, Sharma S, Zhu J, Wang H, Morse HC 3rd, Ozato K (2014) The transcription factor IRF8 activates integrin-mediated TGF-beta signaling and promotes neuroinflammation. Immunity 40:187–198. https://doi.org/10.1016/j.immuni.2013.11.022

Zhang X, Bogunovic D, Payelle-Brogard B, Francois-Newton V, Speer SD, Yuan C, Volpi S, Li Z, Sanal O, Mansouri D, Tezcan I, Rice GI, Chen C, Mansouri N, Mahdaviani SA, Itan Y, Boisson B, Okada S, Zeng L, Wang X, Jiang H, Liu W, Han T, Liu D, Ma T, Wang B, Liu M, Liu JY, Wang QK, Yalnizoglu D, Radoshevich L, Uze G, Gros P, Rozenberg F, Zhang SY, Jouanguy E, Bustamante J, Garcia-Sastre A, Abel L, Lebon P, Notarangelo LD, Crow YJ, Boisson-Dupuis S, Casanova JL, Pellegrini S (2015) Human intracellular ISG15 prevents interferon-alpha/beta over-amplification and auto-inflammation. Nature 517:89–93. https://doi.org/10.1038/nature13801

Zhu C, Rao K, Xiong H, Gagnidze K, Li F, Horvath C, Plevy S (2003) Activation of the murine interleukin-12 p40 promoter by functional interactions between NFAT and ICSBP. J Biol Chem 278:39372–39382. https://doi.org/10.1074/jbc.M306441200
Funding
This work was supported by a research grant to PG from the Canadian Institutes of Health Research (Foundation grant). PG is supported by a salary award from McGill University (Distinguished James McGill Professor).
Ethics declarations
Conflict of interest
The authors declare no conflict of interest.
Additional information
Publisher's Note
Springer Nature remains neutral with regard to jurisdictional claims in published maps and institutional affiliations.
About this article
Cite this article
Salem, S., Salem, D. & Gros, P. Role of IRF8 in immune cells functions, protection against infections, and susceptibility to inflammatory diseases. Hum Genet 139, 707–721 (2020). https://doi.org/10.1007/s00439-020-02154-2
Received:

Accepted:

Published:

Issue Date: