Abstract
Protists of the Blastocystis genus are distributed worldwide and can infect a range of hosts. However, data concerning Blastocystis infection are limited for sika deer and are not available for black bears. Therefore, in the present study, a total of 312 black bears (Ursus thibetanus) from Heilongjiang Province and 760 sika deer (Cervus nippon) from four different northern Chinese provinces were investigated. Blastocystis infection in these animals was detected via PCR amplification of the small subunit rRNA gene in fecal samples. The prevalence of Blastocystis infection in black bears and sika deer was 14.4% (45/312 positive samples) and 0.8% (6/760 positive samples), respectively. Young black bears (18.3%) had a significantly higher Blastocystis prevalence than adult bears (9.1%). The prevalence of Blastocystis was significantly higher in black bears raised outdoors (24.6%) than in bears raised indoors (12.2%). Blastocystis-positive sika deer were only found in Jilin Province (1.3%, 6/480). Female sika deer (0%, 0/61) had a significantly lower Blastocystis prevalence than males (0.9%, 6/699). Sanger sequencing was used to determine the small subunit rRNA gene sequences of the Blastocystis-positive PCR products. A neighbor-joining phylogenetic tree based on the small subunit rRNA gene sequences showed that only Blastocystis subtype (ST)1 was identified in black bears, whereas ST10 and ST14 were found in sika deer. This is the first report of Blastocystis ST1 infection in black bears. These findings also extend the distribution information of Blastocystis subtypes, which will provide a foundation for further study of Blastocystis in different hosts in China.
Access options
Buy single article
Instant access to the full article PDF.
US$ 39.95
Tax calculation will be finalised during checkout.
Subscribe to journal
Immediate online access to all issues from 2019. Subscription will auto renew annually.
US$ 119
Tax calculation will be finalised during checkout.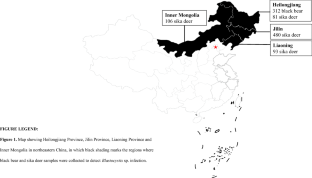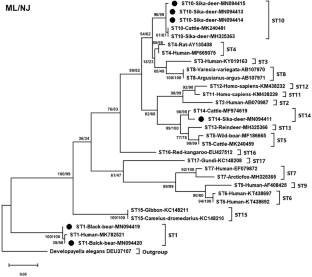 Data availability
All data generated or analyzed during this study are included in this published article.
References
Abu-Madi MA, Behnke JM, Ismail A, Boughattas S (2016) Assessing the burden of intestinal parasites affecting newly arrived immigrants in Qatar. Parasit Vectors 9:619

Adao DEV, Ao DS, Belleza MLB, Bolo NR, Rivera WL (2016) Subtype analysis of Blastocystis sp. isolates from asymptomatic individuals in an urban community in the Philippines. Ann Parasitol 62:193–200

Ajjampur SS, Tan KS (2016) Pathogenic mechanisms in Blastocystis spp. - interpreting results from in vitro and in vivo studies. Parasitol Int 65:772–779

Alfellani MA, Taner-Mulla D, Jacob AS, Imeede CA, Yoshikawa H, Stensvold CR, Clark CG (2013) Genetic diversity of Blastocystis in livestock and zoo animals. Protist 164:497–509

Alinaghizade A, Mirjalali H, Mohebali M, Stensvold CR, Rezaeian M (2017) Inter-and intra-subtype variation of Blastocystis subtypes isolated from diarrheic and non-diarrheic patients in Iran. Infect Genet Evol 50:77–82

Anuar TS, Ghani MKA, Azreen SN, Salleh FM, Moktar N (2013) Blastocystis infection in Malaysia: evidence of waterborne and human-to-human transmissions among the Proto-Malay, Negrito and Senoi tribes of Orang Asli. Parasit Vectors 6:40

Brumpt E (1912) Blastocystis hominis n. sp. et formes voisines. Bull Soc Pathol Exot 5:725–730

Dogan N, Aydin M, Tuzemen NU, Dinleyici EC, Oguz I, Dogruman-Al F (2017) Subtype distribution of Blastocystis spp. isolated from children in Eskisehir, Turkey. Parasitol Int 66:948–951

Dogruman-Al F, Kustimur S, Yoshikawa H, Tuncer C, Simsek Z, Tanyuksel M, Araz E, Boorom K (2009) Blastocystis subtypes in irritable bowel syndrome and inflammatory bowel disease in Ankara, Turkey. Mem Inst Oswaldo Cruz 104:724–727

Gazzonis AL, Marangi M, Zanzani SA, Villa L, Giangaspero A, Manfredi MT (2019) Molecular epidemiology of Blastocystis sp. in dogs housed in Italian rescue shelters. Parasitol Res 118:3011–3017

Greige S, El Safadi D, Khaled S, Gantois N, Baydoun M, Chemaly M, Benamrouz-Vanneste S, Chabé M, Osman M, Certad G (2019) First report on the prevalence and subtype distribution of Blastocystis sp. in dairy cattle in Lebanon and assessment of zoonotic transmission. Acta Trop 194:23–29

He J, Jiang J, Zhou H, Li X (1990) Studies of light microscope appearance and ultrastructure of Blastocystis hominis in vitro culture. J SUN YATSEN Univ 28:122–128 (In Chinese)

He J, Zeng G, Zeng Z (1994) Epidemiological investigation of Blastocystis in zoo primates in Guangzhou, China. Chin J Zool 29:1–3 (In Chinese)

He SS, Wu LY, Liu XQ, Shi HH, Chen Z, Zhang H, Pang CY, Li YM (2013) Investigation on the infection of Blastocystis hominis in populations in Bama Yao Autonomous County of Guangxi. Zhongguo Ji Sheng Chong Xue Yu Ji Sheng Chong Bing Za Zhi 31:76–77 (In Chinese)

Jones MS, Whipps CM, Ganac RD, Hudson NR, Boroom K (2009) Association of Blastocystis subtype 3 and 1 with patients from an Oregon community presenting with chronic gastrointestinal illness. Parasitol Res 104:341–345

Li LH, Zhang XP, Lv S, Zhang L, Yoshikawa H, Wu Z, Steinmann P, Utzinger J, Tong XM, Chen SH (2007) Cross-sectional surveys and subtype classification of human Blastocystis isolates from four epidemiological settings in China. Parasitol Res 102:83–90

Li WC, Wang K, Gu Y (2018) Occurrence of Blastocystis sp. and Pentatrichomonas hominis in sheep and goats in China. Parasit Vectors 11:93

Mohamed RT, El-Bali MA, Mohamed AA, Abdel-Fatah MA, El-Malky MA, Mowafy NM, Zaghlool DA, Bakri RA, Al-Harthi SA (2017) Subtyping of Blastocystis sp. isolated from symptomatic and asymptomatic individuals in Makkah, Saudi Arabia. Parasit Vectors 10:174

Osman M, El Safadi D, Cian A, Benamrouz S, Nourrisson C, Poirier P, Pereira B, Razakandrainibe R, Pinon A, Lambert C (2016) Prevalence and risk factors for intestinal protozoan infections with Cryptosporidium, Giardia, Blastocystis and Dientamoeba among schoolchildren in Tripoli, Lebanon. PLoS Negl Trop Dis 10:e0004496

Paulos S, Köster PC, De Lucio A, Hernández-De-Mingo M, Cardona GA, Fernández-Crespo JC, Stensvold CR, Carmena D (2018) Occurrence and subtype distribution of Blastocystis sp. in humans, dogs and cats sharing household in northern Spain and assessment of zoonotic transmission risk. Zoonoses Public Health 65:993–1002

Ren M, Song JK, Yang F, Zou M, Wang PX, Wang D, Zhang HJ, Zhao GH, Lin Q (2019) First genotyping of Blastocystis in yaks from Qinghai Province, northwestern China. Parasit Vectors 12:171

Sánchez A, Munoz M, Gómez N, Tabares J, Segura L, Salazar Á, Restrepo C, Ruíz M, Reyes P, Qian Y (2017) Molecular epidemiology of Giardia, Blastocystis and Cryptosporidium among indigenous children from the Colombian Amazon Basin. Front Microbiol 8:248

Sanpool O, Laymanivong S, Thanchomnang T, Rodpai R, Sadaow L, Phosuk I, Maleewong W, Intapan PM (2017) Subtype identification of human Blastocystis spp. isolated from Lao People's Democratic Republic. Acta Trop 168:37–40

Scanlan PD, Stensvold CR, Rajilić-Stojanović M, Heilig HG, De Vos WM, O'toole PW, Cotter PD (2014) The microbial eukaryote Blastocystis is a prevalent and diverse member of the healthy human gut microbiota. FEMS Microbiol Ecol 90:326–330

Scicluna SM, Tawari B, Clark CG (2006) DNA barcoding of Blastocystis. Protist 157:77–85

Skotarczak B (2018) Genetic diversity and pathogenicity of Blastocystis. Ann Agric Environ Med 25:411–416

Song JK, Hu RS, Fan XC, Wang SS, Zhang HJ, Zhao GH (2017a) Molecular characterization of Blastocystis from pigs in Shaanxi province of China. Acta Trop 173:130–135

Song JK, Yin YL, Yuan YJ, Tang H, Ren GJ, Zhang HJ, Li ZX, Zhang YM, Zhao GH (2017b) First genotyping of Blastocystis sp. in dairy, meat, and cashmere goats in northwestern China. Acta Trop 176:277–282

Stensvold CR, Tan KSW, Clark CG (2016) Blastocystis. Trends Parasitol 36:315–316

Tian LG, Chen JX, Wang TP, Cheng GJ, Steinmann P, Wang FF, Cai YC, Yin XM, Guo J, Zhou L (2012) Co-infection of HIV and intestinal parasites in rural area of China. Parasit Vectors 5:36

Wang KX, Li CP, Wang J, Cui YB (2002) Epidemiological survey of Blastocystis hominis in Huainan City, Anhui Province, China. World J Gastroenterol 8:928–932

Wang J, Gong B, Liu X, Zhao W, Bu T, Zhang W, Liu A, Yang F (2018a) Distribution and genetic diversity of Blastocystis subtypes in various mammal and bird species in northeastern China. Parasit Vectors 11:1–7

Wang J, Gong B, Yang F, Zhang W, Zheng Y, Liu A (2018b) Subtype distribution and genetic characterizations of Blastocystis in pigs, cattle, sheep and goats in northeastern China's Heilongjiang Province. Infect Genet Evol 57:171–176

Zhang W, Ren G, Zhao W, Yang Z, Shen Y, Sun Y, Liu A, Cao J (2017) Genotyping of Enterocytozoon bieneusi and subtyping of Blastocystis in cancer patients: relationship to diarrhea and assessment of zoonotic transmission. Front Microbiol 8:1835

Zhao G, Hu X, Liu T, Hu R, Yu Z, Yang W, Wu Y, Yu S, Song J (2017) Molecular characterization of Blastocystis sp. in captive wild animals in Qinling Mountains. Parasitol Res 116:2327–2333

Zhu W, Tao W, Gong B, Yang H, Li Y, Song M, Lu Y, Li W (2017) First report of Blastocystis infections in cattle in China. Vet Parasitol 246:38–42
Acknowledgments
We thank the scientists and personnel of the Qingdao Agricultural University, Jilin Agricultural University, State Key Laboratory of Veterinary Etiological Biology, Lanzhou Veterinary Research Institute, and Heilongjiang Bayi Agricultural University, for their collaboration.
Funding
This work was supported by the Research Foundation for Distinguished Scholars of Qingdao Agricultural University (665-1120044, 665-1120046).
Ethics declarations
Ethics approval
This study was approved by the Animal Administration and Ethics Committee of Lanzhou Veterinary Research Institute, Chinese Academy of Agricultural Science. The black bear and sika deer, from which the feces were collected, were handled in accordance with the good animal practices required by the Animal Ethics Procedures and Guidelines of the People's Republic of China.
Consent to participate
Not applicable.
Consent for publication
Not applicable.
Conflict of interest
The authors declare no competing interests.
Additional information
Publisher's note
Springer Nature remains neutral with regard to jurisdictional claims in published maps and institutional affiliations.
Section Editor: Yaoyu Feng
About this article
Cite this article
Ni, HB., Gong, QL., Zhang, NZ. et al. Molecular detection of Blastocystis in black bears and sika deer in northern China. Parasitol Res (2021). https://doi.org/10.1007/s00436-021-07068-0
Received:

Accepted:

Published:
Keywords
Blastocystis

Prevalence

Black bear

Sika deer

Subtyping

Northern China