Abstract
Capillariidae is a group of nematode parasites of vertebrates with a complex taxonomy. The structure of the eggshell, which was indicated as the most important characteristic for identification of genus or species through eggs, is very diverse among genera. The visualization and characterization of eggshell by light microscopy (LM) are a challenging task since different planes of the egg surface are needed. Nevertheless, categories of eggshell ornamentation were proposed by LM: smooth, punctuated, reticulated type I, and reticulated type II. The present study aimed to characterize the eggshell structure of Capillariidae species, parasites of mammals and avians, deposited in a helminthological collection using scanning electron microscopy (SEM). Institutional Biological Collections are taxonomic repositories of specimens described and strictly identified at the species level by systematics specialists. SEM eggshell images were obtained from 12 species belonging to 5 genera (Aonchotheca, Baruscapillaria, Capillaria, Echinocoleus, Eucoleus) and compared to their respective LM images. Eggshell patterns observed using SEM were associated categories of eggshell ornamentation previously proposed by LM images. The SEM data indicate that eggshell categories are not in agreement with capillariid genera or sites of infection. However, the study provides previously unknown SEM eggshell information from curated species, which contributes with a specific and supplementary taxonomic feature at the species level of Capillariidae.
Access options
Buy single article
Instant access to the full article PDF.
US$ 39.95
Tax calculation will be finalised during checkout.
Subscribe to journal
Immediate online access to all issues from 2019. Subscription will auto renew annually.
US$ 119
Tax calculation will be finalised during checkout.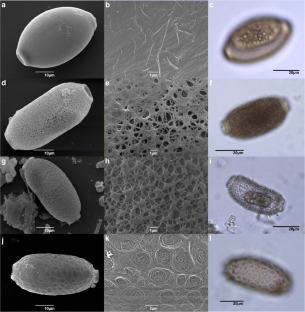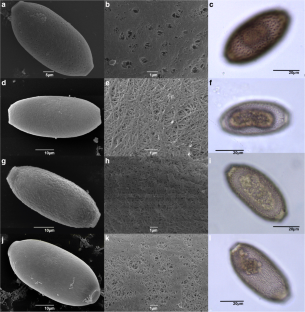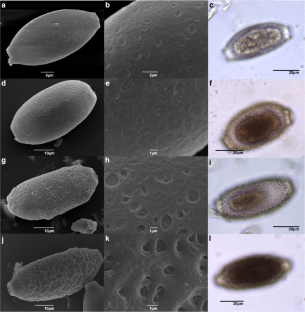 References
Agostini I, Vanderhoeven E, Beldomenico PM, Pfoh R, Notarnicola J (2018) First coprological survey of helminths in a wild population of black capuchin monkeys (Sapajus nigritus) in northeastern Argentina. Mastozool Neotropical 25:269–281. https://doi.org/10.31687/saremMN.18.25.2.0.11

Araujo A, Reinhard K, Ferreira LF, Pucu E, Chieffi PP (2013) Paleoparasitology: the origin of human parasites. Arq Neuropsiquiatr 71:722–726. https://doi.org/10.1590/0004-282X20130159

Beltrame MO, Bellusci A, Fernández FJ, Sardella NH (2018) Carnivores as zoonotic parasite reservoirs in ancient times: the case of the Epullán Chica archaeological cave (Late Holocene, northwestern Patagonia, Argentina). Archaeol Anthropol Sci 10:795–804. https://doi.org/10.1007/s12520-016-0399-8

Borba V (2019) Taxonomia Integrativa, Filogenia e Paleodistribuição de Capilarídeos. PhD thesis, Universidade do Estado do Rio de Janeiro, Rio de Janeiro, p. 179.

Conboy G (2009) Helminth parasites of the canine and feline respiratory tract. Vet Clin North Am Small Anim Pract 39:1109–1126. https://doi.org/10.1016/j.cvsm.2009.06.006

Fugassa MH, Taglioretti V, Gonçalves ML, Araújo A, Sardella NH, Denegri GM (2008) Capillaria spp. eggs in Patagonian archaeological sites: statistical analysis of morphometric data. Mem Inst Oswaldo Cruz 103:104–105

Gibbons LM (2010) Keys to the Nematode parasites of vertebrates: supplementary volume. CABI.

Grewal PS, Richardson PN, Wright DJ (1990) Effects of killing, fixing and mounting methods on taxonomic characters of parthenogenetic adult female Caenorhabditis elegans (Nematoda: Rhabditidae). Revue de Nématologie 13(4):437–444

Lamberti F, Sher SA (1969) A comparison of preparation techniques in taxonomic studies of Longidorus africanus Merny. J Nematol 1(3):193–200

Le Bailly M, Landolt M, Mauchamp L, Dufour B (2014) Intestinal parasites in First World War German soldiers from "Kilianstollen", Carspach, France. Braga ÉM, editor. PLoS ONE 9. doi:https://doi.org/10.1371/journal.pone.0109543

Lomakin V, Romashov B (1987) Morphological-taxonomical analysis and phylogenetic relationships of nematodes of the family Capillariidae Railliet, 1915. Tr Gelan 35:87–94

Lopes Torres EJ, de Souza W, Miranda K (2013) Comparative analysis of Trichuris muris surface using conventional, low vacuum, environmental and field emission scanning electron microscopy. Vet Parasitol 196:409–416. https://doi.org/10.1016/j.vetpar.2013.02.026

Macchioni F, Chelucci L, Guardone L, Mignone W, Prati MC, Magi M (2013) Calodium hepaticum (Nematoda: Capillaridae) in a red fox (Vulpes vulpes) in Italy with scanning electron microscopy of the eggs. Folia Parasitol (Praha) 60:102–104

Magi M, Guardone L, Prati MC, Torracca B, Macchioni F (2012) First report of Eucoleus boehmi (syn. Capillaria boehmi) in dogs in North-western Italy, with scanning electron microscopy of the eggs. Parasite 19(4):433–435

Moravec F (1982) Proposal of a new systematic arrangement of nematodes of the family Capillariidae. Folia Parasitol (Praha) 29:119–132

Romashov B (1985) Morphological peculiarities of egg shell in capillariids (Nematoda, Capillariidae). Parazitologiia 5:399–401

Sianto L, de Souza MV, Chame M, da Luz MF, Guidon N, Pessis AM (2014) Helminths in feline coprolites up to 9000 years in the Brazilian Northeast. Parasitol Int 63:851–857. https://doi.org/10.1016/j.parint.2014.08.002

Sukontason KL, Sukontason K, Piangjai S, Vogtsberger RC (2006) Ultrastructure of eggs of Paracapillaria (Crossicapillaria) philippinensis and evidence related to its life cycle. Micron 37:87–90. https://doi.org/10.1016/j.micron.2005.05.006

Taglioretti V, Fugassa MH, Beltrame MO, Sardella NH (2014) Biometric identification of capillariid eggs from archaeological sites in Patagonia. J Helminthol 88(2):196–202

Traversa D, Di Cesare A, Lia RP, Castagna G, Meloni S, Heine J (2011) New insights into morphological and biological features of Capillaria aerophila (Trichocephalida, Trichuridae). Parasitol Res 109:97–104. https://doi.org/10.1007/s00436-011-2406-4

Zajac A, Conboy GA (2012) Veterinary clinical parasitology, 8th edn. Wiley-Blackwell, Chichester, West Sussex, UK
Acknowledgements
We would like to thank the technicians of the Rudolf Barth Electron Microscopy Platform of the Oswaldo Cruz Foundation, Rio de Janeiro, Brazil, for their help and access at the electron microscopes.
Funding
This study was supported by grants-in-aid and fellowship from Fundação de Amparo à Pesquisa do Rio de Janeiro (http://www.faperj.br/) (AMI, grant number 26/202.945/2016); fellowships from Conselho Nacional de Desenvolvimento Científico e Tecnológico (http://www.cnpq.br/) (AMI, grant number 307932/2014-1 and 312934/2017-3) (JRMS, grant number 470724/2014-5); grants-in-aid and fellowships from Coordenação de Aperfeiçoamento de Pessoal de Nível Superior (http://www.capes.gov.br/) (AMI and VHB, grant number 23038000059/2015-61) and grants-in-aid and fellowships from the COFECUB research and cooperation program (https://www.campusfrance.org/fr/cofecub) (AMI and VHB, grant number 33387UA).
Ethics declarations
Competing interests
The authors declare that they have no conflict of interest.
Disclaimer
The funders had no role in study design, data collection and analysis, decision to publish, or preparation of the manuscript.
Additional information
Publisher's note
Springer Nature remains neutral with regard to jurisdictional claims in published maps and institutional affiliations.
Section Editor: David Bruce Conn
About this article
Cite this article
Borba, V., Enoki, M., Lopes-Torres, E.J. et al. New data on eggshell structure of capillariid species: a SEM perspective. Parasitol Res 120, 963–970 (2021). https://doi.org/10.1007/s00436-020-07032-4
Received:

Accepted:

Published:

Issue Date:
Keywords
Scanning electron microscopy

Capillariidae

Taxonomy

Eggshell ornamentation