Abstract
Toxocara canis is a common parasite of dogs and can cause zoonotic toxocariasis in humans. As a part of control programs for this agent, optimized hygiene including chemical disinfection is considered essential in the prevention and control of zoonotic toxocariasis in humans. However, commonly used disinfectants at present mostly fail to inhibit the embryogenesis and viability of T. canis eggs. To this effect, the present study was designed to evaluate the effect of a chlorocresol-based disinfectant product Neopredisan®135-1 (NP) on embryonic development of T. canis eggs in vitro and to investigate the infectivity of exposed eggs by assessing larval establishment in a mouse model. Under in vitro conditions, NP at a final concentration of 0.25, 0.50, 1, 2, or 4% all exhibited significant killing effect on T. canis embryogenesis compared with the control eggs (P < 0.05), regardless of contact times (30, 60, 90, or 120 min). Such killing activity increased in a concentration- and time-dependent manner, with a maximum killing efficacy of 95.81% at 4% concentration and 120 min exposure time. Comparisons between low and high concentrations and between short and long contact times concluded that a protocol using the 1% concentration of NP with a 90-min contact could be the most suitable for practical application. Additionally, the lower larval recovery in mice inoculated with eggs treated by either 0.25 or 0.5% NP than that from their corresponding controls (P < 0.05) verified once again that NP had an adverse impact on the larval development of T. canis eggs even at a low concentration. To the best of our knowledge, this is the first study to report the effect of the chlorocresol-based disinfectant NP on the embryonation and larval development of T. canis eggs, and the results presented here would contribute to environmental clearance and control of toxocariasis by providing an alternative disinfectant resource. However, it is highlighted that the clearance of the novel and existing sources of infection including larvated eggs in places treated with NP is not guaranteed and therefore continuous monitoring and additional disinfection are still required.
This is a preview of subscription content, log in to check access.
Access options
Buy single article
Instant access to the full article PDF.
US$ 39.95
Price includes VAT for USA
Subscribe to journal
Immediate online access to all issues from 2019. Subscription will auto renew annually.
US$ 199
This is the net price. Taxes to be calculated in checkout.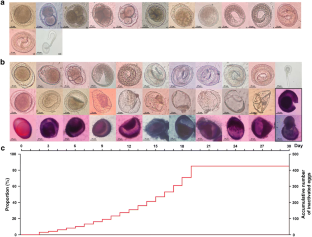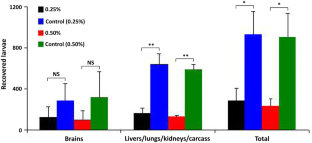 References
Abo-Shehada MN, Herbert IV (1984) The migration of larval Toxocara canis in mice II. Post-intestinal migration in primary infections. Vet Parasitol 17:75–83

Ayçiçek H, Yarsan E, Sarimehmetoğlu HO, Tanyüksel M, Girginkardeşler N, Özyurt M (2001) Efficacy of some disinfectants on embryonated eggs of Toxocara canis. Turk J Med Sci 31:35–39

Azian MYN, Sakhone L, Hakim SL, Yusri MY, Nurulsyamzawaty Y, Zuhaizam AH, Rodi IM, Maslawaty MN (2008) Detection of helminth infections in dogs and soil contamination in rural and urban areas. Southeast Asian J Trop Med Public Hlth 39:205

Boes J, Eriksen L, Nansen P (1998) Embryonation and infectivity of Ascaris suum eggs isolated from worms expelled by pigs treated with albendazole, pyrantel pamoate, ivermectin or piperazine dihydrochloride. Vet Parasitol 1998(75):181–190

Bruins G, Dyer JA (1995) Environmental considerations of disinfectants used in agriculture. Rev Sci Tech 14:81–94

Chen J, Liu Q, Liu GH, Zheng WB, Hong SJ, Sugiyama H, Zhu XQ, Elsheikha HM (2018) Toxocariasis: a silent threat with a progressive public health impact. Infect Dis Poverty 7:59

Congdon P, Lloyd P (2011) Toxocara infection in the United States: the relevance of poverty, geography and demography as risk factors, and implications for estimating county prevalence. Int J Public Health 56:15–24

Daugschies A, Böse R, Marx J, Teich K, Friedhoff KT (2002) Development and application of a standardized assay for chemical disinfection of coccidia oocysts. Vet Parasitol 103:299–308

Despommier D (2003) Toxocariasis: clinical aspects, epidemiology, medical ecology, and molecular aspects. Clin Microbiol Rev 16:265–272

Deutz A, Fuchs K, Auer H, Kerbl U, Aspöck H, Köfer J (2005) Toxocara-infestations in Austria: a study on the risk of infection of farmers, slaughterhouse staff, hunters and veterinarians. Parasitol Res 97:390–394

Gamage B (2003) A guide to selection and use of disinfectants. BCCDC Laboratory Services, BC Centre for Disease Control

Gehan ZM, Anwer W, Amer HM, El-Sabagh IM, Rezk A, Badawy EM (2009) In vitro efficacy comparisons of disinfectants used in the commercial poultry farms. Int J Poult Sci 8:237–241

Jacobs DE, Pegg EJ, Stevenson P (1977) Helminths of British dogs: Toxocara canis—a veterinary perspective. J Small Anim Pract 18:79–92

Khademvatan S, Rahim F, Tavalla M, Abdizadeh R, Hashemitabar M (2013) PCR-based molecular characterization of Toxocara spp. using feces of stray cats: a study from Southwest Iran. PLoS One 8:e65293

Khademvatan S, Abdizadeh R, Tavalla M (2014) Molecular characterization of Toxocara spp. from soil of public areas in Ahvaz southwestern Iran. Acta Trop 135:50–54

Ma G, Holland CV, Wang T, Hofmann A, Fan CK, Maizels RM, Hotez PJ, Gasser RB (2018) Human toxocariasis. Lancet Infect Dis 18:e14–e24

Macpherson CNL (2005) Human behaviour and the epidemiology of parasitic zoonoses. Int J Parasitol 35:1319–1331

Macpherson CNL, François-Xavier M, Wandeler AI (2012) Dogs, zoonoses and public health. CABI, UK

Magaña-López R, Luna-Pabello VM, Barrera-Godínez JA, de Velásquez MO, Fernández-Villagómez G (2016) Effect of mineral aggregates on the morphology and viability of Toxocara canis eggs. Ecol Eng 90:125–134

Mielke D, Hiepe T (1998) The effectiveness of different disinfectants based on p-chloro-m-cresol against Ascaris suum eggs under laboratory conditions. Berl Munch Tierarztl Wochenschr 111:291–294

Morrondo P, Díez-Morrondo C, Pedreira J, Díez-Baños N, Sánchez-Andrade R, Paz-Silva A, Díez-Baños P (2006) Toxocara canis larvae viability after disinfectant-exposition. Parasitol Res 99:558–561

Nijsse R, Ploeger HW, Wagenaar JA, Mughini-Gras L (2015) Toxocara canis in household dogs: prevalence, risk factors and owners' attitude towards deworming. Parasitol Res 114:561–569

Oh KS, Kim GT, Ahn KS, Shin SS (2016) Effects of disinfectants on larval development of Ascaris suum eggs. Korean J Parasitol 54:103–107

Oshima T (1961) Standardization of techniques for infecting mice with Toxocara canis and observations on the normal migration routes of the larvae. J Parasitol 47:652–656

Overgaauw PAM, Nederland V (1997) Aspects of Toxocara epidemiology: toxocarosis in dogs and cats. Crit Rev Microbiol 23:233–251

Overgaauw PAM, Van Knapen F (2013) Veterinary and public health aspects of Toxocara spp. Vet Parasitol 193:398–403

Payne JB, Kroger EC, Watkins SE (2005) Evaluation of disinfectant efficacy when applied to the floor of poultry grow-out facilities. J Appl Poult Res 14:322–329

Pittman JS, Myers GH, Stalder KJ, Karriker LA (2015) Effect of fenbendazole on shedding and embryonation of Ascaris suum eggs from naturally infected sows. J Swine Health Prod 23:252–263

Rubinsky-Elefant G, Hirata CE, Yamamoto JH, Ferreira MU (2010) Human toxocariasis: diagnosis, worldwide seroprevalences and clinical expression of the systemic and ocular forms. Ann Trop Med Parasitol 104:3–23

Smith H, Holland C, Taylor M, Magnaval JF, Schantz P, Maizels R (2009) How common is human toxocariasis? Towards standardizing our knowledge. Trend Parasitol 25:182–188

Storey GW, Phillips RA (1985) The survival of parasite eggs throughout the soil profile. Parasitology 91:585–590

Straberg E, Daugschies A (2007) Control of piglet coccidiosis by chemical disinfection with a cresol-based product (Neopredisan 135-1®). Parasitol Res 101:599–604

Ursache AL, Mircean V, Dumitrache M, Andrei S, Ştefănuţ L, Cozma V, Cătană R, Cernea M (2020) Is routine disinfection efficient in preventing contamination with Toxocara canis eggs? J Helminthol. https://doi.org/10.1017/S0022149X1900052X

Verocai GG, Tavares PV, De A, Ribeiro F, Correia TR, Scott FB (2010) Effects of disinfectants on Toxocara canis embryogenesis and larval establishment in mice tissues. Zoonoses Public Health 57:e213–e216

Von Dohlen AR, Houk-Miles AE, Zajac AM, Lindsay DS (2017) Flotation of Toxocara canis eggs in commercial bleach and effects of bleach treatment times on larval development in these eggs. J Parasitol 103:183–186

Wells DL (2007) Domestic dogs and human health: an overview. Br J Health Psychol 12:145–156

Xi WG, Jin LZ (1998) A novel method for the recovery of Toxocara canis in mice. J Helminthol 72:183–184

Xiong L, Zhang H, Wang C, Li C, Lan J, Luo L, Liu L, Yang GY (2019) Killing effect of Neopredisan 135-1® against Baylisascaris schroederi eggs in viro. Progress Vet Med 40:125–130

Zhang Y, Zhang S, Gu X, Yang G, Xie Y (2019) Morphological observations of Toxocara canis egg development in vitro. Chin J Parasitol Parasit Dis 37:486–489

Zhao JG (2019) The prevalence, drug resistance and antihelminthic egg killing of Ascaris suum and its biochemical mechanism of interaction with the local black pigs in Hainan. Hainan University, Dissertation
Acknowledgments
We thank Mr. Fujie Sun and Mrs. Luxi Huang at Sichuan Agricultural University for their assistance in collecting parasite materials; Dr. Joseph Urban at USDA-ARS, Beltsville Human Nutrition Research Center, Diet, Genomics and Immunology Laboratory for manuscript review and advice.
Funding
This work was funded by the Sichuan International Science and Technology Innovation Cooperation/Hong Kong, Macao and Taiwan Science and Technology Innovation Cooperation Project, Sichuan, China (grant no. 2019YFH0065), Key Open Laboratory of Conservation Biology of Rare Animals in Giant Panda National Park, State Forestry and Grassland Administration (no. KLSFGAGP2020.014), and the High-level Scientific Research Foundation for the Introduction of Talents of Sichuan Agricultural University (no. 03120322).
Ethics declarations
Conflict of interest
The authors declare that they have no competing interests.
Ethics approval and consent to participate
This study was approved by the Animal Ethics Committee of Sichuan Agricultural University (Sichuan, China; approval no. SYXK 2014-187), and all procedures involving animals in the present study were in strict accordance with the Guide for the Care and Use of Laboratory Animals (National Research Council, Bethesda, MD, USA) and the recommendations in the ARRIVE guidelines (https://www.nc3rs.org.uk/arrive-guidelines).
Consent for publication
Not applicable.
Additional information
Publisher's note
Springer Nature remains neutral with regard to jurisdictional claims in published maps and institutional affiliations.
Section Editor: David S. Lindsay
About this article
Cite this article
Zhang, S., Angel, C., Gu, X. et al. Efficacy of a chlorocresol-based disinfectant product on Toxocara canis eggs. Parasitol Res (2020). https://doi.org/10.1007/s00436-020-06769-2
Received:

Accepted:

Published:
Keywords
Toxocara eggs

Hygiene optimization

Disinfectants

Killing activity

Embryogenesis

Larval development