Abstract
Blood samples from 72 Ameiva ameiva lizards from Central Amazonian upland forests were collected, and thin smears of 40 (55.5%) animals were positive for gamonts of Hepatozoon with a mean level of intensity of infection of 14 parasites/2000 blood erythrocytes (0.73%). The gametocytes were found attached with host cells' nuclei, and their dimensions were 14.28 ± 1.05 μm in length and 4.50 ± 0.80 μm in width. Phylogenetic analyses of the 18S rRNA gene showed that the new sequences obtained from A. ameiva constitute a monophyletic sister clade to the Hepatozoon spp. from Brazilian snakes. Based on morphological features and new molecular data, we redescribe this hemogregarine as Hepatozoon ameivae. This study also provides the first molecular characterization of a Hepatozoon species from a Brazilian lizard.
This is a preview of subscription content, log in to check access.
Access options
Buy single article
Instant access to the full article PDF.
US$ 39.95
Price includes VAT for USA
Subscribe to journal
Immediate online access to all issues from 2019. Subscription will auto renew annually.
US$ 199
This is the net price. Taxes to be calculated in checkout.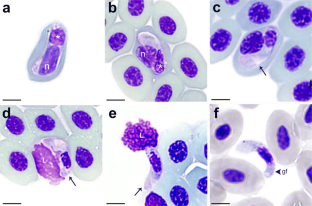 References
Ayala SC (1975) Malaria and hemogregarines from lizards of the Western Caribbean Islands of San Andrés and Providencia. Rev Inst Med Trop São Paulo 17:218–224

Ayala SC, D'Alessandro A, Mackenzie R, Angel D (1973) Hemoparasite infections in 830 wild animals from the Eastern Llanos of Colombia. J Parasitol 59:52–59. https://doi.org/10.2307/3278571

Barta JR, Ogedengbe JD, Martin DS, Smith TG (2012) Phylogenetic position of the Adeleorinid Coccidia (Myzozoa, Apicomplexa, Coccidia, Eucoccidiorida, Adeleorina) inferred using 18S rDNA sequences. J Eukaryot Microbiol 59:171–180. https://doi.org/10.1111/j.1550-7408.2011.00607.x

Borges-Nojosa DM, Borges-Leite MJ, Maia JP, Zanchi-Silva D, da Rocha BR, Harris DJ (2017) A new species of Hepatozoon Miller, 1908 (Apicomplexa: Adelerina) from the snake Philodryas nattereri Steindachner (Squamata: Dipsadidae) in northeastern Brazil. Syst Parasitol 94:65–72. https://doi.org/10.1007/s11230-016-9676-2

Bower DS, Brannelly LA, McDonald CA, Webb RJ, Greenspan SE, Vickers M, Gardner MG, Greenlees MJ (2019) A review of the role of parasites in the ecology of reptiles and amphibians. Austral Ecol 44:433–348. https://doi.org/10.1111/aec.12695

Bromwich CR, Schall JJ (1986) Infection dynamics of Plasmodium mexicanum, a malarial parasite of lizards. Ecology 67:1227–1235. https://doi.org/10.2307/1938678

Carini A (1909) Sobre duas hemogregarines do Tupinambis teguixin. Rev Soc Scient São Paulo 4:1–3

Carini A (1941a) Sobre uma hemogregarina intra-leucocitaria do lagarto Cnemidophorus lemniscatus lemniscatus. Arq Biol 25:294–296

Carini A (1941b) Sobre uma hemogregarina dos globulos vermelhos do lagarto Cnemidophorus lemniscatus lemniscatus. Arq Biol 25:293–294

Carini A (1942) Sobre uma haemogregarina e um Plasmodium da Iguana iguana. Arq Biol São Paulo 26:6–7

Carini A, Rudolph M (1912) Sur quelques hématozoaires de lézards au Brésil. Bull Soc Pathol Exot 5:592–595

Cook CA, Netherlands EC, Smit NJ (2015) First Hemolivia from Southern Africa: reassigning chelonian Haemogregarina parvula Dias, 1953 (Adeleorina: Haemogregarinidae) to Hemolivia (Adeleorina: Karyolysidae). Afr Zool 50:165–173. https://doi.org/10.1080/15627020.2015.1044467

Cook CA, Netherlands EC, Smit NJ (2016) Redescription, molecular characterization and taxonomic re-evaluation of a unique African monitor lizard haemogregarine Karyolysus paradoxa (Dias, 1954) n. comb. (Karyolysidae). Parasit Vectors 9:347. https://doi.org/10.1186/s13071-016-1600-8

Cook CA, Netherlands EC, Smit NJ, Van As J (2018) Two new species of Hepatozoon (Apicomplexa: Hepatozoidae) parasitising species of Philothamnus (Ophidia: Colubridae) from South Africa. Folia Parasit 65:004. https://doi.org/10.14411/fp.2018.004

Darriba D, Taboada GL, Doallo R, Posada D (2012) jModelTest 2: more models, new heuristics and parallel computing. Nat Methods 9:772. https://doi.org/10.1038/nmeth.2109

García-Muñoz E, Sillero N (2010) Two new types of noose for capturing herps. Acta Herpetol 5:259–263. https://doi.org/10.13128/Acta_Herpetol-9033

Godfrey RD Jr, Fedynich AM, Pence DB (1987) Quantification of haematozoa in blood smears. J Wildlife Dis 23:558–565. https://doi.org/10.7589/0090-3558-23.4.558

Godfrey SS, Nelson NJ, Bull CM (2011) Ecology and dynamics of the blood parasite, Hepatozoon tuatarae (Apicomplexa), in tuatara (Sphenodon punctatus) on Stephens Island, New Zealand. J Wildl Dis 47:126–139. https://doi.org/10.7589/0090-3558-47.1.126

Hall TA (1999) BioEdit: a user-friendly biological sequence alignment editor and analysis program for Windows 95/98/NT. Nucl Ac Symp Series 41:95–98

Harris DJ, Borges-Nojosa DM, Maia JP (2015) Prevalence and diversity of Hepatozoon in native and exotic geckos from Brazil. J Parasitol 101:80–85. https://doi.org/10.1645/14-522.1

Harris DJ, Halajian A, Santos JL, Swanepoel LH, Taylor PJ, Xavier R (2018) Diversity of haemoprotozoan parasites infecting the wildlife of South Africa. Folia Parasit 65:1–8. https://doi.org/10.14411/fp.2018.015

Huelsenbeck JP, Ronquist F (2001) Mr Bayes: Bayesian inference of phylogenetic trees. Bioinformatics 17:754–755

Jenkins CL, McGarigal K, Gamble LR (2003) Comparative effectiveness of two trapping techniques for surveying the abundance and diversity of reptiles and amphibians along drift fence arrays. Herpetol Rev 34:39–42

Kearse M, Moir R, Wilson A, Stones-Havas S, Cheung M, Sturrock S, Buxton S, Cooper A, Markowitz S, Duran C, Thierer T, Ashton B, Meintjes P, Drummond AJ (2012) Geneious basic: an integrated and extendable desktop software platform for the organization and analysis of sequence data. Bioinformatics 28:1647–1649

Kvičerová J, Hypša V, Dvořáková N, Mikulíček P, Jandzik D, Gardner MG, Javanbakht H, Tiar G, Široký P (2014) Hemolivia and Hepatozoon: haemogregarines with tangled evolutionary relationships. Protist 165:688–700. https://doi.org/10.1016/j.protis.2014.06.001

Lainson R (2012) Atlas of protozoan parasites of the Amazonian fauna of Brazil. Volume 1. Haemosporida of reptiles. Instituto Evandro Chagas, Ananindeua

Lainson R, Souza M, Constância MF (2003) Haematozoan parasites of the lizard Ameiva ameiva (Teiidae) from Amazonian Brazil: a preliminary note. Mem Inst Oswaldo Cruz 98:1067–1070. https://doi.org/10.1590/S0074-02762003000800016

Lainson R, Souza M, Franco CM (2007) Natural and experimental infection of the lizard Ameiva ameiva with Hemolivia stellata (Adeleina: Haemogregarinidae) of the toad Bufo marinus. Parasite 14:323–328. https://doi.org/10.1051/parasite/2007144323

Laird M (1950) Haemogregarina tuatarae sp.n., from the New Zealand Rhynchocephalian Sphenodon punctatus (Gray). Proc Zool Soc Lond 120:529–533. https://doi.org/10.1111/j.1096-3642.1950.tb00662.x

Laveran A, Salimbeni AT (1909) Sur une hémogrégarin de Tupinambis teguixin. C R Acad Sci 148:132

Maia JP, Perera A, Harris DJ (2012) Molecular survey and microscopic examination of Hepatozoon Miller, 1908 (Apicomplexa: Adeleorina) in lacertid lizards from the western Mediterranean. Folia Parasit 59:241–248. https://doi.org/10.14411/fp.2012.033

Maia JP, Carranza S, Harris DJ (2016) Comments on the systematic revision of adeleid haemogregarines: are more data needed? J Parasitol 102:549–553. https://doi.org/10.1645/15-930

O'Dwyer LH, Moço TC, Paduan KS, Spenassatto C, Silva RJ, Ribolla PEM (2013) Descriptions of three new species of Hepatozoon (Apicomplexa, Hepatozoidae) from rattlesnakes (Crotalus durissus terrificus) based on molecular, morphometric and morphologic characters. Exp Parasitol 135:200–207. https://doi.org/10.1016/j.exppara.2013.06.019

Paperna I, Lainson R (2004) Hepatozoon cf. terzii (Sambon and Seligman, 1907) infection in the snake Boa constrictor constrictor from north Brazil: transmission to the mosquito Culex quinquefasciatus and the lizard Tropidurus torquatus. Parasite 11:175–181. https://doi.org/10.1051/parasite/2004112175

Perkins SL, Martinsen ES, Falk BG (2011) Do molecules matter more than morphology? Promises and pitfalls in parasites. Parasitology 138:1664–1674. https://doi.org/10.1017/S0031182011000679

Picelli AM, Ramires AC, Masseli GS, Pessoa FAC, Viana LA, Kaefer IL (in press) Under the light: high prevalence of haemoparasites in lizards (Reptilia: Squamata) from Central Amazonia revealed by microscopy. An Acad Bras Ciênc

Sabagh LT, Borges-Júnior V, Winck G, Viana L, Rocha C (2015) Low prevalence of hemoparasites in a lizard assemblage from a coastal environment in southeastern Brazil. Herpetol Notes 8:413–416

Samour HJ, Risley D, March T, Savage B, Nieva O, Jones DM (1984) Blood sampling techniques in reptiles. Vet Rec 114:472–476. https://doi.org/10.1136/vr.114.19.472

Sanches PR, Gama CS, Santos FP, Costa-Campos CE (2018) Predation on Iguana iguana (Squamata: Iguanidae) by Boa constrictor (Squamata: Boidae) in a fluvial island in the Amazonas river, Brazil, including a list of saurophagy events with Boa constrictor as predator. Cuad Herpetol 32:129–132. https://doi.org/10.31017/CdH.2018.(2018-002)

Sartorius SS, Vitt LJ, Colli GR (1999) Use of naturally and anthropogenically disturbed habitats in Amazonian rainforest by the teiid lizard Ameiva ameiva. Biol Conserv 90:91–101. https://doi.org/10.1016/S0006-3207(99)00019-1

Silva MR, Fornazari F, Martins TF, Hippólito AG, Rolim LS, Bisca JM, Teixeira CR, O'Dwyer LH (2018) A survey of hemoparasites and ectoparasites in Nasua nasua Linnaeus, 1766 with a redescription of Hepatozoon procyonis Richards, 1961 based on morphological and molecular data. Parasitol Res 117:2159–2169. https://doi.org/10.1007/s00436-018-5903-x

Smith TG (1996) The genus Hepatozoon (Apicomplexa: Adeleina). J Parasitol 82:565–585. https://doi.org/10.2307/3283781

Soares P, Borghesan TC, Tavares LE, Ferreira VL, Teixeira MM, Paiva F (2017) Hepatozoon caimani Carini, 1909 (Adeleina: Hepatozoidae) in wild population of Caiman yacare Daudin, 1801 (Crocodylia: Alligatoridae), Pantanal, Brazil. Parasitol Res 116:1907–1916. https://doi.org/10.1007/s00436-017-5467-1

Tamura K, Stecher G, Peterson D, Filipski A, Kumar S (2013) MEGA6: molecular evolutionary genetics analysis version 6.0. Mol Biol Evol 30:2725–2729

Telford SR Jr (1977) The distribution, incidence and general ecology of saurian malaria in Middle America. Int J Parasitol 7:299–314. https://doi.org/10.1016/0020-7519(77)90039-X

Telford SR Jr (2009) Hemoparasites of the Reptilia: color atlas and text. CRC Press, Boca Raton

Tomé B, Maia JP, Harris DJ (2012) Hepatozoon infection prevalence in four snake genera: influence of diet, prey parasitemia levels, or parasite type? J Parasitol 98:913–918. https://doi.org/10.1645/GE-3111.1

Tomé B, Rato C, Perera A, Harris DJ (2016) High diversity of Hepatozoon spp. in geckos of the genus Tarentola. J Parasitol 102:476–480. https://doi.org/10.1645/15-908

Úngari LP, Santos AL, O'Dwyer LH, da Silva MR, Santos TC, da Cunha MJ, Pinto RD, Cury MC (2018) Molecular characterization and identification of Hepatozoon species Miller, 1908 (Apicomplexa: Adeleina: Hepatozoidae) in captive snakes from Brazil. Parasitol Res 117:3857–3865. https://doi.org/10.1007/s00436-018-6092-3

Valkiūnas G, Mobley K, Iezhova TA (2016) Hepatozoon ellisgreineri n. sp. (Hepatozoidae): description of the first avian apicomplexan blood parasite inhabiting granulocytes. Parasitol Res 115:609–613. https://doi.org/10.1007/s00436-015-4777-4

Viana LA, Soares P, Silva JE, Paiva F, Coutinho ME (2012) Anurans as paratenic hosts in the transmission of Hepatozoon caimani to caimans Caiman yacare and Caiman latirostris. Parasitol Res 110:883–886. https://doi.org/10.1007/s00436-011-2570-6

Vieira RC, Oliveira AS, Fagundes NJR, Verrastro l (2015) Approaches to capturing the black and white tegu Salvator merianae (Squamata: Teiidae). Zoologia (Curitiba) 32:317–320. https://doi.org/10.1590/S1984-46702015000400007

Vitt LJ, Colli GR (1994) Geographical ecology of a neotropical lizard: Ameiva ameiva (Teiidae) in Brazil. Can J Zool 72:1986–2008. https://doi.org/10.1139/z94-271

Vitt LJ, Magnusson WE, Ávila-Pires TC, Lima AP (2008) Guide to the lizards of Reserva Adolpho Ducke, Central Amazonia. Áttema Editorial, Manaus
Acknowledgments
We are grateful to Brazilian CAPES (Coordination for the Improvement of Higher Education Personnel) and FAPEAM (Foundation for Research Support of the State of Amazonas) for the Doctorate Scholarship to AMP; to CNPq (Brazilian National Council for Scientific and Technological Development) for the productivity fellowship to ILK and FACP; and to Laboratório Temático de Microscopia Óptica e Eletrônica - LTMO/CPAAF/INPA for allowing the use of the equipment and imaging system. We also thank Giulliana Appel, Gabriel S. Masseli, "Juruna" Ocírio Pereira, Rafael P. Kautzmann, and the field team of Laboratório de Ecologia de Doenças Transmissíveis na Amazônia - EDTA for the help in fieldwork.
Funding
This work was supported by the CNPq (Universal 461.573/2014-8 to ILK and 429.132/2016-6 to LAV) and Excellence Program in Basic and Applied Health Research (PROEP FIOCRUZ FAPEAM 001/2014 to FACP). We also thank the Biological Dynamics of Forest Fragments Project (BDFFP) Thomas Lovejoy Research Fellowship Program for fieldwork support to AMP. This is publication number 794 in the BDFFP technical series.
Ethics declarations
Conflict of interest
The authors declare that they have no conflict of interest.
Ethical approval
All procedures performed in this study involving animals were approved by the ethics committee on animal use from Universidade Federal do Amazonas (protocol number 012/2016), and lizard sampling and access to the genetic data were authorized by the Brazilian Ministry of the Environment (SISBIO number 53851 and SISGEN AA6199D, respectively).
Additional information
Publisher's note
Springer Nature remains neutral with regard to jurisdictional claims in published maps and institutional affiliations.
Section Editor: Panagiotis Karanis
About this article
Cite this article
Picelli, A.M., da Silva, M.R.L., Ramires, A.C. et al. Redescription of Hepatozoon ameivae (Carini and Rudolph, 1912) from the lizard Ameiva ameiva (Linnaeus, 1758). Parasitol Res (2020). https://doi.org/10.1007/s00436-020-06760-x
Received:

Accepted:

Published:
Keywords
Adeleorid taxonomy

Ameiva ameiva
Hepatozoon ameivae

Molecular description

Reptiles

18S ribosomal RNA gene