Abstract
The genus Plasmodium (Plasmodiidae) ranks among the most widespread intracellular protozoan parasites affecting a wide range of mammals, birds, and reptiles. Little information is available about lizard malaria parasites in South America, and the pathological features of the resulting parasitoses remain unknown or poorly understood. To partially fill in these gaps, we conducted blood smear analysis, molecular detection, and phylogenetic and pathological investigations in lizards inhabiting an Atlantic Forest fragment in Paraiba, Brazil. From 104 striped forest whiptails (Kentropyx calcarata) screened for the presence of haemosporidian parasites, 67 (64.4%) were positive. Four of five Amazon lava lizards (Strobilurus torquatus) we collected from this same area were also positive. A total of 27 forest whiptails were infected with a new genetic lineage of Plasmodium kentropyxi and other Plasmodium lineages were also detected. Histopathological analysis in infected forest whiptails revealed systemic intraerythrocytic Plasmodium stages, mainly gametocytes, in the liver, lung, and heart. Also, the liver of infected lizards had mild to moderate levels of Kupffer cell and melanomacrophage hypertrophy/hyperplasia with sinusoid leukocytosis. Overall, our findings suggest that an endemic Plasmodium species causes histological alterations that are not related to major pathological processes in striped forest whiptails.
This is a preview of subscription content, log in to check access.
Access options
Buy single article
Instant access to the full article PDF.
US$ 39.95
Price includes VAT for USA
Subscribe to journal
Immediate online access to all issues from 2019. Subscription will auto renew annually.
US$ 199
This is the net price. Taxes to be calculated in checkout.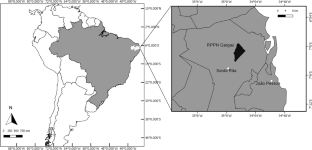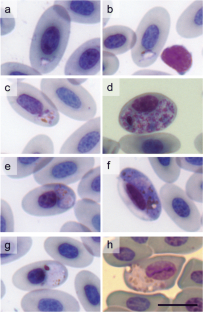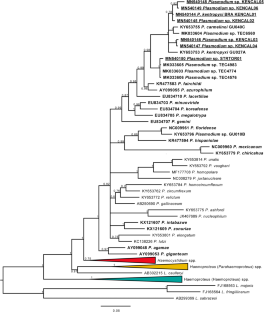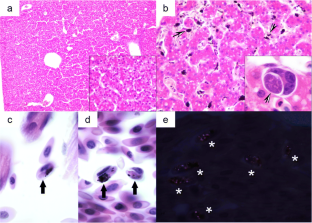 References
Alvares CA, Stape JL, Sentelhas PC, de Moraes Gonçalves JL, Sparovek G (2013) Köppen's climate classification map for Brazil. Meteorolol Z 22:711–728. https://doi.org/10.1127/0941-2948/2013/0507

Aragão H d B, Neiva A (1909) A contribution to the study of the intraglobular parasites of the lizards: two new species of Plasmodium, Pl. diploglossi n. sp. and Pl. tropiduri n. sp. Mem Inst Oswaldo Cruz 1:44–50. https://doi.org/10.1590/S0074-02761909000100006

Ayala SC, Spain JL (1976) A population of Plasmodium colombiense sp. n. in the iguanid lizard, Anolis auratus. J Parasitol 62:177–189. https://doi.org/10.2307/3279261

Beadell JS, Gering E, Austin J et al (2004) Prevalence and differential host-specificity of two avian blood parasite genera in the Australo-Papuan region. Mol Ecol 13:3829–3844. https://doi.org/10.1111/j.1365-294X.2004.02363.x

Bensch S, Stjernman M, Hasselquist D, Örjan Ö, Hannson B, Westerdahl H, Pinheiro RT (2000) Host specificity in avian blood parasites: a study of Plasmodium and Haemoproteus mitochondrial DNA amplified from birds. Proc Biol Sci 267:1583–1589. https://doi.org/10.1098/rspb.2000.1181

Bonneaud C, Sepil I, Wilfert L, Calsbeek R (2017) Plasmodium infections in natural populations of Anolis sagrei reflect tolerance rather than susceptibility. Integr Comp Biol 57:352–361. https://doi.org/10.1093/icb/icx044

Falk BG, Glor RE, Perkins SL (2015) Clonal reproduction shapes evolution in the lizard malaria parasite Plasmodium floridense. Evolution 69:1584–1596. https://doi.org/10.1111/evo.12683

Fallon SM, Ricklefs RE, Swanson BL, Bermingham E (2003) Detecting avian malaria: an improved polymerase chain reaction diagnostic. J Parasitol 89:1044–1047. https://doi.org/10.1645/GE-3157

Franzini LD, Teixeira AAM, Tavares-Bastos L et al (2019) Autecology of Kentropyx calcarata (Squamata: Teiidae) in a remnant of Atlantic forest in Eastern South America. J Herpetol 53:209–217. https://doi.org/10.1670/17-184

Gallagher DS, Dixon JR, Schmidly DJ (1986) Geographic variation in the Kentropyx calcarata species group (Sauria: Teiidae): a possible example of morphological character displacement. J Herpetol 20:179–189. https://doi.org/10.2307/1563942

Garnham PCC (1966) Malaria parasites and other haemosporidia. Blackwell Scientific, Oxford, England

Harris DJ, Santos JL, Borges-Nojosa DM, de Castro DP (2019) Molecular screening of Plasmodium (Haemosporidia: Plasmodiidae) parasites from reptiles in Brazil. J Parasitol 105:913–917. https://doi.org/10.1645/18-149

Hellgren O, Waldenström J, Bensch S (2004) A new PCR assay for simultaneous studies of Leucocytozoon, Plasmodium, and Haemoproteus from avian blood. J Parasitol 90:797–802. https://doi.org/10.1645/GE-184R1

Ilgūnas M, Bukauskaitė D, Palinauskas V, Iezhova TA, Dinhopl N, Nedorost N, Weissenbacher-Lang C, Weissenböck H, Valkiūnas G (2016) Mortality and pathology in birds due to Plasmodium (Giovannolaia) homocircumflexum infection, with emphasis on the exoerythrocytic development of avian malaria parasites. Malar J 15:256. https://doi.org/10.1186/s12936-016-1310-x

Ilgūnas M, Bukauskaitė D, Palinauskas V, et al (2019) Patterns of Plasmodium homocircumflexum virulence in experimentally infected passerine birds. Malar J 18:174. https://doi.org/10.1186/s12936-019-2810-2

Lainson R, Landau I, Paperna I (2001) Plasmodium kentropyxi n.sp. (Apicomplexa: Haemosporina: Plasmodiidae) and a Plasmodium tropiduri-like parasite in the lizard Kentropyx calcarata (Lacertilia: Teiidae) in north Brazil. Parasite 8:107–113. https://doi.org/10.1051/parasite/2001082107

Lainson R, Shaw JJ (1969) New host records for Plasmodium diploglossi, P. tropiduri Aragão and Neiva, 1909, and P. cnemidophori Carini, 1941*. Parasitol 59:163–170. https://doi.org/10.1017/S0031182000069912

Lanfear R, Frandsen PB, Wright AM, Senfeld T, Calcott B (2017) PartitionFinder 2: new methods for selecting partitioned models of evolution for molecular and morphological phylogenetic analyses. Mol Biol Evol 34:772–773. https://doi.org/10.1093/molbev/msw260

LaPointe DA, Atkinson CT, Samuel MD (2012) Ecology and conservation biology of avian malaria. Ann N Y Acad Sci 1249:211–226. https://doi.org/10.1111/j.1749-6632.2011.06431.x

Markus MB (2011) The hypnozoite concept, with particular reference to malaria. Parasitol Res 108:247–252. https://doi.org/10.1007/s00436-010-2072-y

Matta NE, González LP, Pacheco MA, Escalante AA, Moreno AM, González AD, Calderón-Espinosa ML (2018) Plasmodium parasites in reptiles from the Colombia Orinoco-Amazon basin: a re-description of Plasmodium kentropyxi Lainson R, Landau I, Paperna I, 2001 and Plasmodium carmelinoi Lainson R, Franco CM, da Matta R, 2010. Parasitol Res 117:1357–1370. https://doi.org/10.1007/s00436-018-5815-9

Matthews AE, Ellis VA, Hanson AA, Roberts JR, Ricklefs RE, Collins MD (2016) Avian haemosporidian prevalence and its relationship to host life histories in eastern Tennessee. J Ornithol 157:533–548. https://doi.org/10.1007/s10336-015-1298-y

Outlaw DC, Ricklefs RE (2014) Species limits in avian malaria parasites (Haemosporida): how to move forward in the molecular era. Parasitol 141:1223–1232. https://doi.org/10.1017/S0031182014000560

Pacheco MA, Matta NE, Valkiunas G et al (2018) Mode and rate of evolution of Haemosporidian mitochondrial genomes: timing the radiation of avian parasites. Mol Biol Evol 35:383–403. https://doi.org/10.1093/molbev/msx285

Palinauskas V, Žiegytė R, Ilgūnas M, Iezhova TA, Bernotienė R, Bolshakov C, Valkiūnas G (2015) Description of the first cryptic avian malaria parasite, Plasmodium homocircumflexum n. sp., with experimental data on its virulence and development in avian hosts and mosquitoes. Int J Parasitol 45:51–62. https://doi.org/10.1016/j.ijpara.2014.08.012

Paperna I, Kremer-Mecabell T, Finkelman S (2002) Hepatozoon kisrae n. sp. infecting the lizard Agama stellio is transmitted by the tick Hyalomma cf. aegyptium. Parasite 9:17–27. https://doi.org/10.1051/parasite/200209117

Paperna I, Ostroska K (1989) Ultrastructural studies on sporozoite stages of Schellackia cf. agamae from liver and blood of the starred lizard Agama stellio. Int J Parasitol 19:13–19. https://doi.org/10.1016/0020-7519(89)90016-7

Paperna I, Smallridge CJ (2001) Ultrastructure of developmental stages of Hemolivia mariae (Apicomplexa: Haemogregarinidae), natural parasite of the Australian sleepy lizard, in experimentally infected deviant hosts. Folia Parasitol 48:255–262

Perkins SL (2000) Species concepts and malaria parasites: detecting a cryptic species of Plasmodium. Proc Biol Sci 267:2345–2350

Perkins SL, Schall JJ (2002) A molecular phylogeny of malarial parasites recovered from cytochrome b gene sequences. J Parasitol 88:972–978. https://doi.org/10.1645/0022-3395(2002)088[0972:AMPOMP]2.0.CO;2

Ronquist F, Teslenko M, van der Mark P, Ayres DL, Darling A, Höhna S, Larget B, Liu L, Suchard MA, Huelsenbeck JP (2012) MrBayes 3.2: efficient Bayesian phylogenetic inference and model choice across a large model space. Syst Biol 61:539–542. https://doi.org/10.1093/sysbio/sys029

Sambrook J, Russell DW (2001) Molecular cloning: a laboratory manual. Cold Spring Harbor Laboratory Press

Schall JJ (1990) Virulence of lizard malaria: the evolutionary ecology of an ancient parasite—host association. Parasitol 100:S35–S52. https://doi.org/10.1017/S0031182000073005

Steinel NC, Bolnick DI (2017) Melanomacrophage centers as a histological indicator of immune function in fish and other poikilotherms. Front Immunol 8:827. https://doi.org/10.3389/fimmu.2017.00827

Telford SR Jr (1996) Epizootiology of the Japanese saurian malaria parasite, Plasmodium sasai. J Parasitol 82:226–232

Telford SR Jr (1989) Discovery of the pre-erythrocytic stages of a saurian malaria parasite, hypnozoites, and a possible mechanism for the maintenance of chronic infections throughout the life of the host. Int J Parasitol 19:597–616

Telford SR (2008) Hemoparasites of the reptilia: color atlas and text. CRC Press, Boca Raton, Florida

Thompson PE, Huff CG (1944) A saurian malarial parasite, Plasmodium mexicanum, n. sp., with both elongatum and gallinaceum-types of exoerythrocytic stages. J Infect Dis 74:48–67. https://doi.org/10.1093/infdis/74.1.48

Valkiūnas G (2005) Avian malaria parasites and other haemosporidia, 1st edn. CRC Press, Boca Raton, Florida

Vanstreels RET, da Silva-Filho RP, Kolesnikovas CKM, Bhering R, Ruoppolo V, Epiphanio S, Amaku M, Junior F, Braga É, Catão-Dias J (2015) Epidemiology and pathology of avian malaria in penguins undergoing rehabilitation in Brazil. Vet Res 46:30. https://doi.org/10.1186/s13567-015-0160-9

Vitt LJ (1991) Ecology and life history of the wide-foraging lizard Kentropyx calcarata (Teiidae) in Amazonian Brazil. Can J Zool 69:2791–2799. https://doi.org/10.1139/z91-393

Vitt LJ, Zani PA, Lima ACM (1997) Heliotherms in tropical rain forest: the ecology of Kentropyx calcarata (Teiidae) and Mabuya nigropunctata (Scincidae) in the Curuá-Una of Brazil. J Trop Ecol 13:199–220. https://doi.org/10.1017/S0266467400010415

Walliker D (1966) Malaria parasites of some Brazilian lizards. Parasitol 56:39–44. https://doi.org/10.1017/S0031182000071079

WHO (2018) World malaria report 2018. World Health Organization, Geneva

Wolke RE (1992) Piscine macrophage aggregates: a review. Annu Rev Fish Dis 2:91–108. https://doi.org/10.1016/0959-8030(92)90058-6
Acknowledgments
This work was supported by Coordenação de Aperfeiçoamento de Pessoal de Nível Superior (CAPES), Conselho Nacional de Desenvolvimento Científico e Tecnológico (CNPq), and Fundação de Amparo à Pesquisa do Estado de Minas Gerais (FAPEMIG). FCF was supported by the National Postdoctoral Program/CAPES (PNPD/CAPES) and the National Science Foundation grant 1717498 as part of the joint NSF-NIH-USDA Ecology and Evolution of Infectious Diseases program. The authors thank the Program for Technological Development in Tools for Health-PDTIS-FIOCRUZ for use of its facilities. FCF thanks Dr. Maria Andreína Pacheco for the assistance in the phylogenetic analysis and Dr. Dina M. Fonseca for proofreading the manuscript. LDF thanks the employees at RPPN Gargaú that helped with the fieldwork.
Ethics declarations
Conflict of interest
The authors declare that they have no conflict of interest.
Additional information
Publisher's note
Springer Nature remains neutral with regard to jurisdictional claims in published maps and institutional affiliations.
Section Editor: Larissa Howe
Electronic supplementary material
About this article
Cite this article
Ferreira, F.C., Alves, L.G.M., Jager, G.B. et al. Molecular and pathological investigations of Plasmodium parasites infecting striped forest whiptail lizards (Kentropyx calcarata) in Brazil. Parasitol Res (2020). https://doi.org/10.1007/s00436-020-06756-7
Received:

Accepted:

Published:
Keywords
Plasmodium kentropyxi

Malaria

Melanomacrophage centers

Haemosporida

Lacertidae

Reptiles