Abstract
Lycorine is an Amaryllidaceae alkaloid that presents anti-Trichomonas vaginalis activity. T. vaginalis causes trichomoniasis, the most common non-viral sexually transmitted infection. The modulation of T. vaginalis purinergic signaling through the ectonucleotidases, nucleoside triphosphate diphosphohydrolase (NTPDase), and ecto-5′-nucleotidase represents new targets for combating the parasite. With this knowledge, the aim of this study was to investigate whether NTPDase and ecto-5′-nucleotidase inhibition by lycorine could lead to extracellular ATP accumulation. Moreover, the lycorine effect on the reactive oxygen species (ROS) production by neutrophils and parasites was evaluated as well as the alkaloid toxicity. The metabolism of purines was assessed by HPLC. ROS production was measured by flow cytometry. Cytotoxicity against epithelial vaginal cells and fibroblasts was tested, as well as the hemolytic effect of lycorine and its in vivo toxicity in Galleria mellonella larvae. Our findings showed that lycorine caused ATP accumulation due to NTPDase inhibition. The alkaloid did not affect the ROS production by T. vaginalis; however, it increased ROS levels in neutrophils incubated with lycorine-treated trophozoites. Lycorine was cytotoxic against vaginal epithelial cells and fibroblasts; conversely, it was not hemolytic neither exhibited toxicity against the in vivo model of G. mellonella larvae. Overall, besides having anti-T. vaginalis activity, lycorine modulates ectonucleotidases and stimulates neutrophils to secrete ROS. This mechanism of action exerted by the alkaloid could enhance the susceptibility of T. vaginalis to host immune cell, contributing to protozoan clearance.
This is a preview of subscription content, log in to check access.
Access options
Buy single article
Instant access to the full article PDF.
US$ 39.95
Price includes VAT for USA
Subscribe to journal
Immediate online access to all issues from 2019. Subscription will auto renew annually.
US$ 199
This is the net price. Taxes to be calculated in checkout.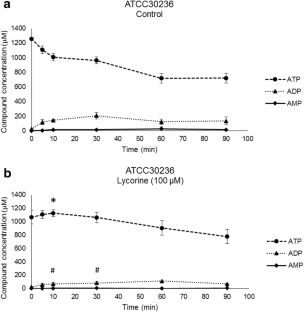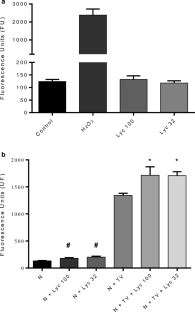 References
Bendaif H, Melhaoui A, Ramdani M, Elmsellem H, Douez C, Ouadi YEI (2018) Antibacterial activity and virtual screening by molecular docking of lycorine from Pancratium foetidum Pom (Moroccan endemic Amaryllidaceae). Microb Pathog 115:138–145

Böyum A (1968) Isolation of mononuclear cells and granulocytes from human blood. Isolation of monuclear cells by one centrifugation, and of granulocytes by combining centrifugation and sedimentation at 1 g. Scand. J Clin Lab Invest Suppl 97:77–89

Bradford MM (1976) A rapid and sensitive method for the quantitation of microgram quantities of protein utilizing the principle of protein-dye binding. Anal Biochem 72:248–254

Braga SS (2019) Multi-target drugs active against leishmaniasis: a paradigm of drug repurposing. Eur J Med Chem 183:111660

Cedrón JC, Gutiérrez D, Flores N, Ravelo AG, Estévez-Braun A (2010) Synthesis and antiplasmodial activity of lycorine derivatives. Bioorg Med Chem 18:4694–4701

Chan KM, Delfert D, Junger KD (1986) A direct colorimetric assay for Ca2+-stimulated ATPase activity. Anal Biochem 157:375–380

Cimmino A, Masi M, Evidente M, Superchi S, Evidente A (2017) Amaryllidaceae alkaloids: absolute configuration and biological activity. Chirality 29:486–499

Di Virgilio F, Dal Ben D, Sarti AC, Giuliani AL, Falzoni S (2017) The P2X7 receptor in infection and inflammation. Immunity 47:15–31

Diamond LS (1957) The establishment of various trichomonads of animals and man in axenic cultures. J Parasitol 43:488–490

Ding Y, Qu D, Zhang KM, Cang XX, Kou ZN, Xiao W, Zhu JB (2017) Phytochemical and biological investigations of Amaryllidaceae alkaloids: a review. J Asian Nat Prod Res 19:53–100

Dupré-Crochet S, Erard M, Nüβe O (2013) ROS production in phagocytes: why, when, and where? J Leukoc Biol 94:657–670

Frasson AP, Charão MF, Rosemberg DB, Garcia SC, De Souza AP, Bonorino C, Bogo MR, De Carli GA, Tasca T (2012a) Analysis of the NTPDase and ecto-5′-nucleotidase profiles in serum-limited Trichomonas vaginalis. Mem Inst Oswaldo Cruz 107:170–177

Frasson AP, De Carli GA, Bonan CD, Tasca T (2012b) Involvement of purinergic signaling on nitric oxide production by neutrophils stimulated with Trichomonas vaginalis. Purinerg Signal 8:1–9

Frasson AP, Menezes CB, Goelzer GK, Gnoatto SCB, Garcia SC, Tasca T (2017) Adenosine reduces reactive oxygen species and interleukin-8 production by Trichomonas vaginalis-stimulated neutrophils. Purinerg Signal 13:569–577

Giordani RB, Weizenmann M, Rosemberg DB, De Carli GA, Bogo MR, Zuanazzi JA, Tasca T (2010) Trichomonas vaginalis nucleoside triphosphate diphosphohydrolase and ecto-5′-nucleotidase activities are inhibited by lycorine and candimine. Parasitol Int 59:226–231

Giordani RB, De Brum PV, Weizenmann M, Rosemberg DB, Souza AP, Bonorino C, De Carli GA, Bogo MR, Zuanazzi JA, Tasca T (2011) Lycorine induces cell death in the amitochondriate parasite, Trichomonas vaginalis, via an alternative non-apoptotic death pathway. Phytochemistry 72:645–650

Hu M, Peng S, He Y, Qin M, Cong X, Xing Y, Liu M, Yi Z (2015) Lycorine is a novel inhibitor of the growth and metastasis of hormone-refractory prostate cancer. Oncotarget 6:15348–15361

Ignasiak K, Maxwell A (2017) Galleria mellonella (greater wax moth) larvae as a model for antibiotic susceptibility testing and acute toxicity trials. BMC Res Notes 10:428

Kavanagh K, Fallon JP (2010) Galleria mellonella larvae as models for studying fungal virulence. Fungal Biol Rev 24:79–83

Kiss T, Feyness F, Bácskay I, Váradi J, Fenyvesi E, Iványi R, Szente L, Tósaki A, Vecsernyés M (2010) Evaluation of the cytotoxicity of beta-cyclodextrin derivatives: evidence for the role of cholesterol extraction. Eur J Pharm Sci 40:376–380

Likhitwitayawuid K, Angerhofer CK, Chai H, Pezzuto JM, Cordell GA (1993) Cytotoxic and antimalarial alkaloids from the bulbs of Crinum amabile. J Nat Prod 56:1331–1338

Liu X, Cao J, Huang G, Zhao Q, Shen J (2019) Biological activities of artemisinin derivatives beyond malaria. Curr Top Med Chem 19:205–222

Menezes CB, Frasson AP, Tasca T (2016) Trichomoniasis – are we giving the deserved attention to the most common non-viral sexually transmitted disease worldwide? Microb Cell 3:404–419

Menezes CB, Rigo GV, Bridi H, Trentin DS, Macedo AJ, Von Poser GL, Tasca T (2017) The anti-Trichomonas vaginalis phloroglucinol derivative isoaustrobrasilol B modulates extracellular nucleotide hydrolysis. Chem Biol Drug Des 90:811–819

Mosmann T (1983) Rapid colorimetric assay for cellular growth and survival: application to proliferation and cytotoxicity assays. J Immunol Methods 65:55–63

Nakagawa Y, Uyeo S, Yayima H (1956) The double bond in lycorine. Chem Ind 1238–1239

Nava-Zuazo C, Chávez-Silva F, Moo-Puc R, Chan-Bacab MJ, Ortega-Morales O, Moreno-Díaz H, Díaz-Coutiño D, Hernández-Núñez E, Navarrete-Vázquez G (2014) 2-Acylamino-5-nitro-1,3-thiazoles: preparation and in vitro bioevaluation against four neglected protozoan parasites. Bioorg Med Chem 22:1626–1633

Pijpers J, den Boer ML, Essink DR, Ritmeijer K (2019) The safety and efficacy of miltefosine in the long-term treatment of post-kala- azar dermal leishmaniasis in South Asia – a review and meta-analysis. PLoS Negl Trop Dis 13:e0007173

Rowley J, Vander Hoorn S, Korenromp E, Low N, Unemo M, Abu-Raddad LJ, Chico MR, Smolak A, Newman L, Gottlieb S, Thwin SS, Broutet N, Taylor MM (2019) Chlamydia, gonorrhoea, trichomoniasis and syphilis: global prevalence and incidence estimates, 2016. Bull World Health Organ 97:548–562

Roy M, Liang L, Xiao X, Feng P, Ye M, Liu J (2018) Lycorine: a prospective natural lead for anticancer drug discovery. Biomed Pharmacother 107:615–624

Sansom FM, Robson SC, Hartland EL (2008) Possible effects of microbial ecto-nucleoside triphosphate diphosphohydrolases on host-pathogen interactions. Microbiol Mol Biol Rev 72:765–781

Shen JW, Ruan Y, Ren W, Ma BJ, Wang XL, Zheng CF (2014) Lycorine: a potential broad-spectrum agent against crop pathogenic fungi. J Microbiol Biotechnol 24:354–358

Song HO, Shin MH, Ahn MH, Min DY, Kim YS, Ryu JS (2017) Trichomonas vaginalis: reactive oxygen species mediates caspase-3 dependent apoptosis of human neutrophils. Exp Parasitol 118:59–65

Szlávik L, Gyuris A, Minárovits J, Forgo P, Molnár J (2004) Alkaloids from Leucojum vernum and antiretroviral activity of Amaryllidaceae alkaloids. Planta Med 70:871–873

Tasca T, Bonan CD, De Carli GA, Sarkis JJF, Alderete JF (2005) Heterogeneity in extracellular nucleotide hydrolysis among clinical isolates of Trichomonas vaginalis. Parasitology 131:71–78

Tilley L, Straimer J, Gnädig NF, Ralph SA, Fidock DA (2016) Artemisinin action and resistance in Plasmodium falciparum. Trends Parasitol 32:682–695

Vallé S, Malle M, Bouquelet P (1998) Evaluation of fish decomposition by liquid chromatographic assay of ATP degradation products. J AOAC Int 81:571–575

Wong YK, Xu C, Kalesh KA, He Y, Lin Q, Wong WSF, Shen HM, Wang J (2017) Artemisinin as an anticancer drug: recent advances in target profiling and mechanisms of action. Med Res Rev 37:1492–1517
Acknowledgments
The authors acknowledge Márcia Rodrigues Trein and Viviane Nunes da Silva for technical assistance.
Funding
This work was supported by CNPq (Brazil) grants #443150/2014-1 (DST), #428538/2018-5 (TT), PRONEM-FAPERGS (Brazil) grant #16/25510000244-4 (AJM), INCT BioNat grant #465637/2014-0, and Programa Iberoamericano CYTED (Red BIFRENES 416RT0511) (JASZ). BPS acknowledges the fellowship from PIBIC/CNPq/UFRGS. LRT is thankful to CAPES (Brazil) for a doctoral (grant #13553135) and postdoctoral fellowship. AJM, JASZ, and TT thank CNPq for researcher fellowships (grants 303353/2016-3, 308052/17-0, 312, and 292/2017-1, respectively).
Ethics declarations
Conflict of interest
The authors declare that they have no conflict of interest.
Additional information
Publisher's note
Springer Nature remains neutral with regard to jurisdictional claims in published maps and institutional affiliations.
Section Editor: Kevin S.W. Tan
Electronic supplementary material
About this article
Cite this article
Petró-Silveira, B., Rigo, G.V., da Silva Trentin, D. et al. Trichomonas vaginalis NTPDase inhibited by lycorine modulates the parasite-neutrophil interaction. Parasitol Res 119, 2587–2595 (2020). https://doi.org/10.1007/s00436-020-06739-8
Received:

Accepted:

Published:

Issue Date:
Keywords
Lycorine

Amaryllidaceae

Trichomonas vaginalis

NTPDase

Reactive oxygen species

Galleria mellonella