Abstract
Tungiasis is a zoonosis neglected by authorities, health professionals, and affected populations. Domestic, synanthropic, and sylvatic animals serve as reservoirs for human infestation, and dogs are usually considered a main reservoir in endemic communities. To describe the seasonal variation and the persistence of tungiasis in dogs, we performed quarterly surveys during a period of 2 years in a tourist village in the municipality of Ilhéus, Bahia State, known to be endemic for tungiasis. Prevalence in dogs ranged from 62.1% (43/66) in August 2013 to 82.2% (37/45) in November 2014, with no significant difference (p = 0.06). The prevalence of infestation remained high, regardless of rainfall patterns. Of the 31 dogs inspected at all surveys, period prevalence was 94% (29/31; 95% CI 79.3–98.2%) and persistence of infestation indicator [PII] was high (median PII = 6 surveys, q1 = 5, q3 = 7). Dogs < 1 year of age had a higher mean prevalence of 84.5%, as compared with 69.3% in the older dogs. No significant difference was found between the risk of infestation and age or sex (p = 0.61). Our data indicate that canine tungiasis persisted in the area during all periods of the year. The seasonal variation described in human studies from other endemic areas was not observed, most probably due to different rainfall patterns throughout the year. The study has important implications for the planning of integrated control measures in both humans and animal reservoirs, considering a One Health approach.
This is a preview of subscription content, log in to check access.
Access options
Buy single article
Instant access to the full article PDF.
US$ 39.95
Price includes VAT for USA
Subscribe to journal
Immediate online access to all issues from 2019. Subscription will auto renew annually.
US$ 199
This is the net price. Taxes to be calculated in checkout.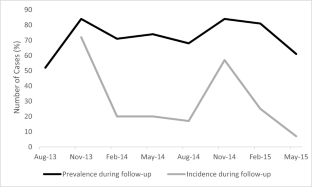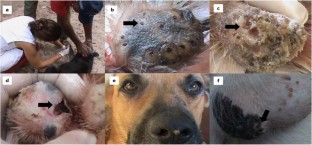 References
Acha PN, Szyfres B (2003) Zoonosis y enfermedades transmisibles comunes a el hombre y a los animals. 3rd edn. Organización Panamericana de la Salud, Washington DC. 3 vols. (Publicación Científica y Técnica No. 580), 3:380–382

Antunes JLP, Cardoso MRA (2015) Uso da análise de séries temporais em estudos epidemiológicos. Epidemiol Serv Saude 4:565–576

Bonfim WM, Cardoso MD, Cardoso VA, Andreazze R (2010) Tungíase em uma área de aglomerado subnormal de Natal-RN: prevalência e fatores associados. Epidemiol Serv Saúde 19:379–388

BRAZIL/MAPA/CEPLAC (2003) Centro de Pesquisas do Cacau-Climatologia. Boletim Técnico 187

BRAZIL/MAPA/CEPLAC/CEPEC/SERAM (2016) Centero de Pesquisas do Cacau.Climatologia

Carvalho TF, Ariza L, Heukelbach J, Siva JJ, Mendes J, Silva AA, Limongi JE (2012) Conhecimento dos profissionais de saúde sobre a situação da tungíase em uma área endêmica no município de Uberlândia, Minas Gerais, Brasil, 2010. Epidemiol Serv Saúde 21:243–251

De Carvalho RW, De Almeida AB, Barbosa-Silva SC, Amorim M, Ribeiro PC, Serra-Freire NM (2003) The patterns of tungiasis in Araruama township, state of Rio de Janeiro, Brazil. Mem Inst Oswaldo Cruz 98:31–36

Eisele M, Heukelbach J, Van Marck E, Mehlhorn H, Meckes O, Franck S, Feldmeier H (2003) Investigations on the biology, epidemiology, pathology and control of Tunga penetrans in Brazil: I. Natural history of tungiasis in man. Parasitol Res 90:87–99

Feldmeier H, Heukelbach J, Ugbomoiko US, Sentongo E, Mbabazi P, von Samson-Himmelstjrna G, Krantz I (2014) Tungiasis—a neglected disease with many challenges for global public health. PLoS Negl Trop Dis 8:e3133

Gaines J, Sotir MJ, Cunningham TJ, Harvey KA, Lee CV, Stoney RJ, Gershman MD, Brunette GW, Kozarsky PE (2014) Health and safety issues for travelers attending the World Cup and Summer Olympic and Paralympic Games in Brazil, 2014 to 2016. JAMA Intern Med 174:1383–1390

Harvey TV, Heukelbach J, Assunção MS, Fernandes TM, Rocha CMBM, Carlos RSA (2017) Canine tungiasis: high prevalence in a tourist region in Bahia State, Brazil. Prev Vet Med 139:76–81

Heukelbach J (2005) Tungiasis. Rev Inst Med Trop 47:307–313

Heukelbach J, De Oliveira FA, Hesse G, Feldmeier H (2001) Tungiasis: a neglected health problem of poor communities. Tropical Med Int Health 6:267–272

Heukelbach J, Mencke N, Feldmeier H (2002) Cutaneous larva migrans and tungiasis: the challenge to control zoonotic ectoparasitoses associated with poverty. Tropical Med Int Health 7:907–910

Heukelbach J, Oliveira FAS, Feldmeier H (2003) Ectoparasitoses e saúde pública no Brasil:desafios para controle. Cad Saúde Pública 19:1535–1540

Heukelbach J, Costa AM, Wilcke T, Mencke N, Feldmeir H (2004) The animal reservoir of Tunga penetrans in severely affected communities of North-east Brazil. Med Vet Entomol 18:329–335

Heukelbach J, Wilcke T, Harms SG, Feldmeir H (2005) Seasonal variation of tungiasis in an endemic community. Am J Trop Med Hyg 72:145–149

Heukelbach J, Gomide M, Araújo Júnior F, Pinto NSR, Santana RD, Brito JRM, Feldmeier H (2007) Cutaneous larva migrans and tungiasis in international travelers exiting Brazil: an airport survey. J Travel Med 14:374–380

Muehlen M, Feldmeier H, Wilcke T, Winter B, Heukelbach J (2006) Identifying risk factors for tungiasis and heavy infestation in a resource-poor community in Northeast Brazil. Trans R Soc Trop Med Hyg 100:371–380

Mutebi F, Krucken J, Feldmeier H, Waiswa C, Mencke N, Sentongo E, von Samson-Himmelstjerna G (2015) Animal reservoirs of zoonotic tungiasis in endemic rural villages of Uganda. PLoS Negl Trop Dis 9:e0004126

Mutebi F, Krücken J, Feldmeier H, Waiswa C, Mencke N, von Samson-Himmelstjerna G (2016) Tungiasis-associated morbidity in pigs and dogs in endemic villages of Uganda. Parasit Vectors 9:44

Mutebi F, Krücken J, von Samson-Himmelstjerna G, Waiswa C, Mencke N, Eneku W, Andrew T, Feldmeier H (2018) Animal and human tungiasis-related knowledge and treatment practices among animal keeping households in Bugiri District, south-eastern Uganda. Acta Trop 177:81–88

Mwangi JN, Ozwara HS, Gicheru MM (2015) Epidemiology of tunga penetrans infestation in selected areas in Kiharu constituency, Murang'a County, Kenya. Trop Dis Travel Med Vaccines 1:13

Pilger D, Schwalfenberg S, Heukelbach J, Witt L, Mehlhorn H, Mencke N, Khakban A, Feldmeier H (2008) Investigations on the biology, epidemiology, pathology, and control of Tunga penetrans in Brazil: VII. The importance of animal reservoirs for human infestation. Parasitol Res 102:875–880

Soub JNP (2013) Minha Ilhéus: fotografias do século XX e um pouco de nossa história. Editora Via Litterarum, Itabuna

Ugbomoiko US, Ariza L, Heukelbach J (2008a) Parasites of importance for human health in Nigerian dogs: high prevalence and limited knowledge of pet owners. BMC Vet Res 4:49

Ugbomoiko US, Ariza L, Heukelbach J (2008b) Pigs are the most important animal reservoir for Tunga penetrans (jigger flea) in rural Nigeria. Trop Dr 38:226–227

Wiese S, Elson L, Reichert F, Mambo B, Feldmeier H (2017) Prevalence, intensity and risk factors of tungiasis in Kilifi County, Kenya: I. Results from a community-based study. PLoS Negl Trop Dis 11(10):e0005925

Wiese S, Elson L, Feldmeier H (2018) Tungiasis-related life quality impairment in children living in rural Kenya. PLoS Negl Trop Dis 12(1):e0005939

Wilson ME, Chen LH, Han PV, Keystone JS, Cramer JP, Segurado A, Hale D, Jensenius M, Schwartz E, von Sonnenburg F, Leder K, for the GeoSentinel Surveillance Network, Plier A, Smith K, Burchard GD, Anand R, Gelman SS, Kain K, Boggild A, Perret C, Valdivieso F, Loutan L, Chappuis F, Schlagenhauf P, Weber R, Steffen R, Caumes E, Perignon A, Libman MD, Ward B, Maclean JD, Grobusch MC, Goorhuis A, de Vries P, Gadroen K, Mockenhaupt F, Harms G, Parola P, Simon F, Delmont J, Nord H, Laveran H, Carosi G, Castelli F, Connor BA, Kozarsky PE, Wu H, Fairley J, Franco-Paredes C, Using J, Froberg G, Askling HH, Bronner U, Haulman NJ, Roesel D, Jong EC, Lopez-Velez R, Perez Molina JA, Torresi J, Brown G, Licitra C, Crespo A, McCarthy A, Field V, Cahill JD, McKinley G, van Genderen PJ, Gkrania-Klotsas E, Stauffer WM, Walker PF, Kanagawa S, Kato Y, Mizunno Y, Shaw M, Hern A, Vincelette J, Freedman DO, Anderson S, Hynes N, Sack RB, McKenzie R, Nutman TB, Klion AD, Rapp C, Aoun O, Doyle P, Ghesquiere W, Valdez LM, Siu H, Tachikawa N, Kurai H, Sagara H, Lalloo DG, Beeching NJ, Gurtman A, McLellan S, Barnett ED, Hagmann S, Henry M, Miller AO, Mendelson M, Vincent P, Lynch MW, Hoang Phu PT, Anderson N, Batchelor T, Meisch D, Yates J, Ansdell V, Permanente K, Pandey P, Pradhan R, Murphy H, Basto F, Abreu C (2014) Illness in travelers returned from Brazil: the GeoSentinel experience and implications for the 2014 FIFA World Cup and the 2016 Summer Olympics. Clin Infect Dis 58:1347–1356

World Health Organization (1990) Guidelines for dog population management. https://www.paho.org/hq/dmdocuments/2009/nds-epi-profiles-final-sst-24-set.pdf. Accessed 1 June 2018
Acknowledgments
We thank Fundação de Amparo à Pesquisa do Estado da Bahia—FAPESB (Bahia State Research Support Foundation) and the State University of Santa Cruz (UESC) for granting scholarships. We would like to thank Ford Harvey and Donald Pfarrer for help with the English version of this paper. Jorg Heukelbach (class 1) and Christiane M. B. M da Rocha (class 2) are research fellows from the Brazilian National Council for Scientific and Technological Development (CNPq).
Ethics declarations
All procedures performed in studies involving animals were in accordance with the ethical standards of the institution or practice at which the studies were conducted. The study was approved by the Ethical Review Board for Animals of the State University of Santa Cruz (protocol number 06/2013).
Conflict of interest
The authors declare that they have no conflict of interest.
Informed consent
Informed consent was obtained from all individual participants included in the study.
Additional information
Publisher's note
Springer Nature remains neutral with regard to jurisdictional claims in published maps and institutional affiliations.
Section Editor: Boris R. Krasnov
About this article
Cite this article
Harvey, T.V., Heukelbach, J., Assunção, M.S. et al. Seasonal variation and persistence of tungiasis infestation in dogs in an endemic community, Bahia State (Brazil): longitudinal study. Parasitol Res 118, 1711–1718 (2019). https://doi.org/10.1007/s00436-019-06314-w
Received:

Accepted:

Published:

Issue Date:
Keywords
Dog

Flea

Tunga penetrans

Epidemiology

Northeastern Brazil

Zoonosis