Abstract
Sulcascaris sulcata Rudolphi 1819 is a gastric nematode parasite of sea turtles. Here, we report the occurrence and describe for the first time the pathological changes caused by S. sulcata in the Mediterranean loggerhead sea turtle (Caretta caretta) stranded along the Tyrrhenian coast and northern Adriatic coast of Italy. Prevalence of infection was significantly higher in loggerhead sea turtles from the Adriatic Sea. Both prevalence and abundance of infection showed an increasing trend along with host age classes from both geographical localities. Nevertheless, while many small loggerhead sea turtles were found infected from the Adriatic Sea, only bigger individuals were infected from the Tyrrhenian Sea. The most common gross pathological change was a mucous gastritis with focal to multifocal raised ulcerous lesions roundish to irregular in shape ranging from 1 to over 20 cm in length, and cream-yellowish to greenish in color. The severity grade of gastritis increased with higher number of S. sulcata individuals. Microscopic pathological changes ranged from atrophic gastritis with heterophilic infiltration in the lamina propria to the destruction of the mucosal and sub-mucosal surfaces and necrosis. Results here obtained demonstrate that S. sulcata may cause ulcerous gastritis in both samples of loggerhead sea turtles studied from the Mediterranean Sea. Observed differences in S. sulcata infection among the different host age classes and between the two studied basins are likely linked to the differences of regional habitat and intermediate prey host availability.
This is a preview of subscription content, log in to check access.
Access options
Buy single article
Instant access to the full article PDF.
US$ 39.95
Price includes VAT for USA
Subscribe to journal
Immediate online access to all issues from 2019. Subscription will auto renew annually.
US$ 199
This is the net price. Taxes to be calculated in checkout.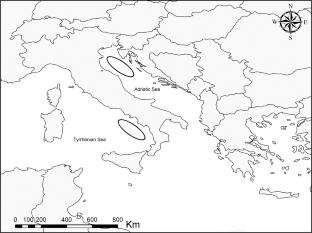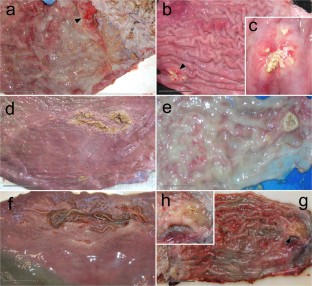 References
Abollo E, Lopez A, Gestal C, Benavente P, Pascual S (1998) Long-term recording of gastric ulcers in cetaceans stranded on the Galician (NW Spain) coast. Dis Aquat Org 32:71–73

Amato JFR, Amato SB (1982) Sulcascaris sulcata (Nematoda, Anisakinae) infecting sea scallops being exported from southeastern Brazil. Arq Univ Fed Rural Rio J 5(1):61–67

Barber BJ, Blake NJ, Moyer MA, Rodrick GE (1987) Larval Sulcascaris sulcata from calico scallops, Argopecten gibbus, along the southeast coast of the United States. J Parasitol 73(3):476–480

Berry GN, Cannon LRG (1981) The life history of Sulcascaris sulcata (Nematoda: Ascaridoidea), a parasite of marine molluscs and turtles. Int J Parasitol 11:43–54

Bolten AB (1999) Techniques for measuring sea turtles. In: Eckert KL, Bjorndal KA, Abreu-Grobois FA, Donnelly M (eds) Research and management techniques for the conservation of sea turtles. IUCN/SSC Marine Turtle Specialist Group, Washington DC, pp 110–114

Brattey J, Ni IH (1992) Ascaridoid nematodes from the stomach of harp seals, Phoca groenlandica, from Newfoundland and Labrador. Can J Fish Aquat Sci 49:956–966

Casale P, Abbate G, Freggi D, Conte N, Oliverio M, Argano R (2008) Foraging ecology of loggerhead sea turtles Caretta caretta in the Central Mediterranean Sea: evidence for a relaxed life history model. Mar Ecol Prog Ser 372:265–276

Deardorff TL (1989) Occurrence of larval Sulcascaris sulcata (Nematoda: Anisakidae) in the calico scallop, Argopecten gibbus, collected along the eastern coast of Florida, with comments on histopathology. Proc Helminthol Soc Wash 56(1):82–85

Gračan R, Buršić M, Mladineo I, Kučinić M, Lazar B, Lacković G (2012) Gastrointestinal helminth community of loggerhead sea turtle Caretta caretta in the Adriatic Sea. Dis Aquat Org 99(3):227–236

Greiner EC (2013) Parasites of marine turtles. In: Wyneken J, Lohmann KJ, Musick JA (eds) The biology of sea turtles, vol 3. CRC Press, Boca Raton, pp 427–446

Hartwich G (2009) Ascaridida. In: Anderson RC, Chabaud AG, Willmott S (eds) Key to the nematode parasites of vertebrates, archival volume. CABI, Wallingford, pp 309–323

Innis C, Nyaoke AC, Williams CR 3rd, Dunnigan B, Merigo C, Woodward DL, Weber ES, Frasca S Jr (2009) Pathologic and parasitologic findings of cold-stunned Kemp's ridley sea turtles (Lepidochelys kempii) stranded on Cape Cod, Massachusetts, 2001-2006. J Wildl Dis 45(3):594–610

Lazar B, Margaritoulis D, Tvrtković N (2004) Tag recoveries of loggerhead sea turtles Caretta caretta in the eastern Adriatic Sea: implications for conservation. J Mar Biol Assoc UK 84:475–480

Lazar B, Gračan R, Katić J, Zavodnik D, Jaklin A, Tvrtković N (2010) Loggerhead sea turtles (Caretta caretta) as bioturbators in neritic habitats: an insight through the analysis of benthic molluscs in the diet. Mar Ecol 32:65–74

Lester RJG, Blair D, Heald D (1980) Nematodes from scallops and turtles from Shark Bay, Western Australia. Aust J Mar Freshwat Res 31:713–717

Lichtenfels JR, Kern FG, Zwerner DE, Bier JW, Madden PA (1976) Anisakid nematodes in shellfish of Atlantic continental shelf of North America. Trans Am Microsc Soc 95:265–266

Lichtenfels JR, Bier JW, Madden PA (1978) Larval anisakid (Sulcascaris) nematodes from Atlantic molluscs with marine turtles as definitive hosts. Trans Am Microsc Soc 97(2):199–207

Liu S, Edward A (1971) Gastric ulcers associated with Contracaecum spp. (Nematoda: Ascaroidea) in a Steller sea lion and a white pelican. J Wildl Dis 7:266–271

Mansfield KL, Putman NF (2013) Oceanic habits and habitats: Caretta caretta. In: Wyneken J, Lohmann KJ, Musick JA (eds) The biology of sea turtles, vol 3. CRC Press, Boca Raton, pp 189–210

Marchiori E, Negrisolo E, Cassini R, Garofalo L, Poppi L, Tessarin C, Marcer F (2017) Cardiovascular flukes (Trematoda: Spirorchiidae) in Caretta caretta Linnaeus, 1758 from the Mediterranean Sea. Parasit Vectors 10(1):467

Margaritoulis D, Argano R, Baran I, Bentivegna F, Bradai MN, Camiñas JA, Casale P, Demetrio G, Demetropoulos A, Gerosa G (2003) Loggerhead turtles in the Mediterranean Sea: present knowledge and conservation perspectives. In: Bolten AB, Witherington BE (eds) Loggerhead sea turtles. Smithsonian Books, Washington DC, pp 175–198

Mattiucci S, Cipriani P, Levsen A, Paoletti M, Nascetti G (2018) Molecular epidemiology of Anisakis and Anisakiasis: an ecological and evolutionary road map. Adv Parasitol 99:93–263

Moeller RB (2001) Diseases of marine mammals. California animal. Health and food safety laboratory system, California, EUA, p.34

Motta MRA, Pinheiro DCSN, Carvalho VN, Viana DA, Vicente ACP, Iñiguez AM (2008) Gastric lesions associated with the presence of Anisakis spp. Dujardin, 1845 (Nematoda: Anisakidae) in cetaceans stranded on the coast of Ceara, Brazil. Biota Neotrop 8(2):91–95

Orós J, Calabuig P, Déniz S (2004) Digestive pathology of sea turtles stranded in the Canary Islands between 1993 and 2001. Vet Rec 155(6):169–174

Santoro M, Badillo FJ, Mattiucci S, Nascetti G, Bentivegna F, Insacco G, Travaglini A, Paoletti M, Kinsella JM, Tomás J, Raga JA, Aznar FJ (2010a) Helminth communities of loggerhead turtles (Caretta caretta) from central and western Mediterranean Sea: the importance of host's ontogeny. Parasitol Int 59(3):367–375

Santoro M, Mattiucci S, Paoletti M, Liotta A, degli Uberti B, Galiero G, Nascetti G (2010b) Molecular identification and pathology of Anisakis pegreffii (Nematoda: Anisakidae) infection in the Mediterranean loggerhead sea turtle (Caretta caretta). Vet Parasitol 174(1–2):65–71

Santoro M, Di Nocera F, Iaccarino D, Lawton SP, Cerrone A, Degli Uberti B, D'Amore M, Affuso A, Hochscheid S, Maffucci F, Galiero G (2017) Pathology and molecular analysis of Hapalotrema mistroides (Digenea: Spirorchiidae) infecting a Mediterranean loggerhead turtle Caretta caretta. Dis Aquat Org 124(2):101–108

Santoro M, Di Nocera F, Iaccarino D, Cipriani P, Guadano Procesi I, Maffucci F, Hochscheid S, Blanco C, Cerrone A, Galiero G, Nascetti G, Mattiucci S (2018) Helminth parasites of the dwarf sperm whale Kogia sima (Cetacea: Kogiidae) from the Mediterranean Sea, with implications on host ecology. Dis Aquat Org 129:175–182

Sey O (1977) Examination of helminth parasites of marine turtles caught along the Egyptian coast. Acta Zool Hung 23:387–394

Sprent JFA (1977) Ascaridoid nematodes of amphibians and reptiles: Sulcascaris. J Helminthol 51:379–387

Vicente JJ, Rodrigues HO, Gomes DC, Pinto RM (1993) Nematóides do Brasil. III. Nematóides de répteis. Rev Bras Zoo 10:19–168

Werneck MR, Martos Thomazini C, Shigueru Mori E, Gonçalves VT, Gallo BMG, Da Silva RJ (2008) Gastrointestinal helminth parasites of loggerhead turtle Caretta caretta Linnaeus 1758 (Testudines, Cheloniidae) in Brazil. Pan-Ame J Aquat Sci 3(3):351–354
Acknowledgments
We thank Dr. Lisa Poppi for precious collaboration in getting samples and pictures during the necropsies of the sea turtles from the Adriatic Sea and Giuseppe Di Vincenzo for assembling the figures of the manuscript.
Ethics declarations
Conflict of interest
The authors declare that they have no conflict of interest.
Additional information
Publisher's note
Springer Nature remains neutral with regard to jurisdictional claims in published maps and institutional affiliations.
Section Editor: Guillermo Salgado-Maldonado
About this article
Cite this article
Santoro, M., Marchiori, E., Iaccarino, D. et al. Epidemiology of Sulcascaris sulcata (Nematoda: Anisakidae) ulcerous gastritis in the Mediterranean loggerhead sea turtle (Caretta caretta). Parasitol Res 118, 1457–1463 (2019). https://doi.org/10.1007/s00436-019-06283-0
Received:

Accepted:

Published:

Issue Date:
Keywords
Ascaridoidea

Nematode parasite

Pathological changes

Parasitic gastritis

Sea turtle

Mediterranean Sea