Abstract
Crenosoma vulpis, the fox lungworm, is a nematode parasite of wild and domestic canids belonging to the super-family Metastrongyloidea. A survey of infection was carried out examining 88 red foxes (Vulpes vulpes) obtained during the regular hunting season (2014–2015) from the Emilia-Romagna region of Italy. Carcasses were stored frozen (− 21 °C) prior to necropsy. Lungs were examined for the presence of adult worms by dissection of the trachea, bronchi, and bronchioles, and then the lung tissue was examined for first-stage larvae (L1) by the Baermann method. No adult stages were detected, but L1, identified based on morphology as Crenosoma vulpis, were recovered from 28.4% (25/88) of the fox lungs. No significant differences in infection were found based on sex or geographical distribution. A brief review on C. vulpis report in red foxes in Italy and other European countries was also carried out.
This is a preview of subscription content, log in to check access.
Access options
Buy single article
Instant access to the full article PDF.
US$ 39.95
Price includes VAT for USA
Subscribe to journal
Immediate online access to all issues from 2019. Subscription will auto renew annually.
US$ 199
This is the net price. Taxes to be calculated in checkout.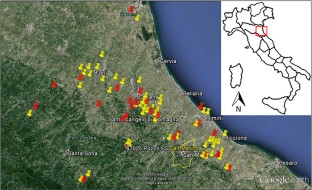 References
Anderson RC (2000) The superfamily Metastrongyloidea. In: Anderson RC, editor. Nematode parasites of vertebrates: their development and transmission. 2nd edition CABI publishing, Wallingford Oxon (UK), p. 129

Barutzki D (2013) Nematode infections of the respiratory tract in dogs in Germany. Tierarztl Prax Ausg K Kleintiere Heimtiere 41:326–336

Barutzki D, Schaper R (2011) Results of parasitological examinations of faecal samples from cats and dogs in Germany between 2003 and 2010. Parasitol Res 109(Suppl 1):S45–S60

Bihr T, Conboy G (1999) Lungworm (Crenosoma vulpis) infection in dogs on Prince Edward Island. Can Vet J 40:555–559

Borgsteede FH (1984) Helminth parasites of wild foxes (Vulpes vulpes L.) in The Netherlands. Z Parasitenkd 70:281–285

Brianti E, Arfuso F, Cringoli G, Di Cesare A, Falsone L, Ferroglio E, Frangipane Di Regalbono A, Gaglio G, Galuppi R, Genchi M, Iorio R, Kramer L, Lia RP, Manfredi MT, Morganti G, Perrucci S, Pessarin C, Poglayen G, Otranto D, Rinaldi L, Scala A, Solari Basano F, Varcasia A, Venco L, Veneziano V, Veronesi F, Zanet S, Zanzani SA (2018) Italian nationwide survey on endoparasites of dogs. XXX Congresso Nazionale SoIPa. p 45

Bruẑinskaitè-Schmidhalter R, Ṡarkȗnas M, Malakauskas A, Mathis A, Torgerson PR, Deplazes P (2012) Helminths of red foxes (Vulpes vulpes) and raccoon dogs (Nyctereutes procyonoides) in Lithuania. Parasitol 139:120–127

Carvalho-Varela M, Marcos MVM (1993) The helmintofauna of the fox (Vulpes vulpes silacea Miller, 1907) in Portugal. Acta Parasitol Port 1:73–79

Conboy G (2009) Helminth parasites of the canine and feline respiratory tract. Vet Clin Small Anim 39:1109–1126

Conboy G, Bourque A, Miller L, Seewald W, Schenker R (2013) Efficacy of Milbemax (milbemycin oxime + praziquantel) in the treatment of dogs experimentally infected with Crenosoma vulpis. Vet Parasitol 198:319–324

Conboy G, Guselle N, Schaper R (2017) Spontaneous shedding of Metastrongyloid third-stage larvae by experimentally infected Limax maximus. Parasitol Res 116:S41–S54

Davidson RK, Gjerde B, Vikøren T, Lillehaug A, Handeland K (2006) Prevalence of Trichinella larvae and extra-intestinal nematodes in Norwegian red foxes (Vulpes vulpes). Vet Parasitol 136:307–316

Hodžić A, Alić A, Klebić I, Kadrić M, Brianti E, Duschera GG (2016) Red fox (Vulpes vulpes) as a potential reservoir host of cardiorespiratory parasites in Bosnia and Herzegovina. Vet Parasitol 223:63–70

Jeffery RA, Lankester MW, McGrath MJ, Whitney HG (2004) Angiostrongylus vasorum and Crenosoma vulpis in red foxes (Vulpes vulpes) in Newfoundland, Canada. Can J Zool 82:66–74

Kidawa D, Kowalczyk R (2011) The effects of sex, age, season and habitat on diet of the red fox Vulpes vulpes in northeastern Poland. Acta Theriol 56:209–218

Lacorcia L, Gasser RB, Anderson GA, Beveridge I (2009) Comparison of bronchoalveolar lavage fluid examination and other diagnostic techniques with the Baermann technique for detection of naturally occurring Aelurostrongylus abstrusus infection in cats. J Am Vet Med Assoc 235:43–49

Latrofa MS, Lia RP, Giannelli A, Colella V, Santoro M, D'Alessio N, Campbell BE, Parisi A, Dantas-Torres F, Mutafchiev Y, Veneziano V, Otranto D (2015) Crenosoma vulpis in wild and domestic carnivores from Italy: a morphological and molecular study. Parasitol Res 114:3611–3617

Maksimov P, Hermosilla C, Taubert A, Staubach C, Sauter-Louis C, Conraths FJ, Vrhovec MG, Pantchev N (2017) GIS-supported epidemiological analysis on canine Angiostrongylus vasorum and Crenosoma vulpis infections in Germany. Parasit Vectors 10:108

Magi M, Guardone L, Prati MC, Mignone W, Macchioni F (2014) Extraintestinal nematodes of the red fox (Vulpes vulpes) in north-west Italy. J Helminthol 89:506–511

Manfredi MT, Giacometti A, Fraquelli C, Piccolo G (2003) Study of the helminthic population of foxes (Vulpes vulpes) in the Trentino Alto-Adige. J Mt Ecol 7:261–263. https://doi.org/10.1007/s00436-019-06272-3

McGarry JW, Morgan ER (2009) Identification of first-stage larvae of metastrongyles from dogs. Vet Rec 165:258–261

Morelli S, Grillotti E, Russi I, Manzocchi S, Beraldo P, Viglietti A, Crisi PE, Pezzuto C, De Tommaso C, Pampurini F, Traversa D (2018) Large scale survey on the occurrence of canine and feline extra-intestinal nematodes in Italy. XXX Congresso Nazionale SoIPa, p. 131

Poli A, Arispici M, Marconcini A, Mancianti F, Corsi C (1985) Lungworms in red foxes (Vulpes vulpes) from the maritime provinces of Tuscany. Erkrankungen der Zootiere Akademie Verlag, Berlin, pp 507–512

Rajković-Janje R, Marinculić A, Bosnić S, Benić M, Vincović B, Mihaljević Ž (2002) Prevalence and seasonal distribution of helminth parasites in red foxes (Vulpes vulpes) from the Zagreb County (Croatia). Z Jagdwiss 48:151–160

Rossi L, Iori A, Cancrini G (1983) Observations on the parasitic fauna of red fox population present in the regional park "La Mandria". Parassitologia 25:340–343

Saeed I, Maddox-Hyttel C, Monrad J, Kapel C (2006) Helminths of red foxes (Vulpes vulpes) in Denmark. Vet Parasitol 139:168–179

Segovia JM, Torres J, Miquel J (2004) Helminth parasites of the red fox (Vulpes vulpes L., 1758) in the Iberian Peninsula: an ecological study. Acta Parasitol 49:67–79

Sréter T, Széll Z, Marucci G, Pozio E, Varga I (2003) Extraintestinal nematode infections of red foxes (Vulpes vulpes) in Hungary. Vet Parasitol 115:329–334

Tolnai Z, Széll Z, Sréter T (2015) Environmental determinants of the spatial distribution of Angiostrongylus vasorum, Crenosoma vulpis and Eucoleus aerophilus in Hungary. Vet Parasitol 207:355–358

Toso S, Turra T, Gellini S, Matteucci C, Benassi MC, Zanni ML (1999) Vulpes vulpes. In Carta delle vocazioni faunistiche della regione Emilia-Romagna. Istituto Nazionale per la Fauna Selvatica S.T.E.R.N.A. pp 239–245

Traversa D, Di Cesare A, Conboy G (2010) Canine and feline cardiopulmonary parasitic nematodes in Europe: emerging and underestimated. Parasit Vectors 3:62
Ethics declarations
Conflict of interest
The authors declare that they have no conflict of interest.
Additional information
Publisher's note
Springer Nature remains neutral with regard to jurisdictional claims in published maps and institutional affiliations.
Handling Editor: Julia Walochnik
About this article
Cite this article
Morandi, B., Bertaso, S., Conboy, G. et al. Crenosoma vulpis in red foxes (Vulpes vulpes) in Northern Italy. Parasitol Res 118, 1981–1985 (2019). https://doi.org/10.1007/s00436-019-06272-3
Received:

Accepted:

Published:

Issue Date:
Keywords
Red fox

Vulpes vulpes
Crenosoma vulpis

Emilia-Romagna

Italy