Abstract
In this study, 100 gastrointestinal tracts of Australian alpacas were examined to assess the worm burden and to identify the species of nematode present. Faecal samples were collected from 97 alpacas and processed for faecal egg counts (FECs). For identification of the species, both molecular (multiplexed-tandem polymerase chain reaction [MT-PCR]) and morphological techniques were used. Total worm counts (TWCs) revealed a mean burden of 1300 worms, with the highest burden of 29,000 worms. The average egg count was 501 eggs per gram of faeces (EPG), with the highest count of 3500 EPG. Nineteen different species of gastrointestinal nematodes (GINs) were identified, and Graphinema auchenia, Camelostrongylus mentulatus and Trichuris tenuis were recovered from Australian alpacas for the first time. Haemonchus contortus was the most prevalent nematode (81%) followed by C. mentulatus (60%). The majority of the nematodes found are shared with sheep, goats and cattle. Findings of this study provide useful insights into the spectrum of GINs and their burden in Australian alpacas.
This is a preview of subscription content, log in to check access.
Access options
Buy single article
Instant access to the full article PDF.
US$ 39.95
Price includes VAT for USA
Subscribe to journal
Immediate online access to all issues from 2019. Subscription will auto renew annually.
US$ 199
This is the net price. Taxes to be calculated in checkout.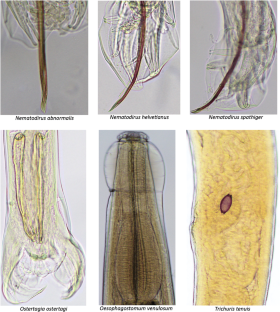 References
Altman DG (1991) Practical statistics for medical research. Chapman and Hall, London

Anderson N (1972) Trichostrongylid infections of sheep in a winter rainfall region. 1. Epizootiological studies in the Western District of Victoria, 1966–67. Aust J Agric Res 23:1113–1129

Anderson N (1973) Trichostrongylid infections of sheep in a winter rainfall region. 2. Epizootiological studies in the Western District of Victoria, 1967–68. Aust J Agric Res 24:599–611

Averbeck GA, Scholtthauer JC, Hinueber JG (1981) Camelostrongylus mentulatus infection in a camel (Camelus dromedarius): a case report. J Zoo Anim Med 12:24–26

Ballweber LR (2009) Ecto- and endoparasites of new world camelids. Vet Clin North Am Food Anim Prac 25:295–310

Barger IA (1993) Control of gastrointestinal nematodes in Australia in the 21st century. Vet Parasitol 46:23–32

Becklund WW, Walker ML (1967) Nematodirus of domestic sheep, Ovis aries, in the United States with a key to the species. J Parasitol 53:777–781

Beldomenico PM, Uhart M, Bono MF, Marull C, Baldi R, Peralta JL (2003) Internal parasites of free-ranging guanacos from Patagonia. Vet Parasitol 118:71–77

Beveridge I, Ford GE (1982) The trichostrongyloid parasites of sheep in South Australia and their regional distribution. Aust Vet J 59:177–179

Beveridge I, Barker I, Rickard M, Burton J (1974) Experimental infection of sheep with Camelostrongylus mentulatus and associated gastritis. Aust Vet J 50:36–37

Beveridge I, Pullman AL, Henzell R, Martin RR (1987) Helminth parasites of feral goats in South Australia. Aust Vet J 64:111–112

Beveridge I, Pullman AL, Phillips PH, Martin RR, Barelds A, Grimson R (1989) Comparison of the effects of infection with Trichostrongylus colubriformis, T. vitrinus and T. rugatus in merino lambs. Vet Parasitol 32:229–245

Brunsdon RV (1971) Trichostronglye worm infection in cattle: further studies on problems of diagnosis and on seasonal patterns of occurrence. N Z Vet J 19:203–212

Bryan R, Kerr J (1989) The relation between the natural worm burden of steers and the faecal egg count differentiated to species. Vet Parasitol 30:327–334

Cafrune MM, Aguirre DH, Rickard LG (1999) Recovery of Trichuris tenuis Chandler, 1930, from camelids (Lama glama and Vicugna vicugna) in Argentina. J Parasitol 85:961–962

Carmichael IH (1999) Internal parasitism in alpacas in southern Australia. In: Australian Alpaca Fibre – Improving Productivity and Marketing. Rural Industries Research and Development Corporation, Canberra, pp. 92–130

Chandler AC (1930) Specific characters in the genus Trichuris, with a description of a new species, Trichuris tenuis, from a camel. J Parasitol 16:198–206

Contreras S, Chávez V, Pinedo V, Leyva V, Suárez A (2014) Helminthiasis in alpacas (Vicugna pacos) of two peasant communities in Macusani, Puno during the dry season. Rev Investig Vet Perú 25:268–275

Copland JW (1965) Ostertagia mentulata recorded in New South Wales. Aust Vet J 41:27–27

Dittmer KE, Hinkson JA, Dwyer C, Adlington B, van Andel M (2018) Prevalence of Candidatus Mycoplasma haemolamae, bovine viral diarrhoea virus, and gastrointestinal parasitism in a sample of adult New Zealand alpaca (Vicugna pacos). N Z Vet J 66:9–15

Gibbons LM, Khalil LF (1982) A key for the identification of genera of the nematode family Trichostrongylidae Leiper, 1912. J Helminthol 56:185–233

Gordon HM, Whitlock H (1939) A new technique for counting nematode eggs in sheep faeces. J CSIR 12:50–52

Hertzberg H, Kohler L (2006) Prevalence and significance of gastrointestinal helminths and protozoa in south American camelids in Switzerland. Berl Munch Tierarztl Wochenschr 119:291–294

Hill F, Death A, Wyeth T (1993) Nematode burdens of alpacas sharing grazing with sheep in New Zealand. NZ Vet J 41:205–208

Hilton RJ, Barker IK, Rickard MD (1978) Distribution and pathogenicity during development of Camelostrongylus mentulatus in the abomasum of sheep. Vet Parasitol 4:231–242

Hutchinson G (2009) Nematode parasites of small ruminants, camelids and cattle: diagnosis with emphasis on anthelmintic efficacy and resistance testing. Aquatic and Terrestrial Australian and New Zealand Standard Diagnostic Procedures (ANZSDPs) http://www.agriculture.gov.au/animal/health/laboratories/procedures/anzsdp

Hyuga A, Matsumoto J (2016) A survey of gastrointestinal parasites of alpacas (Vicugna pacos) raised in Japan. J Vet Med Sci 78:719–721

Jabbar A, Campbell AJD, Charles JA, Gasser RB (2013) First report of anthelmintic resistance in Haemonchus contortus in alpacas in Australia. Parasit Vectors 6:243

McKenna PB (1981) The diagnostic value and interpretation of faecal egg counts in sheep. N Z Vet J 29(8):129–132

Michel JF (1969a) Observations on the faecal egg count of calves naturally infected with Ostertagia ostertagi. Parasitology 59:829–835

Michel JF (1969b) The regulation of egg output by Ostertagia ostertagi in calves infected once only. Parasitology 59:767–774

Presidente PJA (2007) Alpaca parasites & their control: recent experiences. Australian Alpaca Veterinarians Annual Conference, Australia, pp 1–14

R Core Team (2017) R: a language and environment for statistical computing. R Foundation for Statistical Computing, Vienna, Austria https://www.R-project.org/

Rashid MH, Gebrekidan H, Jabbar A (2018a) Multiplexed-tandem PCR (MT-PCR) assay to detect and differentiate gastrointestinal nematodes of alpacas. Parasit Vectors 11:370

Rashid MH, Stevenson MA, Waenga S, Mirams G, Campbell AJD, Vaughan JL, Jabbar A (2018b) Comparison of McMaster and FECPAKG2 methods for counting nematode eggs in the faeces of alpacas. Parasit Vectors 11:278

Rashid MH, Vaughan JL, Stevenson MA, Campbell AJD, Saeed MA, Indjein L, Beveridge I, Jabbar A (2019a) Epidemiology of gastrointestinal nematodes of alpacas in Australia: I. a cross-sectional study. Parasitol Res. https://doi.org/10.1007/s00436-019-06235-8

Rashid MH, Vaughan JL, Stevenson MA, Saeed MA, Campbell AJD, Beveridge I, Jabbar A (2019b) Epidemiology of gastrointestinal nematodes of alpacas in Australia: II. A longitudinal study. In: Parasitol res. https://doi.org/10.1007/s00436-019-06236-7

Rickard LG (1993) Parasitic gastritis in a llama (Lama glama) associated with inhibited larval Teladorsagia spp. (Nematoda: Trichostrongyloidea). Vet Parasitol 45:331–335

Rickard LG, Bishop JK (1991) Redescription of Trichuris tenuis Chandler, 1930, from llamas (Lama glama) in Oregon with a key to the species of Trichuris present in north American ruminants. J Parasitol 77:70–75

Roberts F (1957) Reactions of calves to infestation with the stomach worm, Haemonchus placei (place, 1893) ransom, 1911. Aust J Agric Res 8:740–767

Roeber F, Jex AR, Gasser RB (2013) Comparative evaluation of two DNA isolation techniques for PCR-based diagnosis of gastrointestinal nematode infections in sheep. Mol Cell Probes 27:153–157

Rogers WP (1939) Nematode parasites of sheep in Western Australia. J Helminthol 17:151–158

Rose JH, Small AJ (1980) Transmission of Oesophagostomum spp. among sows at pasture. Vet Rec 107:223–225

Rubin R (1967) Some observations on the interpretation of fecal egg counts. Amer J Vet Clin Path 1:145–148

Schmäschke R (2015) Endo-and ectoparasites of south American camelids and their control. Tierarztl Prax Ausg G Grosstiere Nutztiere 43:169–179

Stevenson M, Nunes T, Heuer C, Marshall J, Sanchez J, Thornton R, Reiczigel J, Robison-Cox J, Sebastiani P, Solymos P, Yoshida K, Jones G, Pirikahu S, Firestone S, Kyle R, Popp J, Mathew J (2018) epiR: tools for the analysis of epidemiological data. Faculty of Veterinary and Agricultural Sciences, the. University of Melbourne, Melbourne

Tait SA, Kirwan JA, Fair CJ, Coles GC, Stafford KA (2002) Parasites and their control in south American camelids in the United Kingdom. Vet Rec 150:637–638

Thomas RJ, Boag B (1973) Epidemiological studies on gastro-intestinal nematode parasites of sheep. The control of infection in lambs on contaminated pasture. Res Vet Sci 14:11–20

Welchman DB, Parr J, Wood R, Mead A, Starnes A (2008) Alpaca and llama nematodes in Britain. Vet Rec 162:832–832
Acknowledgements
We are grateful to alpaca farmers who provided the gastrointestinal and faecal samples for this study. We are thankful to Ms. Christine Andersen and Doctor of Veterinary Medicine Students for their technical assistance.
Funding
The financial assistance for this project was provided by the AgriFutures Australia and the Australian Alpaca Association. M.H.R. is a grateful recipient of the Australian Postgraduate Award through the University of Melbourne and the PhD top-up scholarship from the AgriFutures Australia.
Ethics declarations
Conflict of interest
The authors declare that they have no conflict of interests.
Additional information
Publisher's note
Springer Nature remains neutral with regard to jurisdictional claims in published maps and institutional affiliations.
Section Editor: Dante Zarlenga
About this article
Cite this article
Rashid, M.H., Beveridge, I., Vaughan, J.L. et al. Worm burdens and associated histopathological changes caused by gastrointestinal nematodes in alpacas from Australia. Parasitol Res 118, 1031–1038 (2019). https://doi.org/10.1007/s00436-019-06237-6
Received:

Accepted:

Published:

Issue Date:
Keywords
Gastrointestinal nematodes

Alpaca

Total worm count

Camelostrongylus mentulatus
Graphinema auchenia
Haemonchus contortus