Abstract
Cathepsin L-like protease is an important member of the papain-like cysteine protease and plays numerous indispensable roles in the biology of parasitic organisms. In a previous study, we identified a gene encoding a cathepsin L-like protease of Clonorchis sinensis (CsCPL) that was detected in the cercaria, metacercaria, and adult worm stages by immunolocalization, suggesting that this cysteine protease may be important and involved in the development of C. sinensis. In this study, the mature domain of CsCPL (CsCPL-m) was cloned and expressed in the form of inclusion bodies in Escherichia coli. After refolding, the recombinant CsCPL-m displayed optimal protease activity towards Z-Phe-Arg-AMC substrates but not towards Z-Arg-Arg-AMC, and the activity of the protease was inhibited completely by the cysteine protease-specific inhibitors E-64 and IAA, which further demonstrated that CsCPL belongs to the cathepsin L-like cysteine protease family. Recombinant CsCPL-m exhibited considerable activity at temperatures ranging from 28 to 42 °C, with the highest activity observed at 42 °C. Furthermore, recombinant CsCPL-m exhibited activity across a broad range of pH values (pH 4.0–8.0), with an optimal pH of 5.5. The Km and Vmax of the recombinant CsCPL-m towards Z-Phe-Arg-AMC were determined to be 5.71 × 10−6 M and 0.6 μM/min, respectively, at 37 °C and pH 5.5. The recombinant CsCPL-m could degrade BSA and gelatine, but could not degrade human hemoglobin and human immunoglobulin G. These results implied that CsCPL might participate in the catabolism of host proteins for nutrition during the parasitic life cycle of C. sinensis; thus, CsCPL could be used as a potential vaccine antigen and drug target against C. sinensis infection.
This is a preview of subscription content, log in to check access.
Access options
Buy single article
Instant access to the full article PDF.
US$ 39.95
Price includes VAT for USA
Subscribe to journal
Immediate online access to all issues from 2019. Subscription will auto renew annually.
US$ 199
This is the net price. Taxes to be calculated in checkout.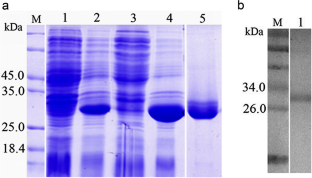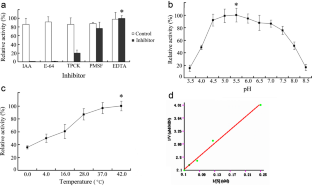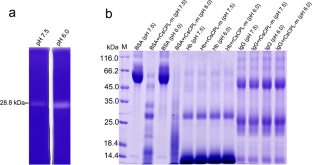 References
Barrett AJ, Kirschke H (1981) Cathepsin B, Cathepsin H and Cathepsin L. Methods Enzymol 80(41):535–561

Berasain P, Carmona C, Frangione B, Dalton JP, Goni F (2000) Fasciola hepatica: parasite-secreted proteinases degrade all human IgG subclasses: determination of the specific cleavage sites and identification of the immunoglobulin fragments produced. ExpParasitol 94(2):99–110

Berasain P, Carmona C, Frangione B, Cazzulo JJ, Goñi F (2003) Specific cleavage sites on human IgG subclasses by cruzipain, the major cysteine proteinase from Trypanosoma cruzi. Mol Biochem Parasitol 130(1):23–29

Brady CP, Dowd AJ, Brindley PJ, Ryan T, Day SR, Dalton JP (1999) Recombinant expression and localization of Schistosoma mansoni cathepsin L1 support its role in the degradation of host hemoglobin. Infect Immun 67:368–374

Chung YB, Chung BS, Choi MH, Yu JR, Hong ST (2004) The involvement of the cysteine proteases of Clonorchis sinensis metacercariae in excystment. Parasitol Res 93(1):36–40

Coulombe R, Grochulski P, Sivaraman J, Ménard R, Mort JS, Cygler M (1996) Structure of human pro procathepsin L reveals the molecular basis of inhibition by the prosegment. EMBO J 15(20):5492–5503

Delcroix M, Sajid M, Caffrey CR, Lim KC, Dvorák J, Hsieh I, Bahgat M, Dissous C, McKerrow JH (2006) A multienzyme network functions in intestinal protein digestion by a platyhelminth parasite. J Biol Chem 281(51):39316–39329

Dvorák J, Mashiyama ST, Sajid M, Braschi S, Delcroix M, Schneider EL, McKerrow WH, Bahgat M, Hansell E, Babbitt PC, Craik CS, McKerrow JH, Caffrey CR (2009) SmCL3, a gastrodermal cysteine protease of the human blood fluke Schistosoma mansoni. PLoS Negl Trop Dis 3(6):e449

Franta Z, Sojka D, Frantova H, Dvorak J, Horn M, JindrichSrba PT, Mares M, Schneider E, Craik CS, McKerrow JH, Caffrey CR, Kopacek P (2011) IrCL1 – the haemoglobinolytic cathepsin L of the hard tick, Ixodes ricinus. Int J Parasitol 41:1253–1262

Fürst T, Keiser J, Utzinger J (2012) Global burden of human food-borne trematodiasis: a systematic review and meta-analysis. Lancet Infect Dis 12(3):210–221

Guiliano DB, Hong X, McKerrow JH, Blaxter ML, Oksov Y, Liu J, Ghedin E, Lustigman S (2004) A gene family of cathepsin L-like proteases of filarial nematodes are associated with larval molting and cuticle and eggshell remodeling. Mol Biochem Parasitol 136(2):227–242

Hernández HM, Marcet R, Sarracent J (2014) Biological roles of cysteine proteinases in the pathogenesis of Trichomonas vaginalis. Parasite 21:54

Hu X, Yanwen L, Jing X, Fengyu H, Junhong Z, Xinbing Y (2008) Cloning and bioinformatic analysis of cathepsin L1-like full-length gene from Clonorchis sinensis. J Pathogen Biology 3(7):508–513 (Chinese)

Kongkerd N, Uparanukraw P, Morakote N, Sajid M, McKerrow JH (2008) Identification and characterization of a cathepsin L-like cysteine protease from Gnathostoma spinigerum. Mol Biochem Parasitol 160(2):129–137

Larson ET, Parussini F, Huynh MH, Giebel JD, Kelley AM, Zhang L, Bogyo M, Merritt EA, Carruthers VB (2009) Toxoplasma gondii cathepsin L is the primary target of the invasion-inhibitory compound morpholinurea-leucyl-homophenyl-vinyl sulfone phenyl. J Biol Chem 284(39):26839–26850

León N, Padilla C, Pajuelo M, Sheen P, Zimic M (2013) Cathepsin L cysteine protease from Taenia solium: its biological role in the infection and potential use for the immunodiagnosis of neurocysticercosis. Rev Peru Med Exp Salud Publica 30(3):446–454

Li AH, Moon SU, Park YK, Na BK, Hwang MG, Oh CM, Cho SH, Kong Y, Kim TS, Chung PR (2006) Identification and characterization of a cathepsin L-like cysteine protease from Taenia solium metacestode. Vet Parasitol 141(3–4):251–259

Li S, Chung YB, Chung BS, Choi MH, Yu JR, Hong ST (2004) The involvement of the cysteine proteases of Clonorchis sinensis metacercariae in excystment. Parasitol Res 93(1):36–40

Li Y, Hu X, Liu X, Xu J, Hu F, Ma C, Yu X (2009) Molecular cloning and analysis of stage and tissue-specific expression of Cathepsin L-like protease from Clonorchis sinensis. Parasitol Res 105(2):447–452

Li Y, Hu X, Liu X, Huang Y, Xu J, Zhao J, Wu Z, Yu X (2012) Serological diagnosis of clonorchiasis: using a recombinant propeptide of cathepsin L proteinase from Clonorchis sinensis as a candidate antigen. Parasitol Res 110(6):2197–2203

Lv X, Chen W, Wang X, Li X, Sun J, Deng C, Men J, Tian Y, Zhou C, Lei H, Liang C, Yu X (2012) Molecular characterization and expression of a cysteine protease from Clonorchis sinensis and its application for serodiagnosis of clonorchiasis. Parasitol Res 110(6):2211–2219

Na BK, Kang JM, Sohn WM (2008) CsCF-6, a novel cathepsin F-like cysteine protease for nutrient uptake of Clonorchis sinensis. Int J Parasitol 38(5):493–502

Qian MB, Utzinger J, Keiser J, Zhou XN (2016) Clonorchiasis. Lancet 387(10020):800–810

Ramón-Luing Lde L, Rendón-Gandarilla FJ, Puente-Rivera J, Ávila-González L, Arroyo R (2011) Identification and characterization of the immunogenic cytotoxic TvCP39 proteinase gene of Trichomonas vaginalis. Int J Biochem Cell Biol 43(10):1500–1511

Sajid M, Mckerrow JH (2002) Cysteine proteases of parasitic organisms. Mol Biochem Parasitol 120(1):1–21

Sanderson SJ, Pollock KG, Hilley JD, Meldal M, Hilaire PS, Juliano MA, Juliano L, Mottram JC, Coombs GH (2000) Expression and characterization of a recombinant cysteine proteinase of Leishmania mexicana. Biochem J 347(Pt 2):383–388

Tsubokawa D, Hatta T, Maeda H, Mikami F, Goso Y, Nakamura T, Alim MA, Tsuji N (2017) A cysteine protease from Spirometraerinaceieuropaeiplerocercoid is a critical factor for host tissue invasion and migration. Acta Trop 167:99–107

Wesołowska A, Basałaj K, Norbury LJ, Sielicka A, Wędrychowicz H, Zawistowska-Deniziak A (2018) Vaccination against Fasciola hepatica using cathepsin L3 and B3 proteases delivered alone or in combination. Vet Parasitol 250:15–21

Williamson AL, Brindley PJ, Knox DP, Hotez PJ, Loukas A (2003) Digestive proteases of blood-feeding nematodes. Trends Parasitol 19(9):417–423

Wongkham C, Tantrawatpan C, Intapan PM, Maleewong W, Wongkham S, Nakashima K (2005) Evaluation of immunoglobulin G subclass antibodies against recombinant Fasciolagigantica cathepsin L1 in an enzyme-linked immunosorbent assay for serodiagnosis of human fasciolosis. Clin Diagn Lab Immunol 12(10):1152–1156

Zawistowska-Deniziak A, Wasyl K, Norbury LJ, Wesołowska A, Bień J, Grodzik M, Wiśniewski M, Bąska P, Wędrychowicz H (2013) Characterization and differential expression of cathepsin L3 alleles from Fasciola hepatica. Mol Biochem Parasitol 190(1):27–37
Acknowledgements
This work was supported by the Natural Science Foundation of Guangxi (No. 2013GXNSFAA019158) and the Science and Technology Research Project of Guangxi Educational Committee (No.2013YB046) China.
Ethics declarations
Conflict of interests
The authors declare that they have no conflicts of interest.
Additional information
Publisher's note
Springer Nature remains neutral with regard to jurisdictional claims in published maps and institutional affiliations.
Section Editor: Christoph G. Grevelding
About this article
Cite this article
Ma, C., Liang, K., Tang, L. et al. Identification and characteristics of a cathepsin L-like cysteine protease from Clonorchis sinensis. Parasitol Res 118, 829–835 (2019). https://doi.org/10.1007/s00436-019-06223-y
Received:

Accepted:

Published:

Issue Date:
Keywords
Clonorchis sinensis

Cathepsin L-like cysteine protease

Enzymatic characteristics