Abstract
The genus Cichlidogyrus (Monogenea: Ancyrocephalidae) includes more than 90 species, most of which are gill parasites of African cichlid fishes. Cichlidogyrus has been studied extensively in recent years, but scanning electron microscope (SEM) investigations of the isolated hard parts have not yet been undertaken. In this paper, we describe a method for isolating and scanning the sclerites of individual Cichlidogyrus worms. Twenty-year-old, formol-fixed specimens of Cichlidogyrus casuarinus were subjected to proteinase K digestion in order to release the sclerites from the surrounding soft tissues. SEM micrographs of the haptoral sclerites and the male copulatory organ are presented. The ability to digest formol-fixed specimens makes this method a useful tool for the study of historical museum collections.
Access options
Buy single article
Instant access to the full article PDF.
US$ 39.95
Tax calculation will be finalised during checkout.
Subscribe to journal
Immediate online access to all issues from 2019. Subscription will auto renew annually.
US$ 119
Tax calculation will be finalised during checkout.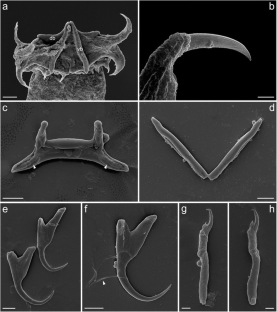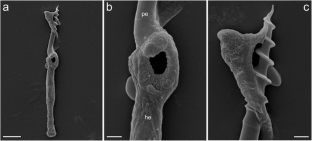 References
Bakke TA, Cable J, Harris PD (2007) The biology of gyrodactylid monogeneans: the "Russian-doll killers". Adv Parasitol 64:161–376. doi:10.1016/S0065-308X(06)64003-7

Cribb TH, Chisholm LA, Bray RA (2002) Diversity in the Monogenea and Digenea: does lifestyle matter? Int J Parasitol 32:321–328. doi:10.1016/S0020-7519(01)00333-2

Dos Santos QM, Avenant-Oldewage A (2015) Soft tissue digestion of Paradiplozoon vaalense for SEM of sclerites and simultaneous molecular analysis. J Parasitol 101:94–97. doi:10.1645/14-521.1

Dykstra MJ (1993) A manual of applied techniques for biological electron microscopy. Plenum Press, New York

Gillardin C, Vanhove MPM, Pariselle A, Huyse T, Volckaert FAM (2012) Ancyrocephalidae (Monogenea) of Lake Tanganyika: II: description of the first Cichlidogyrus spp. parasites from Tropheini fish hosts (Teleostei, Cichlidae). Parasitol Res 110:305–313. doi:10.1007/s00436-011-2490-5

Grégoir AF, Hablützel PI, Vanhove MP, Pariselle A, Bamps J, Volckaert FA, Raeymaekers JA (2015) A link between host dispersal and parasite diversity in two sympatric cichlids of Lake Tanganyika. Freshw Biol 60:323–335. doi:10.1111/fwb.12492

Harris PD, Cable J, Tinsley RC, Lazarus CM (1999) Combined ribosomal DNA and morphological analysis of individual gyrodactylid monogeneans. J Parasitol 85:188–191. doi:10.2307/3285617

King SD, Forest JJH, Cone DK (2009) Description of Gyrodactylus notatae n. sp. (Monogenea: Gyrodactylidae) from Menidia menidia (Actinopterygii: Atherinidae) in Nova Scotia, Canada. Syst Parasitol 74:23–27. doi:10.1007/s11230-009-9185-7

Mo TA, Appleby C (1990) A special technique for studying haptoral sclerites of monogeneans. Syst Parasitol 17:103–108. doi:10.1007/BF00009797

Paladini G, Cable J, Fioravanti ML, Faria PJ, Di Cave D, Shinn AP (2009) Gyrodactylus orecchiae sp. n. (Monogenea: Gyrodactylidae) from farmed populations of gilthead seabream (Sparus aurata) in the Adriatic Sea. Folia Parasitol 56:21–28. doi:10.14411/fp.2009.004

Paladini G, Huyse T, Shinn A (2011a) Gyrodactylus salinae n. sp. (Platyhelminthes: Monogenea) infecting the south European toothcarp Aphanius fasciatus (Valenciennes) (Teleostei, Cyprinodontidae) from a hypersaline environment in Italy. Parasite Vector 4:100. doi:10.1186/1756-3305-4-100

Paladini G, Hansen H, Fioravanti ML, Shinn AP (2011b) Gyrodactylus longipes n. sp. (Monogenea: Gyrodactylidae) from farmed gilthead seabream (Sparus aurata L.) from the Mediterranean. Parasitol Int 60:410–418. doi:10.1016/j.parint.2011.06.022

Pariselle A, Euzet L (2009) Systematic revision of dactylogyridean parasites (Monogenea) from cichlid fishes in Africa, the Levant and Madagascar. Zoosystema 31:849–898. doi:10.5252/z2009n4a6

Pariselle A, Muterezi Bukinga F, Van Steenberge M, Vanhove MPM (2015) Ancyrocephalidae (Monogenea) of Lake Tanganyika: IV: Cichlidogyrus parasitizing species of Bathybatini (Teleostei, Cichlidae): reduced host-specificity in the deepwater realm? Hydrobiologia 748:99–119. doi:10.1007/s10750-014-1975-5

Řehulková E, Mendlová M, Šimková A (2013) Two new species of Cichlidogyrus (Monogenea: Dactylogyridae) parasitizing the gills of African cichlid fishes (Perciformes) from Senegal: morphometric and molecular characterization. Parasitol Res 112:1399–1410. doi:10.1007/s00436-013-3291-9

Schelkle B, Paladini G, Shinn AP, King S, Johnson M, van Oosterhout C, Mohammed R, Cable J (2011) Ieredactylus rivuli gen. et sp. nov. (Monogenea, Gyrodactylidae) from Rivulus hartii (Cyprinodontiformes, Rivulidae) in Trinidad. Acta Parasitol 56:360–370. doi:10.2478/s11686-011-0081-3

Shinn AP, Gibson DI, Sommerville C (1993) An SEM study of the haptoral sclerites of the genus Gyrodactylus Nordmann, 1832 (Monogenea) following extraction by digestion and sonication techniques. Syst Parasitol 25:135–144. doi:10.1007/BF00009983

Shively S, Miller WR (2009) The use of HMDS (hexamethyldisilazane) to replace critical point drying (CPD) in the preparation of tardigrades for SEM (scanning electron microscope) imaging. Trans Kans Acad Sci 112:198–200. doi:10.1660/062.112.0407
Acknowledgments
The authors wish to thank the Belgian Federal Science Policy Office (BRAIN-be Pioneer Project BR/132/PI/TILAPIA) for financial support; E. Řehulková (Masaryk University, Czech Republic) for discussions on monogenean anatomy; and C. Allard, M. Parrent, J. Snoeks, D. Van den Spiegel, and E. Vreven for assistance with RMCA collections. M.P.M.V. is partly supported by the Czech Science Foundation project no. P505/12/G112 (ECIP). G.P. was supported by an EU Synthesis project (BE-TAF-3952). High-resolution versions of all images included in this paper will be deposited in MorphBank (www.morphbank.net).
About this article
Cite this article
Fannes, W., Vanhove, M.P.M., Huyse, T. et al. A scanning electron microscope technique for studying the sclerites of Cichlidogyrus . Parasitol Res 114, 2031–2034 (2015). https://doi.org/10.1007/s00436-015-4446-7
Received:

Accepted:

Published:

Issue Date:
Keywords
Platyhelminthes

Cichlidae

Anchor

MCO

Male apparatus