Abstract
The cattle tick, Rhipicephalus (Boophilus) microplus, has caused serious harm to livestock raising in Brazil, considering the costs of controlling it, loss of revenue due to smaller production of milk and meat, and damage to leather, in addition to transmitting diseases. The use of medicinal plants is considered an alternative to the recurring resistance to chemicals. Due to the need for efficient alternatives with less environmental impact, this study aimed to develop contact formulations with essential oils from the Java citronella (Cymbopogon winterianus) and clove (Syzygium aromaticum) plants and to assess in vitro the effects in different stages of the tick cycle. In the present study, concentrations from 0.5–15.0 % of the essential oils incorporated in the formulations were used. The ticks from different geographical areas were treated with those formulations, and their effects on the production levels of eggs, on the larvae hatching, and their efficiency on ticks were assessed. The obtained results were compared with other commercial acaricidal products. After the 20th day of treatment, the formulations with citronella essential oil had 2.09–55.51 % efficiency, depending on the concentration of the oil incorporated. The efficiency of the treatment with formulations containing clove essential oil was higher, from 92.47–100 %. The results showed the acaricidal effects of the formulations tested when compared to commercial chemical products. In vivo studies should be performed in order to assess the efficiency of those formulations in the fields, aiming to use these products as an alternative for controlling cattle ticks.
Access options
Buy single article
Instant access to the full article PDF.
US$ 39.95
Tax calculation will be finalised during checkout.
Subscribe to journal
Immediate online access to all issues from 2019. Subscription will auto renew annually.
US$ 119
Tax calculation will be finalised during checkout.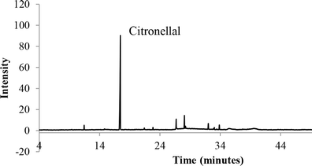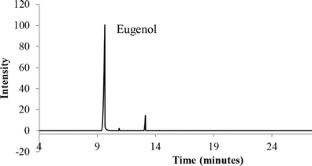 References
Affonso RS, Rennó MN, Slana GBCA, França TCC (2012) Aspectos Químicos e Biológicos do Óleo Essencial de Cravo da Índia. Rev Virtual Quim 4(2):146–161

Agnolin CA, Olivo CJ, Leal MLR, Beck RCR, Meinerz GR, Parra CLC, Machado PR, Foletto V, Bem CM, Nicolodi PRSJ (2010) Eficácia do óleo de citronela [Cymbopogon nardus (L.) Rendle] no controle de ectoparasitas de bovinos. Rev Bras Plantas Med 12(4):482–487. doi:10.1590/s1516-05722010000400012

Álvarez V, Loiaza J, Bonilla R, Barrios M (2008) Control in vitro de garrapatas (Boophilus microplus; Acari: Ixodidae) mediante extractos vegetales. Rev Biol Trop 56(1):291–302

Alves WV, Lorenzetti ER, Gonçalves FC (2012) Utilização de acaricidas a base de plantas no controle de Rhipicephalus (Boophilus) microplus: uma contribuição para a produção e desenvolvimento sustentável. Rev Bras Agrop Sustent 2(2):14–25

Ansel HC, Popovich NG, Allen LV Jr (2000) Formas farmacêuticas e sistemas de liberação de fármacos Premier, São Paulo

Brasil (1997) Portaria 48. de 12 de maio de 1997. MAPA, Brasília http://sistemasweb.agricultura.gov.br/sislegis/action/detalhaAto.do?method=visualizarAtoPortalMapa&chave=72818869. Acessed 23 July 2014

Brasil (2004) Guia de Estabilidade de Produtos Cosméticos. ANVISA, Brasília http://www.anvisa.gov.br/divulga/public/series/cosmeticos.pdf. Acessed 20 March 2014

Brasil (2012) Produção da Pecuária Municipal. IBGE, Rio de Janeiro ftp://ftp.ibge.gov.br/Producao_Pecuaria/Producao_da_Pecuaria_Municipal/2012/ppm2012.pdf. Acessed 01 August 2014

Cassel E, Vargas RMF (2006) Experiments and modeling of the Cymbopogon winterianus essential oil extraction by steam distillation. J Mex Chem Soc 50(3):126–129

Chagas ACS (2004) Controle de parasitas utilizando extratos vegetais. Rev Bras Parasitol Vet 13:156–160

Chagas ACS, Passos WM, Prates HT, Leite RC, Furlong J, Fortes ICP (2002) Efeito acaricida de óleos essenciais e concentrados emulsionáveis de Eucalyptus spp em Boophilus microplus. Braz J Vet Res Anim Sci 39(5):247–253. doi:10.1590/S1413-95962002000500006

Chagas ACS, Barros LD, Cotinguiba F, Furlan M, Giglioti R, Oliveira MCS, Bizzo HR (2012) In vitro efficacy of plant extracts and synthesized substances on Rhipicephalus (Boophilus) microplus (Acari: Ixodidae). Parasitol Res 110:295–303. doi:10.1007/s00436-011-2488-z

Chungsamarnyart N, Jiwajinda S, Rattanakreetakul C, Jansawan W (1991) Practical extraction of sugar apple seeds against tropical cattle ticks. Kasetsart J Nat Sci Suppl 25:101–105

Drummond RO, Ernst SE, Trevino JL, Gladney WJ, Graham OH (1973) Boophilus annulatus and B. microplus: laboratory tests of insecticides. Agric Res Serv 66(1):130–133

Graf JF, Gogolewski R, Leach-Bing N, Sabatini GA, Molento MB, Bordin EL, Arantes GJ (2004) Tick control: an industry point of view. Parasitology 129:427–442. doi:10.1017/s0031182004006079

Grisi L, Leite RC, Martins JRS, Barros ATM, Barros ATM, Andreotti R, Cançado PHD, León AAP, Pereira JB, Villela HS (2014) Reassessment of the potential economic impact of cattle parasites in Brazil. Braz J Vet Parasitology 23(2):150–156. doi:10.1590/s1984-29612014042

Martinez-Velazquez M, Rosario-Cruz R, Castillo-Herrera G, Flores-Fernandez JM, Alvarez AH, Lugo-Cervantes E (2011) Acaricidal effect of essential oils from Lippia graveolens (Lamiales: Verbenaceae), Rosmarinus officinalis (Lamiales: Lamiaceae), and Allium sativum (Liliales: Liliaceae) against Rhipicephalus (Boophilus) microplus (Acari: Ixodidae). J Med Entomol 48(4):822–827

Martins RM (2006) Estudio in vitro de la acción acaricida del aceite esencial de la gramínea Citronela de Java (Cymbopogon winterianus Jowitt) en la garrapata Boophilus microplus. Rev Bras Pl Med 8(2):71–78

Martins RM, González FHD (2007) Uso del aceite de citronela de Java (Cymbopogon winterianus Jowitt) (Panicoidideae) como acaricida frente a la garrapata Boophilus microplus Canestrini (Acari:Ixodidae). Rev Bras Pl Med 9(4):1–8

Massard CL, Fonseca AH (2004) Carrapatos e doenças transmitidas, comuns ao homem e aos animais. A Hora Veterinária 135:15–23

Mazzafera P (2003) Efeito alelopático do extrato alcoólico do cravo-da-índia e eugenol. Rev Bras Bot 26(2):231–238. doi:10.1590/s0100-84042003000200011

Monteiro CM, Maturano R, Daemon E, Catunda-Jr FEA, Calmon F, Senra TS, Faza A, Carvalho MG (2012) Acaricidal activity of eugenol on Rhipicephalus microplus (Acari: Ixodidae) and Dermacentor nitens (Acari: Ixodidae) larvae. Parasitol Res 111:1295–1300. doi:10.1007/s00436-012-2964-0

Nerio LS, Oliveiro-Verbel J, Stashenko E (2010) Repellent activity of essential oils: a review. Bioresour Technol 101:372–378. doi:10.1016/j.biortech.2009.07.048

Oliveira RA, Reis TV, Sacramento CK, Duarte LP, Oliveira FFO (2009) Constituintes químicos voláteis de especiarias ricas em eugenol. Rev Bras Farmacogn 19(3):771–775. doi:10.1590/S0102-695X2009000500020

Olivo CJ, Carvalho NM, Silva JHS, Vogel FF, Massariol P, Meinerz G, Agnolin CA, Morel AF, Viau LV (2008) Óleo de citronela no controle do carrapato de bovinos. Ciênc Rural 38(2):406–410. doi:10.1590/S0103-84782008000200018

Raynal JT, Silva AAB, Souza TJ, Bahiense TC, Meyer R, Portela RW (2013) Acaricides efficiency on Rhipicephalus (Boophilus) microplus from Bahia state North-Central region. Rev Bras Parasitol Vet 22(1):71–77. doi:10.1590/S1984-29612013005000006

Rodríguez–Rojo S, Varona S, Núñez M, Cocero MJ (2012) Characterization of rosemary essential oil for biodegradable emulsions. Ind Crop Prod 37:137–140. doi:10.1016/j.indcrop.2011.11.026

Santos AV, Oliveira RA, Albuquerque GR (2012a) Efeito in vitro do extrato de Nim (Azadirachta indica) e oleo essencial de cravo (Syzygium aromaticum) sobre Rhipicephalus (Boophilus) microplus. Rev Bras Med Vet 34(2):111–115

Santos FCC, Vogel FSF, Monteiro SG (2012b) Efeito de diferentes concentrações de óleo e tintura de citronela sobre os parâmetros reprodutivos de teleóginas de Rhipicephalus (Boophilus) microplus. Semin-Ciênc Agrar 33(3):1141–1148

Wany A, Jha S, Nigam VK, Pandey DM (2013) Chemical analysis and therapeutic uses of citronella oil from Cymbopogon winterianus: a short review. Int J Adv Res 1(6):504–521

Zeringóta V, Senra TOS, Calmon F, Maturano R, Faza AP, Catunda-Junior FEA, Monteiro CMO, Carvalho MG, Daemon E (2013) Repellent activity of eugenol on larvae of Rhipicephalus microplus and Dermacentor nitens (Acari: Ixodidae). Parasitol Res. doi:10.1007/s00436-013-3434-z
Acknowledgments
The authors are grateful to Coordenação de Aperfeiçoamento de Pessoal de Nível Superior (CAPES, Brazil) for the financial support provided by the scholarship.
Conflict of interest
The authors declare no conflicts of interest.
About this article
Cite this article
de Mello, V., Prata, M.C.d.A., da Silva, M.R. et al. Acaricidal properties of the formulations based on essential oils from Cymbopogon winterianus and Syzygium aromaticum plants. Parasitol Res 113, 4431–4437 (2014). https://doi.org/10.1007/s00436-014-4121-4
Received:

Accepted:

Published:

Issue Date:
Keywords
Citronella oil

Clove oil

Acaricidal formulations

Cattle tick

Environmental impact