Abstract
Despite the increasing incidence in food-borne Echinostoma hortense infection, the underlying immune mechanism along with the clinical manifestations and the expulsion of the worms from the mucosal surfaces are not well understood. To clarify the differences in the immune mechanisms induced by E. hortense in the host, we examined the interleukin (IL)-4, IL-5, IL-12, and interferon-γ profiles and the kinetics in two genetically different mouse strains, BALB/c and C3H/HeN mice, in vivo as well as in vitro. Both the crude extract and the excretory–secretory protein prepared from E. hortense increased the mRNA and protein expressions of IL-4 and IL-5 in the splenocytes isolated from both strains of infected mice. The E. hortense recovery rate of the C3H/HeN mice was much higher than that of the BALB/c mice. When analyzing the sera from the infected BALB/c and C3H/HeN mice, the IL-5 and immunoglobulin (Ig)G1 levels in the infected BALB/c mice were significantly higher than those from the C3H/HeN mice (p < 0.05). Taken together, these results show that the BLAB/c mice with E. hortense infection are more resistant than are the C3H/HeN mice due to the significantly higher induction of protective Th2 immunity.
Access options
Buy single article
Instant access to the full article PDF.
USD 39.95
Price includes VAT (USA)
Tax calculation will be finalised during checkout.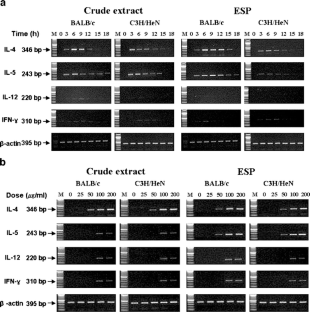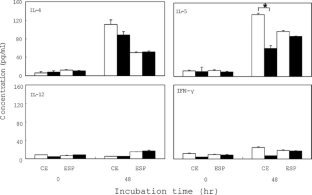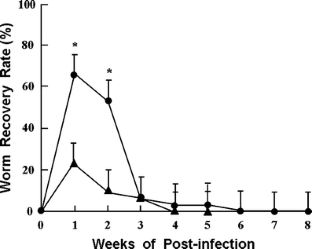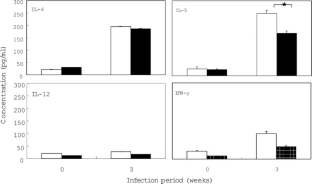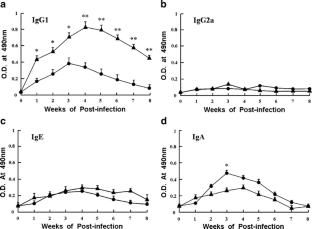 References
Beagley KW, Eldridge JH, Kiyono H, Everson MP, Koopman WJ, Honjo T, McGhee JR (1988) Recombinant murine IL-5 induces high rate IgA synthesis in cycling IgA-positive Peyer's patch B cells. J Immunol 141:2035–2042

Bradford MM (1976) A rapid and sensitive method for the quantitation of microgram quantities of protein utilizing the principle of protein-dye binding. Anal Biochem 72:248–254

Bruschi F, Pozio E, Watanabe N, Gomez-Morales MA, Ito M, Huang Y, Binaghi R (1999) Anaphylactic response to parasite antigens: IgE and IgG1 independently induce death in Trichinella-infected mice. Int Arch Allergy Immunol 119:291–296

Cetre C, Cocude C, Pierrot C, Godin C, Capron A, Capron M, Khalife J (1998) In vivo expression of cytokine mRNA in rats infected with Schistosoma mansoni. Parasite Immunol 20:135–142

Chai JY, Lee SH (2002) Food-borne intestinal trematode infections in the Republic of Korea. Parasitol Int 51:129–154

Conchedda M, Bortoletti G, Gabriele F, Wakelin D, Palmas C (1997) Immune response to the cestode Hymenolepis nana: cytokine production during infection with eggs or cysts. Int J Parasitol 27:321–327

Corry DB, Reiner SL, Linsley PS, Locksley RM (1994) Differential effects of blockade of CD28-B7 on the development of Th1 or Th2 effector cells in experimental leishmaniasis. J Immunol 153:4142–4148

Dijkema R, Van der Meide PH, Bubbeld M, Casper M, Wubben J, Scheelekens H (1986) Cloning, expression and purification of rat IFN-γ. Methods Enzymol 119:453–457

Doligalska M, Laskowska M (2000) Inhibition of the protective IgA response by ketotifen is related to the inflammatory reaction in the peritoneal cavity and intestinal mucosa of BALB/c mice infected with Trichinella spiralis. Parasitol Res 86:480–485

Else KJ, Finkelman FD, Maliszewski CR, Grencis RK (1994) Cytokine-mediated regulation of chronic intestinal helminth infection. J Exp Med 179:347–351

Falcone FH, Loukas A, Quinnell RJ, Pritchard DI (2004) The innate allergenicity of helminth parasites. Clin Rev Allergy Immunol 26:61–72

Finkelman FD, Katona IM, Urban JF Jr, Snapper CM, Ohara J, Paul WE (1986) Suppression of in vivo polyclonal IgE responses by monoclonal antibody to the lymphokine B cell stimulatory factor 1. Proc Natl Acad Sci USA 83:9675–9678

Fujisawa T, Abu-Ghazaleh R, Kita H, Sanderson CJ, Gleich GJ (1990) Regulatory effect of cytokines on eosinophil degranulation. J Immunol 144:642–646

Hamamoto T, Kawasaki H, Maejima J, Hirai K (1997) A case of Echinostoma hortense infection diagnosed by the upper gastrointestinal endoscopy. Nippon Shokakibyo Gakkai Zasshi 94:487–491

Hoffmann WH, Pfaff AW, Schulz-Key H, Soboslay PT (2001) Determinants for resistance and susceptibility to microfilaraemia in Litomosoides sigmodontis filariasis. Parasitology 122:641–649

Huffman JE, Michos C, Fried B (1986) Clinical and pathological effects of Echinostoma revolutum (Digenea: Echinostomatidae) in the golden hamster, Mesocricetus auratus. Parasitology 93:505–515

Johnston CE, Bradley JE, Behnke JM, Matthews KR, Else KJ (2005) Isolates of Trichuris muris elicit different adaptive immune responses in their murine host. Parasite Immunol 27:69–78

Kim I, Im JA, Lee KJ, Ryang YS (2000) Mucosal mast cell responses in the small intestine of rats infected with Echinostoma hortense. Korean J Parasitol 38:139–143

Koyama K, Ito Y (1996) Comparative studies on immune responses to infection in susceptible B10.BR mice infected with different strains of the murine nematode parasite Trichuris muris. Parasite Immunol 18:257–263

Lammas DA, Wakelin D, Mitchell LA, Tuohy M, Else KJ, Grencis RK (1992) Genetic influences upon eosinophilia and resistance in mice infected with Trichinella spiralis. Parasitology 105:117–124

Lee SH, Hwang SW, Sohn WM, Kho WG, Hong ST, Chai JY (1991) Experimental life history of Echinostoma hortense. Korean J Parasitol 29:161–172

Lee KJ, Park SK, Im JA, Kim SK, Kim GH, Kim GY, Yang EJ, Ryang YS (2004) Susceptibility of several strains of mice to Echinostoma hortense infection. Korean J Parasitol 42:51–56

Mosmann TR, Sad S (1996) The expanding universe of T cell subsets: Th1, Th2 and more. Immunol Today 17:138–146

Mosmann TR, Cherwinski H, Bond MW, Giedlin MA, Coffman RL (1986) Two types of murine helper T cell clone. I. Definition according to profiles of lymphokine activities and secreted proteins. J Immunol 136:2348–2357

Mountford AP, Anderson S, Wilson RA (1996) Induction of Th1 cell-mediated protective immunity to Schistosoma mansoni by co-administration of larval antigens and IL-12 as an adjuvant. J Immunol 156:4739–4745

Pond L, Wassom DL, Hayes CE (1992) Influence of resistant and susceptible genotype, IL-1, and lymphoid organ on Trichinella spiralis-induced cytokine secretion. J Immunol 149:957–965

Rim HJ, Kim KH, Joo KH, Kim SJ, Eom KS, Chung MS (1996) The infestation states and changing patterns of human infecting metacercariae in freshwater fish in Kyongsang-do and Kyonggi-do, Korea. Korean J Parasitol 34:95–105

Rodriguez-Sosa M, Saavedra R, Tenorio EP, Rosas LE, Satoskar AR, Terrazas LI (2004) A STAT4-dependent Th1 response is required for resistance to the helminth parasite Taenia crassiceps. Infect Immun 72:4552–4560

Ryang YS, Im JA, Kim I, Kim KH (2003) Mucosal mast cell responses in the small intestine of C3H/HeN and Blab/c mice infected with Echinostoma hortense. J Exp Lab Sci 9:145–150

Scales HE, Ierna MX, Gutierrez-Ramos JC, Coyle AJ, Garside P, Lawrence CE (2004) Effect of inducible costimulator blockade on the pathological and protective immune responses induced by the gastrointestinal helminth Trichinella spiralis. Eur J Immunol 34:2854–2862

Seder RA, Gazzinelli R, Sher A, Paul WE (1993) Interleukin 12 acts directly on CD4+ T cells to enhance priming for interferon gamma production and diminishes interleukin 4 inhibition of such priming. Proc Natl Acad Sci USA 90:10188–10192

Seo BS, Chun KS, Chai JY, Hong SJ, Lee SH (1985) Studies on intestinal trematodes in Korea: XVII Development of egg lying capacity of Echinostoma hortense in albino rats and human experimental infection. Korean J Parasitol 23:24–32

Snapper CM, Finkelman FD, Paul WE (1988) Differential regulation of IgG1 and IgE synthesis by interleukin 4. J Exp Med 167:183–196

Sugaya H, Graeff-Teixeira C, Ishida K, Matsuda S, Katahira K, Yoshimura K (2002) Interleukin-5 transgenic mice show augmented resistance to Angiostrongylus costaricensis infection. Parasitol Res 88:350–355

Urban JF Jr, Katona IM, Paul WE, Finkelman FD (1991) Interleukin 4 is important in protective immunity to a gastrointestinal nematode infection in mice. Proc Natl Acad Sci USA 88:5513–5517

Urban JF Jr, Madden KB, Svetic A, Cheever A, Trotta PP, Gause WC, Katona IM, Finkelman FD (1992) The importance of Th2 cytokines in protective immunity to nematodes. Immunol Rev 127:205–220

Urban JF Jr, Noben-Trauth N, Donaldson DD, Madden KB, Morris SC, Collins M, Finkelman FD (1998) IL-13, IL-4Ralpha, and Stat6 are required for the expulsion of the gastrointestinal nematode parasite Nippostrongylus brasiliensis. Immunity 8:255–264

Wang Y, Li SP, Moser SA, Bost KL, Domer JE (1998) Cytokine involvement in immunomodulatory activity affected by Candida albicans mannan. Infect Immun 66:1384–1391

Xu YH, Macedonia J, Sher A, Pearce E, Cheever AW (1991) Dynamic analysis of splenic Th1 and Th2 lymphocyte functions in mice infected with Schistosoma japonicum. Infect Immun 59:2934–2940
About this article
Cite this article
Cho, Y.K., Ryang, Y.S., Kim, I.S. et al. Differential immune profiles following experimental Echinostoma hortense infection in BALB/c and C3H/HeN mice. Parasitol Res 100, 1053–1061 (2007). https://doi.org/10.1007/s00436-006-0419-1
Received:

Accepted:

Published:

Issue Date:
Keywords
Crude Extract

Mouse Strain

Adult Worm

Mastocytosis

Coating Buffer