Abstract
Ontogenetic shifts in the snake heart topography are mostly associated with their life habits and physiological adaptations due to modifications of complex functional-adaptative and developmental constraints. However, such studies are incipient for scolecophidians, and the presence of shifts putatively related to physiological mechanisms are still unexplored for this group. We aimed to evaluate the presence of topological shifts in heart position and the allometry of heart/chambers total length in Amerotyphlops brongersmianus. Our results indicate that there is a craniad ontogenetic shift of the heart position related to total length increase. Heart total length and their chambers also grow isometrically in relation to head and total body length. We discuss the possible functional and evolutionary perspectives of our results with comparison to data available for alethinophidan snakes. We hypothesize the anterior displacement of organs possibly remains as an ancestral state to compensate reproductive constraints imposed by the ancestral scolecoid miniaturized body.
This is a preview of subscription content, log in to check access.
Access options
Buy single article
Instant access to the full article PDF.
US$ 39.95
Price includes VAT for USA
Subscribe to journal
Immediate online access to all issues from 2019. Subscription will auto renew annually.
US$ 199
This is the net price. Taxes to be calculated in checkout.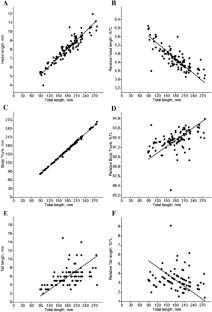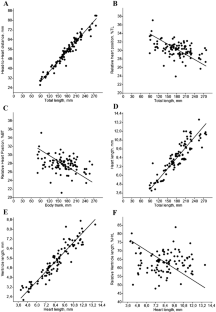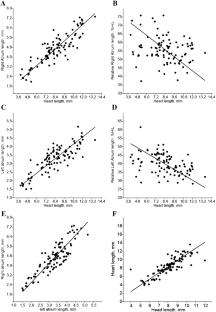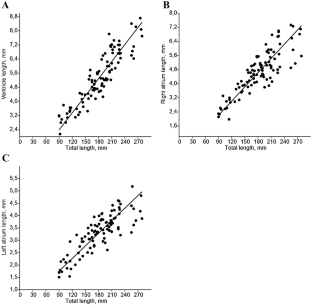 Availability of data and material (data transparency)
All specimens analyzed herein are housed at the Reptile Collection at the MNRJ/UFRJ.
References
Adalsteinsson SA, Branch WR, Trape S, Vitt LJ, Hedges SB (2009) Molecular phylogeny, classification, and biogeography of snakes of the family Leptotyphlopidae (Reptilia, Squamata). Zootaxa 2244:1–50

Anderson GE, Secor SM (2015) Ontogenetic shifts and spatial associations in organ positions for snakes. J Zool 118:403–412

Anderson GE, Secor SM (2016) Differential growth of body segments explains ontogenetic shifts in organ position for Diamondback Water Snake (Nerodia rhombifera). Can J Zool 94:651–660

Collins RF, Carpenter CC (1969) Organ position–ventral scute relationship in thewater moccasin (Agkistrodon piscivorus leucostoma), with notes on food habitsand distribution. Proc Okla Acad Sci 49:15–18

Cooper C, Muhtaseb S, Alvo A et al (2018) Allometric and biphasic allometric growth of major organs in hatchling female alligators (Alligator mississippiensis). FASEB J 32:1–12

Das I, Wallach V (1998) Scolecophidian arboreality revisited. Herpetol Rev 29:15

Gartner GEA, Hicks JW, Manzani PR, Andrade DV, Abe AS, Wang T, Seco SM, Garland T Jr (2010) Phylogeny, ecology, and heart position in snakes. Phys Bioch Zool 83:43–54

Greene H (1997) Snakes: the evolution of mystery in nature. University of California, Berkeley

Heallen TR, Kadow ZA, Wang J, Martins JF (2020) Determinants of cardiac growth and size. Cold Spring Harb Perspect Biol. https://doi.org/10.1101/cshperspect.a037150

Hedges SB, Marion AB, Lipp KM, Marin J, Vidal N (2014) A taxonomic framework for typhlopid snakes from the Caribbean and other regions (Reptilia, Squamata). Carob Herp 49:1–61

Kley NJ (2006) Morphology of the lower jaw and suspensorium in the Texas blindsnake, Leptotyphlops dulcis (Scolecophidia: Leptotyphlopidae). J Morphol 267:494–515

Lillywhite HB (1996) Gravity, blood circulation, and the adaptation of form and function in lower vertebrates. J Exp Zool 275:217–225

Lillywhite HB, Lillywhite SM (2017) Ontogenetic shifts of heart position in snakes. J Morphol 278:1105–1113

Lillywhite HB, Smits AW (1992) Cardiovascular adaptations of viperid snakes. In: Campbell JA, Brodie ED Jr (eds) Biology of pitvipers. Tyler Texas, Selva, pp 143–153

Lillywhite HB, Albert JS, Sheehy CM, Seymour RS (2012) Gravity and the evolution of cardiopulmonary morphology in snakes. Comp Bioch Physiol 161:230–242

Martins AR (2016) Morfologia interna comparada de representantes da subfamília Epictinae (Serpentes, Scolecophidia, Leptotyphlopidae). Ph.D. Thesis, Museu Nacional do Rio de Janeiro

Miralles A, Marin J, Markus D, Herrel A, Hedges SB, Vidal N (2018) Molecular evidence for the parapyly of Scolecophidia and its evolutionary implications. J Evol Biol 31:1782–1793

Pyron RA, Wallach V (2014) Systematics of the blindsnakes (Serpentes: Scolecophidia: Typhlopoidea) based on molecular and morphological evidence. Zootaxa 3829:001–081

Seymour RS (1987) Scaling of cardiovascular physiology in snakes. Am Zool 27:97–109

Seymour RS, Arndt JO (2004) Independent effects of heart-head distance and caudal blood pooling on blood pressure regulation in aquatic and terrestrial snakes. J Exp Biol 207:1305–1311

Thigpen C, Best L, Camarata T (2020) Comparative morphology and allometry of select extant cryptodiran turtle kidneys. Zoomorphol 139:111–121

Uetz P, Freed P, Hošek J (2019) The reptile database. http://www.reptile-database.org. Accessed 1 Apr 2020

Vidal N, Marin J, Morini M, Donnellan S, Branch WR, Thomas R et al (2010) Blindsnake evolutionary tree reveals long history on Gondwana. Biol Lett 2010:1–4

Vitt L, Caldwell M (2014) Herpetology: an introductory biology of amphibians and reptiles, 4th edn. Elsevier, San Diego, USA

Wallach V (1991) Comparative visceral topography of African colubrid snakes of the subfamilies Aparallactinae and Atractaspidinae, vol. I–II. Masters Thesis. Louisiana State University, Baton Rouge

Wallach V (1998a) The lungs of snakes. In: Gans C, Gaunt AS (eds) Biology of the reptilia: visceral organs (vol. 19, morphology C). Society for the Study of Amphibians and Reptiles, Ithaca, pp 93–295

Wallach V (1998b) The visceral anatomy of blindsnakes and wormsnakes and its systematic implications (Serpentes: Anomalepididae, Typhlopidae, Leptotyphlopidae). Ph.D. Thesis. Northeastern University, Boston

Wallach V (2016) Morphological review and taxonomic status of the Epictia phenops species group of Mesoamerica, with description of six new species and discussion of South American Epictia albifrons, E. goudotii, and E. tenella (Serpentes: Leptotuphlopidae: Epictinae). Mesoam Herpetol 3:215–374

Wong K (1994) Visceral topography of the three genera of blind snakes of the family Typhlopidae (Reptilia, Serpentes). Masters Thesis. Northeastern University, Boston

Zar JH (2013) Biostatistical analysis. Pearson New International Edition, London
Acknowledgements
All analyzed specimens are part of the monitoring project of the program Pesquisas Ecológicas de Longa Duração (PELD): Mudanças Climáticas Globais e o Funcionamento dos Ecossistemas Costeiros da Bacia de Campos: uma perspectiva espaço–temporal (Long Term Ecological Research program: Global Climate Changes and the Functioning of Coastal Ecosystems in the Bacia de Campos: A space–time perspective), initiated in August 2013 and subsidized by the Conselho Nacional de Desenvolvimento Científico e Tecnológico (CNPq). The specimens were collected under permit #38378–11, granted by the Instituto Chico Mendes de Conservação da Biodiversidade (ICMBio). We thank P. Passos, M. Woitovicz-Cardoso and P. Pinna for allowing the use of specimens under their care. Furthermore, we are grateful to D.S. Fernandes, M.W. Cardoso, P. Pinna and all the herpetological team of the Jurubatiba PELD project, for collecting the specimens. Angele Martins was supported by Fundação Carlos Chagas Filho de Amparo à Pesquisa no Estado do Rio de Janeiro (FAPERJ, E-26/202.403/2017). We thank D. Faustino for support with figures, and A. Simmons for English revision. We are very grateful to V. Wallach for the suggestions, improvements and provision of his unpublished data to the manuscript.
Funding
Angele Martins was supported by Fundação Carlos Chagas Filho de Amparo à Pesquisa no Estado do Rio de Janeiro (#E-26/202.403/2017). Laryssa Silva was supported by the Conselho Nacional de Desenvolvimento Científico e Tecnoló¬gico (AT-NM: 371064/2018-0).
Ethics declarations
Conflict of interest
The authors declare that there are no conflicts of interest o competing interests.
Ethics approval
This study did not demand any ethics approval.
Consent to participate
This study did not demand any consent to participate.
Consent for publication
All authors agreed with the content, and to submit this manuscript. We reinforced that we obtained consent from the responsible authorities at the institution where the work has been carried out.
Additional information
Publisher's Note
Springer Nature remains neutral with regard to jurisdictional claims in published maps and institutional affiliations.
About this article
Cite this article
Martins, A., Silva, L. & Gonzalez, R.C. Amerotyphlops brongersmianus (Vanzolini, 1976) (Typhlopidae, Serpentes) as a model for scolecophidian ontogenetic shifts of heart topography and relative size. Zoomorphology (2020). https://doi.org/10.1007/s00435-020-00492-3
Received:

Revised:

Accepted:

Published:
Keywords
Heart position

Ontogeny

Scolecophidia

Visceral topography

Organ topography