Abstract
Purpose
Protective loop ileostomy is an effective diversion measure often used to reduce the risk of anastomotic leakage. The purpose of the present study was to evaluate the surgical outcomes of the one-stitch method (OM) of protective loop ileostomy in laparoscopic low anterior resection for BMI obesity patients with rectal cancer compared with the traditional method (TM).
Methods
The patients diagnosed as rectal adenocarcinoma cases by preoperative pathology were included in this retrospective study. The subjects underwent protective loop ileostomy in laparoscopic low anterior resection from January 2016 to June 2019 in the Shandong Provincial Hospital affiliated to Shandong University. The data of loop ileostomy and stoma closure operation were retrieved from the medical cases system of the hospital.
Results
242 patients were included in the present study. In the BMI obese cohort, the OM group showed a shorter operative time both in the loop ileostomy (232.5 vs. 250.0 min, p = 0.04) and stoma closure operation (102.5 vs. 115.0 min, p = 0.001) and a lower peristomal adhesion extent (p = 0.02) and a shorter median postoperative stay (6 vs. 7 days, p = 0.03) during stoma closure operation than that of the TM group. In the TM group, obese cases showed a higher operative time of stoma closure operation (115.0 vs. 95.0, p < 0.001), a higher parastomal hernia rate (p = 0.04), a higher peristomal adhesion extent (p = 0.005) and a longer postoperative stay of stoma closure operation (p = 0.02) compared with the non-obese cases, while in the OM group, no significant differences were observed between the obese and non-obese cases in terms of the above-mentioned factors.
Conclusions
The OM exhibited more advantages than TM, notably in BMI obesity patients.
Access options
Buy single article
Instant access to the full article PDF.
US$ 39.95
Tax calculation will be finalised during checkout.
Subscribe to journal
Immediate online access to all issues from 2019. Subscription will auto renew annually.
US$ 119
Tax calculation will be finalised during checkout.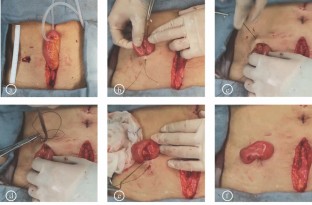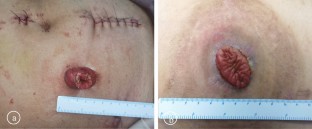 References
Amri R, Bordeianou LG, Sylla P et al (2014) Obesity, outcomes and quality of care: body mass index increases the risk of wound-related complications in colon cancer surgery. Am J Surg 207(1):17–23

Anuurad E, Shiwaku K, Nogi A et al (2003) The new BMI criteria for Asians by the regional office for the western pacific region of WHO are suitable for screening of overweight to prevent metabolic syndrome in elder Japanese workers. J Occup Health 45(6):335–343

Arjmand MH (2020) The association between visceral adiposity with systemic inflammation, oxidative stress, and risk of post-surgical adhesion. Arch Physiol Biochem 1–6

Bell S, Kong JC, Wale R et al (2018) The effect of increasing body mass index on laparoscopic surgery for colon and rectal cancer. Colorectal Dis 20(9):778–788

Chun LJ, Haigh PI, Tam MS et al (2012) Defunctioning loop ileostomy for pelvic anastomoses: predictors of morbidity and nonclosure. Dis Colon Rectum 55(2):167–174

Davis CH, Gaglani T, Moore LW et al (2019) Trends and outcomes in laparoscopic versus open surgery for rectal cancer from 2005 to 2016 using the ACS-NSQIP database, a retrospective cohort study. Int J Surg 63:71–76

Eto K, Urashima M, Kosuge M et al (2018) Standardization of surgical procedures to reduce risk of anastomotic leakage, reoperation, and surgical site infection in colorectal cancer surgery: a retrospective cohort study of 1189 patients. Int J Colorectal Dis 33(6):755–762

Fleshman J, Branda ME, Sargent DJ et al (2019) Disease-free survival and local recurrence for laparoscopic resection compared with open resection of stage II to III rectal cancer: follow-up results of the ACOSOG Z6051 Randomized Controlled Trial. Ann Surg 269(4):589–595

Geng HZ, Nasier D, Liu B et al (2015) Meta-analysis of elective surgical complications related to defunctioning loop ileostomy compared with loop colostomy after low anterior resection for rectal carcinoma. Ann R Coll Surg Engl 97(7):494–501

Hesselman S, Högberg U, Råssjö EB et al (2018) Abdominal adhesions in gynaecologic surgery after caesarean section: a longitudinal population-based register study. BJOG 125(5):597–603

Hida K, Okamura R, Sakai Y, Japan Society of Laparoscopic Colorectal Surgery et al (2018) Open versus laparoscopic surgery for advanced low rectal cancer: a large, multicenter, propensity score matched cohort study in Japan. Ann Surg 268(2):318–324

Hsu CW, Chang MC, Wang JH et al (2019) Placement of SurgiWrap® adhesion barrier film around the protective loop stoma after laparoscopic colorectal cancer surgery may reduce the peristomal adhesion severity and facilitate the closure. Int J Colorectal Dis 34(3):513–518

Jeschke E, Citak M, Günster C et al (2018) Obesity increases the risk of postoperative complications and revision rates following primary total hip arthroplasty: an analysis of 131,576 total hip arthroplasty cases. J Arthroplasty 33(7):2287–2292

Jung SH, Kim JH (2012) Peritoneofascial suture method for facilitating loop ileostomy mobilization. World J Surg 36(9):2210–2215

Lee S, Ahn B, Lee S (2017) The relationship between the number of intersections of staple lines and anastomotic leakage after the use of a double stapling technique in laparoscopic colorectal surgery. Surg Laparosc Endosc Percutan Tech 27(4):273–281

Maroney S, de Paz CC, Duldulao M et al (2016) Complications of diverting ileostomy after low anterior resection for rectal carcinoma. Am Surg 82(10):1033–1037

Monzón-Abad A, Gracia-Roche C, Martínez-Germán A et al (2014) A preliminary study of transcaecal ileostomy as an alternative to defunctioning ostomies. Colorectal Dis 16(2):130–133

Nakamura T, Sato T, Naito M et al (2017) Risk factors for complications after diverting ileostomy closure in patients who have undergone rectal cancer surgery. Surg Today 47(10):1238–1242

Ntourakis D, Katsimpoulas M, Tanoglidi A et al (2016) Adhesions and healing of intestinal anastomoses: the effect of anti-adhesion barriers. Surg Innov 23(3):266–276

Olsen BC, Sakkestad ST, Pfeffer F et al (2019) Rate of anastomotic leakage after rectal anastomosis depends on the definition: pelvic abscesses are significant. Scand J Surg 108(3):241–249

Pilpel Y, Pines G, Birkenfeld A et al (2019) Metabolic syndrome is a risk factor for post-operative adhesions: need for novel treatment strategies. Horm Metab Res 51(1):35–41

Pisarska M, Gajewska N, Małczak P et al (2018) Defunctioning ileostomy reduces leakage rate in rectal cancer surgery-systematic review and meta-analysis. Oncotarget 9(29):20816–20825

Remzi FH, Fazio VW, Gorgun E et al (2006) The outcome after restorative proctocolectomy with or without defunctioning ileostomy. Dis Colon Rectum 49(4):470–477

Saban A, Shoham-Vardi I, Yohay D et al (2019) Peritoneal adhesions are an independent risk factor for peri- and post-partum infectious morbidity. Eur J Obstet Gynecol Reprod Biol 241:60–65

Seshadri RA, Swaminathan R, Srinivasan A (2018) Laparoscopic versus open surgery for rectal cancer after neoadjuvant chemoradiation: long-term outcomes of a propensity score matched study. J Surg Oncol 117(3):506–513

Sharma A, Deeb AP, Rickles AS et al (2013) Closure of defunctioning loop ileostomy is associated with considerable morbidity. Colorectal Dis 15(4):458–462

Sparreboom CL, van Groningen JT, Lingsma HF, Dutch ColoRectal Audit group et al (2018) Different risk factors for early and late colorectal anastomotic leakage in a nationwide audit. Dis Colon Rectum 61(11):1258–1266

Tanaka K, Okuda J, Yamamoto S et al (2017) Risk factors for anastomotic leakage after laparoscopic surgery with the double stapling technique for stage 0/I rectal carcinoma: a subgroup analysis of a multicenter, single-arm phase II trial. Surg Today 47(10):1215–1222

Tang CL, Seow-Choen F, Fook-Chong S et al (2003) Bioresorbable adhesion barrier facilitates early closure of the defunctioning ileostomy after rectal excision: a prospective, randomized trial. Dis Colon Rectum 46(9):1200–1207

Tjandra JJ, Chan MK (2008) A sprayable hydrogel adhesion barrier facilitates closure of defunctioning loop ileostomy: a randomized trial. Dis Colon Rectum 51(6):956–960

Velchuru VR, Domajnko B, deSouza A et al (2014) Obesity increases the risk of postoperative peripheral neuropathy after minimally invasive colon and rectal surgery. Dis Colon Rectum 57(2):187–193

Vergara-Fernández O, Trejo-Avila M, Salgado-Nesme N (2019) Multivariate analysis of risk factors for complications after loop ileostomy closure. Cir Cir 87(3):337–346

Wasserman JB, Copeland M, Upp M et al (2019) Effect of soft tissue mobilization techniques on adhesion-related pain and function in the abdomen: a systematic review. J Bodyw Mov Ther 23(2):262–269

Wen CP, David Cheng TY, Tsai SP et al (2009) Are Asians at greater mortality risks for being overweight than Caucasians? Redefining obesity for Asians. Public Health Nutr 12(4):497–506

Wu QB, Deng XB, Zhang XB et al (2018) Short-term and long-term outcomes of laparoscopic versus open surgery for low rectal cancer. J Laparoendosc Adv Surg Tech A 28(6):637–644

Yang CS, Choi GS, Park JS et al (2016) Rectal tube drainage reduces major anastomotic leakage after minimally invasive rectal cancer surgery. Colorectal Dis 18(12):445–452

Yap CH, Zimmet A, Mohajeri M et al (2007) Effect of obesity on early morbidity and mortality following cardiac surgery. Heart Lung Circ 16(1):31–36

Yun JA, Cho YB, Park YA et al (2017) Clinical manifestations and risk factors of anastomotic leakage after low anterior resection for rectal cancer. ANZ J Surg 87(11):908–914
Acknowledgements
We would like to thank all of the members of the Department of Gastrointestinal Surgery of Shandong Provincial Hospital Affiliated to Shandong First Medical University for thought-provoking discussion and collegial support in this study.
Funding
Financial support for this study was provided by the National Natural Science Foundation of China (Grant No. 81702363), Shandong Provincail  Natural Scienece Foundation (ZR2020MH209), and Shandong Key Research and Development Program (Grant 2019GSF108161).
Ethics declarations
Conflict of interest
The authors declare no conflict of interest.
Availability of data and material
The datasets used and/or analyzed during the current study are available from the corresponding author on reasonable request.
Ethics approval
The study is retrospective, according to Ethical Review of Human Biomedical Research (CN), the study was recorded by the Ethics Committee of the Shandong Provincial Hospital Affiliated to Shandong First Medical University, and all patients signed informed consent.
Consent to participate
All of the patients included in the present study signed informed consent and consented to participate in the study.
Consent for publication
All of the authors consented for publication of the paper.
Additional information
Publisher's Note
Springer Nature remains neutral with regard to jurisdictional claims in published maps and institutional affiliations.
The manuscript does not have been and won't be a podium or poster meeting presentation.
About this article
Cite this article
Pei, W., Cui, H., Liu, Z. et al. One-stitch method vs. traditional method of protective loop ileostomy for rectal cancer: the impact of BMI obesity. J Cancer Res Clin Oncol (2021). https://doi.org/10.1007/s00432-021-03556-z
Received:

Accepted:

Published:
Keywords
Rectal cancer

Laparoscopic low anterior resection

Protective loop ileostomy

One-stitch method

BMI obesity