Abstract
Background
Treatment regimens for patients with metastatic or recurrent post-radiation, locoregional, unresectable salivary cancer are limited. An inverse correlation between somatostatin receptor 2 (SSTR2) and the proliferating marker Ki-67 in neuroendocrine tumors has enabled a treatment plan for metastatic disease, utilizing peptide receptor radionuclide therapy. Interestingly, healthy salivary glands express high levels of SSTR2. In this study, the presence of SSTR2, its correlation with Ki-67 in glandular salivary carcinomas and the clinical applicability thereof was determined.
Methods
In the retrospective part of this study, 76 adequate tumor tissue specimens obtained from patients diagnosed with primary or metastatic salivary carcinomas between 1988 and 2016, were collected for tissue array and histologically classified. Immunohistochemistry was performed to determine the presence, relative expression and potential correlation of SSTR2 and Ki-67. The clinical significance of SSTR2 expression was determined by prospectively assessing 68Ga-DOTATATE uptake using PET-CT imaging, in patients diagnosed with metastatic salivary gland malignant tumors between 2015 and 2016.
Results
Sixty-three primary cancer tumors and 14 metastatic tumors were tested. All tumor subtypes were found to express SSTR2 to some extent. The highest expression was seen in Mucoepidermoid carcinoma (MEC) tissues where the majority of specimens (86.4%) expressed SSTR2. A relatively strong immunohistochemical staining score for SSTR2 was observed in MEC, adenoid cystic carcinoma and polymorphous adenocarcinoma. Interestingly, an inverse correlation between SSTR2 and Ki-67 expressions was observed (44%) in MEC tissue. Uptake of 68Ga-DOTATATE was visualized using PET-CT imaging in 40% of patients, across metastatic MEC and ACC. All observations were found to be statistically significant.
Conclusion
This study confirms the expression of SSTR2 in glandular salivary carcinomas and an inverse correlation in expression levels between SSTR2 and Ki-67. This lays a foundation for novel treatment options in salivary metastatic cancers where SSTR2 may be a potential novel therapeutic target.
Access options
Buy single article
Instant access to the full article PDF.
US$ 39.95
Tax calculation will be finalised during checkout.
Subscribe to journal
Immediate online access to all issues from 2019. Subscription will auto renew annually.
US$ 119
Tax calculation will be finalised during checkout.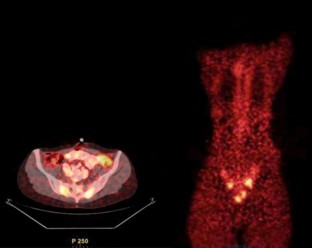 Availability of data and material
The data that support the findings of this study are available on request from the corresponding author. The data are not publicly available due to privacy or ethical restrictions.
References
Bodei L, Pepe G, Paganelli G (2010) Peptide receptor radionuclide therapy (PRRT) of neuroendocrine tumors with somatostatin analogues. Eur Rev Med Pharmacol Sci 14:347–351

Chang JW, Hong HJ, Ban MJ, Shin YS, Kim WS, Koh YW, Choi EC (2015) Prognostic factors and treatment outcomes of parotid gland cancer: a 10-year single-center experience. Otolaryngol Head Neck Surg 153:981–989

Chatura K (2015) Polymorphous low grade adenocarcinoma. J Oral Maxillofac Pathol 19:77

Deppen SA, Liu E, Blume JD, Clanton J, Shi C, Jones-Jackson LB, Lakhani V, Baum RP, Berlin J, Smith GT (2016) Safety and efficacy of 68Ga-DOTATATE PET/CT for diagnosis, staging, and treatment management of neuroendocrine tumors. J Nucl Med 57:708–714

El-Naggar AK, Chan JK, Grandis JR, Takata T, Slootweg PJ (2017) WHO classification of head and neck tumours. International Agency for Research on Cancer, France

Gaissert HA, Mark EJ (2006) Tracheobronchial gland tumors. Cancer Control 13:286–294

Gupta R, Balasubramanian D, Clark JR (2015) Salivary gland lesions: recent advances and evolving concepts. Oral Surg Oral Med Oral Pathol Oral Radiol 119:661–674

Guzzo M, Locati LD, Prott FJ, Gatta G, McGurk M, Licitra L (2010) Major and minor salivary gland tumors. Crit Rev Oncol Hematol 74:134–148

Ho K, Lin H, Ann DK, Chu PG, Yen Y (2011) An overview of the rare parotid gland cancer. Head Neck Oncol 3:40

Hofland L, Liu Q, van Koetsveld P, Zuijderwijk J, van der Ham F, de Krijger R, Schonbrunn A, Lamberts S (1999) Immunohistochemical detection of somatostatin receptor subtypes sst1 and sst2A in human somatostatin receptor positive tumors. J Clin Endocrinol Metab 84:775–780

Lagha A, Chraiet N, Ayadi M, Krimi S, Allani B, Rifi H, Raies H, Mezlini A (2012) Systemic therapy in the management of metastatic or advanced salivary gland cancers. Oral Oncol 48:948–957

Møller LN, Stidsen CE, Hartmann B, Holst JJ (2003) Somatostatin receptors. Biochim Biophy Acta (BBA) Biomembr 1616:1–84

Namboodiripad PA (2014) A review: immunological markers for malignant salivary gland tumors. J Oral Biol Craniofac Res 4:127–134

Reubi J, Laissue J, Krenning E, Lamberts S (1992) Somatostatin receptors in human cancer: incidence, characteristics, functional correlates and clinical implications. J Steroid Biochem Mol Biol 43:27–35

Shastry M, Kayani I, Wild D, Caplin M, Visvikis D, Gacinovic S, Reubi JC, Bomanji JB (2010) Distribution pattern of 68Ga-DOTATATE in disease-free patients. Nucl Med Commun 31:1025–1032

Spiro RH (1986) Salivary neoplasms: overview of a 35-year experience with 2,807 patients. Head Neck Surg 8:177–184

Spiro RH (1997) Distant metastasis in adenoid cystic carcinoma of salivary origin. Am J Surg 174:495–498

Stenner M, Molls C, Luers JC, Beutner D, Klussmann JP, Huettenbrink K-B (2012) Occurrence of lymph node metastasis in early-stage parotid gland cancer. Eur Arch Otorhinolaryngol 269:643–648

Taniyama Y, Suzuki T, Mikami Y, Moriya T, Satomi S, Sasano H (2005) Systemic distribution of somatostatin receptor subtypes in human: an immunohistochemical study. Endocr J 52:605–611

Terhaard CH, Lubsen H, van der Tweel I, Hilgers F, Eijkenboom W, Marres H, Tjho-Heslinga R, de Jong J, Roodenburg J (2004) Salivary gland carcinoma: independent prognostic factors for locoregional control, distant metastases, and overall survival: results of the Dutch head and neck oncology cooperative group. Head Neck J Sci Special Head Neck 26:681–693

Theodoropoulou M, Stalla GK (2013) Somatostatin receptors: from signaling to clinical practice. Front Neuroendocrinol 34:228–252

Vasconcelos AC, Nör F, Meurer L, Salvadori G, Souza LBD, Vargas PA, Martins MD (2016) Clinicopathological analysis of salivary gland tumors over a 15-year period. Brazilian Oral Research 30:S1806

Volante M, Brizzi MP, Faggiano A, la Rosa S, Rapa I, Ferrero A, Mansueto G, Righi L, Garancini S, Capella C (2007) Somatostatin receptor type 2A immunohistochemistry in neuroendocrine tumors: a proposal of scoring system correlated with somatostatin receptor scintigraphy. Mod Pathol 20:1172–1182

Wang L, Tang K, Zhang Q, Li H, Wen Z, Zhang H, Zhang H (2013) Somatostatin receptor-based molecular imaging and therapy for neuroendocrine tumors. BioMed Res Int 2013:102819

Wang X, Luo Y, Li M, Yan H, Sun M, Fan T (2017) Management of salivary gland carcinomas—a review. Oncotarget 8:3946

Watanabe K, Okumura Y, Hashimoto K, Suzuki T (2015) Clear cell carcinoma of the base of the tongue: case report and literature review. Ann Otol Rhinol Laryngol 124:55–61

Zhan KY, Lentsch EJ (2016) Basal cell adenocarcinoma of the major salivary glands: a population-level study of 509 cases. Laryngoscope 126:1086–1090
Funding
This study has not been externally funded.
Ethics declarations
Conflict of interest
None of the authors have any conflicts of interest to declare.
Ethics approval
Declaration of Helsinki approval: approval no. 0421-15-HMO.
Consent to participate
Informed consent was obtained from all individual participants included in the study.
Consent for publication
Only non-identifying participant data will be published.
Additional information
Publisher's Note
Springer Nature remains neutral with regard to jurisdictional claims in published maps and institutional affiliations.
Supplementary Information
Below is the link to the electronic supplementary material.
About this article
Cite this article
Meirovitz, A., Blum, K.S., Maly, A. et al. The potential of somatostatin receptor 2 as a novel therapeutic target in salivary gland malignant tumors. J Cancer Res Clin Oncol (2021). https://doi.org/10.1007/s00432-021-03538-1
Received:

Accepted:

Published:
Keywords
Salivary carcinomas

Somatostatin receptor

Ki-67

Peptide receptor radionuclide therapy

68Ga-DOTATATE

PET-CT