Abstract
Purpose
To evaluate the safety and feasibility of a newly designed 125I brachytherapy ureteral stent (BUS) in normal dogs.
Methods
A BUS loaded with 10 125I seeds (Group A: 0.8 mCi, Group B: 0.4 mCi, Group C: 0 mCi) was designed and tested in 27 normal beagle dogs. Routine blood tests, gross observations, cumulative radiation doses, tissue reaction assessed by hematoxylin–eosin/Masson staining, mRNA analysis by RT-qPCR and protein expression of Caspase-3, Collagen I, PCNA, and α-SMA were performed at 2, 4 and 8 weeks.
Results
The BUS was implanted successfully in all dogs (27/27) without surgery-related death. The ureter diameter and radiation injury score increased along with radiation accumulation (p < 0.05). Histopathologic analysis showed necrotic tissue and lateral fibrosis to different extents in the ureteral walls that gradually increased in all groups (p < 0.05); however, epithelial cell proliferation in groups A and B was lighter than that in the control group (p < 0.05).
Conclusion
Placement of the newly designed 125I BUS was safe and feasible in dogs, and clinical studies are required to test its use in humans.
Access options
Buy single article
Instant access to the full article PDF.
US$ 39.95
Tax calculation will be finalised during checkout.
Subscribe to journal
Immediate online access to all issues from 2019. Subscription will auto renew annually.
US$ 119
Tax calculation will be finalised during checkout.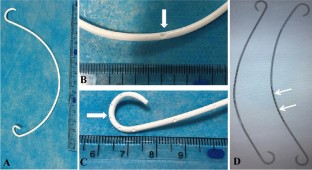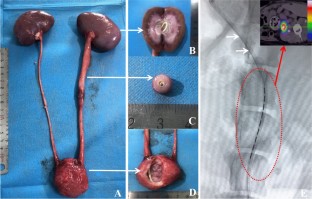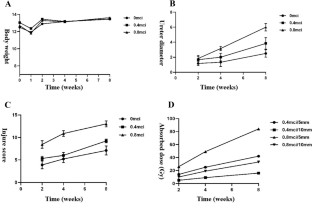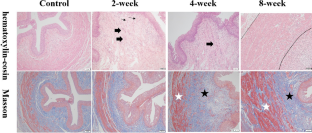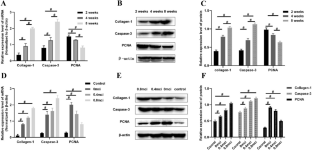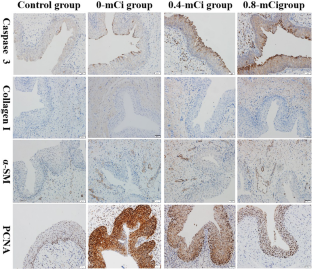 References
Bi Y, Zhu X, Yu Z, Jiao D, Yi M, Han X, Ren J (2020) Radioactive feeding tube in the palliation of esophageal malignant obstruction. Radiol Med (Torino) 125:544–550. https://doi.org/10.1007/s11547-020-01151-9

Campi R et al (2019) Robotic radical nephroureterectomy and segmental ureterectomy for upper tract urothelial carcinoma: a multi-institutional experience. World J Urol 37:2303–2311. https://doi.org/10.1007/s00345-019-02790-y

Homs MY, Eijkenboom WM, Coen VL, Haringsma J, van Blankenstein M, Kuipers EJ, Siersema PD (2003) High dose rate brachytherapy for the palliation of malignant dysphagia. Radiother Oncol 66:327–332. https://doi.org/10.1016/s0167-8140(02)00410-3

Hu X et al (2019) Inflammation-based prognostic scores in patients with extrahepatic bile duct lesions treated by percutaneous transhepatic biliary stenting combined with (125)I seeds intracavitary irradiation Clinical & translational oncology : official publication of the Federation of Spanish Oncology Societies and of the National Cancer Institute of Mexico 21:665–673 doi:https://doi.org/10.1007/s12094-018-1969-2

Huang YC, Chang YH, Chiu KH, Shindel AW, Lai CH (2016) Adjuvant radiotherapy for locally advanced upper tract urothelial carcinoma. Sci Rep 6:38175. https://doi.org/10.1038/srep38175

Jiao et al (2014) Implanting iodine-125 seeds into rat dorsal root ganglion for neuropathic pain: neuronal microdamage without impacting hind limb motion. Neural Regen Res 9:1204–1209. https://doi.org/10.4103/1673-5374.135326

Jiao D, Wu G, Ren J, Han X (2017) Study of self-expandable metallic stent placement intraluminal (125)I seed strands brachytherapy of malignant biliary obstruction. Surg Endosc 31:4996–5005. https://doi.org/10.1007/s00464-017-5481-5

Li Q, Liang Y, Zhao Y, Gai B (2019) Interpretation of adverse reactions and complications in Chinese expert consensus of Iodine-125 brachytherapy for pancreatic cancer. J Cancer Res Ther 15:751–754. https://doi.org/10.4103/jcrt.JCRT_884_18

Liu Y et al (2007) A novel approach for treatment of unresectable pancreatic cancer: design of radioactive stents and trial studies on normal pigs Clinical cancer research : an official journal of the American Association for. Can Res 13:3326–3332. https://doi.org/10.1158/1078-0432.ccr-07-0154

Rouprêt M et al (2015) European Association of Urology Guidelines on Upper Urinary Tract Urothelial Cell Carcinoma: 2015 update. Eur Urol 68:868–879. https://doi.org/10.1016/j.eururo.2015.06.044

So C, Siddiqui MM (2018) Urothelial carcinoma. N Engl J Med 378:e8. https://doi.org/10.1056/NEJMicm1709216

Stabin MG, Tagesson M, Thomas SR, Ljungberg M, Strand SE (1999) Radiation dosimetry in nuclear medicine. Applied radiation and isotopes: including data, instrumentation and methods for use in agriculture, industry and medicine 50:73–87 doi:https://doi.org/10.1016/s0969-8043(98)00023-2

Wang Y et al (2017) A novel self-expandable, radioactive airway stent loaded with (125)I seeds: a feasibility and safety study in healthy beagle dog. Cardiovasc Interv Radiol 40:1086–1093. https://doi.org/10.1007/s00270-017-1639-8

Wu YF et al (2018) Stents combined with iodine-125 implantation to treat main portal vein tumor thrombus. World J Gastrointest Oncol 10:496–504. https://doi.org/10.4251/wjgo.v10.i12.496

Zhang W et al (2016) Brachytherapy with Iodine-125 seeds strand for treatment of main portal vein tumor thrombi: an experimental study in a rabbit model. Am J Cancer Res 6:587–599

Zhang ZH et al (2018) Treatment of hepatocellular carcinoma with tumor thrombus with the use of iodine-125 seed strand implantation and transarterial chemoembolization: a propensity-score analysis. J Vasc Interv Radiol 29:1085–1093. https://doi.org/10.1016/j.jvir.2018.02.013
Funding
This work was supported by the Key Scientific Research Projects of Higher Education Institutions in Henan Province [Grant number: 20A320024].
Ethics declarations
Conflict of interest
The authors declare that they have no conflict of interest.
Ethics approval
This study was approved by the Ethics Committee of the Affiliated Hospital of Zhengzhou University, Henan, People's Republic of China.
Additional information
Publisher's Note
Springer Nature remains neutral with regard to jurisdictional claims in published maps and institutional affiliations.
Supplementary Information
Below is the link to the electronic supplementary material.
About this article
Cite this article
Jiao, D., Yao, Y., Xu, K. et al. Investigation of a novel brachytherapy ureteral stent: trial studies on normal beagle dogs. J Cancer Res Clin Oncol (2021). https://doi.org/10.1007/s00432-021-03513-w
Received:

Accepted:

Published:
Keywords
Ureteral stent

Brachytherapy

Animal study

125Iodine

Urinary system