Abstract
Objective
To evaluate the prognostic potential of vimentin, p53, EGFR, CK5/6, CK 14, and CK 17 in patients with triple-negative breast cancer (TNBC).
Material and methods
Tumor specimens of 60 patients with histologically confirmed TNBC were retrospectively analyzed. Formalin-fixed paraffin-embedded blocks of the tumor tissue were used to prepare tissue microarrays (TMAs). After immune-histochemical staining, protein expression of vimentin, p53, EGFR, CK5/6, CK 14, and CK 17 was determined and the immunoreactive score (IRS) was calculated. The protein expression was correlated to overall (OS) and disease-free survival (DFS).
Results
Ninety percent of patients suffered from an invasive ductal carcinoma T1 or T2, 66.7% were N0, and 70% had a G3 tumor with Ki67 of > 14%. Vimentin expression was found in 28/60 patients (46.7%), p53 expression in 30/60 patients (50%), and EGFR expression in 3/60 patients (5%). CK5/6, CK14, and CK17 expression was found in 60.0%, 63.3%, and 66.7%, respectively. Vimentin expression vs no expression was associated with significantly higher mean Ki67 values (52.5% vs. 31.1%; p = 0.0013) and significantly higher p53 expression (67.9% vs. 34.4%; p = 0.0097). No significant association between vimentin expression and OS (p = 0.7710) or DFS (p = 0.5558) was found during a mean follow-up of 92 months.
Conclusion
None of the six proteins proved to be suitable prognostic factors for OS and DSF in patients with TNBC.
This is a preview of subscription content, log in to check access.
Access options
Buy single article
Instant access to the full article PDF.
US$ 39.95
Price includes VAT for USA
Subscribe to journal
Immediate online access to all issues from 2019. Subscription will auto renew annually.
US$ 199
This is the net price. Taxes to be calculated in checkout.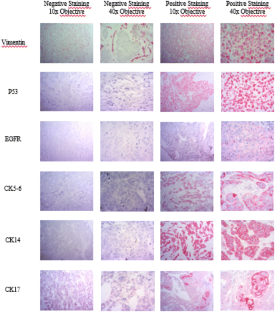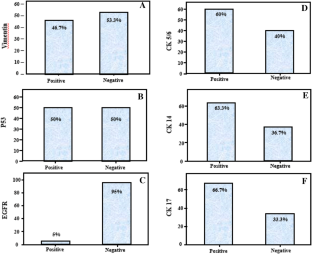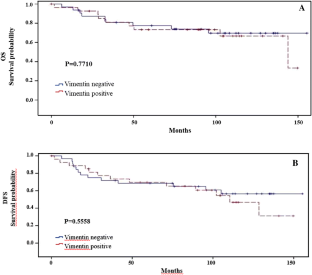 References
Adamo B, Ricciardi GRR, Ieni A, Franchina T, Fazzari C, Sano MV et al (2017) The prognostic significance of combined androgen receptor, E-Cadherin, Ki67 and CK5/6 expression in patients with triple negative breast cancer. Oncotarget 8(44):76974–76986

Arteaga CL, Engelman JA (2014) ERBB receptors: from oncogene discovery to basic science to mechanism-based cancer therapeutics. Cancer Cell 25(3):282–303

Bae SY, Nam SJ, Jung Y, Lee SB, Park BW, Lim W et al (2018) Differences in prognosis and efficacy of chemotherapy by p53 expression in triple-negative breast cancer. Breast Cancer Res Treat 172(2):437–444

Battaglia RA, Delic S, Herrmann H, Snider NT (2018) Vimentin on the move: new developments in cell migration. F1000Research:7

Costa R, Shah AN, Santa-Maria CA, Cruz MR, Mahalingam D, Carneiro BA et al (2017) Targeting epidermal growth factor receptor in triple negative breast cancer: new discoveries and practical insights for drug development. Cancer Treat Rev 53:111–119

Dine JL, O'Sullivan CC, Voeller D, Greer YE, Chavez KJ, Conway CM et al (2016) The TRAIL receptor agonist drozitumab targets basal B triple-negative breast cancer cells that express vimentin and Axl. Breast Cancer Res Treat 155(2):235–251

D'Ippolito E, Iorio MV (2013) MicroRNAs and triple negative breast cancer. Int J Mol Sci 14(11):22202–22220

Duffy MJ, Synnott NC, Crown J (2018) Mutant p53 in breast cancer: potential as a therapeutic target and biomarker. Breast Cancer Res Treat 170(2):213–219

El Hachem G, Gombos A, Awada A (2019) Recent advances in understanding breast cancer and emerging therapies with a focus on luminal and triple-negative breast cancer. F1000Research 8

Hashmi AA, Naz S, Hashmi SK, Hussain ZF, Irfan M, Bakar SMA et al (2018) Cytokeratin 5/6 and cytokeratin 8/18 expression in triple negative breast cancers: clinicopathologic significance in South-Asian population. BMC Res Notes 11(1):372

Heatley MK, Ewings P, Odling Smee W, Maxwell P, Toner PG (2002) Vimentin expression does not assist in predicting survival in ductal carcinoma of the breast. Pathology 34(3):230–232

Jeong H, Ryu YJ, An J, Lee Y, Kim A (2012) Epithelial-mesenchymal transition in breast cancer correlates with high histological grade and triple-negative phenotype. Histopathology 60(6B):E87–95

Jongen L, Floris G, Wildiers H, Claessens F, Richard F, Laenen A et al (2019) Tumor characteristics and outcome by androgen receptor expression in triple-negative breast cancer patients treated with neo-adjuvant chemotherapy. Breast Cancer Res Treat

Kasoha M, Unger C, Solomayer EF, Bohle RM, Zaharia C, Khreich F et al (2017) Prostate-specific membrane antigen (PSMA) expression in breast cancer and its metastases. Clin Exp Metastasis 34(8):479–490

Kim HS, Yom CK, Kim HJ, Lee JW, Sohn JH, Kim JH et al (2010) Overexpression of p53 is correlated with poor outcome in premenopausal women with breast cancer treated with tamoxifen after chemotherapy. Breast Cancer Res Treat 121(3):777–788

Korsching E, Packeisen J, Liedtke C, Hungermann D, Wulfing P, van Diest PJ et al (2005) The origin of vimentin expression in invasive breast cancer: epithelial-mesenchymal transition, myoepithelial histogenesis or histogenesis from progenitor cells with bilinear differentiation potential? J Pathol 206(4):451–457

Kusinska RU, Kordek R, Pluciennik E, Bednarek AK, Piekarski JH, Potemski P (2009) Does vimentin help to delineate the so-called 'basal type breast cancer'? J Exp Clin Cancer Res 28:118

Li JP, Zhang XM, Zhang Z, Zheng LH, Jindal S, Liu YJ (2019a) Association of p53 expression with poor prognosis in patients with triple-negative breast invasive ductal carcinoma. Medicine (Baltimore) 98(18):e15449

Li Y, Zhang X, Qiu J, Pang T, Huang L, Zeng Q (2019b) Comparisons of p53, KI67 and BRCA1 expressions in patients with different molecular subtypes of breast cancer and their relationships with pathology and prognosis. J BUON 24(6):2361–2368

Lou L, Yu Z, Wang Y, Wang S, Zhao Y (2018) c-Src inhibitor selectively inhibits triple-negative breast cancer overexpressed Vimentin in vitro and in vivo. Cancer Sci 109(5):1648–1659

Masuda N, Lee SJ, Ohtani S, Im YH, Lee ES, Yokota I et al (2017) Adjuvant capecitabine for breast cancer after preoperative chemotherapy. N Engl J Med 376(22):2147–2159

Mathieu A, Weynand B, Verbeken E, Da Silva S, Decaestecker C, Salmon I et al (2010) Comparison of four antibodies for immunohistochemical evaluation of epidermal growth factor receptor expression in non-small cell lung cancer. Lung Cancer 69(1):46–50

Newman LA, Reis-Filho JS, Morrow M, Carey LA, King TA (2015) The 2014 society of surgical oncology Susan G. Komen for the cure symposium: triple-negative breast cancer. Ann Surg Oncol 22(3):874–82

Plasilova ML, Hayse B, Killelea BK, Horowitz NR, Chagpar AB, Lannin DR (2016) Features of triple-negative breast cancer: Analysis of 38,813 cases from the national cancer database. Medicine (Baltimore) 95(35):e4614

Rakha EA, El-Sayed ME, Green AR, Paish EC, Lee AH, Ellis IO (2007a) Breast carcinoma with basal differentiation: a proposal for pathology definition based on basal cytokeratin expression. Histopathology 50(4):434–438

Rakha EA, El-Sayed ME, Green AR, Lee AH, Robertson JF, Ellis IO (2007b) Prognostic markers in triple-negative breast cancer. Cancer 109(1):25–32

Remmele W, Stegner HE (1987) Recommendation for uniform definition of an immunoreactive score (IRS) for immunohistochemical estrogen receptor detection (ER-ICA) in breast cancer tissue. Der Pathologe 8(3):138–140

Sable M, Pai TD, Shet T, Patil A, Dhanavade S, Desai SB (2017) Triple-negative breast cancer: a comprehensive study of clinical, histomorphological, and immunohistochemical features in indian patients. Int J Surg Pathol 25(3):230–237

Schmidt G, Meyberg-Solomayer G, Gerlinger C, Juhasz-Boss I, Herr D, Rody A et al (2014) Identification of prognostic different subgroups in triple negative breast cancer by Her2-neu protein expression. Arch Gynecol Obstet 290(6):1221–1229

Schmidt G, Gerlinger C, Juhasz-Boss I, Stickeler E, Rody A, Liedtke C et al (2016) Her2-neu score as a prognostic factor for outcome in patients with triple-negative breast cancer. J Cancer Res Clin Oncol 142(6):1369–1376

Yamashita N, Tokunaga E, Kitao H, Hisamatsu Y, Taketani K, Akiyoshi S et al (2013) Vimentin as a poor prognostic factor for triple-negative breast cancer. J Cancer Res Clin Oncol 139(5):739–746
Ethics declarations
Conflict of interest
None of the authors declared any conflict of interest.
Additional information
Publisher's Note
Springer Nature remains neutral with regard to jurisdictional claims in published maps and institutional affiliations.
About this article
Cite this article
Schmidt, G., Solomayer, E., Bohle, R.M. et al. Is vimentin a potential prognostic factor for patients with triple-negative breast cancer?. J Cancer Res Clin Oncol 146, 2109–2116 (2020). https://doi.org/10.1007/s00432-020-03210-0
Received:

Accepted:

Published:

Issue Date:
Keywords
Triple-negative breast cancer

Vimentin

p53

EGFR

Cytokines