Abstract
Purpose
The surface bone-seeking radiopharmaceuticals rhenium-188-HEDP (188Re-HEDP) and samarium-153-EDTMP (153Sm-EDTMP) were investigated to determine the efficacy and toxicity in pain palliation in bone metastases.
Method
The effect of treatment with 188Re-HEDP and 153Sm-EDTMP on pain symptoms, life quality, and bone marrow function were obtained in 46 patients with prostate and breast cancer. There were 31 patients treated with 188Re-HEDP (3194±387 MBq) and 15 patients with 153Sm-EDTMP (2940±545 MBq). The 188Re-HEDP group included 6 patients and 25 patients, and the 153Sm-EDTMP group 6 patients and 9 patients with breast and prostate cancer, respectively. All patients had an interview using standardized sets of questions before and after therapy for 12 weeks. Blood counts were taken weekly for 6 weeks and after 12 weeks.
Results
After treatment with 188Re-HEDP, 77% of patients reported pain relief and 73% after 153Sm-EDTMP. Sixteen percent of the patients treated with 188Re-HEDP and 13% of those given 153Sm-EDTMP could discontinue their analgesics and were pain free. Patients described an improvement on the Karnofsky performance scale from 73±7 to 85±8% 12 weeks after 188Re-HEDP (p<0.05) and from 68±9 to 74±9% after 153Sm-EDTMP (p=0.217). Only 3 patients post-188Re-HEDP and 2 patients post-153Sm-EDTMP showed a thrombocytopenia below 100×103/µl. The maximum nadir of platelet and leukocyte counts were observed between the second to fourth week after treatment in both and was reversible within 12 weeks. There were no significant differences in pain palliation, Karnofsky performance scale and bone marrow toxicity between the lower beta energy 153Sm-EDTMP and the higher beta energy 188Re-HEDP (p=0.098–0.442).
Conclusion
Both radiopharmaceuticals were effective in pain palliation, without induction of severe side effects or significant differences in therapeutic efficacy or toxicity.
Access options
Buy single article
Instant access to the full article PDF.
US$ 39.95
Tax calculation will be finalised during checkout.
Subscribe to journal
Immediate online access to all issues from 2019. Subscription will auto renew annually.
US$ 119
Tax calculation will be finalised during checkout.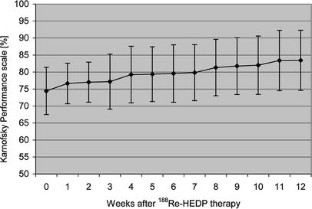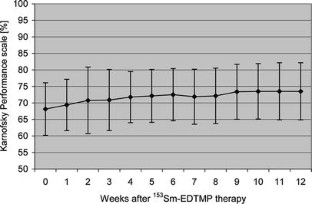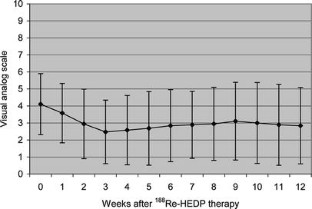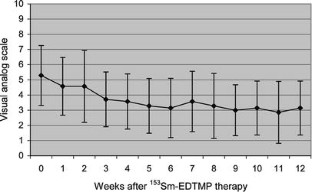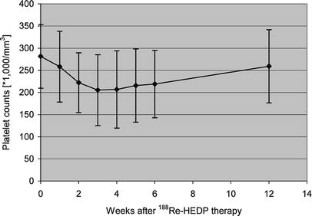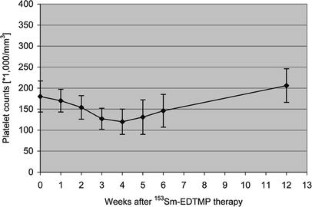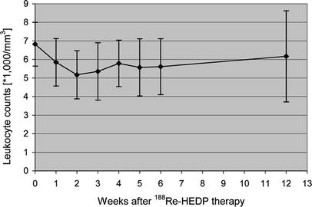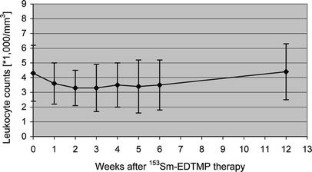 References
Atkins HL, Mausner LF, Srivastava SC, Meinken GE, Cabahug CJ, D'Alessandro T (1995) Tin-117m(4+)-DTPA for palliation of pain from osseous metastases: a pilot study. J Nucl Med 36:725–729

Bishayee A, Rao DV, Srivastava SC, Bouchet LG, Bolch WE, Howell RW (2000) Marrow-sparing effects of 117mSn(4+)diethylenetriaminepentaacetic acid for radionuclide therapy of bone cancer. J Nucl Med 41:2043–2050

Blower PJ, Kettle AG, O'Doherty MJ, Coakley AJ, Knapp FF Jr (2000) 99mTc(V)DMSA quantitatively predicts 188Re(V)DMSA distribution in patients with prostate cancer metastatic to bone. Eur J Nucl Med 27:1405–1409

Breen SL, Battista JJ (2000) Cavity theory applied to the dosimetry of systemic radiotherapy of bone metastases. Phys Med Biol 45:879–896.

Caraceni A, Cherny N, Fainsinger R, Kaasa S, Poulain P, Radbruch L, De Conno F (2002) Pain measurement tools and methods in clinical research in palliative care: recommendations of an Expert Working Group of the European Association of Palliative Care. J Pain Symptom Manage 23:239–255

Coleman RE, Rubens RD (1987) The clinical course of bone metastases from breast cancer. Br J Cancer 55:61–66

Debes JD, Tindall DJ (2002) The role of androgens and the androgen receptor in prostate cancer. Cancer Lett 187:1–7

Eary JF, Collins C, Stabin M, Vernon C, Petersdorf S, Baker M, Hartnett S, Ferency S, Addison SJ, Appelbaum F et al. (1993) Samarium-153-EDTMP biodistribution and dosimetry estimation. J Nucl Med 34:1031–1036

Eisenhut M, Berberich R, Kimmig B, Oberhausen E (1986) Iodine-131-labeled diphosphonates for palliative treatment of bone metastases. II. Preliminary clinical results with iodine-131 BDP3. J Nucl Med 27:1255–1261

Enrique O, Zhonyun P, Prma EP, Pusuwan P, Ricobona G, Tian JH, Obaldo J, Padhy AK (2002) Efficacy and toxicity of Sm-153 EDTMP in the palliative treatment of painful bone metastases. World J Nucl Med 1:21–27

Friedell HL, Storaasli JP (1950) The use of radioactive phosphorus in treatment of carcinoma of the breast with widespread metastasis in bone. AJR 64:559–575

Gilligan T, Kantoff PW (2002) Chemotherapy for prostate cancer. Urology 60:94–100

Guhlke S, Beets AL, Oetjen K, Mirzadeh S, Biersack HJ, Knapp FF Jr (2000) Simple new method for effective concentration of 188Re solutions from alumina-based 188W-188Re generator. J Nucl Med 41:1271–1278

Knapp FF Jr, Beets AL, Guhlke S, Zamora PO, Bender H, Palmedo H, Biersack HJ (1997) Availability of rhenium-188 from the alumina-based tungsten-188/rhenium-188 generator for preparation of rhenium-188-labeled radiopharmaceuticals for cancer treatment. Anticancer Res 17:1783–1795

Kutzner J, Grimm W, Brod KH, Roesler A (1982) Yttrium-90-therapy of bone metastases. Dtsch Med Wochenschr 107:1360–1361 [in German]

Lewington VJ (1993) Targeted radionuclide therapy for bone metastases. Eur J Nucl Med 20:66–74

Li S, Liu J, Zhang H, Tian M, Wang J, Zheng X (2001) Rhenium-188 HEDP to treat painful bone metastases. Clin Nucl Med 26:919–922

Liepe K, Hliscs R, Kropp J, Runge R, Knapp FF Jr, Franke WG (2003a) Dosimetry of 188Re-hydroxyethylidene diphosphonate in human prostate cancer skeletal metastases. J Nucl Med 44:953–960

Liepe K, Kropp J, Runge R, Kotzerke J (2003b) Therapeutic efficiency of rhenium-188-HEDP in human prostate cancer skeletal metastases. Br J Cancer 89:625–629

Lin WY, Lin CP, Yeh SJ, Hsieh BT, Tsai ZT, Ting G, Yen TC, Wang SJ, Knapp FF Jr, Stabin MG (1997) Rhenium-188 hydroxyethylidene diphosphonate: a new generator-produced radiotherapeutic drug of potential value for the treatment of bone metastases. Eur J Nucl Med 24:590–595

Littman GS, Walker BR, Schneider BE (1985) Reassessment of verbal and visual analog ratings in analgesic studies. Clin Pharmacol Ther 38:16–23

Maini CL, Bergomi S, Romano L, Sciuto R (2004) 153Sm-EDTMP for bone pain palliation in skeletal metastases. Eur J Nucl Med Mol Imaging 31:S171–S178

Maxon HR, Deutsch EA, Thomas SR, Libson K, Lukes SJ, Williams CC, Ali S (1988) Re-186(Sn) HEDP for treatment of multiple metastatic foci in bone: human biodistribution and dosimetric studies. Radiology 166:501–507

McEwan AJ (1998) Palliative therapy with bone seeking radiopharmaceuticals. Cancer Biother Radiopharm 13:413–426

Mor V, Laliberte L, Morris JN, Wiemann M (1984) The Karnofsky Performance Status Scale. An examination of its reliability and validity in a research setting. Cancer 53:2002–2007

Nielsen OS, Munro AJ, Tannock IF (1991) Bone metastases: pathophysiology and management policy. J Clin Oncol 9:509–524

Palmedo H, Guhlke S, Bender H, Sartor J, Schoeneich G, Risse J, Grunwald F, Knapp FF Jr, Biersack HJ (2000) Dose escalation study with rhenium-188 hydroxyethylidene diphosphonate in prostate cancer patients with osseous metastases. Eur J Nucl Med 27:123–130

Palmedo H, Manka-Waluch A, Albers P, Schmidt-Wolf IG, Reinhardt M, Ezziddin S, Joe A, Roedel R, Fimmers R, Knapp FF Jr. et al. (2003) Repeated bone-targeted therapy for hormone-refractory prostate carcinoma: randomized phase II trial with the new, high-energy radiopharmaceutical rhenium-188 hydroxyethylidenediphosphonate. J Clin Oncol 21:2869–2875

Pecher P (1942) Biological investigation with radioactive calcium and strontium. Preliminary report on the use of radioactive strontium in the treatment of metastatic bone cancer. Univ Calif Publ Pharmacol 2:117–149

Resche I, Chatal JF, Pecking A, Ell P, Duchesne G, Rubens R, Fogelman I, Houston S, Fauser A, Fischer M, Wilkins D (1997) A dose-controlled study of 153Sm-ethylenediaminetetramethylenephosphonate (EDTMP) in the treatment of patients with painful bone metastases. Eur J Cancer 33:1583–1591

Schaafsma J, Osoba D (1994) The Karnofsky Performance Status Scale re-examined: a cross-validation with the EORTC-C30. Qual Life Res 3:413–424

Serafini AN (2000) Samarium Sm-153 lexidronam for the palliation of bone pain associated with metastases. Cancer Suppl 88:2934–2939

Silberstein EB (1993) The treatment of painful osseous metastases with phosphorus-32-labeled phosphates. Semin Oncol 20:10–21

Tian JH, Zhang JM, Hou QT, Oyang QH, Wang JM, Luan ZS, Chuan L, He YJ (1999) Multicentre trial on the efficacy and toxicity of single-dose samarium-153-ethylene diamine tetramethylene phosphonate as a palliative treatment for painful skeletal metastases in China. Eur J Nucl Med 26:2–7

Turner JH, Claringbold PG (1991) A phase II study of treatment of painful multifocal skeletal metastases with single and repeated dose samarium-153 ethylenediaminetetramethylene phosphonate. Eur J Cancer 27:1084–1086

Turner JH, Claringbold PG, Hetherington EL, Sorby P, Martindale AA (1989a) A phase I study of samarium-153 ethylenediaminetetramethylene phosphonate therapy for disseminated skeletal metastases. J Clin Oncol 7:1926–1931

Turner JH, Martindale AA, Sorby P, Hetherington EL, Fleay RF, Hoffman RF, Claringbold PG (1989b) Samarium-153 EDTMP therapy of disseminated skeletal metastasis. Eur J Nucl Med 15:784–795

World Health Organization (1979) WHO Handbook for Reporting Results of Cancer Treatment (Geneva, Switzerland)

Wu H, Tan T, Fang L, Zhang X (2003) Evaluation of efficacy of 153Sm-EDTMP in patients with painful bone metastases of breast cancer. Sichuan Da Xue Xue Bao Yi Xue Ban 34:716–718

Zhang H, Tian M, Li S, Liu J, Tanada S, Endo K (2003) Rhenium-188-HEDP therapy for the palliation of pain due to osseous metastases in lung cancer patients. Cancer Biother Radiopharm 18:719–726
About this article
Cite this article
Liepe, K., Runge, R. & Kotzerke, J. The benefit of bone-seeking radiopharmaceuticals in the treatment of metastatic bone pain. J Cancer Res Clin Oncol 131, 60–66 (2005). https://doi.org/10.1007/s00432-004-0625-0
Received:

Accepted:

Published:

Issue Date:
Keywords
188Re-HEDP
153Sm-EDTMP

Bone palliation

Breast cancer

Prostate cancer