Abstract
Light-emitting diode phototherapy treatment for jaundice of the preterm infant presents adverse effects, such as discomfort, changes in metabolism, and overheating. This study quantified the body heat exchanges between the environment and a simulated preterm infant requiring phototherapy treatment in a closed incubator. Phototherapy treatment increased the mean incubator roof temperature by 2.9 °C (p < 0.001) and the incubator air temperature by 1 °C (p < 0.001). Analytical calorimetry was used to calculate the additional energy received during phototherapy and thus deduce the optimal incubator air temperature for ensuring thermoneutrality and preventing hyperthermia. The optimal air temperature settings inside the incubator during phototherapy were − 0.51 to − 1.25 °C lower than references, for preterm infant weighing 500 to 2000 g.
Conclusion: Phototherapy treatment for jaundice of the preterm infant increased the incubator air temperature. To prevent overheating in the preterm during phototherapy, new curves for optimal air temperature settings inside the incubator were calculated with analytic calorimetry.
What is Known
•Phototherapy treatment is the first-line treatment for jaundice in the preterm infant.
•Phototherapy treatment increases the risk of overheating.
What is New
•The heat transfers and risk of overheating were quantified using a thermal manikin during phototherapy treatment.
•Phototherapy treatment increased the incubator roof temperature and heat transfers.
•New incubator's air temperature settings during phototherapy treatment were calculated with analytical calorimetry for preterm infant weighing 500–2000 g.
This is a preview of subscription content, log in to check access.
Access options
Buy single article
Instant access to the full article PDF.
US$ 39.95
Price includes VAT for USA
Subscribe to journal
Immediate online access to all issues from 2019. Subscription will auto renew annually.
US$ 199
This is the net price. Taxes to be calculated in checkout.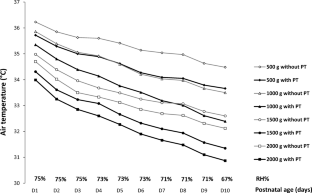 Abbreviations
LED:

Light-emitting diod

PT:

Phototherapy treatment

T a :

Incubator air temperature, °C

T ROOF :

Roof temperature, °C

T WALL :

Wall temperature, °C
Acknowledgments
We would like to thank Médipréma SAS for lending the medical devices, Professor Jean-Pierre Libert for his critical review of the manuscript and valuable suggestions, and David Fraser (Biotech Communication SARL, Ploudalmezeau, France) for copyediting assistance.
Funding
European Regional Development Fund, grant PI0012894: PhD fellowship to FCY.
Ethics declarations
Conflict of interest
The authors declare that they have no conflict of interest.
Ethical approval
This article does not contain any studies with human participants or animal performed by any of the authors.
Additional information
Publisher's note
Springer Nature remains neutral with regard to jurisdictional claims in published maps and institutional affiliations.
Communicated by Daniele De Luca
Electronic supplementary material
About this article
Cite this article
Yassin, F.C., Delanaud, S., Szcrupak, C. et al. Optimization of the incubator air temperature during LED phototherapy treatment for the preterm infant. Eur J Pediatr (2020). https://doi.org/10.1007/s00431-020-03724-2
Received:

Revised:

Accepted:

Published:
Keywords
Preterm infant

Phototherapy

Jaundice

Incubator

Air temperature