Abstract
Medulloblastoma (MB) is a malignant embryonal tumor that develops especially in childhood, with overall survival (OS) at 5 years of up to 70%. The objective of this study is to analyze treatment delivery variables in a retrospective cohort and evaluate the impact of these treatment quality parameters on survival. From 2000 to 2018, 40 pediatric patients with medulloblastoma, treated according to current international protocols, were retrospectively analyzed. Treatment delivery quality indicators were analyzed including the extent of surgery, radiotherapy (RT) parameters, and chemotherapy variables, related with time and dose-intensity deviations. With a median follow-up of 74 months (range, 6–195), OS at 5 years was 74 ± 7%, 81 ± 8% for standard-risk, and 55 ± 16% for high-risk patients (p = 0.090). Disease-free survival at 5 years was not significantly affected by extent of surgery (p = 0.428) and RT-related variables such as surgery-RT interval (p = 0.776) neither RT duration (p = 0.172) or maintenance chemotherapy compliance (p = 0.634). Multivariate analysis identified risk groups predictive of worse DFS (p = 0.032) and leptomeningeal dissemination associated with inferior OS (p = 0.029).
Conclusion: Treatment delivery optimization has improved survival rates of patients with MB. Despite this, in our study, we have not established a clear influence of the considered radiotherapy and chemotherapy treatment quality parameters on outcomes.
What is Known:
• Improvement in treatment modalities during the last decades has reached a 5-year OS of up to 70% in these patients.
• Extent of resection and radiotherapy parameters such as interval between surgery-radiotherapy and radiotherapy duration has been described as probable survival prognostic factors.
What is New:
• Differences in medulloblastoma survival rates between prospective studies and retrospective series.
• The impact on survival of the three main treatment variables, surgery, radiotherapy and chemotherapy, susceptible to improvement.
Access options
Buy single article
Instant access to the full article PDF.
US$ 39.95
Tax calculation will be finalised during checkout.
Subscribe to journal
Immediate online access to all issues from 2019. Subscription will auto renew annually.
US$ 119
Tax calculation will be finalised during checkout.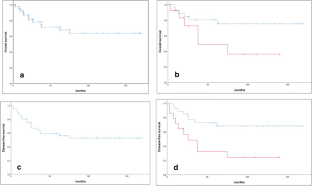 Availability of data and materials
The data sets used and/or analyzed during the current study are available from the corresponding author on reasonable request.
Abbreviations
CG:

Children's Oncology Group

ChT:

Chemotherapy

CI:

Confidence interval

CNS:

Central nervous system

CSI:

Craniospinal irradiation

CT:

Computed tomography

CTCAE:

Common Terminology Criteria for Adverse Events

DFS:

Disease-free survival

Gy:

Gray

HR:

Hazard ratio

HTRT:

Hyperfractionated radiotherapy

IGRT:

Image-guided radiation therapy

MB:

Medulloblastoma

MRI:

Magnetic resonance imaging

NCDB:

National Cancer Database

OR:

Odds ratio

OS:

Overall survival

PF:

Posterior fossa

PNET:

Primitive neuroectodermal tumors

RT:

Radiotherapy

RTQA:

Radiation therapy quality assurance

SE:

Standard error

SHH:

Sonic hedgehog

SIOP:

International Society of Paediatric Oncology

SPSS:

Statistical Package for the Social Sciences

STRT:

Standard radiotherapy

VMAT:

Volumetric modulated arc therapy

WNT:

Wingless
References
1.

RivasVilela S, Rubio-Casadevall J, Fabrega-Ribas A, Joly-Torta C, Vilardell L, Marcos-Gragera R (2019) Incidence and survival of central nervous system tumors in childhood and adolescence in Girona (Spain) 1990–2013: national and international comparisons. Clin Transl Oncol 21(9):1177–1185

2.

Khanna V, Achey RL, Ostrom QT, Block-Beach H, Kruchko C, Barnholtz-Sloan JS, de Blank PM (2017) Incidence and survival trends for medulloblastomas in the United States from 2001 to 2013. J Neuro-Oncol 135(3):433–441

3.

Louis DN, Ohgaki H, Wiestler O, Cavenee WK, Burger PC, Jouvet A, Scheithauer BW, Kleihues P (2007) The 2007 WHO classification of tumours of the central nervous system. Acta Neuropathol 114(2):97–109

4.

Sengupta S, Pomeranz Krummel D, Pomeroy S (2017) The evolution of medulloblastoma therapy to personalized medicine. F1000Res 6:490

5.

Chang CH, Housepian EM, Herbert C Jr (1969) An operative staging system and a megavoltage radiotherapeutic technic for cerebellar medulloblastomas. Radiology 93(6):1351–1359

6.

Zeltzer PM, Boyett JM, Finlay JL, Albright AL, Rorke LB, Milstein JM, Allen JC, Stevens KR, Stanley P, Li H, Wisoff JH, Geyer JR, McGuire-Cullen P, Stehbens JA, Shurin SB, Packer RJ (1999) Metastasis stage, adjuvant treatment, and residual tumor are prognostic factors for medulloblastoma in children: conclusions from the Children's Cancer Group 921 randomized phase III study. J Clin Oncol 17(3):832–845

7.

Ramaswamy V, Remke M, Bouffet E, Bailey S, Clifford SC, Doz F, Kool M, Dufour C, Vassal G, Milde T, Witt O, von Hoff K, Pietsch T, Northcott PA, Gajjar A, Robinson GW, Padovani L, André N, Massimino M, Pizer B, Packer R, Rutkowski S, Pfister SM, Taylor MD, Pomeroy SL (2016) Risk stratification of childhood medulloblastoma in the molecular era: the current consensus. Acta Neuropathol 131(6):821–831

8.

Packer RJ, Gajjar A, Vezina G, Rorke-Adams L, Burger PC, Robertson PL, Bayer L, LaFond D, Donahue BR, Marymont MH, Muraszko K, Langston J, Sposto R (2006) Phase III study of craniospinal radiation therapy followed by adjuvant chemotherapy for newly diagnosed average-risk medulloblastoma. J Clin Oncol 24(25):4202–4208

9.

Merchant TE, Kun LE, Krasin MJ, Wallace D, Chintagumpala MM, Woo SY, Ashley DM, Sexton M, Kellie SJ, Ahern V, Gajjar A (2008) Multi-institution prospective trial of reduced-dose craniospinal irradiation (23.4 Gy) followed by conformal posterior fossa (36 Gy) and primary site irradiation (55.8 Gy) and dose-intensive chemotherapy for average-risk medulloblastoma. Int J Radiat Oncol Biol Phys 70(3):782–787

10.

IBM Corp. Released 2012. IBM SPSS Statistics for Windows, Version 21.0. Armonk, NY: IBM Corp

11.

Gatta G, Zigon G, Capocaccia R, Coebergh JW, Desandes E, Kaatsch P, Pastore G, Peris-Bonet R, Stiller CA; EUROCARE Working Group (2009) Survival of European children and young adults with cancer diagnosed 1995-2002. Eur J Cancer 45(6):992–1005

12.

Lannering B, Rutkowski S, Doz F, Pizer B, Gustafsson G, Navajas A, Massimino M, Reddingius R, Benesch M, Carrie C, Taylor R, Gandola L, Björk-Eriksson T, Giralt J, Oldenburger F, Pietsch T, Figarella-Branger D, Robson K, Forni M, Clifford SC, Warmuth-Metz M, von Hoff K, Faldum A, Mosseri V, Kortmann R (2012) Hyperfractionated versus conventional radiotherapy followed by chemotherapy in standard-risk medulloblastoma: results from the randomized multicenter HIT-SIOP PNET 4 Trial. J Clin Oncol 30(26):3187–3193

13.

Fairley L, Picton SV, Mc Nally RJ, Bailey S, Mc Cabe MG, Feltbower RG (2016) Incidence and survival of children and young people with central nervous system embryonal tumours in the North of England, 1990–2013. Eur J Cancer 61:36–43

14.

Stensvold E, Myklebust TÅ, Cappelen J, Due-Tønnessen BJ, Due-Tønnessen P, Kepka A, Johannesen TB, Krossnes B, Lundar T, Maric S, Miletic H, Moholdt V, Myrmel KS, Nordberg T, Rydland J, Stokland T, Solem K, Solheim O, Torsvik I, Wikran GC, Zeller B, Wesenberg F, Bechensteen AG, Brandal P (2019) Children treated for medulloblastoma and supratentorial primitive neuroectodermal tumor in Norway from 1974 through 2013: unexplainable regional differences in survival. Pediatr Blood Cancer 66(10):e27910

15.

Desandes E, Guissou S, Chastagner P, Lacour B (2014) Incidence and survival of children with central nervous system primitive tumors in the French National Registry of Childhood Solid Tumors. Neuro-Oncology 16(7):975–983

16.

Gajjar A, Chintagumpala M, Ashley D, Kellie S, Kun LE, Merchant TE, Woo S, Wheeler G, Ahern V, Krasin MJ, Fouladi M, Broniscer A, Krance R, Hale GA, Stewart CF, Dauser R, Sanford RA, Fuller C, Lau C, Boyett JM, Wallace D, Gilbertson RJ (2006) Risk-adapted craniospinal radiotherapy followed by high-dose chemotherapy and stem cell rescue in children with newly diagnosed medulloblastoma (St Jude Medulloblastoma-96): long-term results from a prospective, multicentre trial. Lancet Oncol 7(10):813–820

17.

Hoff KV, Hinkes B, Gerber NU, Deinlein F, Mittler U, Urban C, Benesch M, Warmuth-Metz M, Soerensen N, Zwiener I, Goette H, Schlegel PG, Pietsch T, Kortmann RD, Kuehl J, Rutkowski S (2009) Long-term outcome and clinical prognostic factors in children with medulloblastoma treated in the prospective randomised multicentre trial HIT'91. Eur J Cancer 45(7):1209–1217

18.

Tarbell NJ, Friedman H, Polkinghorn WR, Yock T, Zhou T, Chen Z, Burger P, Barnes P, Kun L (2013) High-risk medulloblastoma: a pediatric oncology group randomized trial of chemotherapy before or after radiation therapy (POG 9031). J Clin Oncol 31(23):2936–2941

19.

von Bueren AO, Kortmann RD, von Hoff K, Friedrich C, Mynarek M, Müller K, Goschzik T, Mühlen AZ, Gerber N, Warmuth-Metz M, Soerensen N, Deinlein F, Benesch M, Zwiener I, Kwiecien R, Faldum A, Bode U, Fleischhack G, Hovestadt V, Kool M, Jones D, Northcott P, Kuehl J, Pfister S, Pietsch T, Rutkowski S (2016) Treatment of children and adolescents with metastatic medulloblastoma and prognostic relevance of clinical and biologic parameters. J Clin Oncol 34(34):4151–4160

20.

Vivekanandan S, Breene R, Ramanujachar R, Traunecker H, Pizer B, Gaze MN, Saran F, Thorp N, English M, Wheeler KA, Michalski A, Walker DA, Saunders D, Cowie F, Cameron A, Picton SV, Parashar D, Horan G, Williams MV (2015) The UK experience of a treatment strategy for pediatric metastatic medulloblastoma comprising intensive induction chemotherapy, hyperfractionated accelerated radiotherapy and response directed high dose myeloablative chemotherapy or maintenance chemotherapy (Milan strategy). Pediatr Blood Cancer 62(12):2132–2139

21.

Sirachainan N, Nuchprayoon I, Thanarattanakorn P, Pakakasama S, Lusawat A, Visudibhan A, Dhanachai M, Larbcharoensub N, Amornfa J, Shotelersuk K, Katanyuwong K, Tangkaratt S, Hongeng S (2011) Outcome of medulloblastoma in children treated with reduced-dose radiation therapy plus adjuvant chemotherapy. J Clin Neurosci 18(4):515–519

22.

Sirachainan N, Pakakasama S, Anurathapan U, Hansasuta A, Dhanachai M, Khongkhatithum C, Jinawath A, Mahachoklertwattana P, Hongeng S (2018) Outcome of newly diagnosed high risk medulloblastoma treated with carboplatin, vincristine, cyclophosphamide and etoposide. J Clin Neurosci 56:139–142

23.

Brandes AA, Paris MK (2004) Review of the prognostic factors in medulloblastoma of children and adults. Crit Rev Oncol Hematol 50(2):121–128

24.

Gerber NU, Mynarek M, von Hoff K, Friedrich C, Resch A, Rutkowski S (2014) Recent developments and current concepts in medulloblastoma. Cancer Treat Rev 40(3):356–365

25.

Esbenshade AJ, Kocak M, Hershon L, Rousseau P, Decarie JC, Shaw S, Burger P, Friedman HS, Gajjar A, Moghrabi A (2017) A phase II feasibility study of oral etoposide given concurrently with radiotherapy followed by dose intensive adjuvant chemotherapy for children with newly diagnosed high-risk medulloblastoma (protocol POG 9631): a report from the Children's Oncology Group. Pediatr Blood Cancer 64(6)

26.

Stensvold E, Krossnes BK, Lundar T, Due-Tønnessen BJ, Frič R, Due-Tønnessen P, Bechensteen AG, Myklebust TÅ, Johannesen TB, Brandal P (2017) Outcome for children treated for medulloblastoma and supratentorial primitive neuroectodermal tumor (CNS-PNET) – a retrospective analysis spanning 40 years of treatment. Acta Oncol 56(5):698–705

27.

Thompson EM, Hielscher T, Bouffet E, Remke M, Luu B, Gururangan S, McLendon RE, Bigner DD, Lipp ES, Perreault S, Cho YJ, Grant G, Kim SK, Lee JY, Rao AAN, Giannini C, KKW L, Ng HK, Yao Y, Kumabe T, Tominaga T, Grajkowska WA, Perek-Polnik M, Low DCY, Seow WT, Chang KTE, Mora J, Pollack IF, Hamilton RL, Leary S, Moore AS, Ingram WJ, Hallahan AR, Jouvet A, Fèvre-Montange M, Vasiljevic A, Faure-Conter C, Shofuda T, Kagawa N, Hashimoto N, Jabado N, Weil AG, Gayden T, Wataya T, Shalaby T, Grotzer M, Zitterbart K, Sterba J, Kren L, Hortobágyi T, Klekner A, László B, Pócza T, Hauser P, Schüller U, Jung S, Jang WY, French PJ, Kros JM, van Veelen MC, Massimi L, Leonard JR, Rubin JB, Vibhakar R, Chambless LB, Cooper MK, Thompson RC, Faria CC, Carvalho A, Nunes S, Pimentel J, Fan X, Muraszko KM, López-Aguilar E, Lyden D, Garzia L, Shih DJH, Kijima N, Schneider C, Adamski J, Northcott PA, Kool M, Jones DTW, Chan JA, Nikolic A, Garre ML, Van Meir EG, Osuka S, Olson JJ, Jahangiri A, Castro BA, Gupta N, Weiss WA, Moxon-Emre I, Mabbott DJ, Lassaletta A, Hawkins CE, Tabori U, Drake J, Kulkarni A, Dirks P, Rutka JT, Korshunov A, Pfister SM, Packer RJ, Ramaswamy V, Taylor MD (2016) Prognostic value of medulloblastoma extent of resection after accounting for molecular subgroup: a retrospective integrated clinical and molecular analysis. Lancet Oncol 17(4):484–495

28.

Del Charco JO, Bolek TW, McCollough WM, Maria BL, Kedar A, Braylan RC, Mickle JP, Buatti JM, Mendenhall NP, Marcus RB Jr (1998) Medulloblastoma: time–dose relationship based on a 30-year review. Int J Radiat Oncol Biol Phys 42(1):147–154

29.

Taylor RE, Bailey CC, Robinson KJ, Weston CL, Ellison D, Ironside J, Lucraft H, Gilbertson R, Tait DM, Saran F, Walker DA, Pizer BL, Lashford LS, United Kingdom Children's Cancer Study Group Brain Tumour Committee; International Society of Paediatric Oncology (2004) Impact of radiotherapy parameters on outcome in the International Society of Paediatric Oncology/United Kingdom Children's Cancer Study Group PNET-3 study of preradiotherapy chemotherapy for M0-M1 medulloblastoma. Int J Radiat Oncol Biol Phys 58(4):1184–1193

30.

Kann BH, Park HS, Lester-Coll NH, Yeboa DN, Benitez V, Khan AJ, Bindra RS, Marks AM, Roberts KB (2016) Postoperative radiotherapy patterns of care and survival implications for medulloblastoma in young children. JAMA Oncol 2(12):1574–1581

31.

Frost PJ, Laperriere NJ, Wong CS, Milosevic MF, Simpson WJS, Pintilie M (1995) Medulloblastoma in adults. Int J Radiat Oncol Biol Phys 32(4):951–957

32.

Back M, Ahern V, Berry M, Borg M, Sexton M, Cameron F, Stevens G, Allison R, Childs J, Barton M (2005) Importance of radiation time and dose factors on outcome for childhood medulloblastoma. Austral Radiol 49(4):298–303

33.

Chin AL, Moding EJ, Donaldson SS, Gibbs IC, Soltys SG, Hiniker SM, Pollom EL (2018) Survival impact of postoperative radiotherapy timing in pediatric and adolescent medulloblastoma. Neuro-Oncology 20(8):1133–1141

34.

Kunos CA, Coleman CN (2018) Current and future initiatives for radiation oncology at the National Cancer Institute in the era of precision medicine. Int J Radiat Oncol Biol Phys 102(1):18–25

35.

De Rojas T, Puertas M, Bautista F, de Prada I, López-Pino MÁ, Rivero B, Gonzalez-San Segundo C, Gonzalez-Vicent M, Lassaletta A, Madero L, Moreno L (2019) Improving the quality of care in the molecular era for children and adolescents with medulloblastoma. Clin Transl Oncol 21(12):1687–1698

36.

A prospective randomised controlled trial of hyperfractionated versus conventionally fractionated radiotherapy in standard risk medulloblastoma HIT – SIOP PNET 4. HIT-SIOP PNET 4 (NCT01351870). Protocol Version 3.0, 27th July 2010 (RG_10–034).

37.

Rutkowski et al. An international prospective study on clinically standard-risk medulloblastoma in children older than 3 to 5 years with low-risk biological profile (PNET 5 MB - LR) or average-risk biological profile (PNET 5 MB –SR). SIOP PNET 5 Medulloblastoma (NCT02066220). PROTOCOL VERSION, November 21, 2011

38.

De Rojas T, Clementel E, Giralt J, Cruz O, Boterberg T, Kortmann RD, Gaze MN, Moreno L, Janssens GO, SIOP-Europe QUARTET Project and of the EORTC (2019) Radiotherapy practice for paediatric brain tumours across Europe and quality assurance initiatives: current situation, international survey and future perspectives. Eur J Cancer 114:36–46
Ethics declarations
Ethics approval
Ethical approval was waived by the local Ethics Committee of Hospital Universitario Niño Jesus linked to University Autonoma de Madrid. In view of the retrospective nature of the study, all the procedures being performed were part of the routine clinical care.
Conflict of interest
The authors declare that they have no conflict of interest.
Additional information
Publisher's note
Springer Nature remains neutral with regard to jurisdictional claims in published maps and institutional affiliations.
Communicated by Peter de Winter
About this article
Cite this article
Sedano, P., Segundo, C.GS., De Ingunza, L. et al. Real-world data for pediatric medulloblastoma: can we improve outcomes?. Eur J Pediatr 180, 127–136 (2021). https://doi.org/10.1007/s00431-020-03722-4
Received:

Revised:

Accepted:

Published:

Issue Date:
Keywords
Medulloblastoma

Surgery

Radiotherapy

Survival

Treatment quality

Children