Abstract
Early diagnosis of sepsis and its severity stratification at admission is critical to improve patient outcomes and to ensure the optimal use of health care resources. In order to assess the diagnostic potential of mid-regional pro-adrenomedullin (MR-proADM) in septic paediatric patients in comparison with procalcitonin (PCT), and to evaluate the usefulness of a single early determination of MR-proADM as a stratification and severity prediction tool, a prospective observational study was conducted. Seventy-three paediatric patients with a suspicion of sepsis were included. A single blood test was carried out at initial time to analyse infection biomarkers. PCT values were significantly higher in septic patients in comparison with non-septic patients (p = 0.03) with an AUC of 0.748 (p = 0.003). Levels of MR-proADM significantly increased in patients with severe sepsis (p = 0.048), with an AUC of 0.729 (p = 0.013). MR-proADM showed a positive correlation with pSOFA, PRISM III, and PELOD-2 severity scores. Levels of MR-proADM were significantly higher in patients who required vasoactive drugs (p = 0.02) or presented renal dysfunction (p = 0.004).
Conclusion: PCT appeared to be superior to MR-proADM in diagnosing sepsis. Determining MR-proADM plasma levels at the initial phase of sepsis could be a useful tool for sepsis stratification and morbidity prediction before organ failure occurs. The present results need to be assessed with larger sample size studies.
What is Known:
•
CRP and PCT are already included in clinical practice to assess sepsis and estimate disease severity, although their sensitivity and specificity are lower than desired.
•ADM is a protein that has immune and vascular modulation actions, and its blood levels are increased in adult and paediatric sepsis.
•ADM is a promising tool for early diagnosis and prognostic assessment in adult sepsis.
What is New:
•PCT appeared to be superior to MR-proADM in diagnosing paediatric sepsis.
•MR-proADM plasma levels could be a useful tool for paediatric sepsis stratification and morbidity prediction.
This is a preview of subscription content, log in to check access.
Access options
Buy single article
Instant access to the full article PDF.
US$ 39.95
Price includes VAT for USA
Subscribe to journal
Immediate online access to all issues from 2019. Subscription will auto renew annually.
US$ 199
This is the net price. Taxes to be calculated in checkout.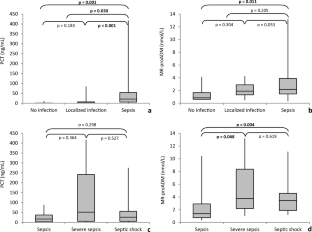 Abbreviations
ACCM:

American College of Critical Care Medicine

APACHE II:

Acute Physiology and Chronic Health disease Classification System II

AUC:

Area under the curve

CRP:

C-reactive protein.

GNB:

Gram-negative bacilli

GNC:

Gram-negative cocci

GNCB:

Gram-negative cocci-bacilli

GPC:

Gram-positive cocci

ICU:

Intensive care unit

IQR:

Interquartile ranges

L:

Litre

LH+:

Likelihood ratio

LOS:

Length of hospitalization

ml:

Millilitre

MR-proADM:

Mid-regional pro-adrenomedullin

MV:

Mechanical ventilation

ng:

Nanogram

nmol:

Nanomol

NPV:

Negative predictive value

PCT:

Procalcitonin

PELOD-2:

Paediatric Logistic Organ Dysfunction Score-2

PICU:

Paediatric Intensive Care Unit

PPV:

Positive predictive value

PRISM III:

Paediatric Risk of Mortality Score III

pSOFA:

paediatric Sequential Organ Failure Assessment

ROC:

Receiver operating characteristic

SAPS II:

Simplified Acute Physiology Score

Se:

Sensitivity

SOFA:

Sequential Organ Failure Assessment

SP:

Specificity

TRACE:

Time-Resolved Amplified Cryptate Emission
References
1.

Weiss SL, Fitzgerald JC, Pappachan J, Wheeler D, Jaramillo-Bustamante JC, Salloo A, Singhi SC, Erickson S, Roy JA, Bush JL, Nadkarni VM, Thomas NJ, Sepsis Prevalence, Outcomes, and Therapies (SPROUT) Study Investigators and Pediatric Acute Lung Injury and Sepsis Investigators (PALISI) Network (2015) Global epidemiology of pediatric severe sepsis: the sepsis prevalence, outcomes, and therapies study. Am J Respir Crit Care Med 191(10):1147–1157

2.

Boeddha NP, Schlapbach LJ, Driessen GJ, Herberg JA, Rivero-Calle I, Cebey-López M, Klobassa DS, Philipsen R, de Groot R, Inwald DP, Nadel S, Paulus S, Pinnock E, Secka F, Anderson ST, Agbeko RS, Berger C, Fink CG, Carrol ED, Zenz W, Levin M, van der Flier M, Martinón-Torres F, Hazelzet JA, Emonts M, EUCLIDS consortium (2018) Mortality and morbidity in community-acquired sepsis in European pediatric intensive care units: a prospective cohort study from the European Childhood Life-threatening Infectious Disease Study (EUCLIDS). Crit Care 22(1):143

3.

Sargentini V, Collepardo D, D Alessandro M, Petralito G, Ceccarelli G, Alessandri F et al (2017) Piciocchi A5, Angeloni A6, Venditti M3 BA. Role of biomarkers in adult sepsis and their application for a good laboratory practice: a pilot study. J Biol Regul Homeost Agents 31(4):1147–1154

4.

Christ-Crain M, Morgenthaler NG, Struck J, Harbarth S, Bergmann A, Müller B (2005) Mid-regional pro-adrenomedullin as a prognostic marker in sepsis: an observational study. Crit Care 9(6):R816–R824

5.

Hirata Y, Mitaka C, Sato K, Nagura T, Tsunoda Y, Amaha K, Marumo F (1996) Increased circulating adrenomedullin, a novel vasodilatory peptide, in sepsis. J Clin Endocrinol Metab 81(4):1449–1453

6.

Zudaire E, Portal-Núñez S, Cuttitta F (2006) The central role of adrenomedullin in host defense. J Leukoc Biol 80:237–244

7.

Kitamura K, Kangawa K, Kawamoto M, Ichiki Y, Nakamura S, Matsuo H, Eto T (1993) Adrenomedullin: a novel hypotensive peptide isolated from human pheochromocytoma. Biochem Biophys Res Commun 192(2):553–560

8.

Struck J, Tao C, Morgenthaler NG, Bergmann A (2004) Identification of an adrenomedullin precursor fragment in plasma of sepsis patients. Peptides. 25(8):1369–1372

9.

Benito J, Luaces-Cubells C, Mintegi S, Astobiza E, Martinez-Indart L, Valls-Lafont A, García-García JJ (2013) Lack of value of midregional pro-adrenomedullin and C-terminal pro-endothelin-1 for prediction of severe bacterial infections in infants with fever without a source. Eur J Pediatr 172(11):1441–1449

10.

Oncel MY, Dilmen U, Erdeve O, Ozdemir R, Calisici E, Yurttutan S, Canpolat FE, Oguz SS, Uras N (2012) Proadrenomedullin as a prognostic marker in neonatal sepsis. Pediatr Res 72(5):507–512

11.

Angeletti S, Battistoni F, Fioravanti M, Bernardini S, Dicuonzo G (2013) Procalcitonin and mid-regional pro-adrenomedullin test combination in sepsis diagnosis. Clin Chem Lab Med 51(5):1059–1067

12.

Suberviola B, Castellanos-Ortega A, Ruiz Ruiz A, Lopez-Hoyos M, Santibañez M (2013) Hospital mortality prognostication in sepsis using the new biomarkers suPAR and proADM in a single determination on ICU admission. Intensive Care Med 39(11):1945–1952

13.

Matics TJ, Sanchez-Pinto LN (2017) Adaptation and validation of a pediatric sequential organ failure assessment score and evaluation of the Sepsis-3 definitions in critically ill children. JAMA Pediatr 171(10):e172352

14.

Lacroix J, Cotting J (2005) Pediatric Acute Lung Injury and Sepsis Investigators (PALISI) Network. Severity of illness and organ dysfunction scoring in children. Pediatr Crit Care Med 6(3):s126–s134

15.

Jordan I, Corniero P, Balaguer M, Ortiz J, Vila D, Velasco J, Cambra FJ, Esteban E (2014) Adrenomedullin is a useful biomarker for the prognosis of critically ill septic children. Biomark Med 8(9):1065–1072

16.

Rey C, García-Hernández I, Concha A, Martínez-Camblor P, Botrán M, Medina A, Prieto B, López-Herce J (2013) Pro-adrenomedullin, pro-endothelin-1, procalcitonin, C-reactive protein and mortality risk in critically ill children: a prospective study. Crit Care 17(5):R240

17.

Davis AL, Carcillo JA, Aneja RK, Deymann AJ, Lin JC, Nguyen TC, Okhuysen-Cawley RS, Relvas MS, Rozenfeld RA, Skippen PW, Stojadinovic BJ, Williams EA, Yeh TS, Balamuth F, Brierley J, de Caen AR, Cheifetz IM, Choong K, Conway E Jr, Cornell T, Doctor A, Dugas MA, Feldman JD, Fitzgerald JC, Flori HR, Fortenberry JD, Graciano AL, Greenwald BM, Hall MW, Han YY, Hernan LJ, Irazuzta JE, Iselin E, van der Jagt E, Jeffries HE, Kache S, Katyal C, Kissoon N, Kon AA, Kutko MC, MacLaren G, Maul T, Mehta R, Odetola F, Parbuoni K, Paul R, Peters MJ, Ranjit S, Reuter-Rice KE, Schnitzler EJ, Scott HF, Torres A Jr, Weingarten-Arams J, Weiss SL, Zimmerman JJ, Zuckerberg AL (2017) American College of Critical Care Medicine clinical practice parameters for hemodynamic support of pediatric and neonatal septic shock. Crit Care Med 45(6):1061–1093

18.

Goldstein B, Giroir B, Randolph A (2005) International consensus conference on pediatric sepsis. International pediatric sepsis consensus conference: definitions for sepsis and organ dysfunction in pediatrics. Pediatr Crit Care Med 6(1):2–8

19.

Angeletti S, Spoto S, Fogolari M, Cortigiani M, Fioravanti M, De Florio L et al (2015) Diagnostic and prognostic role of procalcitonin (PCT) and MR-pro-Adrenomedullin (MR-proADM) in bacterial infections. APMIS. 123(9):740–748
Ethics declarations
Conflict of interest
The authors declare that they have no conflict of interest.
Additional information
Publisher's note
Springer Nature remains neutral with regard to jurisdictional claims in published maps and institutional affiliations.
Communicated by Nicole Ritz
Electronic supplementary material
About this article
Cite this article
Solé-Ribalta, A., Bobillo-Pérez, S., Valls, A. et al. Diagnostic and prognostic value of procalcitonin and mid-regional pro-adrenomedullin in septic paediatric patients. Eur J Pediatr 179, 1089–1096 (2020). https://doi.org/10.1007/s00431-020-03587-7
Received:

Revised:

Accepted:

Published:

Issue Date:
Keywords
Sepsis

Adrenomedullin

Procalcitonin

Paediatric

Diagnosis

Stratification