Abstract
Energy drinks consumption has become increasingly common in the last few years, despite evidence associating these products with vast adverse health effects. This led us to explore the phenomenon of energy drinks consumption in adolescents in the Israeli Arab population of the Nazareth area (Northern Israel), examining their awareness of risks associated with consumption of energy drinks, investigating their immediate effects on the body. Our study revealed that the consumption of energy drinks is very common in adolescents of both sexes, though more common in boys. Of 375 students who filled out the questionnaire, 206 reported that they consumed energy drinks (55%), 91 were male (44.4%), and 115 were female (55.6%). In the experimental stage of this study, we found that energy drinks significantly increased systolic blood pressure in most participants within a brief period of time after drinking.
Conclusion: Given the prevalence of energy drinks consumption and their side effects, it is important to increase awareness of the risks associated with their regular use and to combat this phenomenon through the education system in schools.
What is Known:
•
Energy drinks consumption has become popular and frequent among adolescents across the world.
•
The immediate effects of energy drinks in children and adolescents are poorly described.
What is New:
•
Religious and social norms are not a barrier to ED consumption among the varied investigated population.
•
Our study describes the immediate effect of energy drinks during the first 2 h after consumption, revealing systolic blood pressure to be significantly increased.
This is a preview of subscription content, log in to check access.
Access options
Buy single article
Instant access to the full article PDF.
US$ 39.95
Price includes VAT for USA
Subscribe to journal
Immediate online access to all issues from 2019. Subscription will auto renew annually.
US$ 199
This is the net price. Taxes to be calculated in checkout.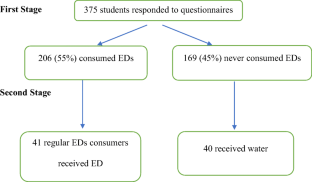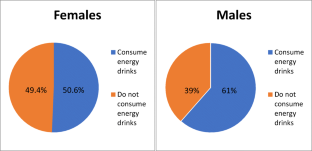 Abbreviations
ED:

Energy drink

EDs:

Energy drinks

FDA:

Food and Drug Administration

PDE:

Phosphodiesterase
References
1.

Adams HR, Szilagyi PG, Gebhardt L, Lande MB (2010) Learning and attention problems among children with pediatric primary hypertension. Pediatrics 126(6):e1425–e1429 Available at: www.pediatrics.org/cgi/content/full/126/6/e1425. Accessed 18 Oct 2018

2.

Akl EA, Gunukula SK, Aleem S, Obeid R, Jaoude PA, Honeine R, Irani J (2011) The prevalence of waterpipe tobacco smoking among the general and specific populations: a systematic review. BMC Public Health 11(1):244

3.

Arria AM, Caldeira KM, Kasperski SJ, Vincent KB, Griffiths RR, O'Grady KE (2011) Energy drink consumption and increased risk for alcohol dependence. Alcohol Clin Exp Res 35(2):365–375

4.

Attila S, Cakir B (2011) Energy drinks consumption in college students and associated factors. Nutrition 27:316–322. https://doi.org/10.1016/j.nut.2010.02.008

5.

Berger AJ, Alford K (2009) Cardiac arrest in a young man following excess consumption of caffeinated "energy drinks". Med J Aust 190(1):41–43

6.

Brache K, Stockwell T (2011) Drinking patterns and risk behaviors associated with combined alcohol and energy drink consumption in college drinkers. Addict Behav 36(12):1133–1140

7.

Daly JW (2007) Caffeine analogs: biomedical impact. Cell Mol Life Sci 64(16):2153–2169

8.

Gallimberti L, Buja A, Chindamo S, Vinelli A, Lazzarin G, Terraneo A, Scafato E, Baldo V (2013) Energy drink consumption in children and early adolescents. Eur J Pediatr 172:1335–1340

9.

Garanty-Bogacka B, Syrenicz M, Syrenicz A, Gebala A, Lulka D, Walczak M (2005) Serum markers of inflammation and endothelial activation in children with obesity-related hypertension. Neuroendocrinol Lett 26(3):242–246

10.

George J, Murphy T, Roberts R, Cooksley WGE, Halliday JW, Powell LW (1986) Influence of alcohol and caffeine consumption on caffeine elimination. Clin Exp Pharmacol Physiol 13:731–736

11.

Harris JL, Munsell CR (2015) Energy drinks and adolescents: what's the harm? Nutr Rev 73:247–257

12.

Higgins JP, Tuttle TD, Higgins CL (2010) Energy beverages: content and safety. Mayo Clin Proc 85:1033–1041

13.

Holubcikova J, Kolarcik P, Madarasova Geckova A, Reijneveld SA, van Dijk JP (2015) The mediating effect of daily nervousness and irritability on the relationship between soft drink consumption and aggressive behavior among adolescents. Int J Public Health 60:699–706

14.

Holubcikova J, Kolarcik P, Madarasova Geckova A, Joppova E, van Dijk JP, Reijneveld SA (2016) Young adolescents who combine alcohol and energy drinks have a higher risk of reporting negative behavioral outcomes. Int J Public Health 62:379–386. https://doi.org/10.1007/s00038-016-0862-4

15.

Holubcikova J, Kolarcik P, Madarasova Geckova A, Reijneveld SA, van Dijk JP (2017) Regular energy drink consumption is associated with the risk of health and behavioural problems in adolescents. Eur J Pediatr 176:599–605. https://doi.org/10.1007/s00431-017-2881-4

16.

Juonala M, Magnussen CG, Venn A, Dwyer T, Burns TL, Davis PH, Chen W, Srinivasan SR, Daniels SR, Kähönen M, Laitinen T, Taittonen L, Berenson GS, Viikari JS, Raitakari OT (2010) Influence of age on associations between childhood risk factors and carotid intima-media thickness in adulthood: the cardiovascular risk in young Finns study, the childhood determinants of adult health study, the Bogalusa heart study, and the Muscatine study for the international childhood cardiovascular cohort(i3C) consortium. Circulation 122(24):2514–2520

17.

Klein Velderman M, Dusseldorp E, van Nieuwenhuijzen M, Junger M, Paulussen TGWM, Reijneveld SA (2015) Cultural, social and intrapersonal factors associated with clusters of co-occurring health-related behaviours among adolescents. Eur J Pub Health 25:31–37

18.

Koivusilta L, Kuoppamäki H, Rimpelä A (2016) Energy drink consumption, health complaints and late bedtime among young adolescents. Int J Public Health 61:299–306

19.

Kristjansson AL, Sigfusdottir ID, Frost SS, James JE (2013) Adolescent caffeine consumption and self-reported violence and conduct disorder. J Youth Adolesc 42:1053–1062

20.

Kristjansson AL, Sigfusdottir ID, Mann MJ, James JE (2014) Caffeinated sugar-sweetened beverages and common physical complaints in Icelandic children aged 10–12 years. Prev Med 58:40–44

21.

Larson N, Dewolfe J, Story M, Neumark-Sztainer D (2014) Adolescent consumption of sports and energy drinks: linkages to higher physical activity, unhealthy beverage patterns, cigarette smoking, and screen media use. J Nutr Educ Behav 46:181–187

22.

Lubrano R, Travasso E, Raggi C, Guido G, Masciangelo R, Elli M (2009) Blood pressure load, proteinuria and renal function in pre-hypertensive children. Pediatr Nephrol 24(4):823–831

23.

Mintel International Group Ltd (2007) Energy drinks. Chicago, IL: Mintel International Group. Ltd. Cited by Simon M, Mosher J (2007) Alcohol, energy drinks, and youth: a dangerous mix. San Rafael, CA: Marin Institute. www.odmhsas.org 405–522-3810. Accessed Feb 2008

24.

Musaiger A, Zagzoog N (2013) Knowledge, attitudes and practices toward energy drinks among adolescents in Saudi Arabia. Global J Health Sci 6(2):42–46

25.

Peake ST, Mehta PA, Dubrey SW (2007) Atrial fibrillation-related cardiomyopathy: a case report. J Med Case Rep 1:111. https://doi.org/10.1186/1752-1947-1-111

26.

Reissig CJ, Strain EC, Griffiths RR (2009) Caffeinated EDs—A growing problem. Drug Alcohol Depend 99:1–10. https://doi.org/10.1016/j.drugalcdep.2008.08.001

27.

Ruxton CHS (2014) The suitability of caffeinated drinks for children: a systematic review of randomised controlled trials, observational studies and expert panel guidelines. J Hum Nutr Diet 27:342–357

28.

Savoca MR, Evans CD, Wilson M, Harshfield GA, Ludwig DA (2004) The Association of Caffeinated Beverages with Blood Pressure in adolescents. Arch Pediatr Adolesc Med 158:473–477. https://doi.org/10.1001/archpedi.158.5.473

29.

Savoca MR, MacKey ML, Evans CD, Wilson M, Ludwig DA, Harshfield GA (2005) Association of ambulatory blood pressure and dietary caffeine in adolescents. Am J Hypertens 18:116–120. https://doi.org/10.1016/j.amjhyper.2004.08.011

30.

Seifert SM, Schaechter JL, Hershorin ER, Lipschultz SE (2011) Health effects of energy drinks on children, adolescents, and young adults. Pediatrics 127:511–528

31.

Temple JL (2009) Caffeine use in children: what we know, what we have left to learn, and why we should worry. Neurosci Biobehav Rev 33:793–806

32.

Trapp GSA, Allen KL, O'Sullivan T, Robinson M, Jacoby P, Oddy WH (2014) Energy drink consumption among young Australian adults: associations with alcohol and illicit drug use. Drug Alcohol Depend 134:30–37

33.

Urbina EM, Khoury PR, McCoy C, Daniels SR, Kimball TR, Dolan LM (2011) Cardiac and vascular consequences of pre hypertension in youth. J Clin Hypertens (Greenwich) 13(5):332–342

34.

Velazquez CE, Poulos NS, Latimer LA, Pasch KE (2012) Associations between energy drink consumption and alcohol use behaviors among college students. Drug Alcohol Depend 123(1–3):167–172

35.

Vivekanandarajah A, Ni S, Waked A (2011) Acute hepatitis in a woman following excessive ingestion of an ED: a case report. J Med Case Rep 5:227. https://doi.org/10.1186/1752-1947-5-227

36.

Zenith International (2007) US overtakes Thailand as world leader in energy drinks. https://www.zenithglobal.com/articles/704?US+overtakes+%20Thailand%20+as+world+leader+in+Energy+drinks. Accessed 12 Oct 2011

37.

Zucconi S, Volpato C, Adinolfi F, Gandini E, Gentile E, Loi A, Fioriti L (2013) Gathering consumption data on specific consumer groups of energy drinks. Supporting publications:EN-394. https://www.efsa.europa.eu/en/supporting/pub/en-394. Accessed 1 Mar 2016
Funding
This study was not funded by any institution or organization.
Ethics declarations
Ethical standard
The study was approved by the Ethics Committee of the Saint Vincent De Paul Hospital and has therefore been performed in accordance with the ethical standards laid down in the 1964 Declaration of Helsinki and its later amendments. Parents of respondents were informed about the study via the school administration and the investigators; they gave their informed consent prior to inclusion of their children in the study and could opt out if they disagreed with their child's participation. Participation in the study was fully voluntary and anonymous with no explicit incentives provided for participation.
Conflict of interest
The authors declare that they have no conflict of interest.
Additional information
Publisher's note
Springer Nature remains neutral with regard to jurisdictional claims in published maps and institutional affiliations.
Communicated by Mario Bianchetti
About this article
Cite this article
Mansour, B., Amarah, W., Nasralla, E. et al. Energy drinks in children and adolescents: demographic data and immediate effects. Eur J Pediatr 178, 649–656 (2019). https://doi.org/10.1007/s00431-019-03342-7
Received:

Revised:

Accepted:

Published:

Issue Date:
Keywords
Energy drinks (EDs)

Consumption

Caffeine

Adolescents

Addiction

Toxicity