Abstract
Retinopathy of prematurity (ROP) and infantile hemangiomas are vascular disorders that may share common mechanisms. This study examined a potential clinical association between these disorders in populations of preterm infants at two hospitals in the USA and Hungary. Clinically collected data from infants with gestational ages less than 32 weeks born between May 1, 2007 and December 31, 2010 seen in the University of Iowa Children's Hospital or the Department of Obstetrics and Gynecology, University of Pécs, were abstracted from electronic medical records and entered into a study database. Demographic and clinical variables were examined as potential covariates to the disorders of interest. Data were initially analyzed by center and then combined through meta-analysis. Six hundred eighty-four subjects were studied: 236 from Pécs and 448 from Iowa. There were no significant demographic differences between populations. Univariate analysis on each study population yielded covariates to ROP in each population, including infantile hemangioma, which were entered into a logistic regression model. These models were combined through random-effects meta-analysis and demonstrated a significant relationship between infantile hemangioma and ROP (odds ratio = 1.84, 95 % confidence interval 1.08–3.12). Conclusion: Infantile hemangioma and ROP co-occur in premature infant populations. Further studies are needed to investigate the pathogenesis of both disorders.
Access options
Buy single article
Instant access to the full article PDF.
USD 39.95
Price includes VAT (USA)
Tax calculation will be finalised during checkout.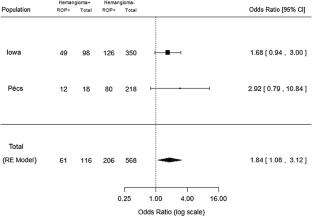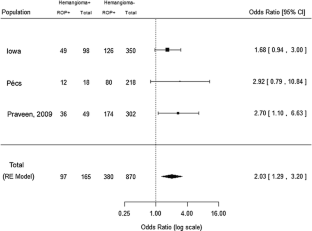 Abbreviations
CI:

Confidence interval

IH:

Infantile hemangioma

OR:

Odds ratio

ROP:

Retinopathy of prematurity
References
1.

Amir J, Metzker A, Krikler R, Reisner SH (1986) Strawberry hemangioma in preterm infants. Pediatr Dermatol 3(4):331–332

2.

Ashton N, Ward B, Serpell G (1954) Effect of oxygen on developing retinal vessels with particular reference to the problem of retrolental fibroplasia. Br J Ophthalmol 38(7):397–432

3.

Boscolo E, Mulliken JB, Bischoff J (2011) VEGFR-1 mediates endothelial differentiation and formation of blood vessels in a murine model of infantile hemangioma. Am J Pathol 179(5):2266–2277

4.

Boye E, Jinnin M, Olsen BR (2009) Infantile hemangioma: challenges, new insights, and therapeutic promise. J Craniofac Surg 20(1):678–684

5.

Chen J, Joyal JS, Hatton CJ, Juan AM, Pei DT, Hurst CG, Xu D, Stable A, Hellstrom A, Smith LEH (2012) Propranolol inhibition of β-adrenergic receptor does not suppress pathologic neovascularization in oxygen-induced retinopathy. Invest Ophthalmol Vis Sci 53(6):2968–2977

6.

Chen TS, Eichenfield LF, Friedlander SF (2013) Infantile hemangiomas: an update on pathogenesis and therapy. Pediatrics 131(1):99–108

7.

Cringle SJ, Yu DY (2010) Oxygen supply and consumption in the retina: implications for studies of retinopathy of prematurity. Doc Ophthalmol 120(1):99–109

8.

Crosse VM, Evans PJ (1952) Prevention of retrolental fibroplasia. AMA Arch Ophthalmol 48(1):83–87

9.

DerSimonian R, Laird N (1986) Meta-analysis in clinical trials. Control Clin Trials 7(3):177–188

10.

Drolet BA, Esterly NB, Frieden IJ (1999) Hemangiomas in children. N Engl J Med 341(3):173–181

11.

Drolet BA, Frommelt PC, Chamlin SL, Haggstrom A, Bauman NM, Chiu YE, Chun RH, Garzon MC, Holland KE, Liberman L, MacLellan-Tobert S, Mancini AJ, Metry D, Puttgen KB, Seefeldt M, Sidbury R, Ward KM, Blei F, Baselga E, Cassidy L, Darrow DH, Joachim S, Known EKM, Martin K, Perkins J, Siegel DH, Boucek RJ, Frieden IJ (2013) Initiation and use of propranolol for infantile hemangioma: report of a consensus conference. Pediatrics 131(1):128–140

12.

Ertl T, Gyarmati J, Gaál V, Szabo I (2006) Relationship between hyperglycemia and retinopathy of prematurity in very low birth weight infants. Biol Neonate 89(1):56–59

13.

Good WV, Hardy RJ, Dobson V, Palmer EA, Phelps DL, Quintos M, Tung B, Early Treatment for Retinopathy of Prematurity Cooperative Group (2005) The incidence and course of retinopathy of prematurity: findings from the early treatment for retinopathy of prematurity study. Pediatrics 116(1):15–23

14.

Greenberger S, Bischoff J (2011) Infantile hemangioma—mechanism(s) of drug action on a vascular tumor. Cold Spring Harb Perspect Med 1(1):a006460

15.

Greenberger S, Yuan S, Walsh LA, Boscolo E, Kang KT, Matthews B, Mulliken JB, Bischoff J (2011) Rapamycin suppresses self-renewal and vasculogenic potential of stem cells isolated from infantile hemangioma. J Invest Dermatol 131(12):2467–2276

16.

Gunn TR, Easdown J, Outerbridge EW, Aranda JV (1980) Risk factors in retrolental fibroplasia. Pediatrics 65(6):1096–1100

17.

Haggstrom AN, Drolet BA, Baselga E, Chamlin SL, Garzon MC, Horii KA, Lucky AW, Mancini AJ, Metry DW, Newell B, Hopper AJ, Frieden IJ (2006) Prospective study of infantile hemangiomas: clinical characteristics predicting complications and treatment. Pediatrics 118(3):882–887

18.

Harris PA, Taylor R, Thieklke R, Payne J, Gonzalez N, Conde JG (2009) Research electronic data capture (REDCap)—a metadata-driven methodology and workflow process for providing translational research informatics support. J Biomed Inform 42(2):377–381

19.

Hatton DD, Schwietz E, Boyer B, Rychwalski P (2007) Babies count: the national registry for children with visual impairments, birth to 3 years. J AAPOS 11(4):351–355

20.

Hellstrom A, Perruzzi C, Ju M, Engstrom E, Hard AL, Liu JL, Albertsson-Wikland K, Carlsson B, Niklasson A, Sjodell L, LeRoith D, Senger DR, Smith LE (2001) Low IGF-1 suppresses VEGF-survival signaling in retinal endothelial cells: direct correlation with clinical retinopathy of prematurity. Proc Natl Acad Sci U S A 98(10):5804–5808

21.

Hemangioma Investigator Group, Haggstrom AN, Drolet BA, Baselga E, Chamlin SL, Garzon MC, Horii KA, Lucky AW, Mancini AJ, Metry DW, Newell B, Nopper AJ, Frieden IJ (2007) Prospective study of infantile hemangiomas: demographic, prenatal, and perinatal characteristics. J Pediatr 150(3):291–294

22.

Holland KE, Drolet BA (2010) Infantile hemangioma. Pediatr Clin North Am 57(5):1069–1083

23.

Hussain N, Clive J, Bhandari V (1999) Current incidence of retinopathy of prematurity, 1989–1997. Pediatrics 104(3):e26

24.

Hylander MA, Strobino DM, Pezzullo JC, Dhanireddy R (2001) Association of human milk feedings with a reduction in retinopathy of prematurity among very low birthweight infants. J Perinatol 21(6):356–362

25.

International Committee for the Classification of Retinopathy of Prematurity (2005) The international classification of retinopathy of prematurity revisited. Arch Ophthalmol 123(7):991–999

26.

Jinnin M, Medici D, Park L, Limaye N, Liu Y, Boscolo E, Bischoff J, Vikkula M, Boye E, Olsen BR (2008) Suppressed NFAT-dependent VEGFR1 expression and constitutive VEGFR2 signaling in infantile hemangioma. Nat Med 14(11):1236–1246

27.

Kaempf JW, Kaempf AJ, Wu Y, Stawarz M, Niemeyer J, Grunkemeier G (2011) Hyperglycemia, insulin and slower growth velocity may increase the risk of retinopathy of prematurity. J Perinatol 31(4):251–257

28.

Khan ZA, Boscolo E, Picard A, Psutka S, Melero-Martin JM, Bartch TC, Mulliken JB, Bischoff J (2008) Multipotential stem cells recapitulate human infantile hemangioma in immunodeficient mice. J Clin Invest 118(7):2592–2599

29.

Kilcline C, Frieden IJ (2008) Infantile hemangiomas: how common are they? A systematic review of the medical literature. Pediatr Dermatol 25(2):168–173

30.

Kinsey VE (1956) Retrolental fibroplasia: cooperative study of retrolental fibroplasia and the use of oxygen. AMA Arch Ophthalmol 56(4):481–543

31.

Kleinman ME, Greives MR, Churgin SS, Blechman KM, Chang EI, Ceradini DJ, Tepper OM, Gurtner GC (2007) Hypoxia-induced mediators of stem/progenitor cell trafficking are increased in children with hemangioma. Arterioscler Thromb Vasc Biol 27(12):2664–2670

32.

Madan A, Jan JE, Good WV (2005) Visual development in preterm infants. Dev Med Child Neurol 47(4):276–280

33.

Penn JS, Henry MM, Tolman BL (1994) Exposure to alternating hypoxia and hyperoxia causes severe proliferative retinopathy in the newborn rat. Pediatr Res 36(6):724–731

34.

Pierce EA, Foley ED, Smith LE (1996) Regulation of vascular endothelial growth factor by oxygen in a model of retinopathy of prematurity. Arch Ophthalmol 114(10):1210–1228

35.

Praveen V, Vidavalur R, Rosenkrantz TS, Hussain N (2009) Infantile hemangiomas and retinopathy of prematurity: possible association. Pediatrics 123(3):e484–489

36.

Raghuveer TS, Bloom BT (2011) A paradigm shift in the prevention of retinopathy of prematurity. Neonatology 100(2):116–129

37.

Ristori C, Filippi L, Dal Monte M, Martini D, Cammalleri M, Fortunato P, la Marca G, Fiorini P, Bagnoli P (2011) Role of the adrenergic system in a mouse model of oxygen-induced retinopathy: antiangiogenic effects of β-adrenoreceptor blockade. Invest Ophthalmol Vis Sci 52(1):155–170

38.

Romagnoli C, Tesfagabir MG, Giannantonio C, Papacci P (2011) Erythropoietin and retinopathy of prematurity. Early Hum Dev 87(Suppl 1):S39–42

39.

Sapieha P, Joyal JS, Rivera JC, Kermorvant-Duchemin E, Sennlaub F, Hardy P, Lachapelle P, Chemtob S (2010) Retinopathy of prematurity: understanding ischemic retinal vasculopathies at an extreme of life. J Clin Invest 120(9):3022–3032

40.

Yu Y, Flint AF, Mulliken JB, Wu JK, Bischoff J (2004) Endothelial progenitor cells in infantile hemangioma. Blood 103(4):1373–1375
Acknowledgments
This research was supported by grant UL1 RR024979 from the National Institutes of Health and grant OTKA 78480 from the Országos Tudományos Kutatási Alapprogramok (Hungarian Scientific Research Fund). We thank Gretchen A. Cress, RN, BSN, Erin M. Reynolds, PhD, MPH, and Heather A. Davis, MLIS for advice on setting up the database used for this study.
Conflict of interest
The authors declare that they have no financial relationships and no conflict of interest relevant to this article to disclose.
About this article
Cite this article
Hyland, R.M., Komlósi, K., Alleman, B.W. et al. Infantile hemangiomas and retinopathy of prematurity: clues to the regulation of vasculogenesis. Eur J Pediatr 172, 803–809 (2013). https://doi.org/10.1007/s00431-013-1966-y
Received:

Accepted:

Published:

Issue Date:
Keywords
Angiogenesis

Hemangioma

Preterm infants

Retinopathy of prematurity

Vascular endothelial growth factor

Vasculogenesis