Abstract
Cerebrovascular reactivity (CVR) is of great significance for the treatment and prevention of cerebrovascular diseases. CVR can be mapped using the blood oxygenation level-dependent (BOLD) signal of fMRI. Breath holding (BH) is a reliable method to produce the desired increase in arterial CO2, while its application in clinical research is limited due to subject's compliance and variability. BH task with variable respiratory rates could allow more flexibility in clinical populations. In this study, 50 healthy volunteers were scanned for end-inspiration BH tasks with three different respiration rates. For the three respiratory rates BH tasks, the CVR was estimated based on the BOLD signal and general linear model (GLM) separately. Specifically, the extra time delay was considered for the hemodynamic response function, and the optimal delay was estimated for each voxel. To measure CVR in grey matter, BOLD signals of end-inspiration BH were used as regressors in general linear models to quantify their impact on CVR. This was performed for regions and voxels. Systematic differences were observed between the three end-inspiratory breathing rates. The greatest increase in activation intensity was found in fast breathing followed by self-paced and slow breathing. We conclude that the BH task of variable respiratory rates allows for CVR measurement, making breath-holding challenges more flexible and appropriate for routine practice.
Access options
Buy single article
Instant access to the full article PDF.
US$ 39.95
Tax calculation will be finalised during checkout.
Subscribe to journal
Immediate online access to all issues from 2019. Subscription will auto renew annually.
US$ 119
Tax calculation will be finalised during checkout.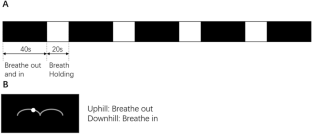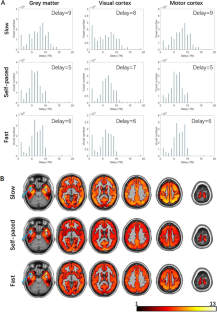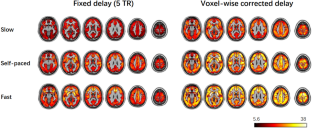 Acknowledgements
We thank Tom Trifon, Katherine Ji and Donna Chen for comments on this manuscript.
Funding
This work was supported by the National Natural Science Foundation of China (NSFC) grant numbers 61871420.
Ethics declarations
Conflict of interest
The authors have declared that there are no conflicts of interest in relation to the subject of this study.
Research involving human and/or animal participants
50 healthy adult volunteers from the University of Electronic Science and Technology of China and the surrounding community participated in the study. All subjects gave informed written consent after the nature of the study and its possible consequences were explained to them. The study and protocols were in accordance with the latest Revision of the Declaration of Helsinki and received full ethical approval from the Institutional Review Board of the University of Electronic Science and Technology of China.
Informed consent
Informed consent was obtained in writing from all individual participants included in the study.
Data and code availability
The data that support the findings of this study will be made available on request from the corresponding author. The data are not publicly available due to privacy or ethical restrictions.
Additional information
Publisher's Note
Springer Nature remains neutral with regard to jurisdictional claims in published maps and institutional affiliations.
Supplementary Information
Below is the link to the electronic supplementary material.
About this article
Cite this article
Chen, K., Yang, H., Zhang, H. et al. Altered cerebrovascular reactivity due to respiratory rate and breath holding: a BOLD-fMRI study on healthy adults. Brain Struct Funct (2021). https://doi.org/10.1007/s00429-021-02236-5
Received:

Accepted:

Published:
Keywords
CVR

fMRI-BOLD signal

Breath-holding experiments

Respiratory rates