Abstract
Humans can be motivated by the prospect of gaining a reward. However, the extent to which we are affected by reward information differs from person to person. A possible mechanism underlying these inter-individual differences may be alterations in white matter (WM) microstructure; however, the relationship between WM properties and reward-based behaviour in healthy participants has not yet been explored. Here, we used a fixel-based approach to investigate potential associations between WM tracts and performance in a reward-cuing task. We found that WM properties in the corpus callosum, right uncinate fasciculus, left ventral cingulum, and accumbofrontal tracts were inversely related to reward-triggered performance benefits (indexed by faster reaction times). Moreover, smaller WM property values in the corpus callosum, uncinate fasciculus, and accumbofrontal tracts were associated with higher scores on the Behavioral Inhibition System scale, reflecting greater sensitivity to potential punishment. Finally, we also observed associations between functional hemodynamic activity in the ventral striatum and WM microstructure. The finding that reward-based behavioural benefits are related to lower measures of WM tracts is in contrast to studies linking higher WM metrics to superior cognitive performance. We interpret the current pattern in terms of higher susceptibility to motivationally relevant stimuli, which is in line with the current and previous studies reporting inverse relationships between WM properties and motivational traits. Taking a broader perspective, such propensities may only be beneficial up to a certain point, at which these may become detrimental to performance and even manifest as impulsive and addictive behaviour.
Access options
Buy single article
Instant access to the full article PDF.
US$ 39.95
Tax calculation will be finalised during checkout.
Subscribe to journal
Immediate online access to all issues from 2019. Subscription will auto renew annually.
US$ 119
Tax calculation will be finalised during checkout.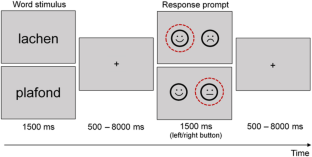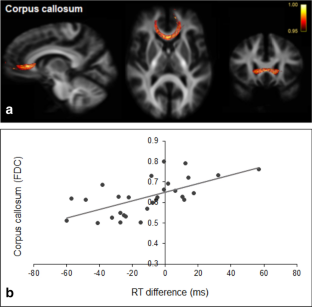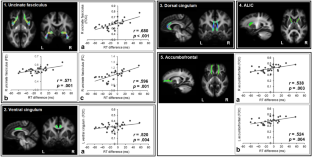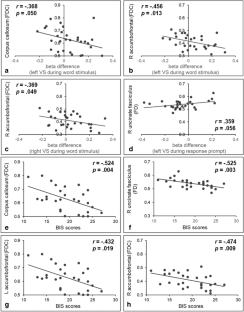 Availability of data and materials
All data and materials used in the study are available upon reasonable request.
References
Alexander AL, Lee JE, Lazar M, Field AS (2007) Diffusion tensor imaging of the brain. Neurotherapeutics 4(3):316–329. https://doi.org/10.1016/j.nurt.2007.05.011

Andersson JL, Sotiropoulos SN (2016) An integrated approach to correction for off-resonance effects and subject movement in diffusion MR imaging. Neuroimage 125:1063–1078. https://doi.org/10.1016/j.neuroimage.2015.10.019

Andersson JL, Skare S, Ashburner J (2003) How to correct susceptibility distortions in spin-echo echo-planar images: application to diffusion tensor imaging. Neuroimage 20(2):870–888. https://doi.org/10.1016/S1053-8119(03)00336-7

Assaf Y, Pasternak O (2008) Diffusion tensor imaging (DTI)-based white matter mapping in brain research: a review. J Mol Neurosci 34(1):51–61. https://doi.org/10.1007/s12031-007-0029-0

Barch DM, Pagliaccio D, Luking K (2016) Mechanisms underlying motivational deficits in psychopathology: similarities and differences in depression and schizophrenia. Curr Top Behav Neurosci 27:411–449. https://doi.org/10.1007/7854_2015_376

Beaulieu C (2002) The basis of anisotropic water diffusion in the nervous system—a technical review. NMR Biomed 15:435–455. https://doi.org/10.1002/nbm.782

Bennett IJ, Motes MA, Rao NK, Rypma B (2012) White matter tract integrity predicts visual search performance in young and older adults. Neurobiol Aging 33(2):433.e21-433.e31. https://doi.org/10.1016/j.neurobiolaging.2011.02.001

Berridge KC (1996) Food reward: brain substrates of wanting and liking. Neurosci Biobehav Rev 20(1):1–25. https://doi.org/10.1016/0149-7634(95)00033-B

Bertocci MA, Bebko G, Versace A, Fournier JC, Iyengar S, Olino T, Philips ML (2016) Predicting clinical outcome from reward circuitry function and white matter structure in behaviorally and emotionally dysregulated youth. Mol Psychiatry 21:1194–1201. https://doi.org/10.1038/mp.2016.5

Bjørnebekk A, Westlye LT, Fjell AM, Grydeland H, Walhovd KB (2012) Social reward dependence and brain white matter microstructure. Cereb Cortex 22:2672–2679. https://doi.org/10.1093/cercor/bhr345

Bracht T, Horn H, Strik W, Federspiel A, Razavi N, Stegmayer K, Walther S (2014) White matter pathway organization of the reward system is related to positive and negative symptoms in schizophrenia. Schizophr Res 153:136–142. https://doi.org/10.1016/j.schres.2014.01.015

Bracht T, Linden D, Keedwell P (2015) A review of white matter microstructure alterations of pathways of the reward circuit in depression. J Affect Disord 187:45–53. https://doi.org/10.1016/j.jad.2015.06.041

Braver TS, Krug MK, Chiew KS, Kool W, Westbrook JA, Clement NJ, Somerville LH (2014) Mechanisms of motivation-cognition interaction: challenges and opportunities. Cogn Affect Behav Neurosci 14:443–472. https://doi.org/10.3758/s13415-014-0300-0

Bubb EJ, Metzler-Baddeley C, Aggleton JP (2018) The cingulum bundle: anatomy, function, and dysfunction. Neurosci Biobehav Rev 92:104–127. https://doi.org/10.1016/j.neubiorev.2018.05.008

Camara E, Rodriguez-Fornells A, Münte TF (2010) Microstructural brain differences predict functional hemodynamic responses in a reward processing task. J Neurosci 30(34):11398–11402. https://doi.org/10.1523/JNEUROSCI.0111-10.2010

Capa RL, Bouquet CA (2018) Individual differences in reward sensitivity modulate the distinctive effects of conscious and unconscious rewards on executive performance. Front Psychol 9:148. https://doi.org/10.3389/fpsyg.2018.00148

Carver CS, White TL (1994) Behavioral inhibition, behavioural activation, and affective responses to impending reward and punishment: the BIS/BAS scales. J Pers Soc Psychol 67(2):319–333. https://doi.org/10.1037/0022-3514.67.2.319

Chanraud S, Zahr N, Sullivan EV, Pfefferbaum A (2010) MR diffusion tensor imaging: a window into white matter integrity of the working brain. Neuropsychol Rev 20:209–225. https://doi.org/10.1007/s11065-010-9129-7

Cloninger CR, Svrakic DM, Przybeck TR (1993) A psychobiological model of temperament and character. Arch Gen Psychiatry 50:975–990. https://doi.org/10.1001/archpsyc.1993.01820240059008

Coad BM, Postans M, Hodgetts CJ, Muhlert N, Graham KS, Lawrence AD (2017) Structural connections support emotional connections: Uncinate Fasciculus microstructure is related to the ability to decode facial emotion expressions. Neuropsychologia. https://doi.org/10.1016/j.neuropsychologia.2017.11.006

Coffey SF, Gudleski GD, Saladin ME, Brady KT (2003) Impulsivity and rapid discounting of delayed hypothetical rewards in cocaine-dependent individuals. Exp Clin Psychopharmacol 11(1):18–25. https://doi.org/10.1037/1064-1297.11.1.18

Cohen MX, Schoene-Bake JC, Elger CE, Weber B (2009) Connectivity-based segregation of the human striatum predicts personality characteristics. Nat Neurosci 12:32–34. https://doi.org/10.1038/nn.2228

Cooper A, Gomez R (2008) The development of a short form of the sensitivity to punishment and sensitivity to reward questionnaire. J Individ Differ 29(2):90–104. https://doi.org/10.1027/1614-0001.29.2.90

Costumero V, Barrós-Loscertales A, Fuentes P, Rosell-Negre P, Bustamante JC, Ávila C (2016) BAS-drive trait modulates dorsomedial striatum activity during reward response-outcome associations. Brain Imaging Behav 10(3):869–879. https://doi.org/10.1007/s11682-015-9466-5

Dalley JW, Everitt BJ, Robbins TW (2011) Impulsivity, compulsivity, and top-down cognitive control. Neuron 69(4):680–694. https://doi.org/10.1016/j.neuron.2011.01.020

Damme KS, Young CB, Nusslock R (2017) Elevated nucleus accumbens structural connectivity associated with proneness to hypomania: a reward hypersensitivity perspective. Soc Cogn Affect Neurosci 12(6):928–936. https://doi.org/10.1093/scan/nsx017

Danielmeier C, Eichele T, Forstmann BU, Tittgemeyer M, Ullsperger M (2011) Posterior medial frontal cortex activity predicts post-error adaptations in task-related visual and motor areas. J Neurosci 31(5):1780–1789. https://doi.org/10.1523/Jneurosci.4299-10.2011

Dong G, DeVito E, Huang J, Du X (2012) Diffusion tensor imaging reveals thalamus and posterior cingulate cortex abnormalities in internet gaming addicts. J Psychiatr Res 46(9):1212–1216. https://doi.org/10.1016/j.jpsychires.2012.05.015

Gardner A, Kay-Lambkin F, Stanwell P, Donnelly J, Williams WH, Hiles A, Jones DK (2012) A systematic review of diffusion tensor imaging findings in sports-related concussion. J Neurotrauma 29(16):2521–2538. https://doi.org/10.1089/neu.2012.2628

Genc S, Smith RE, Malpas CB, Anderson V, Nicholson JM, Efron D, Silk TJ (2018) Development of white matter fibre density and morphology over childhood: a longitudinal fixel-based analysis. Neuroimage 183:666–676. https://doi.org/10.1016/j.neuroimage.2018.08.043

Grieve SM, Williams LM, Paul RH, Clark CR, Gordon E (2007) Cognitive aging, executive function, and fractional anisotropy: a diffusion tensor MR imaging study. Am J Neuroradiol 28(2):226–236

Hampton WH, Hanik IM, Olson IR (2019) Substance abuse and white matter: findings, limitations, and future of diffusion tensor imaging research. Drug Alcohol Depend 197:288–298. https://doi.org/10.1016/j.drugalcdep.2019.02.005

Harris GJ, Jaffin SK, Hodge SM, Kennedy D, Caviness VS, Marinkovic K, Oscar-Berman M (2008) Frontal white matter and cingulum diffusion tensor imaging deficits in alcoholism. Alcohol Clin Exp Res 32(6):1001–1013. https://doi.org/10.1111/j.1530-0277.2008.00661.x

Hayden BY, Platt ML (2010) Neurons in anterior cingulate cortex multiplex information about reward and action. J Neurosci 30(9):3339–3346. https://doi.org/10.1523/jneurosci.4874-09.2010

Holmes AJ, Hollinshead MO, Roffman JL, Smoller JW, Buckner RL (2016) Individual differences in cognitive control circuit anatomy link sensation seeking, impulsivity, and substance abuse. J Neurosci 36(14):4038–4049. https://doi.org/10.1523/jneurosci.3206-15.2016

Ikuta T, del Arco A, Karlsgodt KH (2018) White matter integrity in the fronto-striatal accumbofrontal tract predicts impulsivity. Brain Imaging Behav 12:1524–1528. https://doi.org/10.1007/s11682-017-9820-x

Jacobus J, Squeglia LM, Bava S, Tapert SF (2013) White matter characterization of adolescent binge drinking with and without co-occurring marijuana use: a 3-year investigation. Psychiatry Res Neuroimaging 214(3):374–381. https://doi.org/10.1016/j.pscychresns.2013.07.014

Jeurissen B, Leemans A, Tournier JD, Jones DK, Sijbers J (2013) Investigating theprevalence of complex fiber configurations in white matter tissue with diffusionmagnetic resonance imaging. Hum Brain Mapp 34(11):2747–2766. https://doi.org/10.1002/hbm.22099

Jeurissen B, Tournier JD, Dhollander T, Connelly A, Sijbers J (2014) Multi-tissue constrained spherical deconvolution for improved analysis of multi-shell diffusion MRI data. NeuroImage 103:411–426. https://doi.org/10.1016/j.neuroimage.2014.07.061

Jones DK, Knӧsche TR, Turner R (2013) White matter integrity, fiber count, and other fallacies : the do's and don'ts of diffusion MRI. NeuroImage 73:239–254. https://doi.org/10.1016/j.neuroimage.2012.06.081

Karlsgodt KH, John M, Ikuta T, Rigoard P, Peters BD, Derosse P, Szesko PR (2015) The accumbofrontal tract: diffusion tensor imaging characterization and developmental change from childhood to adulthood. Hum Brain Mapp 36(12):4954–4963. https://doi.org/10.1002/hbm.22989

Keedwell PA, Doidge AN, Meyer M, Lawrence N, Lawrence AD, Jones DK (2016) Subgenual cingulate microstructure supports control of emotional conflict. Cereb Cortex 26(6):2850–2862. https://doi.org/10.1093/cercor/bhw030

Kellner E, Dhital B, Kiselev VG, Reisert M (2016) Gibbs-ringing artifact removal based on local subvoxel-shifts. Magn Reson Med 76(5):1574–1581. https://doi.org/10.1002/mrm.26054

Kim IS, Kim YT, Song HJ, Lee JJ, Kwon DH, Lee HJ, Chang Y (2009) Reduced corpus callosum white matter microstructural integrity revealed by diffusion tensor eigenvalues in abstinent methamphetamine addicts. NeuroToxicology 30(2):209–213. https://doi.org/10.1016/j.neuro.2008.12.002

Knutson B, Greer SM (2008) Anticipatory affect: neural correlates and consequences for choice. Philos Trans R Soc B 363:3771–3786. https://doi.org/10.1098/rstb.2008.0155

Knutson B, Adams CM, Fong GW, Hommer D (2001) Anticipation of increasing monetary reward selectively recruits nucleus accumbens. J Neurosci 21(16):RC159. https://doi.org/10.1523/JNEUROSCI.21-16-j0002.2001

Knutson B, Katovich K, Suri G (2014) Inferring affect from fMRI data. Trends Cogn Sci 18(8):422–428. https://doi.org/10.1016/j.tics.2014.04.006

Koch K, Wagner G, Schachtzabel C, Schultz CC, Güllmar D, Reichenbach JR, Schlӧsser RGM (2013) Association between white matter fiber structure and reward-related reactivity of the ventral striatum. Hum Brain Mapp 35(4):1469–1476. https://doi.org/10.1002/hbm.22284

Konrad A, Dielentheis TF, El Masri D, Bayerl M, Fehr C, Gesierich T, Winterer G (2010) Disturbed structural connectivity is related to inattention and impulsivity in adult attention deficit hyperactivity disorder. Eur J Neurosci 31:912–919. https://doi.org/10.1111/j.1460-9568.2010.07110.x

Krebs RM, Woldorff MG (2017) Cognitive control and reward. In: Egner T (ed) The Wiley handbook of cognitive control. Wiley, UK, pp 422–439

Kubicki M, McCarley R, Westin C-F, Park H-J, Maier S, Kikinis R, Shenton ME (2007) A review of diffusion tensor imaging studies in schizophrenia. J Psychiatr Res 41:15–30. https://doi.org/10.1016/j.jpsychires.2005.05.005

Leow AD, Zhan L, Zhu S, Hageman N, Chiang MC, Barysheva M, Thompson PM (2009) White matter integrity measured by fractional anisotropy correlates poorly with actual individual fiber anisotropy. In: IEEE International Symposium on Biomedical Imaging, pp 622–625

Liao Y, Huang X, Wu Q, Yang C, Kuang W, Du M, Gong Q (2013) Is depression a disconnection syndrome? Meta-analysis of diffusion tensor imaging studies in patients with MDD. J Psychiatry Neurosci 38(1):49–56. https://doi.org/10.1503/jpn.110180

Lin F, Wu G, Zhu L, Lei H (2013) Heavy smokes show abnormal microstructural integrity in the anterior corpus callosum: a diffusion tensor imaging study with tract-based spatial statistics. Drug Alcohol Depend 129(1–2):82–87. https://doi.org/10.1016/j.drugalcdep.2012.09.013

Liu IC, Chiu CH, Chen CJ, Kuo LW, Lo YC, Tseng WYI (2010) The microstructural integrity of the corpus callosum and associated impulsivity in alcohol dependence: a tractography-based segmentation study using diffusion spectrum imaging. Psychiatry Res Neuroimaging 184(2):128–134. https://doi.org/10.1016/j.pscychresns.2010.07.002

Liu X, Hairston J, Schrier M, Fan J (2011) Common and distinct networks underlying reward valence and processing stages: a meta-analysis of functional neuroimaging studies. Neurosci Biobehav Rev 35:1219–1236. https://doi.org/10.1016/j.neubiorev.2010.12.012

Locke HS, Braver TS (2008) Motivational influences on cognitive control: behavior, brain activation, and individual differences. Cogn Affect Behav Neurosci 8(1):99–112. https://doi.org/10.3758/CABN.8.1.99

Luciana M, Collins PF, Muetzel RL, Lim KO (2013) Effects of alcohol use initiation on brain structure in typically developing adolescents. Am J Drug Alcohol Abuse 39(6):345–355. https://doi.org/10.3109/00952990.2013.837057

Metzler-Baddeley C, Jones DK, Belaroussi B, Aggleton JP, O'Sullivan MJ (2011) Frontotemporal connections in episodic memory and aging: a diffusion MRI tractography study. J Neurosci 31(37):13236–13245. https://doi.org/10.1523/JNEUROSCI.2317-11.2011

Moeller FG, Hasan KM, Steinberg JL, Kramer LA, Dougherty DM, Santos RM, Narayana PA (2004) Reduced anterior corpus callosum white matter integrity is related to increased impulsivity and reduced discriminability in cocaine-dependence subjects: diffusion tensor imaging. Neuropsychopharmacology 30:610–617. https://doi.org/10.1038/sj.npp.1300617

Mori S, Zhang J (2006) Principles of diffusion tensor imaging and its applications to basic neuroscience research. Neuron 51(5):527–539. https://doi.org/10.1016/j.neuron.2006.08.012

Mori S, Oishi K, Jiang H, Jiang L, Li X, Akhter K, Mazziotta J (2008) Stereotaxic white matter atlas based on diffusion tensor imaging in an ICBM template. NeuroImage 40(2):570–582. https://doi.org/10.1016/j.neuroimage.2007.12.035

O'Doherty JP (2004) Reward representations and reward-related learning in the human brain: insights from neuroimaging. Curr Opin Neurobiol 14(6):769–776. https://doi.org/10.1016/j.conb.2004.10.016

Olson IR, Von Der Heide RJ, Alm KH, Vyas G (2015) Development of the uncinate fasciculus: implications for theory and developmental disorders. Dev Cogn Neurosci 14:50–61. https://doi.org/10.1016/j.dcn.2015.06.003

Peper JS, Mandl RCW, Braams BR, de Water E, Heijboer AC, Koolscijn PCMP, Crone EA (2013) Delay discounting and frontostriatal fiber tracts: a combined DTI and MTR study on impulsive choices in healthy young adults. Cereb Cortex 23(7):1695–1702. https://doi.org/10.1093/cercor/bhs163

Perrone D, Aelterman J, Pizurica A, Jeurissen B, Philips W, Leemans A (2015) The effect of Gibbs ringing artifacts on measures derived from diffusion MRI. Neuroimage 120:441–455. https://doi.org/10.1016/j.neuroimage.2015.06.068

Pessoa L, Engelmann JB (2010) Embedding reward signals into perception and cognition. Front Neurosci 4:17. https://doi.org/10.3389/fnins.2010.00017

Pfefferbaum A, Sullivan EV, Hedehus M, Adalsteinsson E, Lim KO, Moseley M (2000) In vivo detection and functional correlates of white matter microstructural disruption in chronic alcoholism. Alcohol Clin Exp Res 24(8):1214–1221. https://doi.org/10.1111/j.1530-0277.2000.tb02086.x

Raffelt D, Tournier JD, Fripp J, Crozier S, Connelly A, Salvado O (2011) Symmetric diffeomorphic registration of fibre orientation distributions. NeuroImage 56(3):1171–1180. https://doi.org/10.1016/j.neuroimage.2011.02.014

Raffelt DA, Smith RE, Ridgway GR, Tournier JD, Vaughan DN, Rose S, Connelly A (2015) Connectivity-based fixel enhancement: Whole-brain statistical analysis of diffusion MRI measures in the presence of crossing fibres. Neuroimage 117:40–55. https://doi.org/10.1016/j.neuroimage.2015.05.039

Raffelt DA, Tournier J-D, Smith RE, Vaughan DN, Jackson G, Ridgway GR, Connelly A (2017) Investigating white matter fibre density and morphology using fixel-based analysis. Neuroimage 144:58–73. https://doi.org/10.1016/j.neuroimage.2016.09.029

Ridgway GR, Omar R, Ourselin S, Hill DL, Warren JD, Fox NC (2009) Issues with threshold masking in voxel-based morphometry of atrophied brains. Neuroimage 44(1):99–111. https://doi.org/10.1016/j.neuroimage.2008.08.045

Romero MJ, Asensio S, Palau C, Sanchez A, Romero FJ (2010) Cocaine addiction: diffusion tensor imaging study of the inferior frontal and anterior cingulate white matter. Psychiatry Res Neuroimaging 181(1):57–63. https://doi.org/10.1016/j.pscychresns.2009.07.004

Sackett DA, Moschak TM, Carelli RM (2019) Prelimbic cortical neurons track preferred reward value and reflect impulsive choice during delay discounting behaviour. J Neurosci 39(16):3108–3118. https://doi.org/10.1523/JNEUROSCI.2532-18.2019

Samanez-Larkin GR, Levens SM, Perry LM, Dougherty RF, Knutson B (2012) Frontostriatal white matter integrity mediates adult age differences in probabilistic reward learning. J Neurosci 32(15):5333–5337. https://doi.org/10.1523/JNEUROSCI.5756-11.2012

Sexton CE, Kalu UG, Filippini N, Mackay CE, Ebmeier KP (2011) A meta-analysis of diffusion tensor imaging in mild cognitive impairment and Alzheimer's disease. Neurobiol Aging 32(12):2322.e5-2322.e18. https://doi.org/10.1016/j.neurobiolaging.2010.05.019

Shenhav A, Botvinick MM, Cohen JD (2013) The expected value of control: an integrative theory of anterior cingulate cortex function. Neuron 79(2):217–240. https://doi.org/10.1016/j.neuron.2013.07.007

Shenton ME, Hamoda HM, Schneiderman JS, Bouix S, Pasternak O, Rathi Y, Zafonte R (2012) A review of magnetic resonance imaging and diffusion tensor imaging findings in mild traumatic brain injury. Brain Imaging Behav 6(2):137–192. https://doi.org/10.1007/s11682-012-9156-5

Smith RE, Tournier JD, Calamante F, Connelly A (2013) SIFT: spherical-deconvolution informed filtering of tractograms. Neuroimage 67:298–312. https://doi.org/10.1016/j.neuroimage.2012.11.049

Takeuchi H, Taki Y, Sassa Y, Hashizume H, Sekiguchi A, Fukushima A, Kawashima R (2010) White matter structures associated with creativity: evidence from diffusion tensor imaging. NeuroImage 51:11–18. https://doi.org/10.1016/j.neuroimage.2010.02.035

Torrubia R, Ávila C, Moltó J, Caseras X (2001) The Sensitivity to Punishment and Sensitivity to Reward Questionnaire (SPSRQ) as a measure of Gray's anxiety and impulsivity dimensions. Personal Individ Differ 31(6):837–862. https://doi.org/10.1016/S0191-8869(00)00183-5

Tournier JD, Smith R, Rafeelt D, Tabbara R, Dhollander T, Pietsch M, Connelly A (2019) MRtrix3: a fast, flexible and open software frameword for medical image processing and visualisation. NeuroImage 202:116137. https://doi.org/10.1016/j.neuroimage.2019.116137

Tustison NJ, Avants BB, Cook PA, Zheng Y, Egan A, Yushkevich PA, Gee JC (2010) N4ITK: improved N3 bias correction. IEEE Trans Med Imaging 29(6):1310–1320. https://doi.org/10.1109/TMI.2010.2046908

Veraart J, Novikov DS, Christiaens D, Ades-Aron B, Sijbers J, Fieremans E (2016) Denoising of diffusion MRI using random matrix theory. Neuroimage 142:384–396. https://doi.org/10.1016/j.neuroimage.2016.08.016

Wedeen VJ, Wang RP, Schmahmann JD, Benner T, Tseng WYI, Dai G, de Crespigny AJ (2008) Diffusion spectrum magnetic resonance imaging (DSI) tractography of crossing fibers. Neuroimage 41(4):1267–1277. https://doi.org/10.1016/j.neuroimage.2008.03.036

Westlye LT, Walhovd KB, Bjørnerud A, Due-Tønnessen P, Fjell AM (2009) Error-related negativity is mediated by fractional anisotropy in the posterior cingulate gyrus—a study combining diffusion tensor imaging and electrophysiology in healthy adults. Cereb Cortex 19:293–304. https://doi.org/10.1093/cercor/bhn084

Xu J, Kober H, Carroll KM, Rounsaville BJ, Pearlson GD, Potenza MN (2012) White matter integrity and behavioural activation in healthy subjects. Hum Brain Mapp 33:994–1002. https://doi.org/10.1002/hbm.21275

Ystad M, Hodneland E, Adolfsdottir S, Haász J, Lundervold AJ, Eichele T, Lundervold A (2011) Cortico-striatal connectivity and cognition in normal aging: a combined DTI and resting state fMRI study. NeuroImage 55:24–31. https://doi.org/10.1016/j.neuroimage.2010.11.016
Funding
This study was supported by a starting grant of the European Research Council (ERC) under the Horizon 2020 framework (Grant No. 636116 awarded to RMK). BJ is supported by the Research Foundation Flanders (FWO Vlaanderen).
Ethics declarations
Conflict of interest
The authors declare that they have no conflicts of interest.
Ethical approval
All procedures in the current research were approved by the Ethical Committee of the Ghent University Hospital and are in accordance with the Declaration of Helsinki (1964) and its later amendments.
Additional information
Publisher's Note
Springer Nature remains neutral with regard to jurisdictional claims in published maps and institutional affiliations.
Supplementary Information
Below is the link to the electronic supplementary material.
About this article
Cite this article
Park, H.R.P., Verhelst, H., Quak, M. et al. Associations between different white matter properties and reward-based performance modulation. Brain Struct Funct (2021). https://doi.org/10.1007/s00429-021-02222-x
Received:

Accepted:

Published:
Keywords
Reward

White matter

MRI

Fixel-based analysis

Inter-individual differences

Diffusion