Abstract
Nicotine use disorder has been associated with glutamatergic alterations within the basal ganglia that might contribute to relapse. Specifically, initiation of cue-induced nicotine seeking produces rapid, transient synaptic potentiation (t-SP) in nucleus accumbens core (NAcore) medium spiny neurons (MSNs), defined as increases in spine head diameter and AMPA to NMDA current ratios (A/N). Ifenprodil, which inhibits nicotine reinstatement when administered systemically, antagonizes GluN2B-containing NMDA receptors, has affinity for serotonin receptors, and blocks serotonin transporters (SERT). The mechanisms underlying its therapeutic efficacy, however, remain unknown. Using pharmacological and genetic approaches, the current study examined the role of NAcore GluN2B receptors as well as SERT in mediating cue-induced nicotine seeking and associated MSN structure and physiology. Prior to reinstatement, rats received intra-NAcore injections of either ifenprodil, citalopram or artificial cerebral spinal fluid (15 min prior), or GluN2B or control siRNAs (3 consecutive days prior). Rats were sacrificed after a 15-min cue-induced reinstatement session for dendritic spine analysis, western blotting or whole-cell electrophysiology. Intra-NAcore ifenprodil blocked nicotine-seeking behavior and promoted a higher frequency of shorter spines on MSN dendrites. However, a decrease in membrane-bound GluN2B receptor expression did not prevent cue-induced nicotine seeking or associated MSN cell physiology. Interestingly, intra-NAcore citalopram, an SSRI, prevented cue-induced nicotine seeking. Together, these results indicate that the therapeutic effects of ifenprodil on cue-induced nicotine seeking may, in part, be due to its actions at SERT rather than GluN2B, which may be specific to nicotine-seeking as opposed to other drugs of abuse.
This is a preview of subscription content, log in to check access.
Access options
Buy single article
Instant access to the full article PDF.
US$ 39.95
Price includes VAT for USA
Subscribe to journal
Immediate online access to all issues from 2019. Subscription will auto renew annually.
US$ 199
This is the net price. Taxes to be calculated in checkout.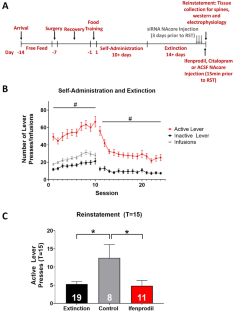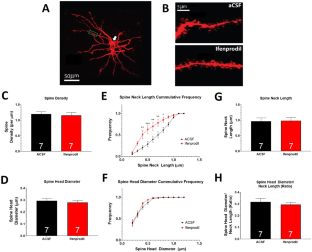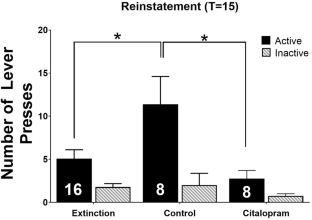 References
Akashi K, Kakizaki T, Kamiya H, Fukaya M, Yamasaki M, Abe M, Natsume R, Watanabe M, Sakimura K (2009) NMDA receptor GluN2B (GluR epsilon 2/NR2B) subunit is crucial for channel function, postsynaptic macromolecular organization, and actin cytoskeleton at hippocampal CA3 synapses. J Neurosci 29(35):10869–10882. https://doi.org/10.1523/JNEUROSCI.5531-08.2009

Bell RF, Kalso EA (2018) Ketamine for pain management. Pain Rep 3(5):e674. https://doi.org/10.1097/PR9.0000000000000674

Bell RF, Dahl JB, Moore RA, Kalso E (2006) Perioperative ketamine for acute postoperative pain. Cochrane Database Syst Rev 1:CD004603. https://doi.org/10.1002/14651858.CD004603.pub2

Bezchlibnyk-Butler K, Aleksic I, Kennedy SH (2000) Citalopram—a review of pharmacological and clinical effects. J Psychiatry Neurosci 25(3):241–254

Bisaga A, Popik P, Bespalov AY, Danysz W (2000) Therapeutic potential of NMDA receptor antagonists in the treatment of alcohol and substance use disorders. Expert Opin Investig Drugs 9(10):2233–2248. https://doi.org/10.1517/13543784.9.10.2233

Chen JP, van Praag HM, Gardner EL (1991) Activation of 5-HT3 receptor by 1-phenylbiguanide increases dopamine release in the rat nucleus accumbens. Brain Res 543(2):354–357

Chenard BL, Shalaby IA, Koe BK, Ronau RT, Butler TW, Prochniak MA, Schmidt AW, Fox CB (1991) Separation of alpha 1 adrenergic and N-methyl-d-aspartate antagonist activity in a series of ifenprodil compounds. J Med Chem 34(10):3085–3090. https://doi.org/10.1021/jm00114a018

Conrad KL, Tseng KY, Uejima JL, Reimers JM, Heng LJ, Shaham Y, Marinelli M, Wolf ME (2008) Formation of accumbens GluR2-lacking AMPA receptors mediates incubation of cocaine craving. Nature 454(7200):118–121. https://doi.org/10.1038/nature06995

Dajas-Bailador F, Wonnacott S (2004) Nicotinic acetylcholine receptors and the regulation of neuronal signalling. Trends Pharmacol Sci 25(6):317–324. https://doi.org/10.1016/j.tips.2004.04.006

De Sarro GB, Bagetta G, Spagnolo C, Nistico G (1993) Antagonists of N-methyl-D-aspartate receptors block seizures induced by putrescine in the deep prepiriform. Neuropharmacology 32(1):43–50

Dong Y, Nestler EJ (2014) The neural rejuvenation hypothesis of cocaine addiction. Trends Pharmacol Sci 35(8):374–383

Elias GM, Elias LA, Apostolides PF, Kriegstein AR, Nicoll RA (2008) Differential trafficking of AMPA and NMDA receptors by SAP102 and PSD-95 underlies synapse development. Proc Natl Acad Sci USA 105(52):20953–20958. https://doi.org/10.1073/pnas.0811025106

Foster Olive M, Del Franco AP, Gipson CD (2018) Diolistic labeling and analysis of dendritic spines. Methods Mol Biol 1727:179–200. https://doi.org/10.1007/978-1-4939-7571-6_14

Gipson CD, Reissner KJ, Kupchik YM, Smith AC, Stankeviciute N, Hensley-Simon ME, Kalivas PW (2013a) Reinstatement of nicotine seeking is mediated by glutamatergic plasticity. Proc Natl Acad Sci USA 110(22):9124–9129. https://doi.org/10.1073/pnas.1220591110

Gipson CD, Kupchik YM, Shen H, Reissner KJ, Thomas CA, Kalivas PW (2013b) Relapse induced by cues predicting cocaine depends on rapid, transient synaptic potentiation. Neuron. https://doi.org/10.1016/j.neuron.2013.01.00

Gipson CD, Kupchik YM, Kalivas PW (2014) Rapid, transient synaptic plasticity in addiction. Neuropharmacology 76(Pt B):276–286. https://doi.org/10.1016/j.neuropharm.2013.04.032

Goenaga J, Powell GL, Leyrer-Jackson JM, Pina J, Phan S, Prakapenka AV, Koebele SV, Namba MD, McClure EA, Bimonte-Nelson HA, Gipson CD (2019) N-acetylcysteine yields sex-specific efficacy for cue-induced reinstatement of nicotine seeking. Addict Biol. https://doi.org/10.1111/adb.12711

Halt AR, Dallapiazza RF, Zhou Y, Stein IS, Qian H, Juntti S, Wojcik S, Brose N, Silva AJ, Hell JW (2012) CaMKII binding to GluN2B is critical during memory consolidation. EMBO J 31(5):1203–1216. https://doi.org/10.1038/emboj.2011.482

Herman BH, Vocci F, Bridge P (1995) The effects of NMDA receptor antagonists and nitric oxide synthase inhibitors on opioid tolerance and withdrawal. Medication development issues for opiate addiction. Neuropsychopharmacology 13(4):269–293. https://doi.org/10.1016/0893-133X(95)00140-9

Hitsman B, Spring B, Borrelli B, Niaura R, Papandonatos GD (2001) Influence of antidepressant pharmacotherapy on behavioral treatment adherence and smoking cessation outcome in a combined treatment involving fluoxetine. Exp Clin Psychopharmacol 9(4):355–362. https://doi.org/10.1037//1064-1297.9.4.355

Hotulainen P, Hoogenraad CC (2010) Actin in dendritic spines: connecting dynamics to function. J Cell Biol 189(4):619–629. https://doi.org/10.1083/jcb.201003008

Huang YH, Lin Y, Mu P, Lee BR, Brown TE, Wayman G, Marie H, Liu W, Yan Z, Sorg BA, Schlüter OM, Zukin RS, Dong Y (2009) In vivo cocaine experience generates silent synapses. Neuron 63(1):40–47. https://doi.org/10.1016/j.neuron.2009.06.007

Hughes JR, Stead LF, Hartmann-Boyce J, Cahill K, Lancaster T (2014) Antidepressants for smoking cessation. Cochrane Database Syst Rev. https://doi.org/10.1002/14651858.CD000031.pub4

Inoue T, Li XB, Abekawa T, Kitaichi Y, Izumi T, Nakagawa S, Koyama T (2004) Selective serotonin reuptake inhibitor reduces conditioned fear through its effect in the amygdala. Eur J Pharmacol 497(3):311–316

Knackstedt LA, LaRowe S, Mardikian P, Malcolm R, Upadhyaya H, Hedden S, Markou A, Kalivas PW (2009) The role of cysteine–glutamate exchange in nicotine dependence in rats and humans. Biol Psychiatry 65(10):841–845. https://doi.org/10.1016/j.biopsych.2008.10.040

Kobayashi T, Washiyama K, Ikeda K (2006) Inhibition of G protein-activated inwardly rectifying K+ channels by ifenprodil. Neuropsychopharmacology 31(3):516–524. https://doi.org/10.1038/sj.npp.1300844

Li Z, Chen Y (2019) Ketamine reduces pain and opioid consumption after total knee arthroplasty: a meta-analysis of randomized controlled studies. Int J Surg 70:70–83. https://doi.org/10.1016/j.ijsu.2019.08.026

Ma YY, Chu NN, Guo CY, Han JS, Cui CL (2007) NR2B-containing NMDA receptor is required for morphine—but not stress-induced reinstatement. Exp Neurol 203(2):309–319. https://doi.org/10.1016/j.expneurol.2006.08.014

Maksay G, Bíró T, Bugovics G (2005) Allosteric modulation of 5-HT3 serotonin receptors. Eur J Pharmacol 514(1):17–24. https://doi.org/10.1016/j.ejphar.2005.03.019

Manepalli S, Surratt CK, Madura JD, Nolan TL (2012) Monoamine transporter structure, function, dynamics, and drug discovery: a computational perspective. AAPS J 14(4):820–831. https://doi.org/10.1208/s12248-012-9391-0

McCool BA, Lovinger DM (1995) Ifenprodil inhibition of the 5-hydroxytryptamine3 receptor. Neuropharmacology 34(6):621–629

Miech R, Johnston L, O'Malley PM, Bachman JG, Patrick ME (2019) Adolescent vaping and nicotine use in 2017–2018—U.S. national estimates. N Engl J Med 380(2):192–193. https://doi.org/10.1056/NEJMc1814130

Mineur YS, Picciotto MR (2009) Biological basis for the co-morbidity between smoking and mood disorders. J Dual Diagn 5(2):122–130

Misra C, Brickley SG, Farrant M, Cull-Candy SG (2000) Identification of subunits contributing to synaptic and extrasynaptic NMDA receptors in Golgi cells of the rat cerebellum. J Physiol 524(Pt 1):147–162. https://doi.org/10.1111/j.1469-7793.2000.00147.x

Mulholland PJ, Chandler LJ, Kalivas PW (2016) Signals from the fourth dimension regulate drug relapse. Trends Neurosci. https://doi.org/10.1016/j.tins.2016.04.007

Overby PF, Daniels CW, Del Franco A, Goenaga J, Powell GL, Gipson CD, Sanabria F (2018) Effects of nicotine self-administration on incentive salience in male Sprague Dawley rats. Psychopharmacology 235(4):1121–1130. https://doi.org/10.1007/s00213-018-4829-4

Papouin T, Ladepeche L, Ruel J, Sacchi S, Labasque M, Hanini M, Groc L, Pollegioni L, Mothet JP, Oliet SH (2012) Synaptic and extrasynaptic NMDA receptors are gated by different endogenous coagonists. Cell 150(3):633–646. https://doi.org/10.1016/j.cell.2012.06.029

Patterson M, Yasuda R (2011) Signalling pathways underlying structural plasticity of dendritic spines. Br J Pharmacol 163(8):1626–1638. https://doi.org/10.1111/j.1476-5381.2011.01328.x

Paxinos G, Franklin KB (2013) The mouse brain in stereotaxic coordinates, 4th edn. Academic Press, Amsterdam, pp 31–231

Petralia RS (2012) Distribution of extrasynaptic NMDA receptors on neurons. Scientif World J 2012:267120. https://doi.org/10.1100/2012/267120

Poleszak E, Wosko S, Serefko A, Wlaz A, Kasperek R, Dudka J, Wrobel A, Nowak G, Wlaz P (2014) The effects of ifenprodil on the activity of antidepressant drugs in the forced swim test in mice. Pharmacol Rep 66(6):1031–1036. https://doi.org/10.1016/j.pharep.2014.06.016

Powell GL, Leyrer-Jackson JM, Goenaga J, Namba MD, Piña J, Spencer S, Stankeviciute N, Schwartz D, Allen NP, Del Franco AP, McClure EA, Olive MF, Gipson CD (2019) Chronic treatment with N-acetylcysteine decreases extinction responding and reduces cue-induced nicotine-seeking. Physiol Rep 7(1):e13958. https://doi.org/10.14814/phy2.13958

Russo SJ, Dietz DM, Dumitriu D, Morrison JH, Malenka RC, Nestler EJ (2010) The addicted synapse: mechanisms of synaptic and structural plasticity in nucleus accumbens. Trends Neurosci 33(6):267–276. https://doi.org/10.1016/j.tins.2010.02.002

Sanacora G, Frye MA, McDonald W, Mathew SJ, Turner MS, Schatzberg AF, Summergrad P, Nemeroff CB, American Psychiatric Association (APA) Council of Research Task Force on Novel Biomarkers, and Treatments (2017) A consensus statement on the use of ketamine in the treatment of mood disorders. JAMA Psychiatry 74(4):399–405. https://doi.org/10.1001/jamapsychiatry.2017.0080

Schrantee A, Solleveld MM, Schwantje H, Bruin WB, Mutsaerts HMM, Adriaanse SM, Lucassen P, Booij J, Reneman L (2019) Dose-dependent effects of the selective serotonin reuptake inhibitor citalopram: a combined SPECT and phMRI study. J Psychopharmacol. https://doi.org/10.1177/0269881119836229

Schumann J, Matzner H, Michaeli A, Yaka R (2009) NR2A/B-containing NMDA receptors mediate cocaine-induced synaptic plasticity in the VTA and cocaine psychomotor sensitization. Neurosci Lett 461(2):159–162. https://doi.org/10.1016/j.neulet.2009.06.002

Scofield MD, Heinsbroek JA, Gipson CD, Kupchik YM, Spencer S, Smith AC, Roberts-Wolfe D, Kalivas PW (2016a) The nucleus accumbens: mechanisms of addiction across drug classes reflect the importance of glutamate homeostasis. Pharmacol Rev 68(3):816–871. https://doi.org/10.1124/pr.116.012484

Scofield MD, Li H, Siemsen BM, Healey KL, Tran PK, Woronoff N, Boger HA, Kalivas PW, Reissner KJ (2016b) cocaine self-administration and extinction leads to reduced glial fibrillary acidic protein expression and morphometric features of astrocytes in the nucleus accumbens core. Biol Psychiatry 80(3):207–215. https://doi.org/10.1016/j.biopsych.2015.12.022

Shen H, Moussawi K, Zhou W, Toda S, Kalivas PW (2011) Heroin relapse requires long-term potentiation-like plasticity mediated by NMDA2b-containing receptors. Proc Natl Acad Sci USA 108(48):19407–19412. https://doi.org/10.1073/pnas.1112052108

Sheng M, Cummings J, Roldan LA, Jan YN, Jan LY (1994) Changing subunit composition of heteromeric NMDA receptors during development of rat cortex. Nature 368(6467):144–147. https://doi.org/10.1038/368144a0

Shoaib M, Buhidma Y (2018) Why are antidepressant drugs effective smoking cessation aids? Current Neuropharmacol 16(4):426–437

Sim-Selley LJ, Selley DE, Vogt LJ, Childers SR, Martin TJ (2000) Chronic heroin self-administration desensitizes mu opioid receptor-activated G-proteins in specific regions of rat brain. J Neurosci 20(12):4555–4562

St Helen G, Havel C, Dempsey DA, Jacob P 3rd, Benowitz NL (2016) Nicotine delivery, retention and pharmacokinetics from various electronic cigarettes. Addiction 111(3):535–544. https://doi.org/10.1111/add.13183

Stefanik MT, Kupchik YM, Kalivas PW (2016) Optogenetic inhibition of cortical afferents in the nucleus accumbens simultaneously prevents cue-induced transient synaptic potentiation and cocaine-seeking behavior. Brain Struct Funct 221(3):1681–1689. https://doi.org/10.1007/s00429-015-0997-8

Stolerman IP, Jarvis MJ (1995) The scientific case that nicotine is addictive. Psychopharmacology 117(1):2–10 (discussion 14–20)

Talbot JN, Geffert LM, Jorvig JE, Goldstein RI, Nielsen CL, Wolters NE, Amos ME, Munro CA, Dallman E, Mereu M, Tanda G, Katz JL, Indarte M, Madura JD, Choi H, Leak RK, Surratt CK (2016) Rapid and sustained antidepressant properties of an NMDA antagonist/monoamine reuptake inhibitor identified via transporter-based virtual screening. Pharmacol Biochem Behav 150–151:22–30. https://doi.org/10.1016/j.pbb.2016.08.007

Tomek SE, Lacrosse AL, Nemirovsky NE, Olive MF (2013) NMDA receptor modulators in the treatment of drug addiction. Pharmaceuticals (Basel) 6(2):251–268. https://doi.org/10.3390/ph6020251

van Zundert B, Yoshii A, Constantine-Paton M (2004) Receptor compartmentalization and trafficking at glutamate synapses: a developmental proposal. Trends Neurosci 27(7):428–437. https://doi.org/10.1016/j.tins.2004.05.010

Wang TW, Asman K, Gentzke AS, Cullen KA, Holder-Hayes E, Reyes-Guzman C, Jamal A, Neff L, King BA (2018) Tobacco product use among adults—United States, 2017. MMWR Morb Mortal Wkly Rep 67(44):1225–1232. https://doi.org/10.15585/mmwr.mm6744a2

Yao Y, Ju P, Liu H, Wu X, Niu Z, Zhu Y, Zhang C, Fang Y (2020) Ifenprodil rapidly ameliorates depressive-like behaviors, activates mTOR signaling and modulates proinflammatory cytokines in the hippocampus of CUMS rats. Psychopharmacology. https://doi.org/10.1007/s00213-020-05469-0

Yoshimoto K, McBride WJ (1992) Regulation of nucleus accumbens dopamine release by the dorsal raphe nucleus in the rat. Neurochem Res 17(5):401–407
Acknowledgements
The authors thank Hanaa Ulangkaya, Vincent Carfagno, Amanda Bull, Mark Namba, and Ngoc Van Do for their technical assistance. We also thank the laboratories of Dr. M. Foster Olive and Dr. Heather A. Bimonte-Nelson for providing equipment necessary for western blot experiments.
Funding
This work was supported by the Arizona Alzheimer's Consortium, DA036569, DA044479, DA046526, and DA045881 (to CDG), and AA027962 (to JMLJ).
Ethics declarations
Conflict of interest
The authors declare that they have no conflict of interest.
Ethical approval
All procedures performed in the studies involving animals were in accordance with the ethical standards of the Arizona State University Institutional Animal Care and Use Committee. Protocol number: 18-1642R RFC 18.
Additional information
Publisher's Note
Springer Nature remains neutral with regard to jurisdictional claims in published maps and institutional affiliations.
Electronic supplementary material
Below is the link to the electronic supplementary material.
About this article
Cite this article
Leyrer-Jackson, J.M., Piña, J.A., McCallum, J. et al. Direct administration of ifenprodil and citalopram into the nucleus accumbens inhibits cue-induced nicotine seeking and associated glutamatergic plasticity. Brain Struct Funct (2020). https://doi.org/10.1007/s00429-020-02103-9
Received:

Accepted:

Published:
Keywords
Nicotine

Ifenprodil

Citalopram

GluN2B

NMDA

SERT

Nucleus accumbens

Medium spiny neurons