Abstract
ALK-rearranged renal cell carcinoma is a provisional entity in the 2016 WHO Classification of Tumors of the Urinary System and Male Genital Organs. The reported fusion partners included VCL, TPM3, EML4, STRN, and HOOK1. Herein, we present a peculiar renal cell carcinoma morphologically resembling metanephric adenoma and harboring a novel PLEKHA7-ALK fusion. Microscopically, the tumor is composed of bland epithelial cells with scant to moderate amount of amphophilic cytoplasm, round and uniform nuclei, delicate chromatin, and inconspicuous nucleoli, arranged in tightly packed small acini and angulated tubules. Papillary formation, intraluminal glomeruloid tufts, microcysts, and solid nests were focally observed. Psammomatous calcifications were evident. The tumor cells were diffusely reactive for CK7, AMACR, PAX8, and ALK, while non-reactive for WT1, BRAF V600E, CD57, carbonic anhydrase IX, TFE3, and cathepsin K. Fluorescence in situ hybridization showed breaking apart of ALK. A novel PLEKHA7exon18-ALKexon20 fusion was detected using ArcherDX FusionPlex next-generation sequencing panel and was further confirmed with reverse-transcriptase PCR. Our case demonstrates that in contrast to prior cases showing high-grade tumor cells, ALK-rearranged renal cell carcinoma may also present as a low-grade renal tumor mimicking metanephric adenoma. Immunohistochemistry and molecular testing are helpful to identify this tumor, which may be eligible for ALK inhibitor-targeted therapy.
This is a preview of subscription content, log in to check access.
Access options
Buy single article
Instant access to the full article PDF.
US$ 39.95
Price includes VAT for USA
Subscribe to journal
Immediate online access to all issues from 2019. Subscription will auto renew annually.
US$ 199
This is the net price. Taxes to be calculated in checkout.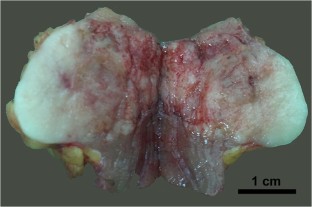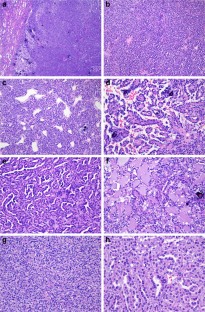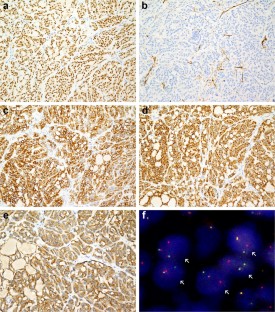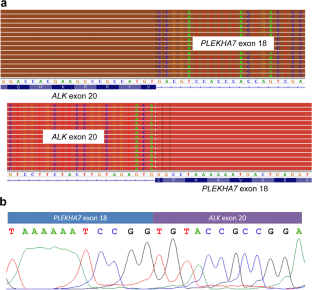 References
1.

Debelenko LV, Raimondi SC, Daw N, Shivakumar BR, Huang D, Nelson M, Bridge JA (2011) Renal cell carcinoma with novel VCL-ALK fusion: new representative of ALK-associated tumor spectrum. Mod Pathol 24(3):430–442. https://doi.org/10.1038/modpathol.2010.213

2.

Marino-Enriquez A, Ou WB, Weldon CB, Fletcher JA, Perez-Atayde AR (2011) ALK rearrangement in sickle cell trait-associated renal medullary carcinoma. Genes Chromosom Cancer 50(3):146–153. https://doi.org/10.1002/gcc.20839

3.

Sugawara E, Togashi Y, Kuroda N, Sakata S, Hatano S, Asaka R, Yuasa T, Yonese J, Kitagawa M, Mano H, Ishikawa Y, Takeuchi K (2012) Identification of anaplastic lymphoma kinase fusions in renal cancer: large-scale immunohistochemical screening by the intercalated antibody-enhanced polymer method. Cancer 118(18):4427–4436. https://doi.org/10.1002/cncr.27391

4.

Sukov WR, Hodge JC, Lohse CM, Akre MK, Leibovich BC, Thompson RH, Cheville JC (2012) ALK alterations in adult renal cell carcinoma: frequency, clinicopathologic features and outcome in a large series of consecutively treated patients. Mod Pathol 25(11):1516–1525. https://doi.org/10.1038/modpathol.2012.107

5.

Hodge JC, Pearce KE, Sukov WR (2013) Distinct ALK-rearranged and VCL-negative papillary renal cell carcinoma variant in two adults without sickle cell trait. Mod Pathol 26(4):604–605. https://doi.org/10.1038/modpathol.2012.144

6.

Srigley JR, Delahunt B, Eble JN, Egevad L, Epstein JI, Grignon D, Hes O, Moch H, Montironi R, Tickoo SK, Zhou M, Argani P, ISUP Renal Tumor Panel (2013) The International Society of Urological Pathology (ISUP) Vancouver classification of renal Neoplasia. Am J Surg Pathol 37(10):1469–1489. https://doi.org/10.1097/PAS.0b013e318299f2d1

7.

Moch H, Amin MB, Argani P et al (2016) Emerging/provisional renal cell carcinomas. In: Moch H, Humphrey PA, Ulbright TM, Reuter VE (eds) WHO classification of Tumours of the urinary system and male genital organs, 4th edn. IARC, Lyon, p 16

8.

Lee C, Park JW, Suh JH, Nam KH, Moon KC (2013) ALK-positive renal cell carcinoma in a large series of consecutively resected Korean renal cell carcinoma patients. Korean J Pathol 47(5):452–457. https://doi.org/10.4132/KoreanJPathol.2013.47.5.452

9.

Smith NE, Deyrup AT, Marino-Enriquez A et al (2014) VCL-ALK renal cell carcinoma in children with sickle-cell trait: the eighth sickle-cell nephropathy? Am J Surg Pathol 38(6):858–863. https://doi.org/10.1097/PAS.0000000000000179

10.

Kusano H, Togashi Y, Akiba J, Moriya F, Baba K, Matsuzaki N, Yuba Y, Shiraishi Y, Kanamaru H, Kuroda N, Sakata S, Takeuchi K, Yano H (2016) Two cases of renal cell carcinoma harboring a novel STRN-ALK fusion gene. Am J Surg Pathol 40(6):761–769. https://doi.org/10.1097/PAS.0000000000000610

11.

Cajaiba MM, Jennings LJ, Rohan SM, Perez-Atayde AR, Marino-Enriquez A, Fletcher JA, Geller JI, Leuer KM, Bridge JA, Perlman EJ (2016) ALK-rearranged renal cell carcinomas in children. Genes Chromosom Cancer 55(5):442–451. https://doi.org/10.1002/gcc.22346

12.

Cajaiba MM, Jennings LJ, George D, Perlman EJ (2016) Expanding the spectrum of ALK-rearranged renal cell carcinomas in children: identification of a novel HOOK1-ALK fusion transcript. Genes Chromosom Cancer 55(10):814–817. https://doi.org/10.1002/gcc.22382

13.

Chen YB, Xu J, Skanderup AJ, Dong Y, Brannon AR, Wang L, Won HH, Wang PI, Nanjangud GJ, Jungbluth AA, Li W, Ojeda V, Hakimi AA, Voss MH, Schultz N, Motzer RJ, Russo P, Cheng EH, Giancotti FG, Lee W, Berger MF, Tickoo SK, Reuter VE, Hsieh JJ (2016) Molecular analysis of aggressive renal cell carcinoma with unclassified histology reveals distinct subsets. Nat Commun 7:13131. https://doi.org/10.1038/ncomms13131

14.

Linehan WM, Spellman PT, Ricketts CJ et al (2016) Comprehensive molecular characterization of papillary renal-cell carcinoma. N Engl J Med 374(2):135–145. https://doi.org/10.1056/NEJMoa1505917

15.

Thorner PS, Shago M, Marrano P, Shaikh F, Somers GR (2016) TFE3-positive renal cell carcinomas are not always Xp11 translocation carcinomas: report of a case with a TPM3-ALK translocation. Pathol Res Pract 212(10):937–942. https://doi.org/10.1016/j.prp.2016.07.004

16.

Jeanneau M, Gregoire V, Desplechain C et al (2016) ALK rearrangements-associated renal cell carcinoma (RCC) with unique pathological features in an adult. Pathol Res Pract 212(11):1064–1066. https://doi.org/10.1016/j.prp.2016.07.015

17.

Yu W, Wang Y, Jiang Y, Zhang W, Li Y (2017) Genetic analysis and clinicopathological features of ALK-rearranged renal cell carcinoma in a large series of resected Chinese renal cell carcinoma patients and literature review. Histopathology 71(1):53–62. https://doi.org/10.1111/his.13185

18.

Oyama Y, Nishida H, Kusaba T, Kadowaki H, Arakane M, Daa T, Watanabe D, Akita Y, Sato F, Mimata H, Yokoyama S (2017) A case of anaplastic lymphoma kinase-positive renal cell carcinoma coincident with Hodgkin lymphoma. Pathol Int 67(12):626–631. https://doi.org/10.1111/pin.12592

19.

Bodokh Y, Ambrosetti D, Kubiniek V, Tibi B, Durand M, Amiel J, Pertuit M, Barlier A, Pedeutour F (2018) ALK-TPM3 rearrangement in adult renal cell carcinoma: report of a new case showing loss of chromosome 3 and literature review. Cancer Gene Ther 221:31–37. https://doi.org/10.1016/j.cancergen.2017.11.010

20.

Pal SK, Bergerot P, Dizman N, Bergerot C, Adashek J, Madison R, Chung JH, Ali SM, Jones JO, Salgia R (2018) Responses to Alectinib in ALK-rearranged papillary renal cell carcinoma. Eur Urol 74(1):124–128. https://doi.org/10.1016/j.eururo.2018.03.032

21.

Wang XT, Fang R, Ye SB et al (2019) Targeted next-generation sequencing revealed distinct clinicopathologic and molecular features of VCL-ALK RCC: a unique case from an older patient without clinical evidence of sickle cell trait. Pathol Res Pract 215(11):152651. https://doi.org/10.1016/j.prp.2019.152651

22.

Ge H, Liu K, Juan T, Fang F, Newman M, Hoeck W (2011) FusionMap: detecting fusion genes from next-generation sequencing data at base-pair resolution. Bioinformatics 27(14):1922–1928. https://doi.org/10.1093/bioinformatics/btr310

23.

Benelli M, Pescucci C, Marseglia G, Severgnini M, Torricelli F, Magi A (2012) Discovering chimeric transcripts in paired-end RNA-seq data by using EricScript. Bioinformatics 28(24):3232–3239. https://doi.org/10.1093/bioinformatics/bts617

24.

Yoshida MA, Ohyashiki K, Ochi H, Gibas Z, Pontes JE, Prout GR Jr, Huben R, Sandberg AA (1986) Cytogenetic studies of tumor tissue from patients with nonfamilial renal cell carcinoma. Cancer Res 46(4 Pt 2):2139–2147

25.

Kovacs G, Szucs S, De Riese W, Baumgartel H (1987) Specific chromosome aberration in human renal cell carcinoma. Int J Cancer 40(2):171–178. https://doi.org/10.1002/ijc.2910400208

26.

Renshaw AA, Zhang H, Corless CL, Fletcher JA, Pins MR (1997) Solid variants of papillary (chromophil) renal cell carcinoma: clinicopathologic and genetic features. Am J Surg Pathol 21(10):1203–1209. https://doi.org/10.1097/00000478-199710000-00011

27.

Mantoan Padilha M, Billis A, Allende D, Zhou M, Magi-Galluzzi C (2013) Metanephric adenoma and solid variant of papillary renal cell carcinoma: common and distinctive features. Histopathology 62(6):941–953. https://doi.org/10.1111/his.12106

28.

Kinney SN, Eble JN, Hes O, Williamson SR, Grignon DJ, Wang M, Zhang S, Baldrige LA, Martignoni G, Brunelli M, Wang L, Comperat E, Fan R, Montironi R, MacLennan G, Cheng L (2015) Metanephric adenoma: the utility of immunohistochemical and cytogenetic analyses in differential diagnosis, including solid variant papillary renal cell carcinoma and epithelial-predominant nephroblastoma. Mod Pathol 28(9):1236–1248. https://doi.org/10.1038/modpathol.2015.81

29.

Argani P (2015) MiT family translocation renal cell carcinoma. Semin Diagn Pathol 32(2):103–113. https://doi.org/10.1053/j.semdp.2015.02.003

30.

Schrock AB, Zhu VW, Hsieh WS, Madison R, Creelan B, Silberberg J, Costin D, Bharne A, Bonta I, Bosemani T, Nikolinakos P, Ross JS, Miller VA, Ali SM, Klempner SJ, Ou SI (2018) Receptor tyrosine kinase fusions and BRAF kinase fusions are rare but actionable resistance mechanisms to EGFR tyrosine kinase inhibitors. J Thorac Oncol 13(9):1312–1323. https://doi.org/10.1016/j.jtho.2018.05.027

31.

Pulimeno P, Bauer C, Stutz J, Citi S (2010) PLEKHA7 is an adherens junction protein with a tissue distribution and subcellular localization distinct from ZO-1 and E-cadherin. PLoS One 5(8):e12207. https://doi.org/10.1371/journal.pone.0012207

32.

Chung JK, Nocka LM, Decker A, Wang Q, Kadlecek TA, Weiss A, Kuriyan J, Groves JT (2019) Switch-like activation of Bruton's tyrosine kinase by membrane-mediated dimerization. Proc Natl Acad Sci U S A 116(22):10798–10803. https://doi.org/10.1073/pnas.1819309116

33.

Li T, Zhang F, Wu Z, Cui L, Zhao X, Wang J, Hu Y (2019) PLEKHM2-ALK: a novel fusion in small-cell lung cancer and durable response to ALK inhibitors. Lung Cancer 139:146–150. https://doi.org/10.1016/j.lungcan.2019.11.002

34.

Drilon A, Laetsch TW, Kummar S, DuBois S, Lassen UN, Demetri GD, Nathenson M, Doebele RC, Farago AF, Pappo AS, Turpin B, Dowlati A, Brose MS, Mascarenhas L, Federman N, Berlin J, el-Deiry WS, Baik C, Deeken J, Boni V, Nagasubramanian R, Taylor M, Rudzinski ER, Meric-Bernstam F, Sohal DPS, Ma PC, Raez LE, Hechtman JF, Benayed R, Ladanyi M, Tuch BB, Ebata K, Cruickshank S, Ku NC, Cox MC, Hawkins DS, Hong DS, Hyman DM (2018) Efficacy of larotrectinib in TRK fusion-positive cancers in adults and children. N Engl J Med 378(8):731–739. https://doi.org/10.1056/NEJMoa1714448

35.

Solomon JP, Hechtman JF (2019) Detection of NTRK fusions: merits and limitations of current diagnostic platforms. Cancer Res 79(13):3163–3168. https://doi.org/10.1158/0008-5472.CAN-19-0372

36.

Cai J, Huang X, Yin M, Pan C, Song L, Zhan Z, Chen J, Gao Y, Tang J, Li Y, Shen S (2019) A novel fusion gene PLEKHA6-NTRK3 in langerhans cell histiocytosis. Int J Cancer 144(1):117–124. https://doi.org/10.1002/ijc.31636
Contributions
JFH and CCP designed and performed the study, reviewed the slides, collected and analyzed the data. HJC provided clinical data. JFH wrote the manuscript. HJC and CCP supervised the study and provided critical revision.
Funding
This study was supported by the research grant from the Taipei Institute of Pathology, Taipei, Taiwan (No. TIP-108-004).
Ethics declarations
This study was performed in accordance with research policies approved by Taipei Veterans General Hospital.
Conflict of interest
The authors declare that they have no conflict of interest.
Additional information
Publisher's note
Springer Nature remains neutral with regard to jurisdictional claims in published maps and institutional affiliations.
About this article
Cite this article
Hang, J., Chung, H. & Pan, C. ALK-rearranged renal cell carcinoma with a novel PLEKHA7-ALK translocation and metanephric adenoma-like morphology. Virchows Arch 476, 921–929 (2020). https://doi.org/10.1007/s00428-020-02752-5
Received:

Revised:

Accepted:

Published:

Issue Date:
Keywords
PLEKHA7
ALK

Renal cell carcinoma

Metanephric adenoma