Abstract
Joseph Engel (1816–1899) was a Viennese anatomist and pathologist trained under the mentorship of Carl von Rokitansky (1804–1878), the man who laid the foundations of gross anatomical pathology. In 1839, Engel completed his first scientific project: the dissertation entitled "Über den Hirnanhang und den Trichter" (About the pituitary gland and the infundibulum). This work analyzed the pathological and clinical characteristics of the pituitary and infundibulum tumor specimens collected at the Vienna Pathologic-Anatomical Museum. This little-known work represents one of the earliest attempts to determine the function of the pituitary gland-infundibulum complex. Among the 12 pituitary/infundibulum tumors examined in Engel's dissertation, one of the cases (no. 10) was instrumental for the definition of hypophyseal duct tumors, or craniopharyngiomas (CPs). This huge cyst, approximately the size of a goose egg (6 × 6 × 4.5 cm), was found in 1828 during the autopsy of a 33-year-old patient who suffered from severe headache, blindness, apathy, and finally somnolence. The cyst had replaced the hypophysis and extended upwards into the hypothalamic region and downwards into the sphenoid sinus, its inferior pole protruding through the soft palate. In 1904, the Viennese pathologist Jakob Erdheim (1874–1937) re-examined this lesion and conclusively categorized it as a hypophyseal duct tumor after a detailed histological study. The original tumor specimen corresponding to this CP case is still preserved at the Narrenturm, the circular building within the old Allgemeines Krankenhaus (Vienna General Hospital) that today holds the pathological collections of Vienna's Federal Pathologic-Anatomical Museum. To the best of our knowledge, this tumor is very probably the oldest preserved whole CP specimen in the world. This paper presents a comprehensive review of Engel's dissertation, the pioneering pathological work on pituitary and infundibulum tumors which laid the groundwork for the proper clinical, topographic, and pathological categorization of craniopharyngiomas.
Access options
Buy single article
Instant access to the full article PDF.
US$ 39.95
Tax calculation will be finalised during checkout.
Subscribe to journal
Immediate online access to all issues from 2019. Subscription will auto renew annually.
US$ 119
Tax calculation will be finalised during checkout.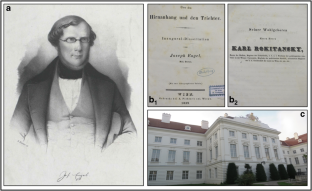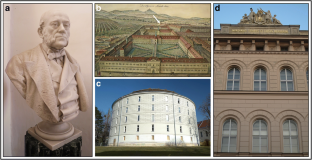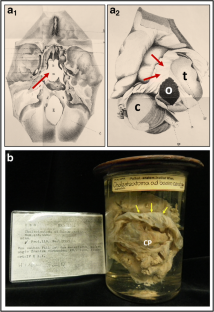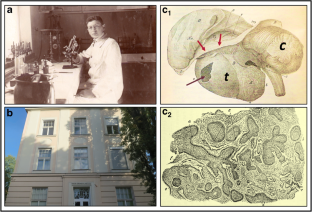 References
1.

Vogl A (1967) Six hundred years of medicine in Vienna. A history of the Vienna School of Medicine. Bull N Y Acad Med 43:282–299

2.

Lesky E (1976) The Vienna Medical School of the 19th century. The Johns Hopkins University Press, Baltimore

3.

Engel J (1839) Über den Hirnanhang und den Trichter. Inaugural-dissertation. Wien, Gedruckt bei A. Pichler's sel. Witwe

4.

Erdheim J (1904) Über Hypophysengangsgeschwülste und Hirncholesteatome. Sitzungsb Kais Akad Wissen Math Naturw Klin 113:537–726

5.

(No authors) (1916) A forgotten scholar. Celebrating the 100th birthday of the pathologist Josef Engel. Wien Med Wochenschr 66: 635–640 [in German]

6.

Weichselbaum A (1899) Nachruf auf Josef Engel (1816-1899). Wien Klin Wochenschr 12:468–470

7.

Engel J (1845) Entwurf einer pathologisch-anatomischen Propädeutik. Kaulfuss, Wien

8.

Batt RE (2011) Microscopy and the discovery of endometriosis and adenomyosis. In: Batt RE: a history of endometriosis. Springer-Verlag, London, pp 39–56

9.

Walter T (1992) Der Anatom und Pathologe Josef Engel, 1816-1899. Volume 237. Die Neue Reihe, Zürcher medizingeschichtliche Abhandlungen. Juris Druck + Verlag

10.

Vesalii A (1543) De humani corporis fabrica Libri Septem. Ex oficina Joannis Oppori, Basilea, pp 620–621

11.

Morgagni JB (1769) The seats and causes of diseases investigated by anatomy, in five books. Translated from the Latin of John Baptist Morgagni by Benjamin Alexander, M.D., in three volumes. Vol I. London

12.

Wenzel J (1811) Observations sur le Cervelet, et sur les diverses Parties du Cerveau dans les Épileptiques. Publiées, après sa mort, par son frère et son collaborateur, C. Wenzel. Ouvrage traduit de làllemand, par M. Breton. Paris, J.E.G. Dufour

13.

Günter K (2013) Joseph Wenzel and the first medical society for research in epilepsy founded in 1802 in Mainz, Germany. Epilepsy Behav 28:304

14.

Rayer P (1823) Observations sur les maladies de l'appendice sus-sphénoidal (glande pituitaire) du cerveau. Arch Gen Med 2:350–367

15.

Medvei VC (1982) A history of endocrinology. MTP Press Limited, Lancaster, International Medical Publishers, pp 171–174

16.

Pascual JM, Prieto R, Castro-Dufourny I, Mongardi L, Roskosky M, Strauss S, Carrasco R, Barrios L (2018) Craniopharyngiomas primarily involving the hypothalamus: a model of neurosurgical lesions to elucidate the neurobiological basis of psychiatric disorders. World Neurosurg 120:e1245–e1278

17.

Monro A (1783) Observations on the structure and function of the nervous system. William Creech, Edinburgh

18.

Greding JE (1791) In: Greding CW (ed) Sämmtliche Medizinische Schriften, vol I. Carl Heinrich Henning, Greiz

19.

Pascual JM, Prieto R, Rosdolsky M, Strauss S, Castro-Dufourny I, Hofecker V, Winter E, Carrasco R, Ulrich W (2018) Cystic tumors of the pituitary infundibulum: seminal autopsy specimens (1899 to 1904) that allowed clinical-pathological craniopharyngioma characterization. Pituitary 21:393–405

20.

Pascual JM, Prieto R, Mazzarello P (2015) Sir Victor Horsley: Pioneer craniopharyngioma surgeon. J Neurosurg 123:39–51

21.

Pascual JM, Prieto R, Castro-Dufourny I, Carrasco R, Strauss S, Barrios L (2014) Development of intracranial approaches for craniopharyngiomas: an analysis of the first 160 historical procedures. Neurosurg Focus 36(4):E13

22.

Castro-Dufourny I, Carrasco R, Prieto R, Pascual JM (2015) Infundibulo-tuberal syndrome: the origins of neuroendocrinology in France. Pituitary 18:838–843

23.

Klinkosch JT (1775) Dissertationes Medicae Selectiores Pragenses, volumen primum, No. XII: 200–208, Pragae et Dresdae, apud Georgium Conradum Walther

24.

Pascual JM, Rosdolsky M, Prieto R, Strauss WE, Ulrich W (2015) Jakob Erdheim (1874–1937): father of hypophyseal-duct tumors (craniopharyngiomas). Virchows Arch 467:459–469

25.

Pascual JM, Prieto R (2016) Harvey Cushing and pituitary case number 3 (Mary D.): the origin of this most baffling problem in neurosurgery. Neurosurg Focus 41:E6

26.

Pascual JM, Prieto R (2018) Harvey Cushing's craniopharyngioma treatment. Part 1. Identification and clinicopathological characterization of this challenging pituitary tumor. J Neurosurg October 1: 1–15. https://doi.org/10.3171/2018.5.JNS18153

27.

Sedivy R (2011) Pathoanatomical museum of Vienna. Virchows Arch 458:357–358
Acknowledgments
The authors wish to thank Crystal Smith and Liliya Gusakova, reference librarians of the Department of History of Medicine at the National Library of Medicine, National Institutes of Health, Bethesda, Maryland, for her kind assistance during the process of searching and retrieving articles and monographs used in this study. The authors are also indebted to the staff at the Francis Countway Medical Library at Harvard Medical School, Boston, Massachusetts, for their invaluable help in obtaining some of the original research material used for this study. We would especially like to express our acknowledgment to the staff in the Narrenturm and the Jakob Erdheim Institute for their kind assistance and the original pictorial material provided for this study. Finally, the authors wish to express their gratitude to George Hamilton for his critical review of the language and style of the manuscript.
Ethics declarations
This article does not involve research on human patients and/or animals. It is a historical study in accordance with existing ethical requirements.
Conflict of interest
The authors declare that they have no conflict of interest.
Additional information
Publisher's note
Springer Nature remains neutral with regard to jurisdictional claims in published maps and institutional affiliations.
About this article
Cite this article
Pascual, J.M., Prieto, R., Rosdolsky, M. et al. Joseph Engel (1816–1899), author of a meaningful dissertation on tumors of the pituitary infundibulum: his report on the oldest preserved whole craniopharyngioma specimen. Virchows Arch 476, 773–782 (2020). https://doi.org/10.1007/s00428-019-02664-z
Received:

Revised:

Accepted:

Published:

Issue Date:
Keywords
Carl Rokitansky

Craniopharyngioma

Hypothalamus

Joseph Engel

Jakob Erdheim

Infundibulum

Pituitary cyst

Pituitary gland