Abstract
In recent years, the financial world has become more complex and intricate. In this context, numeracy and, particularly, financial literacy, are seen as paramount in providing consumers with the knowledge and confidence required to take part in financial markets. Despite some indicative empirical findings, it is still to be ascertained how the two competences differentially contribute to the quality of decision-making in financial contexts. Furthermore, it is still unknown to what degree financial literacy and numeracy, taken as relevant mind-ware for financial decision-making, are effective in guarding against well-documented biases such as loss aversion and framing effects. This study aims to clarify these issues by employing an experimental task, conceived as an approximation to real-world decision-making involving the sale of shares. Our results suggest that numeracy and financial literacy affect decision-making differently in a pattern that, in part, runs counter to conventional economic theory. The data indicate that numeracy promotes a pattern of choices closer to economic rationality, while financial literacy can prove counterproductive and may amplify cognitive biases, namely framing effects and loss aversion. The outcomes are interpreted in light of dual-process theories, and the political implications discussed.
This is a preview of subscription content, log in to check access.
Access options
Buy single article
Instant access to the full article PDF.
US$ 39.95
Price includes VAT for USA
Subscribe to journal
Immediate online access to all issues from 2019. Subscription will auto renew annually.
US$ 199
This is the net price. Taxes to be calculated in checkout.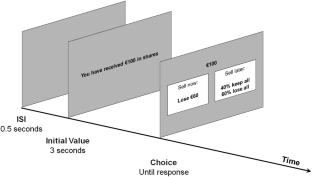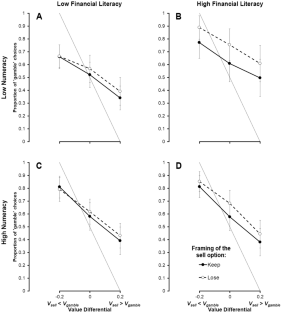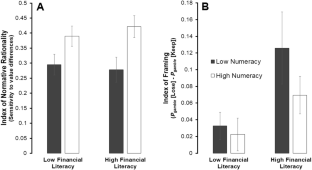 Notes
1.

In the present paper, we will take maximization of the excepted value as the normatively correct strategy, mostly due to its straightforward calculation and interpretation. For the most part, our conclusions would be unchanged if Expected Utility was considered instead (with the added issue that a utility function would have to be assumed), as the latter should be a monotonously increasing function of the former (Von Neumann & Morgenstern, 1947).
References
Arkes, H. R. (1991). Costs and benefits of judgment errors: Implications for debiasing. Psychological Bulletin,110, 486–498.

Bank of Portugal. (2015). Survey on the Financial Literacy of the Portuguese Population. Lisbon: National Council of Financial Supervisors.

Barber, B. M., & Odean, T. (2000). Trading is hazardous to your wealth: The common stock investment performance of individual investors. The Journal of Finance,55(2), 773–806.

Benartzi, S., & Thaler, R. H. (2001). Naive diversification strategies in defined contribution saving plans. American Economic Review,91(1), 79–98.

Camerer, C. F., & Hogarth, R. M. (1999). The effect of financial incentives. Journal of Risk and Uncertainty,19(1–3), 7–42.

Cameron, L. A. (1999). Raising the stakes in the ultimatum game: Experimental evidence from Indonesia. Economic Inquiry,37(1), 47–59.

Cassotti, M., Habib, M., Poirel, N., Aïte, A., Houdé, O., & Moutier, S. (2012). Positive emotional context eliminates the framing effect in decision-making. Emotion,12(5), 926–931.

Chater, N., Huck, S., & Inderst, R. (2010). Consumer decision-making in retail investment services: A behavioural economics perspective. Report to the European Commission Directorate-General Health and Consumers (SANCO), Brussels.

Choi, J., Laibson, D., & Madrian, B. C. (2005). Are Empowerment and Education Enough? Under-diversification in 401(k) Plans. Brookings Papers on Economic Activity,2, 151–198.

Cokely, E. T., & Kelley, C. M. (2009). Cognitive abilities and superior decision making un-der risk: A protocol analysis and process model evaluation. Judgment and Decision-Making,4, 20–33.

Crotty, J. (2009). Structural causes of the global financial crisis: A critical assessment of the new financial architecture. Cambridge Journal of Economics,33, 563–580.

de Bassa Scheresberg, C. (2013). Financial literacy and financial behavior among young adults: Evidence and implications. Numeracy,6(2), 5.

De Martino, B., Kumaran, D., Seymour, B., & Dolan, R. J. (2006). Frames, biases, and rational decision-making in the human brain. Science,313, 684–687.

Diacon, S., & Hasseldine, J. (2007). Framing effects and risk perception: The effect of prior performance presentation format on investment fund choice. Journal of Economy Psychology,28, 31–52.

Disney, R., & Gathergood, J. (2013). Financial literacy and consumer credit portfolios. Journal of Banking & Finance,37(7), 2246–2254.

Epley, N., Mak, D., & Idson, L. C. (2006). Bonus or rebate? The impact of income framing on spending and saving: Erratum. Journal of Behavioral Decision Making,19(4), 407.

Evans, J. S., & B. T., (2003). In two minds: Dual process accounts of reasoning. Trends in Cognitive Sciences,7, 454–459.

Evans, J. S. B. T. (2010). Intuition and reasoning: A dual-process perspective. Psychological Inquiry,21, 313–326.

Evans, J. S. B. T., & Stanovich, K. E. (2013). Dual-process theories of higher cognition: Advancing the debate. Perspectives on Psychological Science,8, 223–241.

Fernandes, D., Lynch, J. G., Jr., & Netemeyer, R. G. (2014). Financial literacy, financial education, and downstream financial behaviors. Management Science,60(8), 1861–1883.

Frederick, S. (2005). Cognitive reflection and decision making. Journal of Economic Perspectives,19, 25–42.

Garcia-Retamero, R., Sobków, A., Petrova, D., Garrido, D., & Traczyk, J. (2019). Numeracy and risk literacy: What have we learned so far? The Spanish Journal of Psychology,22(e10), 1–11.

Grether, D. M., & Plot, C. R. (1979). Economic theory of choice and the preference reversal phenomenon. American Economic Review,69(4), 623–638.

Hertwig, R., & Ortmann, A. (2001). Experimental practices in economics: A methodological challenge for psychologists? Behavioral and Brain Sciences,24(3), 83–451.

Jappelli, T., & Padula, M. (2013). Investment in financial literacy and saving decisions. Journal of Banking and Finance,37(8), 2779–2792.

Kahneman, D., & Frederick, S. (2007). Frames and brains: Elicitation and control of response tendencies. Trends in Cognitive Sciences,11, 45–46.

Kahneman, D. (2003). Maps of bounded rationality: Psychology for behavioral economics. American Economic Review,93(5), 1449–1475.

Kahneman, D. (2011). Thinking fast and slow. London: Penguin Books.

Kahneman, D., & Frederick, S. (2002). Representativeness revisited: Attribute substitution in intuitive judgment. In D. Gilovich & D. Kahneman (Eds.), Heuristics and biases: The psychology of intuitive judgment (pp. 49–81). New York: Cambridge University Press.

Kahneman, D., & Tversky, A. (1979). Prospect theory: an analysis of decision under risk. Econometrica,47(2), 263–262.

Kirsch, I., Kader, B., Jensen, G. V., & Kopher, W. (2002). Adult Literacy in American US Department of Education. National Center for Education Statistics

Lichtenstein, S., & Slovic, P. (1973). Response-induced reversals of preference in gambling: An extended replication in Las Vegas. Journal of Experimental Psychology,101(1), 16–20.

Lipkus, I. M., Samsaand, G., & Rimer, B. K. (2001). General performance on a numeracy scale among highly educated samples. Medical Decision Making,21, 37–44.

Lusardi, A. (2012). Numeracy financial literacy and financial decision-making. Numeracy,5(1), 1–12.

Lusardi, A., & Mitchell, O. S. (2007a). Baby boomer retirement security: The roles of planning, financial literacy and housing wealth. Journal of Monetary Economics,54(1), 205–224.

Lusardi, A., & Mitchell, O. S. (2007b). Financial literacy and retirement preparedness: Evidence and implications for financial education. Business Economics,42(1), 35–44.

Lusardi, A., & Mitchell, O. S. (2011). Financial Literacy and Retirement Planning in the United States. Journal of Pension Economics and Finance, 10(4), 509–525.

Lusardi, A., & Mitchell, O. S. (2014). The economic importance of financial literacy. Journal of Economic Literature,52(1), 5–44.

McNeil, B. J., Pauker, S. G., Sox, H. C., & Tversky, A. (1982). On the elicitation of preferences for alternative therapies. New England Journal of Medicine,306, 1259–1262.

Moore, D. (2003). Survey of Financial Literacy in Washington State: Knowledge, Behavior, Attitudes, and Experiences. Washington State University, Social and Economic Sciences Research Center: Technical Report 03-39.

O'Connell, A. (2008). Evaluating the effectiveness of financial education programmes. OECD Journal General Papers,3, 9–51.

OECD. (2005). Improving financial literacy: analysis of issues and policies. Paris: OECD Publishing.

OECD. (2009). Financial literacy and consumer protection: overlooked aspects of the crisis. Paris: OECD Publishing.

OECD. (2017). G20/OECD INFE report on adult financial literacy in G20 COUNTRIES. Par-is: OECD Publishing.

OECD & INFE. (2014). OECD/INFE progress report on financial education. Paris: OECD Publishing.

OECD & INFE. (2016). International survey of adult financial literacy competencies. Paris: OECD Publishing.

Peirce, J. W. (2007). PsychoPy—Psychophysics software in Python. Journal of Neuroscience Methods, 162(1–2), 8–13.

Peirce, J. W. (2009). Generating stimuli for neuroscience using PsychoPy. Frontiers in Neuroinformatics, 2(10), 1–8.

Peters, E., & Levin, I. P. (2008). Dissecting the risky-choice framing effect: Numeracy as an individual-difference factor in weighting risky and riskless options. Judgment and Decision Making,3, 435–448.

Peters, E. (2012). Beyond comprehension: The role of numeracy in judgments and decisions. Psychological Science,21(1), 31–35.

Peters, E., Slovic, P., Västfjäll, D., & Mertz, C. K. (2008). Intuitive numbers guide decisions. Judgment and Decision Making,3(8), 619–635.

Peters, E., Västfjäll, D., Slovic, P., Mertz, C. K., Mazzocco, K., & Dickert, S. (2006). Numeracy and decision making. Psychological Science,17(5), 407–413.

Reyna, V. F., & Brainerd, C. J. (2008). Numeracy, ratio bias, and denominator neglect in judgments of risk and probability. Learning and Individual Differences,18, 89–107.

Sanford, A. J., Fay, N., Stewart, A., & Moxey, L. (2002). Perspective in statements of quantity, with implications for consumer psychology. Psychological Science,13(2), 130–134.

Santos, A. C. (2017). Cultivating the self-reliant and responsible individual: the material culture of financial literacy. New Political Economy,22(4), 410–422.

Skagerlund, K., Lind, T., Strömbäck, C., Tinghög, G., & Västfjäll, D. (2018). Financial literacy and the role of numeracy: how individuals' attitude and affinity with numbers influence financial literacy. Journal of Behavioral and Experimental Economics,74, 18–25.

Standard & Poor's (2015). Financial Literacy around the World: Insights from the Standard & Poor's Ratings Services. City: Global Financial Literacy Survey.

Stanovich, K. E., & West, R. F. (1999). Discrepancies between normative and descriptive models of decision making and the understanding/acceptance principle. Cognitive Psychology,38, 349–385.

Stanovich, K. E., & West, R. F. (2000). Individual differences in reasoning: implications for the rationality debate. Behavioral and Brain Sciences,23, 645–726.

Stanovich, K. E., West, R. F., & Toplak, M. E. (2011). The complexity of developmental predictions from dual process models. Developmental Review,31, 103–118.

Stanovich, K. E., West, R. F., & Toplak, M. E. (2016). The rationality quotient (RQ): Toward a test of rational thinking. Cambridge: MIT Press.

Sutherland, R. (1992). Some unanswered questions on the teaching and learning of algebra. For the Learning of Mathematics,11(3), 40–46.

Thaler, R. H., & Sunstein, C. R. (2008). Nudge: Improving decisions about health, wealth, and happiness. New Haven: Yale University Press.

Tversky, A., & Kahneman, D. (1981). The framing of decisions and the psychology of choice. Science,211, 453–458.

Tversky, A., & Kahneman, D. (1984). Choices, values, and frames. American Psychologist,39(4), 341–350.

Tversky, A., & Kahneman, D. (1986). Rational choice and the framing of decisions. Journal of Business,59(4), 251–278.

Van Rooij, M., Lusardi, A., & Alessie, R. (2011). Financial literacy and stock market participation. Journal of Finance Economics,10(2), 449–472.

Von Neumann, J., & Morgenstern, O. (1947). Theory of games and economic behavior (2nd ed.). Princeton: Princeton University Press.

Weller, J. A., Dieckmann, N. F., Tusler, M., Mertz, C. K., Burns, W. J., & Peters, E. (2013). Development and testing of an abbreviated numeracy scale: A rasch analysis approach. Journal of Behavioral Decision Making,26, 198–212.

Zokaityte, A. (2016). Financial literacy and numeracy of consumers and retail investors. Capital Markets Law Journal,11(3), 405–413.
Funding
This work was supported by the Portuguese Foundation for Science and Technology (FCT) through a Doctoral Fellowship (SFRH/BD/99484/2014) awarded to the first author.
Ethics declarations
Conflict of interest
The authors declare having no conflict of interest.
Ethical approval
All procedures performed in studies involving human participants were in accordance with the ethical standards of the University of Coimbra and with the 1964 Helsinki Declaration and its later amendments or comparable ethical standards.
Informed consent
Informed consent was obtained from all individual participants included in the study.
Additional information
Publisher's Note
Springer Nature remains neutral with regard to jurisdictional claims in published maps and institutional affiliations.
About this article
Cite this article
Moreira Costa, V., De Sá Teixeira, N.A., Cordeiro Santos, A. et al. When more is less in financial decision-making: financial literacy magnifies framing effects. Psychological Research (2020). https://doi.org/10.1007/s00426-020-01372-7
Received:

Accepted:

Published: