Abstract
Taste-related terms such as bitter or sweet are often used to describe people's behavior. For example, sweetness metaphors are often used when giving nicknames for romantic partners or when characterizing a friendly person. Previous studies have suggested that sweet taste may be linked to prosocial behavior. Examining a total of 517 participants, we here demonstrate that experiencing sweet taste also seems to have an impact on subsequent attractiveness ratings of faces. Participants were asked to rate pictures of young people and of art. Before this task, they were primed either with sweet candies or with salty snacks. Results revealed that sweet taste increased subsequent attractiveness ratings of faces. In addition, results confirmed earlier findings that sweet taste affected prosocial behavior. Our results suggest that sweetness seems to be more than a mere linguistic metaphor; it influences prosocial behavior as well as attractiveness ratings of faces. We discuss the results with recent findings of physical-to-psychological links to certain figures in speech.
Access options
Buy single article
Instant access to the full article PDF.
USD 39.95
Price includes VAT (USA)
Tax calculation will be finalised during checkout.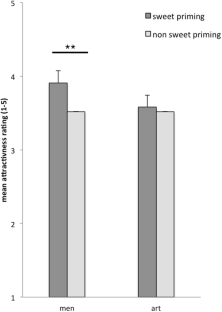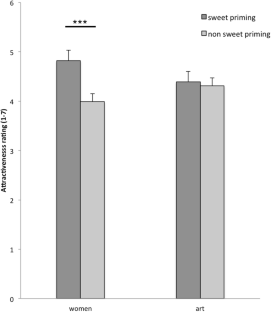 Notes
1.

Experiment 2 was primarily motivated to replicate the findings of taste experiences on face ratings of experiment 1. Thus, we here omitted the helping question (which has been examined before, e.g., Meier et al., 2012).
References
Ackerman, J. M., Nocera, C. C., & Bargh, J. A. (2010). Incidental haptic sensations influence social judgments and decisions. Science, 328(5986), 1712–1715. https://doi.org/10.1126/science.1189993.

Ashton, M. C., Pilkington, A. C., & Lee, K. (2012). Do prosocial people prefer sweet-tasting foods? An attempted replication of Meier, Moeller, Riemer-Peltz, and Robinson. Journal of Research in Personality, 52, 42–46.

Barsalou, L. W. (2008). Grounded cognition. Annual Review of Psychology, 59, 617–645.

Betella, A., & Verschure, P. F. (2016). The affective slider: A digital self-assessment scale for the measurement of human emotions. PLoS ONE, 11(2), e0148037. https://doi.org/10.1371/journal.pone.0148037.

Chan, K. Q., Tong, E. M., Tan, D. H., & Koh, A. H. (2013). What do love and jealousy taste like? Emotion, 13(6), 1142–1149. https://doi.org/10.1037/a0033758.

Chapman, H. A., Kim, D. A., Susskind, J. M., & Anderson, A. K. (2009). In bad taste: Evidence for the oral origins of moral disgust. Science, 323(5918), 1222–1226. https://doi.org/10.1126/science.1165565.

Denke, C., Rotte, M., Heinze, H. J., & Schaefer, M. (2016). Lying and the subsequent desire for toothpaste: Activity in the somatosensory cortex predicts embodiment of the moral-purity metaphor. Cerebral Cortex, 26(2), 477–484. https://doi.org/10.1093/cercor/bhu170.

Eskine, J., Kacinik, N. A., & Prinz, J. J. (2011). A bad taste in the mouth: Gustatory disgust influneces moral judgement. Psychological Science, 22, 295–299.

Fetterman, A. K., Bair, J. L., Werth, M., Landkammer, F., & Robinson, M. D. (2016). The scope and consequences of metaphoric thinking: Using individual differences in metaphor usage to understand how metaphor functions. Journal of Personality and Social Psychology, 110(3), 458–476. https://doi.org/10.1037/pspp0000067.

Gailliot, M. T., & Baumeister, R. F. (2007). The physiology of willpower: Linking blood glucose to self-control. Personality and Social Psychology Review, 11(4), 303–327. https://doi.org/10.1177/1088868307303030.

Gallagher, S. (2005). How the body shapes the mind. Oxford: Oxford University Press.

Gilead, M., Gal, O., Polak, M., & Cholow, Y. (2015). The role of nature and nurture in conceptual metaphors. The case of gustatory priming. Social Psychology, 46, 167–173.

Kang, Y., Williams, L. E., Clark, M. S., Gray, J. R., & Bargh, J. A. (2011). Physical temperature effects on trust behavior: The role of insula. Social Cognitive and Affective Neuroscience, 6(4), 507–515. https://doi.org/10.1093/scan/nsq077.

Krohne, H. W., Egloff, B., Kohlmann, C., & Tausch, A. (1996). Investigations with a German version of the Positive and Negative Affect Schedule (PANAS). Diagnostica, 42, 139–156.

Lakoff, G. (2014). Mapping the brain's metaphor circuitry: Metaphorical thought in everyday reason. Frontiers in Human Neuroscience, 8, 958. https://doi.org/10.3389/fnhum.2014.00958.

Lakoff, G., & Johnson, M. (1980). Metaphors we live by. Chicago, IL: University of Chicago Press.

Lakoff, G., & Johnson, M. (1999). Philosophy in the flesh: The embodied mind and its challenges to western thought. New York: Basic Books.

Lee, S. W. S. (2016). Multimodal priming of abstract concepts. Current Opinion in Psychology, 12, 37–44.

Ma, D. S., Correll, J., & Wittenbrink, B. (2015). The Chicago face database: A free stimulus set of faces and norming data. Behavior Research Methods, 47(4), 1122–1135. https://doi.org/10.3758/s13428-014-0532-5.

Meier, B. P., Moeller, S. K., Riemer-Peltz, M., & Robinson, M. D. (2012). Sweet taste preferences and experiences predict prosocial inferences, personalities, and behaviors. Journal of Personality and Social Psychology, 102(1), 163–174. https://doi.org/10.1037/a0025253.

Ren, D., Tan, K., Arriaga, X. B., & Chan, K. Q. (2015). Sweet love: The effects of sweet taste experience on romantic perceptions. Journal of Social and Personal Relationships, 32, 905–921.

Sagioglou, C., & Greitemeyer, T. (2014). Bitter taste causes hostility. Personality and Social Psychology Bulletin, 40(12), 1589–1597. https://doi.org/10.1177/0146167214552792.

Sagioglou, C., & Greitemeyer, T. (2016). Individual differences in bitter taste preferences are associated with antisocial personality traits. Appetite, 96, 299–308. https://doi.org/10.1016/j.appet.2015.09.031.

Schlosser, A. E. (2015). The sweet taste of gratitude: Feeling grateful increases choice and consumption of sweets. Journal of Consumer Psychology, 25, 561–576.

Varela, F. J., Thompson, E., & Rosch, E. (1991). The embodied mind: Cognitive science and human experience. Cambridge: MIT Press.

Watson, D., Clark, L. A., & Tellegen, A. (1988). Development and validation of brief measures of positive and negative affect: The PANAS scales. Journal of Personality and Social Psychology, 54, 1063–1070.

Williams, L. E., & Bargh, J. A. (2008). Experiencing physical warmth promotes interpersonal warmth. Science, 322(5901), 606–607. https://doi.org/10.1126/science.1162548.

Williams, L. E., Huang, J. Y., & Bargh, J. A. (2009). The scaffolded mind: Higher mental processes are grounded in early experience of the physical world. European Journal of Social Psychology, 39(7), 1257–1267.

Zhong, C. B., & Liljenquist, K. (2006). Washing away your sins: Threatened morality and physical cleansing. Science, 313(5792), 1451–1452. https://doi.org/10.1126/science.1130726.
Ethics declarations
Conflict of interest
Authors declare that they have no conflict of interest.
Ethical approval
All procedures performed in studies involving human participants were in accordance with the ethical standards of the institutional research committee (DGPs) and with the 1964 Helsinki declaration and its later amendments or comparable ethical standards.
Informed consent
Informed consent was obtained from all individual participants included in the study.
Additional information
Publisher's Note
Springer Nature remains neutral with regard to jurisdictional claims in published maps and institutional affiliations.
About this article
Cite this article
Schaefer, M., Reinhardt, A., Garbow, E. et al. Sweet taste experience improves prosocial intentions and attractiveness ratings. Psychological Research 85, 1724–1731 (2021). https://doi.org/10.1007/s00426-020-01336-x
Received:

Accepted:

Published:

Issue Date: