Abstract
Purpose
One diagnostic criterion of esophageal achalasia is that the integrated relaxation pressure (IRP) measured by high-resolution manometry (HRM) is at least 15 mmHg. Moreover, while the standard surgical treatment for esophageal achalasia is laparoscopic Heller-Dor surgery (LHD), there have been insufficient investigations concerning the surgical outcomes from the perspective of the preoperative IRP value.
Methods
We split 121 cases in which LHD was performed as an initial treatment on patients with esophageal achalasia, into two categories according to the IRP median value, and performed a comparative investigation of the surgical outcomes with regard to the preoperative pathophysiology and symptoms.
Results
The IRP median value was 29.6 mmHg. The high IRP group consisted of younger individuals and low BMI (p = 0.004 and p = 0.0273, respectively), and the percentage of Chicago classification Type II and III was high (p = 0.029) and the regurgitation score in the preoperative symptoms was high (p = 0.0043). However, no differences in the surgical outcomes were confirmed.
Conclusion
In patients with esophageal achalasia, the degree of the preoperative IRP value affects the age, BMI, preoperative LESP, and preoperative regurgitation symptoms. However, there were no effects on the surgical outcomes, with the surgical outcomes being satisfactory, regardless of the IRP value.
Access options
Buy single article
Instant access to the full article PDF.
US$ 39.95
Tax calculation will be finalised during checkout.
Subscribe to journal
Immediate online access to all issues from 2019. Subscription will auto renew annually.
US$ 79
Tax calculation will be finalised during checkout.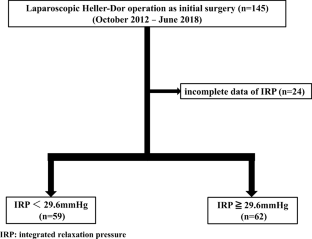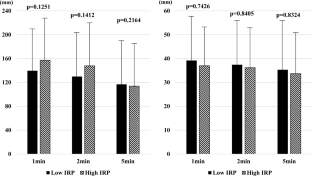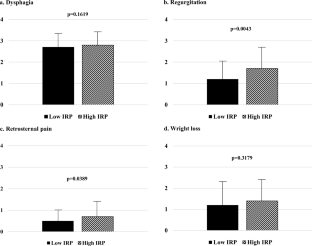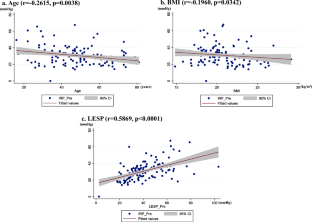 References
1.

Furuzawa-Carballeda J, Torres-Landa S, Valdovinos MA, Coss-Adame E, Martín Del Campo LA, Torres-Villalobos G (2016) New insights into the pathophysiology of achalasia and implications for future treatment. World J Gastroenterol 22:7892–7907

2.

Moonen A, Boeckxstaens G (2014) Current diagnosis and management of achalasia. J Clin Gastroenterol 48:484–490

3.

Yadlapati R (2017) High-resolution esophageal manometry: interpretation in clinical practice. Curr Opin Gastroenterol 33:311–319

4.

Kahrilas PJ, Bredenoord AJ, Fox M, Gyawali CP, Roman S, Smout AJ, Pandolfino JE, International High Resolution Manometry Working Group (2015) The Chicago Classification of esophageal motility disorders, v3.0. Neurogastroenterol Motil 27:160–174

5.

Ghosh SK, Pandlfino JE, Rice J, Clarke JO, Kwiatek M, Kahrilas PJ (2007) Impaired deglutitive EGJ relaxation in clinical esophageal manometry: a quantitative analysis of 400 patients and 75 controls. Am J Physiol Gastrointest Liver Physiol 293(4):G878–G885

6.

Eckardt VF, Aignherr C, Bernhard G (1992) Predictors of outcome in patients with achalasia treated by pneumatic dilation. Gastroenterology 103:1732–1738

7.

Tsuboi K, Omura N, Yano F, Hoshino M, Yamamoto SR, Akimoto S, Masuda T, Kashiwagi H, Yanaga K (2018) Effect of preoperative balloon dilation on treatment outcomes of laparoscopic Heller-Dor surgery for achalasia: a propensity score matched study. Surg Today 48:1068–1075

8.

Hoshino M, Omura N, Yano F, Tsuboi K, Yamamoto SR, Akimoto S, Kashiwagi H, Yanaga K (2016) Backflow prevention mechanism of laparoscopic Toupet fundoplication using high-resolution manometry. Surg Endosc 30:2703–2710

9.

Japan esophageal society (2017) Descriptive rules for achalasia of the esophagus, June 2012: 4th edition. Esophagus 14:275–289

10.

de Olivaira JM, Birgisson S, Doinoff C, Einstein D, Herts B, Davros W, Obuchowski N, Koehler RE, Richter J, Baker ME (1997) Timed barium swallow: a simple technique for evaluating esophageal emptying in patients with achalasia. AJR Am J Roentgenol 169:473–479

11.

Pandolfino JE, Gawron AJ (2015) Achalasia: a systematic review. JAMA 313:1841–1852

12.

Spechler SJ, Castell DO (2001) Classification of oesophageal motility abnormalities. Gut 49:145–151

13.

Richter JE (2001) Oesophageal motility disorders. Lancet 358:823–828

14.

Tanaka Y, Ihara E, Nakamura K, Muta K, Fukaura K, Mukai K, Bai X, Takayanagi R (2016) Clinical characteristics associated with esophageal motility function. J Gastroenterol Hepatol 31:1133–1140

15.

Jung KW, Jung HY, Kim SO, Lee J, Yoon IJ, Seo SY, Lee JH, Kim DH, Choi KD, Song HJ, Lee GH, Murray JA, Romero Y, Kim JH (2015) The effect of age on the key parameters in the Chicago classification: a study using high-resolution esophageal manometry in asymptomatic normal individuals. Neurogastroenterol Motil 27:246–257

16.

Sato H, Takahiashi K, Mizuno K, Hashimoto S, Yokoyama J, Terai S (2018) A clinical study of peroral endoscopic myotomy reveals that impaired lower esophageal sphincter relaxation in achalasia is not only defined by high-resolution manometry. PLoS One. https://doi.org/10.1371/journal.pone.0195423

17.

Facco M, Brun P, Baesso I, Constantini M, Rizzetto C, Berto A, Baldan N, Palu G, Semenzato G, Castagliuolo I, Zaninotto G (2008) T cells in the myenteric plexus of achalasia patients show a skewed TCR repertoire and react to HSV-1 antigens. Am J Gastroenterol 103:1598–1609

18.

Mores PL, Ellis LM, Anees MR, Ho W, Rothstein RI, Meddings JB, Sharkey KA, Mawe GM (2003) Antineuronal antibodies in idiopathic achalasia and gastro-oesophageal reflux disease. Gut 52:629–636

19.

Hoshino M, Omura N, Yano F, Tsuboi K, Kashiwagi H, Yanaga K (2013) Immunohistochemical study of the muscularis externa of the esophagus in achalasia patients. Dis Esophagus 26:14–21

20.

Kahrilas PJ, Boeckxstaens G (2013) The spectrum of achalasia: lessons from studies of pathophysiology and high-resolution manometry. Gastroenterology 145:954–965

21.

Salvador R, Savarino E, Pesenti E, Spadotto L, Capovilla G, Cavallin F, Galeazzi F, Nicoletti L, Merigliano S, Costantini M (2016) The impact of Heller myotomy on integrated relaxation pressure in esophageal achalasia. J Gastrointest Surg 20:125–131

22.

Kim E, Yoo IK, Yon DK, Cho JY, Hong SP (2020) Characteristics of a subset of achalasia with normal integrated relaxation pressure. J Neurogastroenterol Motil 26:274–280
Ethics declarations
Ethical approval
All procedures performed in studies involving human participants were in accordance with the ethical standards of the institutional and /or national research committee and with the 1964 Helsinki declaration and its later amendments or comparable ethical standards.
Conflict of interest
The authors declare no competing interests.
Additional information
Publisher's note
Springer Nature remains neutral with regard to jurisdictional claims in published maps and institutional affiliations.
About this article
Cite this article
Tsuboi, K., Yano, F., Omura, N. et al. Effects of the preoperative IRP values on the pathophysiology of patients with esophageal achalasia and on the treatment outcome of laparoscopic Heller-Dor surgery. Langenbecks Arch Surg (2021). https://doi.org/10.1007/s00423-021-02130-y
Received:

Accepted:

Published:
Keywords
Esophageal achalasia

High-resolution manometry

Integrated relaxation pressure

Pathophysiology

Surgical outcome