Abstract
Purpose
One of the complications in laparoscopic surgery is port-site hernia. It is a rare but potentially dangerous complication. Especially when using ports with a size 10 mm or more, it is required to securely close the port site. However, this procedure is often difficult especially for obese patients.
Methods
We herein devised a new closure method by using a device developed for port site. These techniques are methods that can close the port site by a combination of putting in and out of thread and port rotation without removing a port. The port-site closure with these techniques was done for 53 port sites of 41 patients.
Results
The port site was closed horizontally or vertically, depending on the shape of the port site for two patients. Modified Z-suture was done for other 37 patients. To date, we have not noted any complications from this new method, including port-site hernia.
Conclusion
With our technique, we could save operation time and reduce stress of us especially for obese patients. We would like to increase the number of patients and verify the safety and usefulness in further study.
Access options
Buy single article
Instant access to the full article PDF.
US$ 39.95
Tax calculation will be finalised during checkout.
Subscribe to journal
Immediate online access to all issues from 2019. Subscription will auto renew annually.
US$ 79
Tax calculation will be finalised during checkout.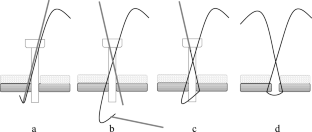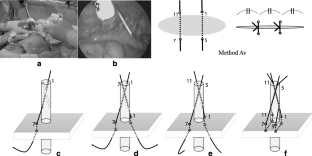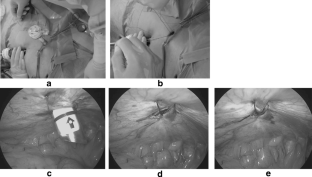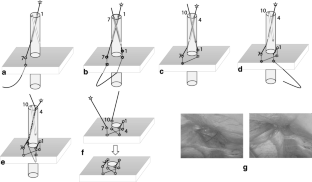 References
1.

Nacef K, Chaouch MA, Chaouch A et al (2018) Trocar site post incisional hernia: about 19 cases. Pan Afr Med J 29:183

2.

Pulle MV, Siddhartha R, Dey A, Mittal T, Malik VK (2015) Port site hernia in laparoscopic surgery: mechanism, prevention and management. Curr Med Res Pract 5:130–137

3.

Singal R, Zaman M, Mittal A et al (2016) No need of fascia closure to reduce trocar site hernia rate in laparoscopic surgery: a prospective study of 200 non-obese patients. Gastrointest Res 9:70–73

4.

Bunting DM (2010) Port-site hernia following laparoscopic cholecystectomy. JSLS. 14(4):490–497

5.

Lambertz A, Stuben BO, Bock B et al (2017) Port-site incision hernia-a case series of 54 patients. Ann Med Surg 14:8–11

6.

Zhu YP, Liang S, Zhu L et al (2019) Trocar-site hernia after gynecological laparoscopic surgery: a 20-year, single-center experience. Chin Med J 20:2677–2683

7.

Nofa MN, Yosef A, Hamdan FF et al (2020) Characteristics of trocar site hernia after laparoscopic cholecystectomy. Sci Rep 10:2868

8.

Aziz HH (2013) A simple technique of laparoscopic port closure. JSLS. 17:672–674

9.

Botea F, Torzilli G, Sarbu V (2011) A simple, effective technique for port-site closure after laparoscopy. JSLS 5:77–80

10.

Lasheen AE, Safwt K, Elsheweal A et al (2016) Effective, simple, easy procedure for laparoscopic port closure in difficult cases. Ann Med Surg 10:36–40
Ethics declarations
Ethical approval
All procedures performed in these studies involving human participants were in accordance with the ethical standards of the institutional research committee and with the 1964 Helsinki declaration and its later amendments or comparable ethical standards.
This article does not contain any studies with animal performed by any of the authors.
Consent to participate
Informed consent was obtained from all individual patients where appropriate included in the study.
Conflict of interest
The authors declare no competing interests.
Additional information
Publisher's note
Springer Nature remains neutral with regard to jurisdictional claims in published maps and institutional affiliations.
About this article
Cite this article
Kimura, M., Eguchi, Y., Kuwabara, Y. et al. A simple and reliable procedure for laparoscopic port-site closure. Langenbecks Arch Surg (2021). https://doi.org/10.1007/s00423-021-02121-z
Received:

Accepted:

Published:
Keywords
Port-site closure

Port-site hernia

Laparoscopy