Abstract
Purpose
In Asian countries, proximal gastrectomy is a standard treatment option for early primary gastric cancer located in the upper third of the stomach. However, laparoscopic proximal gastrectomy (LPG) is not widely employed due to the technical difficulty of laparoscopic esophagojejunal anastomosis. Therefore, we began performing laparoscopic hand-sewn esophagojejunal anastomosis. In this report, we describe the technique of this method and the short-term surgical outcomes.
Methods
Between February 2016 and June 2020, 18 patients underwent LPG with double-tract reconstruction at our institution. Laparoscopic hand-sewn esophagojejunal anastomosis was attempted for all patients.
Results
The median operative time for the 18 patients was 431 min (range: 301–549 min), and the estimated blood loss was 100 mL (range: 0–1524 mL). The median time for the hand-sewn esophagojejunostomy was 42 min (range: 26–81 min). Only one case was converted to open surgery after the reconstruction due to bleeding from an artery of the lesser curvature. No anastomotic leakage was observed in any patients (0/18, 0 %); however, two patients developed anastomotic stenosis (2/18, 11%). The mean length of postoperative hospital stay was 10 days (range: 8–28 days).
Conclusion
The laparoscopic hand-sewn esophagojejunal anastomosis in LPG is a simple, cost-effective, and safe procedure. We believe that our method is a feasible choice. However, careful and longer follow-up of more patients is necessary to determine the advantages of our method.
Access options
Buy single article
Instant access to the full article PDF.
US$ 39.95
Tax calculation will be finalised during checkout.
Subscribe to journal
Immediate online access to all issues from 2019. Subscription will auto renew annually.
US$ 79
Tax calculation will be finalised during checkout.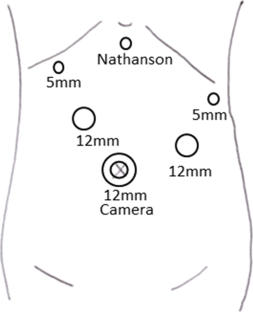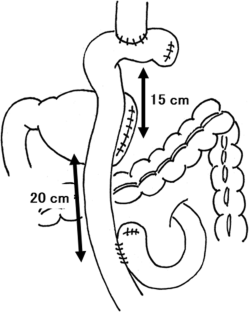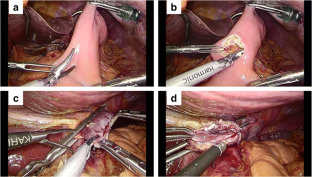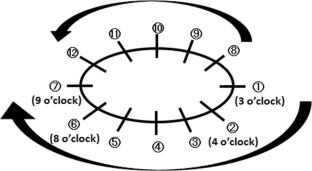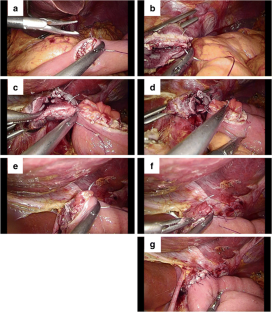 Availability of data and materials
All data generated or analyzed during this study are included in this published article.
References
1.

Kusano C, Gotoda T, Khor CJ, Katai H, Kato H, Taniguchi H, Shimoda T (2008) Changing trends in the proportion of adenocarcinoma of the esophagogastric junction in a large tertiary referral center in Japan. J Gastroenterol Hepatol 23:1662–1665

2.

Wu H, Rusiecki JA, Zhu K, Potter J, Devesa SS (2009) Stomach carcinoma incidence patterns in the United States by histologic type and anatomic site. Cancer Epidemiol Biomark Prev 18:1945–1952

3.

Steevens J, Botterweck AA, Dirx MJ, van den Brandt PA, Schouten LJ (2010) Trends in incidence of oesophageal and stomach cancer subtypes in Europe. Eur J Gastroenterol Hepatol 22:669–678

4.

Dassen AE, Lemmens VE, van de Poll-Franse LV, Creemers GJ, Brenninkmeijer SJ, Lips DJ, Vd Wurff AA, Bosscha K, Coebergh JW (2010) Trends in incidence, treatment and survival of gastric adenocarcinoma between 1990 and 2007: a population-based study in the Netherlands. Eur J Cancer 46:1101–1110

5.

Japanese Gastric Cancer Association (2017) Japanese gastric cancer treatment guidelines 2014 (ver. 4). Gastric Cancer 20(1):1–19

6.

Katai H, Mizusawa J, Katayama H, Morita S, Yamada T, Bando E, Ito S, Takagi M, Takagane A, Teshima S, Koeda K, Nunobe S, Yoshikawa T, Terashima M, Sasako M (2020) Survival outcomes after laparoscopy-assisted distal gastrectomy versus open distal gastrectomy with nodal dissection for clinical stage IA or IB gastric cancer (JCOG0912): a multicentre, non-inferiority, phase 3 randomised controlled trial. Lancet Gastroenterol Hepatol 5:142–151

7.

Inokuchi M, Otsuki S, Fujimori Y, Sato Y, Nakagawa M, Kojima K (2015) Systematic review of anastomotic complications of esophagojejunostomy after laparoscopic total gastrectomy. World J Gastroenterol 21:9656–9665

8.

Wang WP, Gao Q, Wang KN, Shi H, Chen LQ (2013) A prospective randomized controlled trial of semi-mechanical versus hand-sewn or circular stapled esophagogastrostomy for prevention of anastomotic stricture. World J Surg 37:1043–1050

9.

Fukagawa T, Gotoda T, Oda I, Deguchi Y, Saka M, Morita S, Katai H (2010) Stenosis of esophago-jejuno anastomosis after gastric surgery. World J Surg 34:1859–1863

10.

Wang X, Li Y, Cai Y, Meng L, Cai H, Liu X, Peng B (2018) Laparoscopic suture training curricula and techniques. Ann Transl Med 6:215
Acknowledgments
We would like to thank Editage (www.editage.com) for English language editing.
Ethics declarations
Conflicts of interest
The authors declare that they have no conflict of interest.
Ethics approval
Not applicable
Consent for publication
Informed consent was obtained from all individual participants included in this study.
Additional information
Publisher's note
Springer Nature remains neutral with regard to jurisdictional claims in published maps and institutional affiliations.
Supplementary Information
About this article
Cite this article
Kishino, T., Okano, K., Noge, S. et al. Laparoscopic hand-sewn esophagojejunal anastomosis in laparoscopic proximal gastrectomy for early gastric cancer. Langenbecks Arch Surg (2021). https://doi.org/10.1007/s00423-021-02104-0
Received:

Accepted:

Published:
Keywords
Gastric cancer

Laparoscopic hand-sewn esophagojejunal anastomosis

Double-tract reconstruction

Laparoscopic proximal gastrectomy

Surgical technique